This post may be sponsored or contain affiliate links. We may earn money from purchases made through links mentioned in this post, but all opinions are our own. We are a participant in the Amazon Services LLC Associates Program, an affiliate advertising program designed to provide a means for us to earn fees by linking to Amazon.com and affiliates sites.
For a change of pace, try these spicy keto deviled eggs without mayo. They can be made mild to hot depending on the preference. And they are quick and easy to prepare.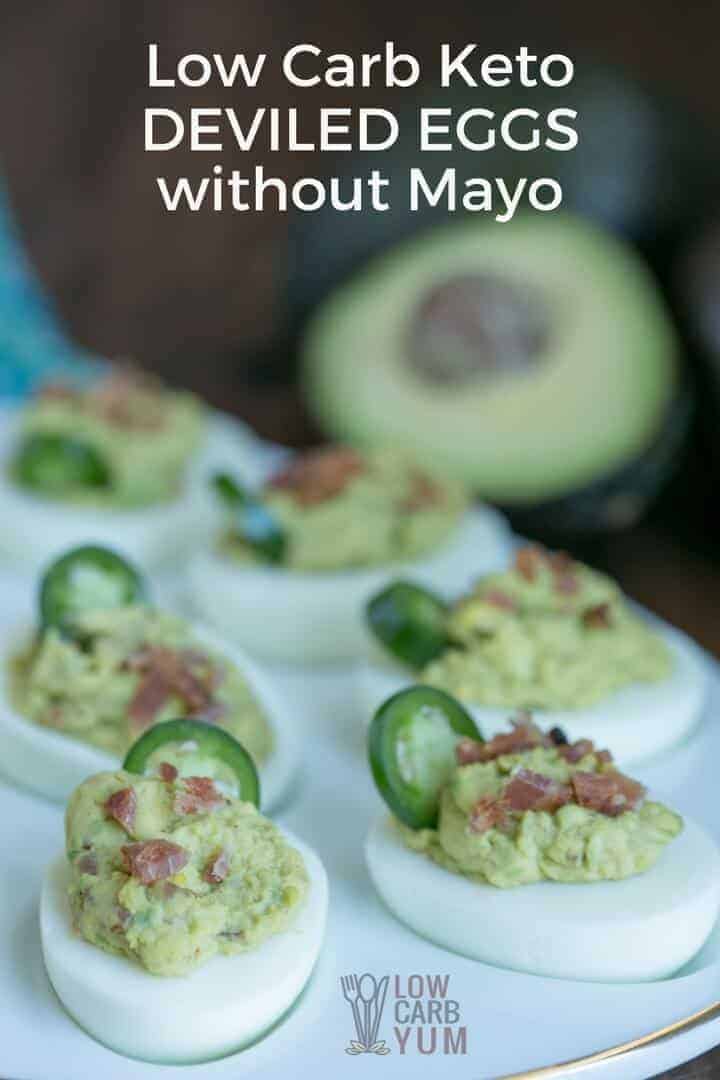 Green eggs may not sound very appealing. But, when the color comes from avocado, you know it's got to be good.
You may have noticed that I've been in a Mexican kind of mood lately.
Last week, I posted a pressure cooker paleo white chicken chili and a low carb chicken enchilada casserole.
This week, I'm starting things off with spicy keto deviled eggs without mayo. And I have a few other Mexican type recipes planned.
Maybe it's been the unseasonably cold weather that's had me craving food with some "heat" to warm me up.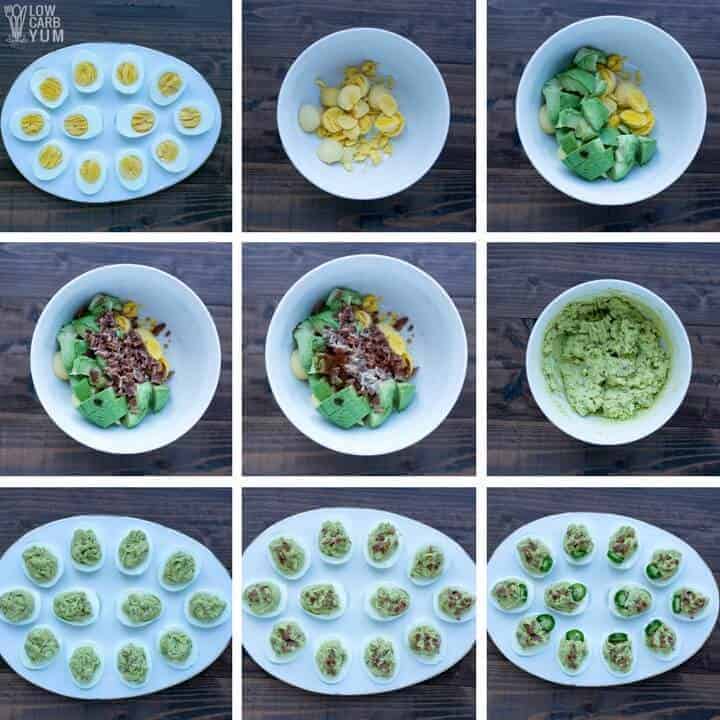 Whatever the reason, I've just had some cravings for spicy foods lately. So, I thought I'd try an easy appetizer recipe.
After all, it is football season and the big game is coming up in only a few weeks. And these spicy keto deviled eggs without mayo are perfect for sharing on game days.
They are so delicious that others may not even notice the avocado unless you tell them.
I suppose you could be called these avocado deviled eggs. But, I wanted to emphasize that they are keto and mayo free.
I personally don't use any mayonnaise made with anything but avocado oil. However, it does it to be pricey if it's not made at home.
The problem with most mayonnaise is that it's typically made with soybean oil. So, if you're avoiding soy, you want to avoid anything made with soybeans as well.
And, vegetable oils become rancid easily so it's best to avoid all of them. You can use olive oil and or coconut oil to make mayonnaise too.
When making coconut oil mayonnaise, it's best to use another oil as well. Avocado, olive, or MCT oil are the best choices.
But when it comes to making deviled eggs, you can do without the mayonnaise. Just give try my spicy keto deviled eggs without may and you'll be sold.
They look great too. The added slice of jalapeño doesn't add much spice, but it really dresses up the look.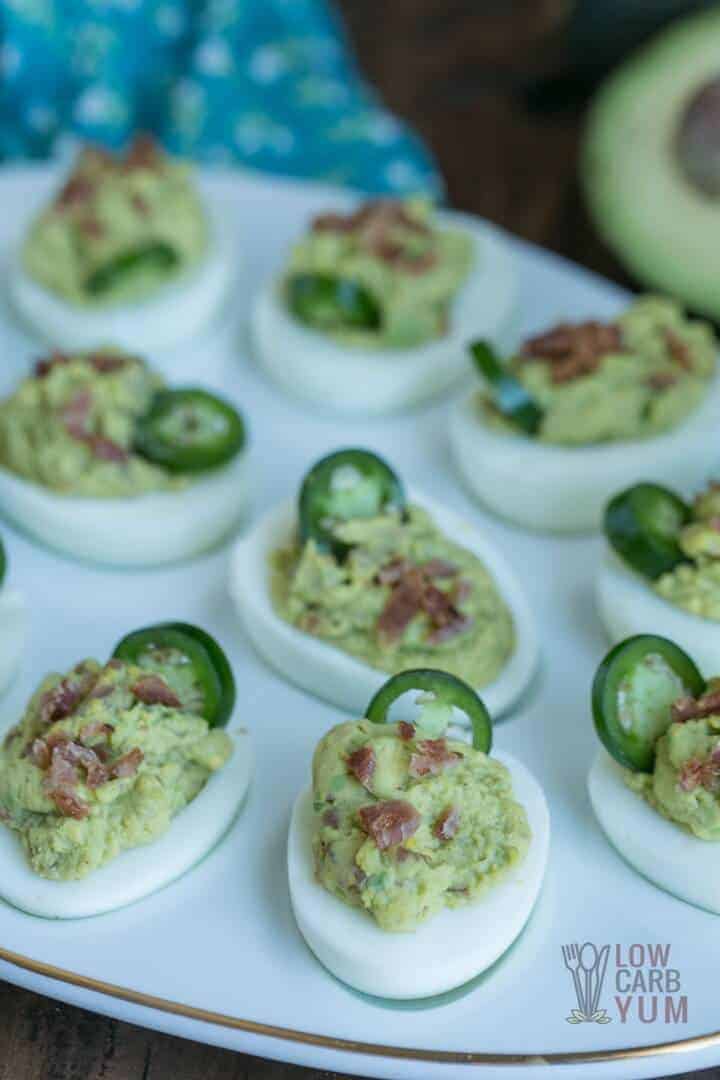 I do have a regular recipe for making deviled eggs. However, I never follow a recipe when making this appetizer.
It's so easy, you don't really need one. I just mash up the yolks with a fat like mayo or avocado. Then, season to taste.
However, it's good to have a guide on what to use so it's best to refer to a recipe. But, tasting as you go is the best way to make it perfect.
Just be sure that you don't add to much spice if those you're serving too don't like the heat. I often make two batches. One mild and one hot.
How to make spicy avocado deviled eggs
Spicy Keto Deviled Eggs without Mayo Recipe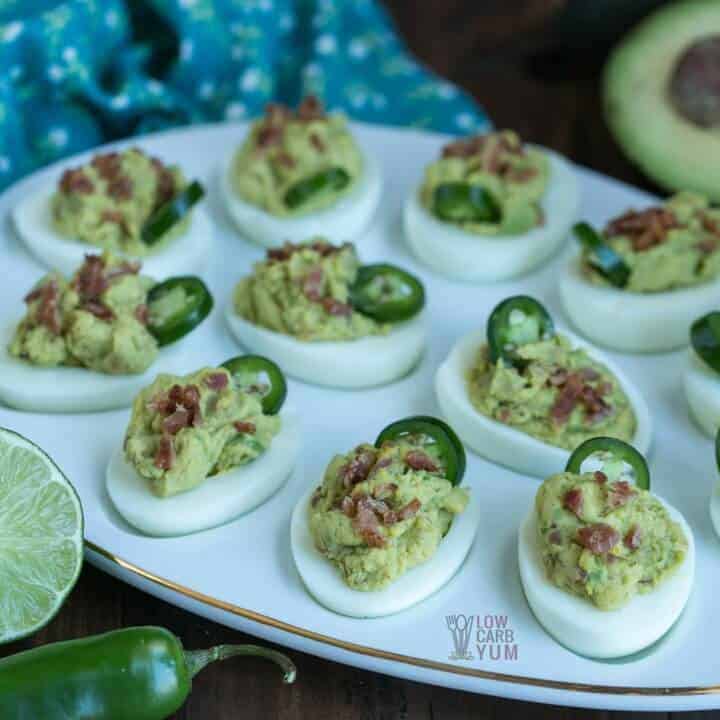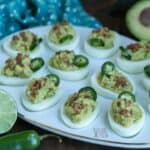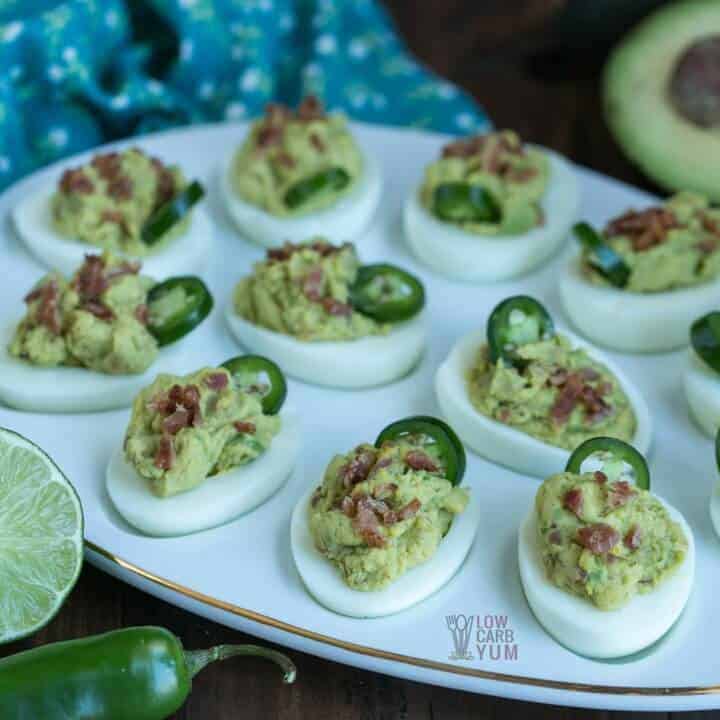 Spicy Keto Deviled Eggs without Mayo
Ingredients
6

large

eggs

hard boiled

1

avocado

pitted, peeled, and diced

3

strips

bacon

cooked and chopped (divided)

1

tablespoon

lime juice

1

habanero pepper

minced (omit for mild spiciness)

1/8

teaspoon

garlic powder

or 1 clove fresh minced

1/8

teaspoon

ground cayenne pepper

add more to increase spiciness

1/8

teaspoon

sea salt

add more if needed

1

small

jalapeño

sliced (optional)
Instructions
Remove yolks from hard boiled eggs and place into mixing bowl.

Add avocado, 2/3 of the bacon, lime juice, habanero pepper (if using), garlic powder, ground cayenne, and salt.

Mash the egg yolk and avocado mix until it is well combined.

Pipe or spoon the mixture into egg whites. Top each with a jalapeño slice if desired.
Nutrition Facts
Spicy Keto Deviled Eggs without Mayo
Amount Per Serving (2 pieces)
Calories 172
Calories from Fat 126
% Daily Value*
Total Fat 14g 22%
Cholesterol 193mg 64%
Sodium 195mg 8%
Potassium 253mg 7%
Total Carbohydrates 3g 1%
Protein 8g 16%
* Percent Daily Values are based on a 2000 calorie diet.
Related Posts