I was getting tired of the same old cucumber salad with oil, vinegar and spices. Sunomono cucumber salad is a Japanese cucumber salad that uses rice vinegar, soy sauce and ginger.
You can grate fresh ginger if you have it, using about twice the amount called for. I only had the dry powdered ginger on hand.
If you don't like ginger, the salad can be made without it. I enjoyed the Asian taste of this salad and will certainly make it again.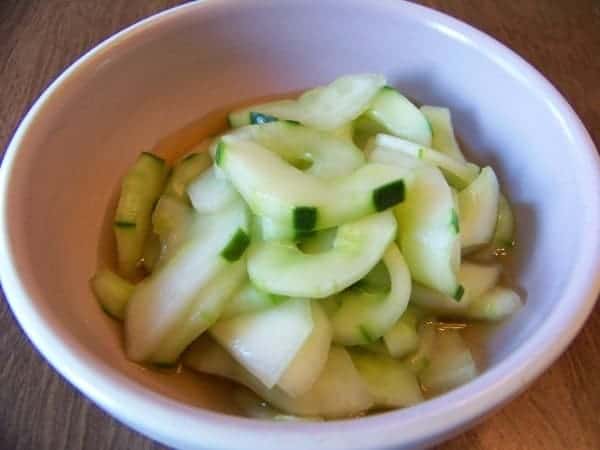 Sunomono Cucumber Salad
Author:
Lisa | Low Carb Yum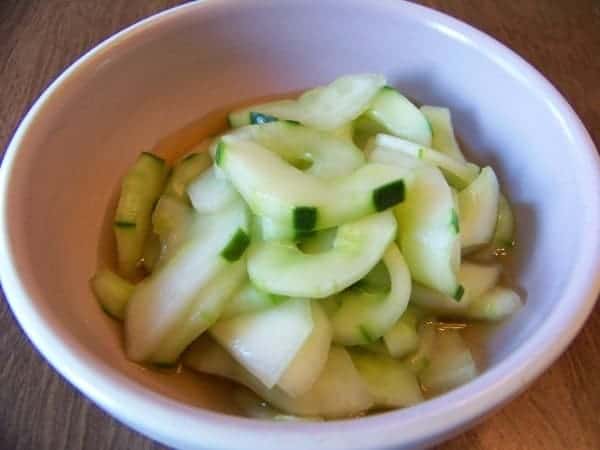 Sunomono is a Japanese cucumber salad that uses rice vinegar, soy sauce and ginger. This recipe is a great change from the traditional low carb cucumber salad.
Ingredients
2 large cucumbers, peeled
1 teaspoon salt
1/3 cup rice vinegar
2 packets stevia or other sugar substitute
3/4 teaspoon ginger
1/4 teaspoon soy sauce
Instructions
Cut cucumbers in half lengthwise and scoop out any large seeds. Slice crosswise into very thin slices. Place cucumber slices in a bowl and sprinkle with salt. Let stand at room temperature 30 minutes, or until cucumbers are softened. Drain and squeeze out excess liquid.
In a small bowl combine vinegar, sugar, salt, ginger, and soy sauce. Add cucumbers and mix until cucumbers are coated with the mixture. Chill for at least 1 hour before serving.
Notes
Servings: 3

Carbs per serving: 2 g
Related Posts
FREE eBook!
​LOW CARB TIPS and TRICKS
Subscribe now to receive your free copy of Low Carb Tips and Tricks which includes 20 easy to prepare recipes. Plus, get access to the weekly newsletter and special offers only for subscribers!