Anyone looking for an all-purpose keto-friendly flour needs to try this sunflower seed flour! It is easily one of the best options when it comes to low-carb flours.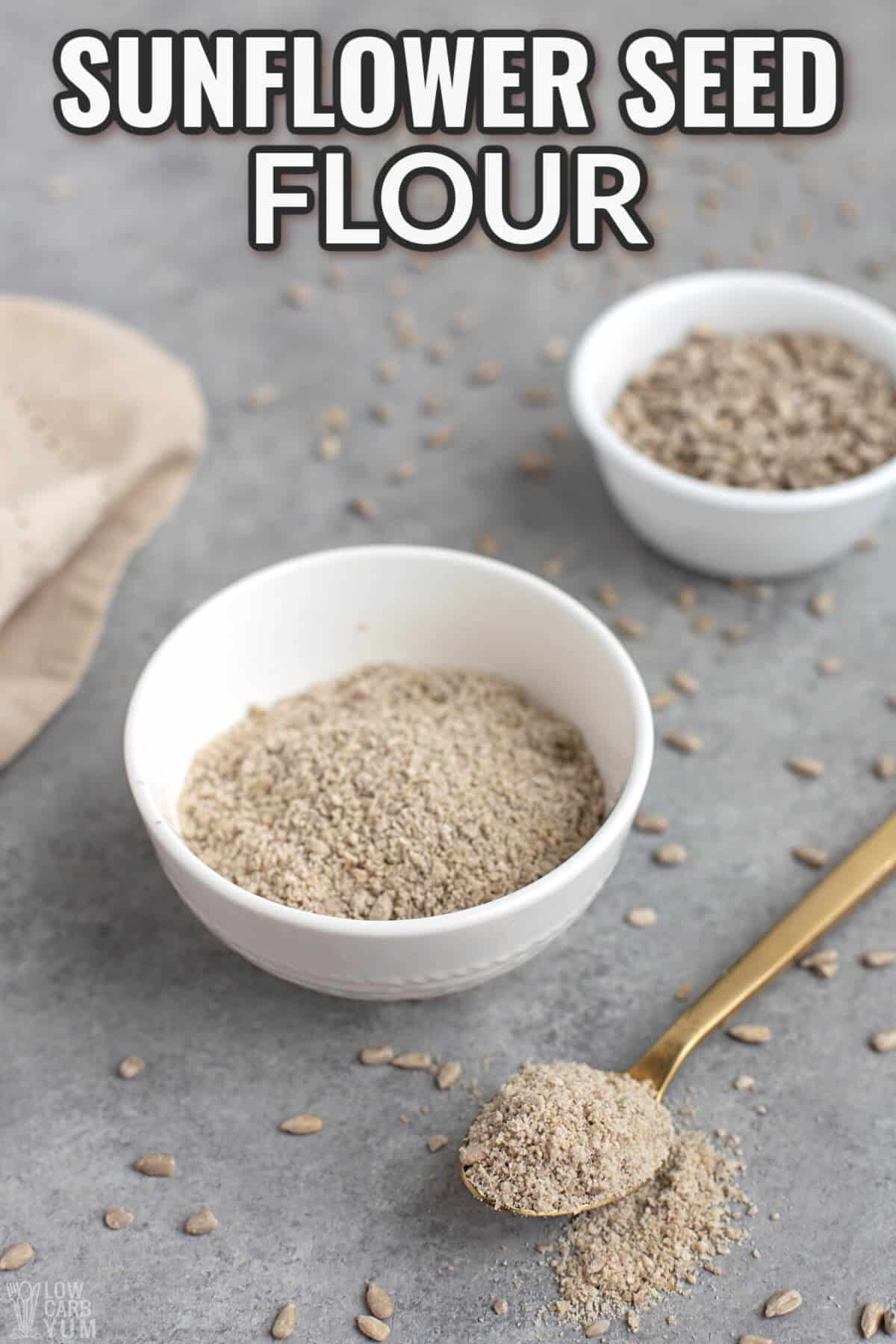 Article Index
Compared to other alternatives, sunflower seed flour is easy to use and perfect for anyone who isn't used to baking without flour. It yields delicious results and rarely makes things dense or rubbery.
There are few things to be careful of when using this in place of all-purpose flour and plenty of room to experiment.
I love to try out new keto-friendly flours, like sesame flour and peanut flour, and this is such a great choice. If you have trouble finding it or it doesn't fit within your budget, you can also make this seed flour at home for a cheaper alternative.
Either way, it is a great option if you enjoy baking low-carb goodies!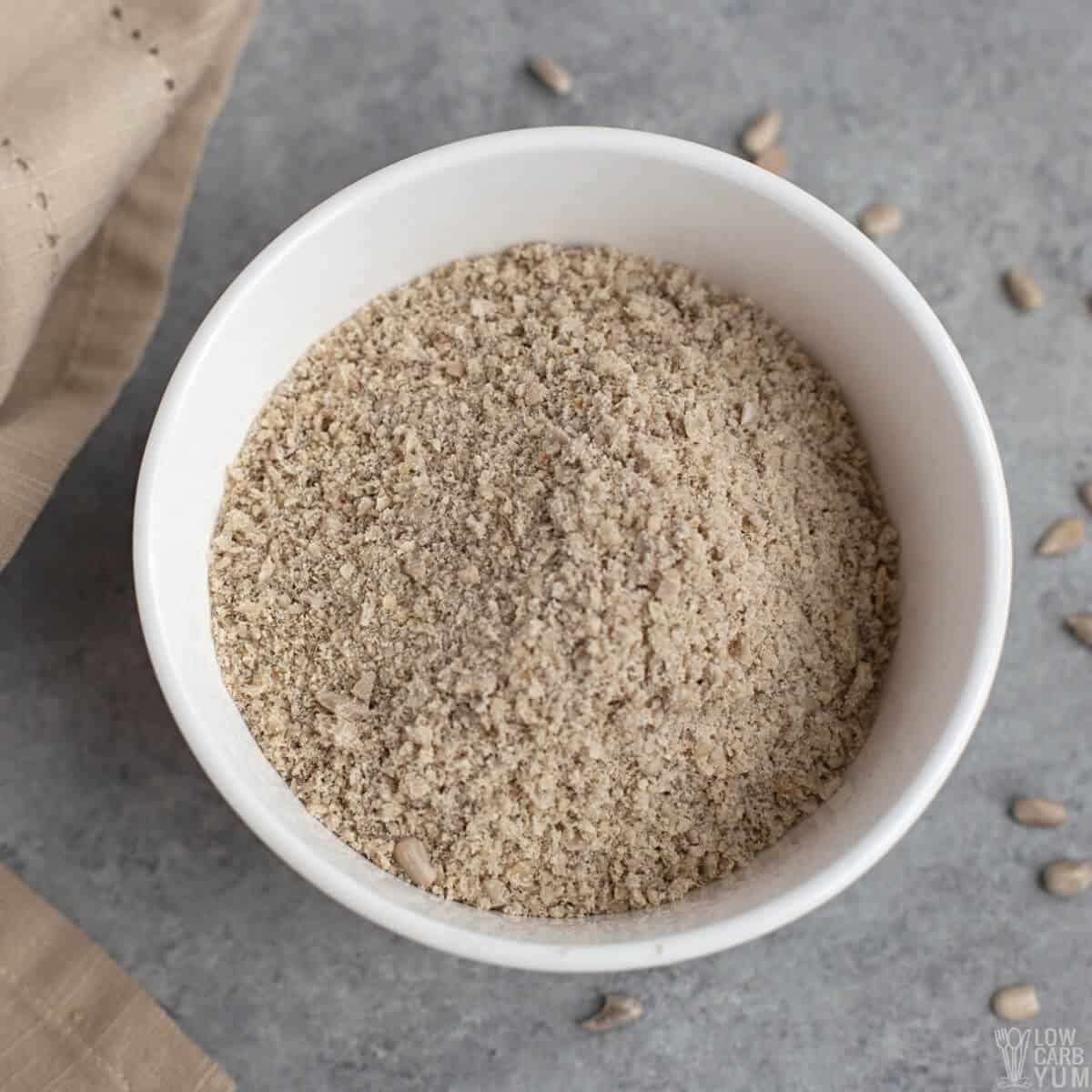 Can You Substitute Sunflower Seed Flour For All-Purpose Flour?
Sunflower seed flour is a great alternative for those on a keto diet who still want to be able to bake! It can be used to replace all-purpose flour at a 1:1 ratio, unlike many other keto flours. It also pairs very well with other flours like almond or coconut flour.
As far as seed and nut flours go, this is relatively light and fine. It doesn't often weigh baked goods down and can create a very tender and moist crumb.
How Healthy Is Sunflower Seed Flour?
Flour made from sunflower seeds is incredibly high in plant-powered protein! It is also rich in antioxidants which are good for heart health, among many other things.
This potent flour is also a good source of fiber and vitamin E and contains several vitamins and minerals that help to protect your body's cells from damage. It also has a decent amount of healthy fats because sunflower seeds are fatty.
Nutritional Information
One serving of sunflower seed flour is considered to be one-fourth cup. Here are some nutritional facts about a single serving:
1% DV Carbohydrates
4% DV Dietary Fiber
8 Grams Of Protein
200 Calories
Sunflower flour is a great flour alternative if you are on a ketogenic diet. It is very high in fiber while being relatively low in carbohydrates.
When used for baking, keep in mind this nutritional information does not cover one individual serving of a baked good. A cup of flour could easily include multiple servings of a recipe.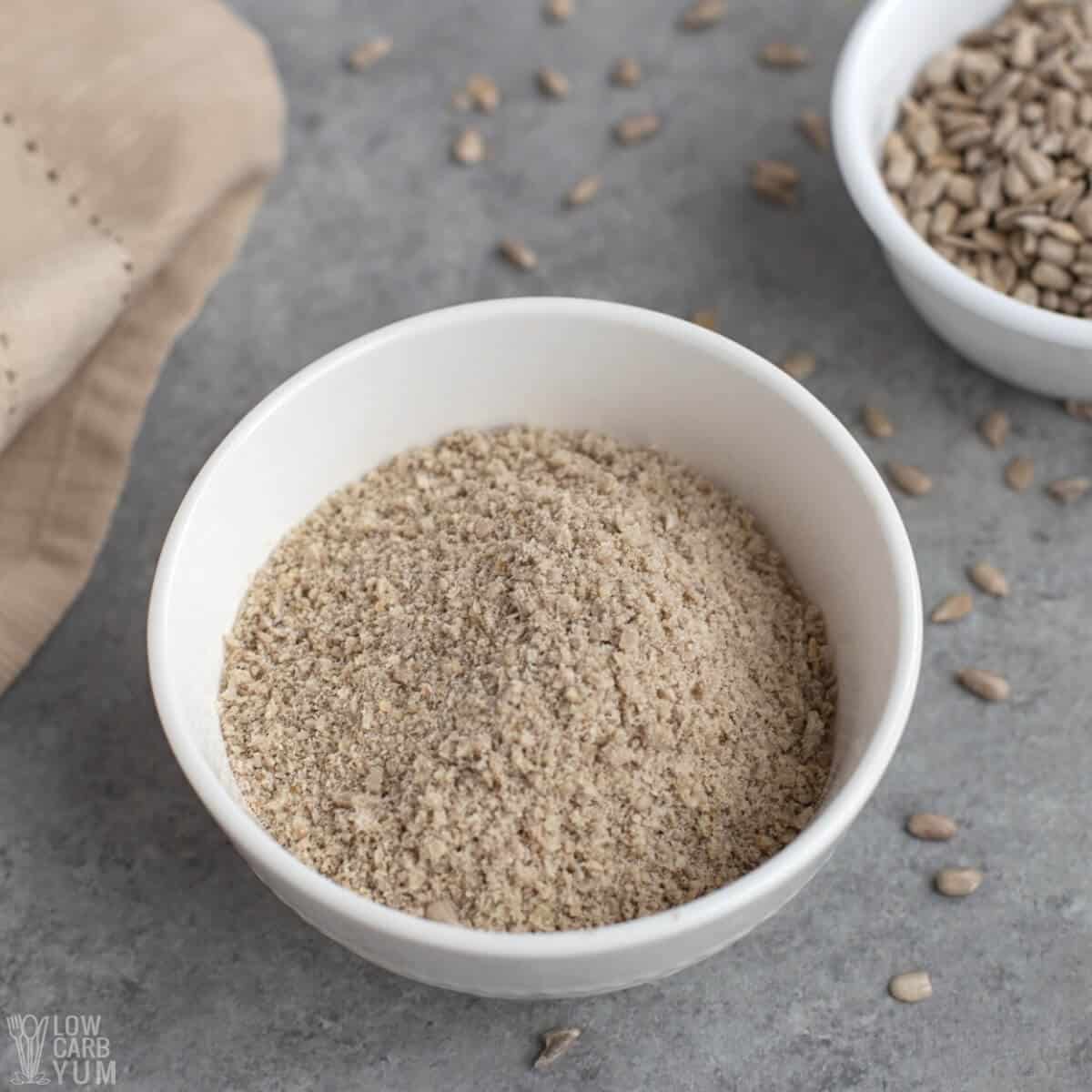 Is Sunflower Seed Flour Okay For A Ketogenic Diet?
Sunflower seed flour is great for a keto lifestyle because it is very low in carbs while being high in protein. It is also gluten-free, grain-free, paleo-approved, and diabetic friendly.
It is the perfect flour if you are looking to experiment with more diverse options.
What Is Sunflower Seed Flour Made of?
This flour alternative is very simply made from grinding down sunflower seeds into a fine powder.
The process can easily be done at home if you don't want to pay for pre-ground flour. Just be aware that grinding too little will result in the flour being gritty, and grinding too much will turn your seeds into sunflower butter.
Pulsing in a small food processor can prevent over grinding. A coffee grinder is great for making smaller amounts.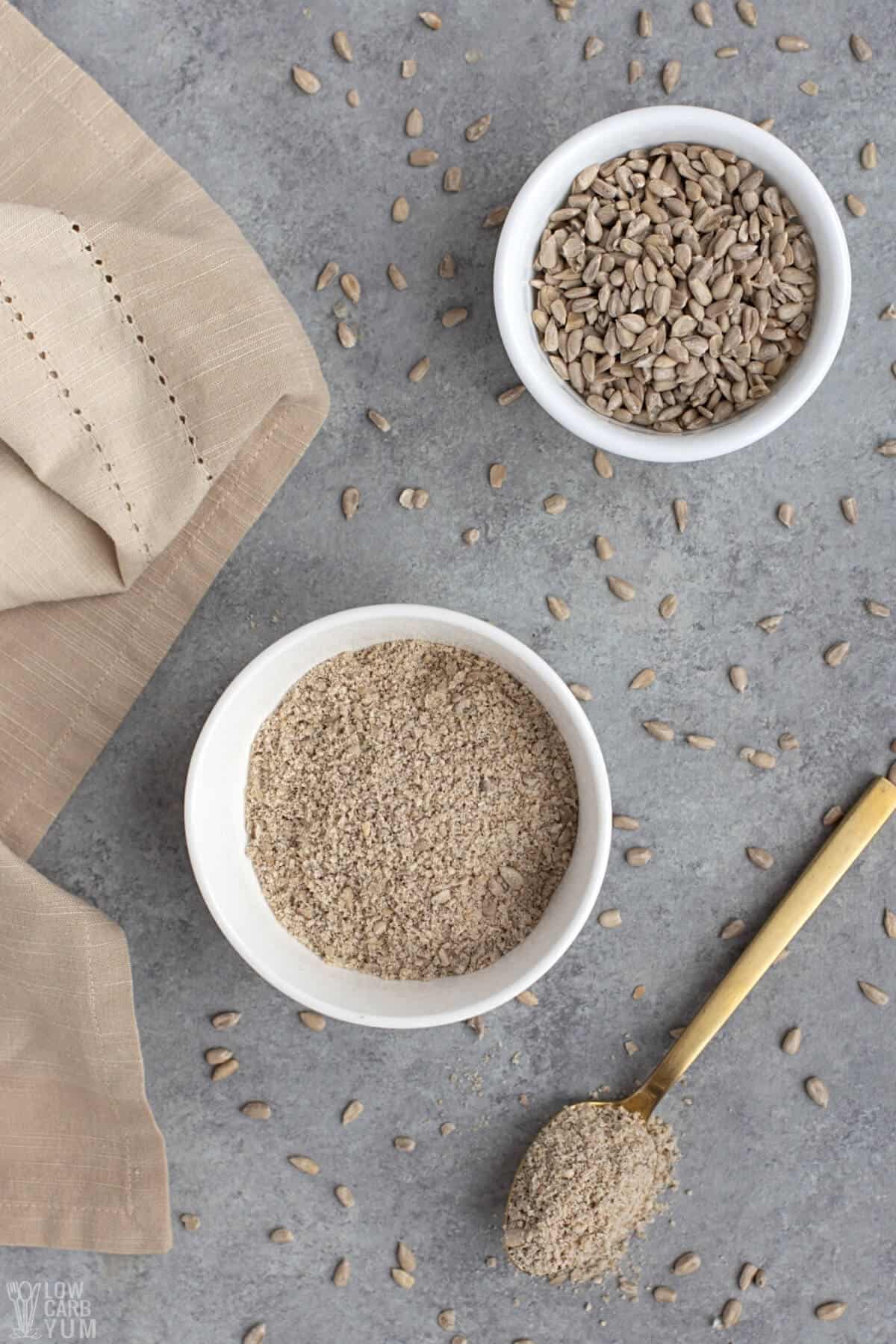 Baking With Sunflower Seed Flour
Sunflower flour is a great keto-friendly flour to try out since it is relatively easy to use. It can be used at a 1:1 ratio, unlike other keto flours, and doesn't overpower other flavors.
This flour can be used in all kinds of recipes that call for sunflower seed flour, as well as dishes where you need an all-purpose substitute. Unlike other flours, it's also is easier to experiment with - while still getting good results.
One of the best qualities of this flour is that you often don't really have to worry about conflicting flavors in your recipes. This flour is only slightly nutty and doesn't usually have a distinct taste once baked with other flavors.
Pro Tips For Successful Use
Make sure you store your flour in the refrigerator to maintain its freshness. Because it contains natural oils, it can begin to spoil quickly if not in the right conditions.
If making sunflower seed flour at home, freeze what you do not need immediately to prolong its shelf life.
Sunflower flour can be used on its own, but you can also blend it with other keto flour options. This will help your baked goods to be more fluffy and have a better-developed crumb.
For extra light and fluffy baked goods, make sure that you sift all of the dry ingredients in the recipe - especially the sunflower flour to remove any clumps and make it airier.
What Does Sunflower Seed Flour Taste Like?
Sunflower seed flour is mild tasting with a slightly nutty and sweet flavor. Perfect for both sweet and savory foods! The taste is very neutral, so the flour will not become overpowering or mess with other flavors in a dish.
Sweetness enhances the natural sweetness of sunflower flour, while savory food enhances the nuttiness.
Where Can You Find Sunflower Seed Flour?
This ingredient may be a little bit harder to find just because it is unusual. Because of this, your best bet is going to be ordering the sunflower flour online. Many places will carry it, including Thrive Market and Amazon.
Some health food stores may keep it in stock, but it will be more affordable online.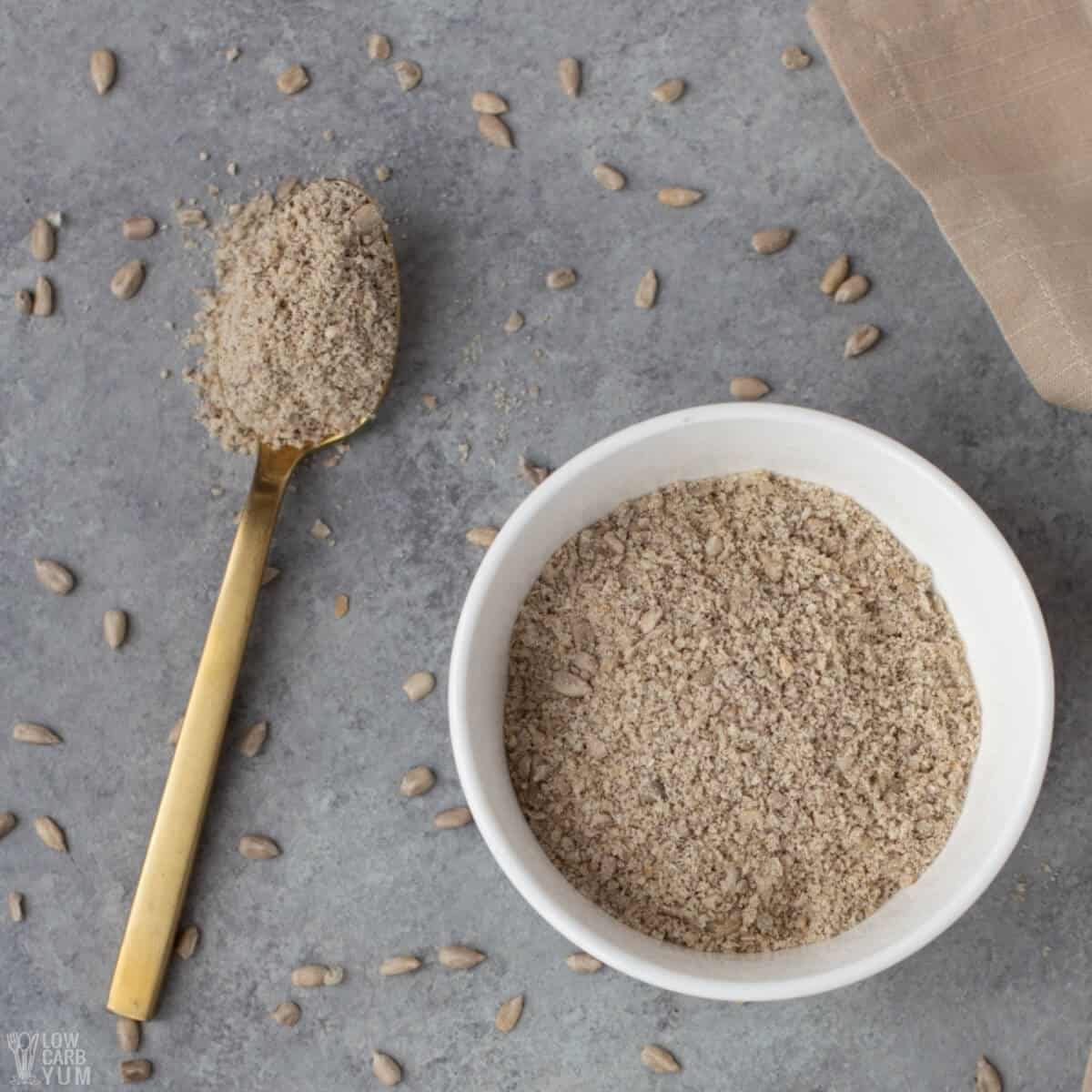 More Keto Recipes To Try
Want to start using sunflower seed flour in your baked goods? Here are some recipes that you could try with this flour to make delicious, low-carb treats.
Follow us on FACEBOOK, PINTEREST, and INSTAGRAM for even more tasty keto-friendly recipes!