These sour citrus fruits are found in many keto recipes and drinks, but are lemons keto? Keep reading to find out all about the carbs in lemons and how they fit into your low carb diet!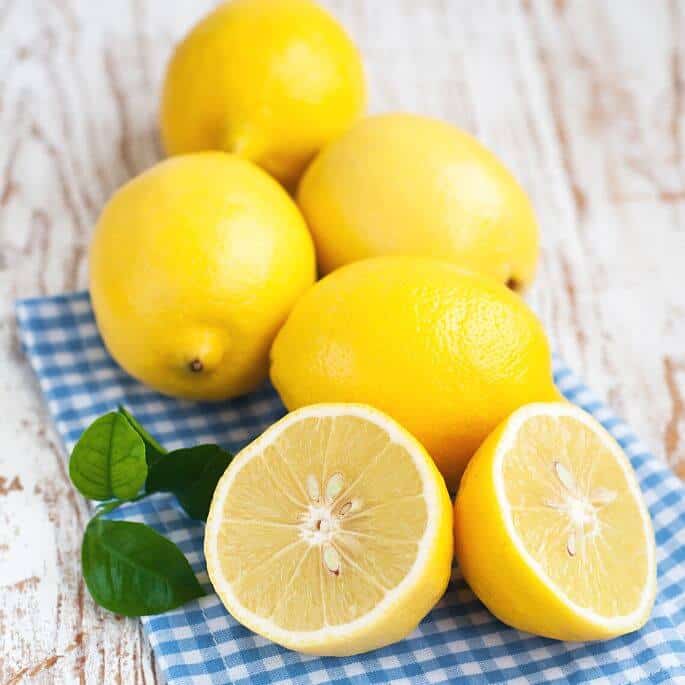 There is no other fruit like the lemon. Just looking at them makes you think about summertime, sweet and sour and tart flavors - and seafood too!
Have you ever stopped to think about lemons on the keto diet? Many people just assume it's ok to eat lemons on a low-carb diet because they are an ingredient in so many recipes.
Yes, lemons are keto-friendly. The same can't be said about other citrus fruits. Super-sweet oranges clock in at 11 grams total carbs each.
One bite into a lemon and you'll be able to tell that they are low-carb. They aren't sweet at all!
Did you know that adding lemons to your food has been linked to a ton of different health benefits? Keep reading, and I'll share the nutrition facts, recipe ideas, and more information about lemons on the ketogenic diet.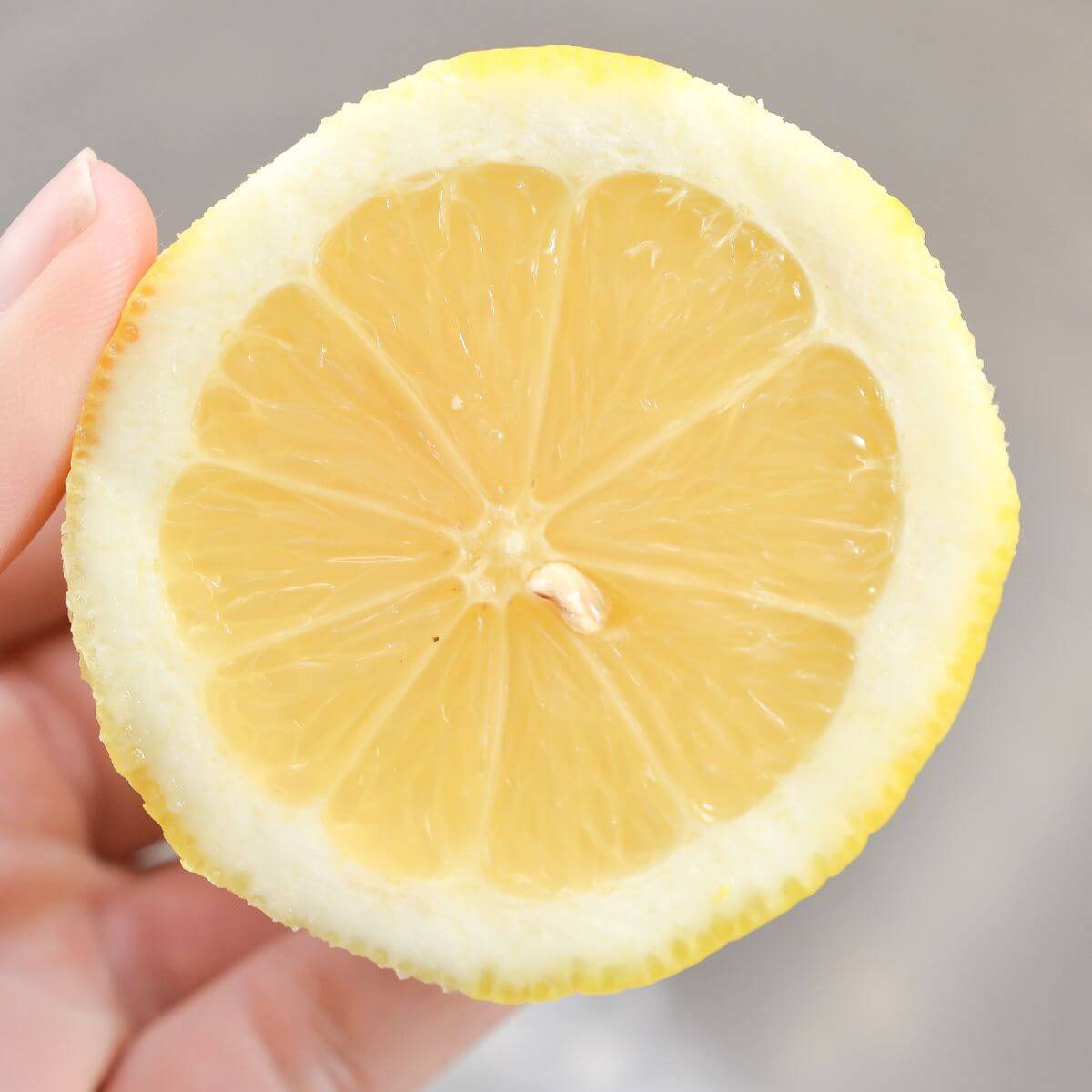 Parts Of Lemons Used In Recipes
Compared to other fruits, there are a ton of different ways to use lemons in low-carb recipes. From the fruit to the juice and the zest, these are the parts that we use most often.
Lemon juice
Fresh juice from whole lemons has an incredibly full flavor. It's much better than jarred lemon juice.
Lemon Zest
This is the place where a lot of flavors live. The zest is the peel, down to the flesh of the fruit. Some people use a grater; others use a knife to remove the zest.
Most of the soluble fiber is in the lemon zest.
Sliced Lemons
This is the most popular way to use lemons! Slice them and use them to flavor water or enhance seafood recipes.
Lemon Essential Oils
People also commonly use lemon essential oil to manage side effects from health conditions like upset stomachs or lack of energy.
It's a vibrant and powerful oil that invigorates your mind and fills your body with more energy.
Are they keto?
Let's look at the net carbohydrates in lemons to see if they are keto-friendly fruits!
To find the net carbs, subtract the dietary fiber from the total carbohydrates.
In just one fresh lemon, there are about 5.4 grams net carbs and 2.3 grams of fiber. This tells me you can enjoy two whole lemons daily on the keto diet. That's a lot, considering very few people will eat two entire lemons.
Moderate amounts of lemons are a good choice for low-carb dieters. Not only this, but they are good for you too.
The antioxidants in lemons strengthen blood vessels and benefit your heart health. They also have properties that fight chronic inflammation.
The basic nutrition profile of all types of lemons might be pretty similar. These numbers are from the USDA. In one raw medium lemon (84 grams), there are:
7.83 grams total carbohydrates
2 grams dietary fiber
17 calories
1 gram protein
51% daily value of vitamin C
Health benefits
You can't deny the health benefits of lemons when it comes to different types of keto foods.
There are three different types of antioxidants in lemons. These beneficial plant compounds help prevent buildup in your arteries, improve muscle tone, and prevent cell damage.
This is one of the best types of citrus fruits to eat on the ketogenic diet.
They are high in soluble fiber. With 2 grams of fiber, it helps keep your gut healthy and aids in a healthy digestive system.
Lemons are nutrient-dense. Vitamin C, copper, manganese all work together to boost and strengthen your immune system.
High in antioxidants. The antioxidants protect your cells from damage-causing free radicals.
Citric Acid. This helps prevent kidney stones.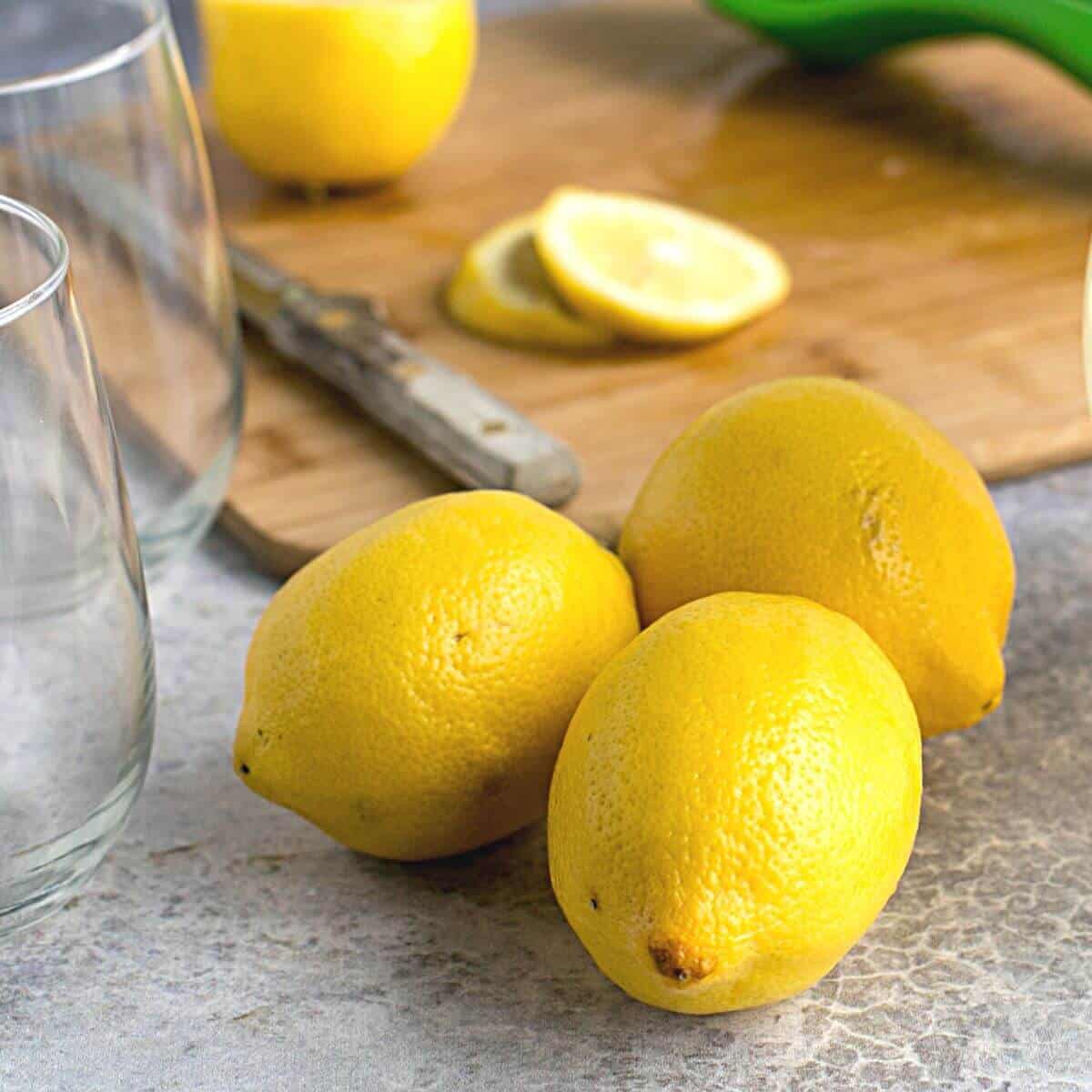 Ways to prepare lemons
There are tons of keto-friendly lemon recipes due to their low carb count compared to other types of fruits. Here are some of my favorite ways to eat lemons on keto.
Add lemons to a healthy keto diet, and you'll feel better (and your food will taste better, too!).
Raw
Use raw lemon slices to garnish your favorite foods. The sour taste naturally brightens foods like keto lemon chicken and lemon coconut cream cheese balls.
The citrus flavonoids naturally flavor both food and drinks.
In Drinks
Slice some fresh, raw lemons and add them to sugar-free lemonade.
You can also use them to make spa water at home! Drinking lemon water has been linked to weight loss, especially when paired with intermittent fasting.
Lemon Zest
Sprinkle some lemon zest on top of keto lemon loaf. It's a really simple way to enhance the flavor of this citrusy sweet bread.
Make Lemon Desserts
With both lemon juice and lemon zest, you can make a bunch of different light and low-carb desserts.
These are my all-time favorite ones:
Keep Avocado Fresh
Spritz a bit of lemon juice on top of some sliced avocado to prevent it from going brown.
FAQs
Here are some questions people often ask about eating lemons on the keto diet. If you don't see your question in this list, please leave it in the comments.
What are other low-carb fruits I can eat on the ketogenic diet?
There are a lot of keto-friendly fruits you can choose from. My favorites are strawberries and blueberries! Read this keto fruit guide before you indulge in all the fruits you love because some are higher in carbs than others.
How do lemons help improve immune function?
Lemons are high in both vitamin C and a variety of different antioxidants. These antioxidants fight the growth of cancer cells. The anti-cancer properties of lemons are very well-known.

Antioxidants also work to prevent damage from free radicals, which is amazing for your overall health and heart health.
How long do fresh lemons last?
At room temperature, fresh lemons will last for about a week.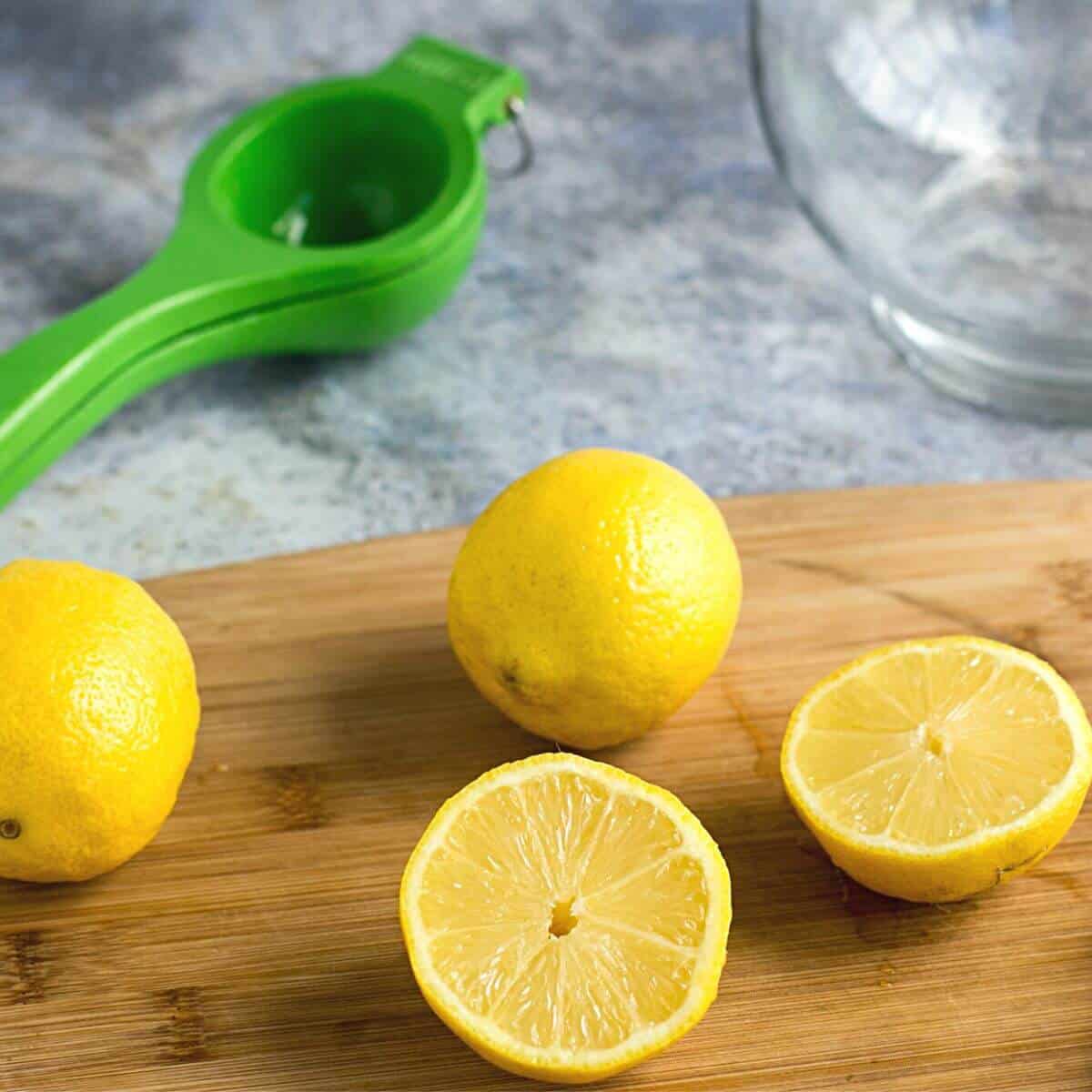 Recipes
Now that you know how lemons fit into a keto diet, here are some keto recipes that use lemons and other types of fruit. They all fit easily into a low-carb lifestyle.
Follow us on FACEBOOK, PINTEREST, and INSTAGRAM for even more tasty keto-friendly recipes!