Fresh and crunchy, radishes are an unlikely yet tasty addition to your favorite roasts and salads. But are radishes keto-friendly? Explore radish nutrition, health benefits, and keto radish recipes.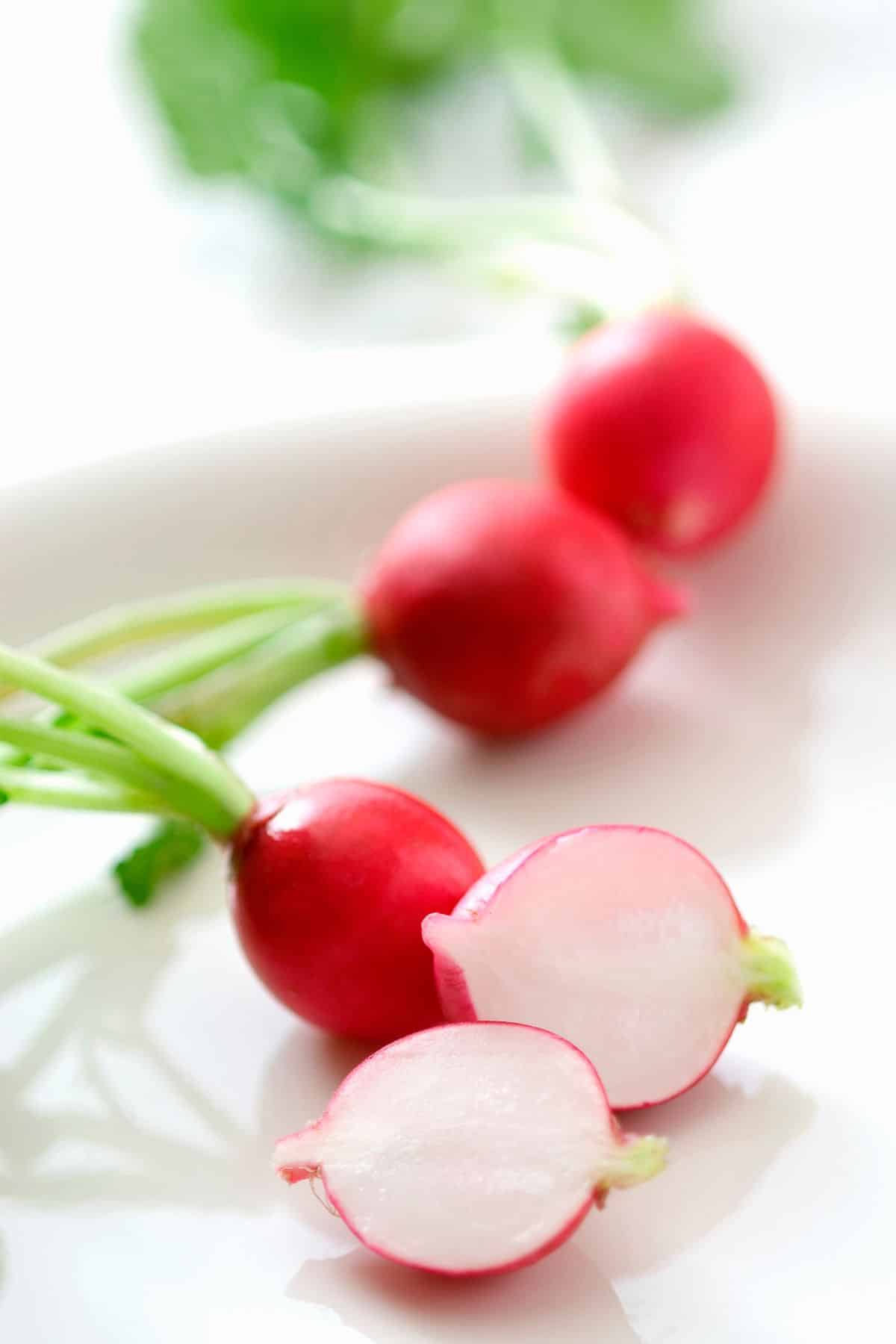 When meal planning a keto diet, you need to be a little bit creative with your ingredients. Radishes are a lesser-used vegetable in North American cooking, and it's a real shame!
Radishes can be eaten either raw or cooked. They are healthy vegetables that are also low-calorie and versatile for cooking. In my opinion, I think they deserve a lot more spotlight than they receive!
In this post, we're exploring all things radishes, peeking into their macro and micronutrients to see if you can enjoy them on a keto diet.
I've also included radish health benefits and helpful low-carb recipes to help you with your keto diet journey.
Note: Check out the best keto vegetables for more low-carb veggie ideas. For even more food groups, the keto food list is perfect for anyone starting the keto diet.
Are radishes keto-approved?
Yes! You can definitely eat radishes on a keto diet.
100g of raw daikon radishes contain 2.5g net carbs. Additionally, 100g of traditional radishes have just 1.8g net carbs! This makes both varieties keto-approved.
Enjoy raw radishes sliced on top of salads, cooked radishes as a potato substitute, and pickled radishes as a fun topping to bowls, tacos, and more.
Radish nutrition information
Radishes are an excellent vegetable to eat on a low-carb diet because of their low net carbs, high levels of dietary fiber, and other favorable macronutrients.
The macronutrients for 100g of radishes include:
Total carbs: 3.4g
Net carbs: 1.8g
Protein: 0.7g
Fat: 0.1g
Fiber: 1.6g
Note that the macronutrients for 100g of daikon radishes are VERY similar, with two simple differences of 2.5g net carbs and 0.6g protein.
There are several reported health benefits to including radishes in your diet. These health advantages include:
Supports healthy digestion through fiber content
Can help manage blood sugar levels and lower cholesterol
May contribute to healthy weight loss
Has antifungal properties
Radish keto recipes
Ready to start eating some tasty radishes? Each of these meals includes keto-friendly ingredients featuring the vegetable of the hour...radishes!
1. Radish keto hash browns
My radish hash browns turn a breakfast staple into a low-carb delight!
Each of these radish hash browns contains just 3g net carbs, making them a wonderful breakfast option on a keto diet.
Enjoy them alongside some scrambled eggs and sugar-free ketchup for a well-rounded breakfast.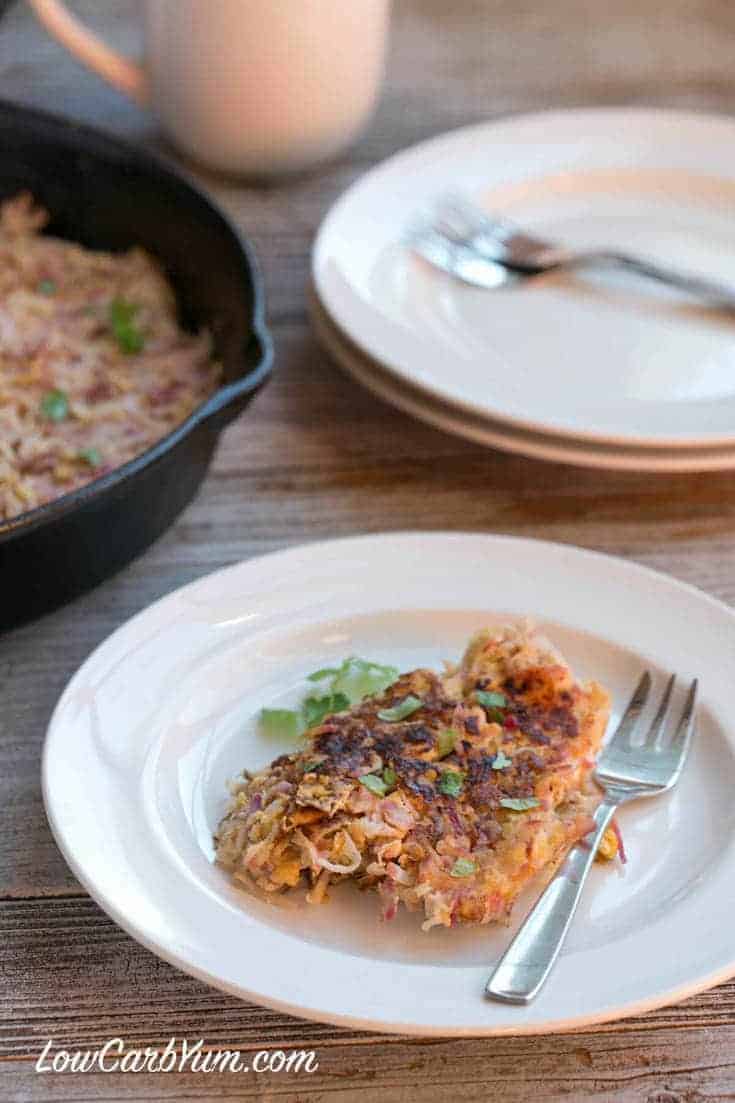 2. Keto roasted radishes
Oven-roasted radishes make the best substitution for roasted potatoes.
My roasted radishes recipe is simply seasoned with olive oil, salt, oregano, and fresh garlic for a versatile side dish.
Serve them with delicious protein for a quick weeknight dinner option.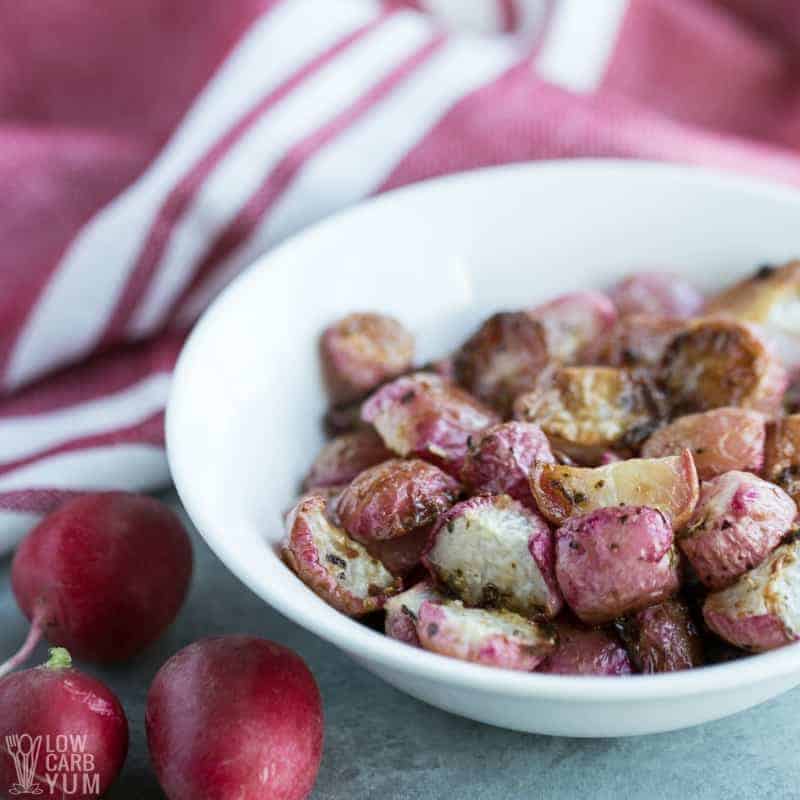 3. Radish chips
Calling all potato chip fiends! Enjoy crunchy chips without the high carb count, made from sliced, raw radishes!
These radish chips include minimal ingredients, including sliced radishes, palm oil, and coarse sea salt.
With significantly fewer carbs in radishes than potatoes, radish chips make an awesome substitution.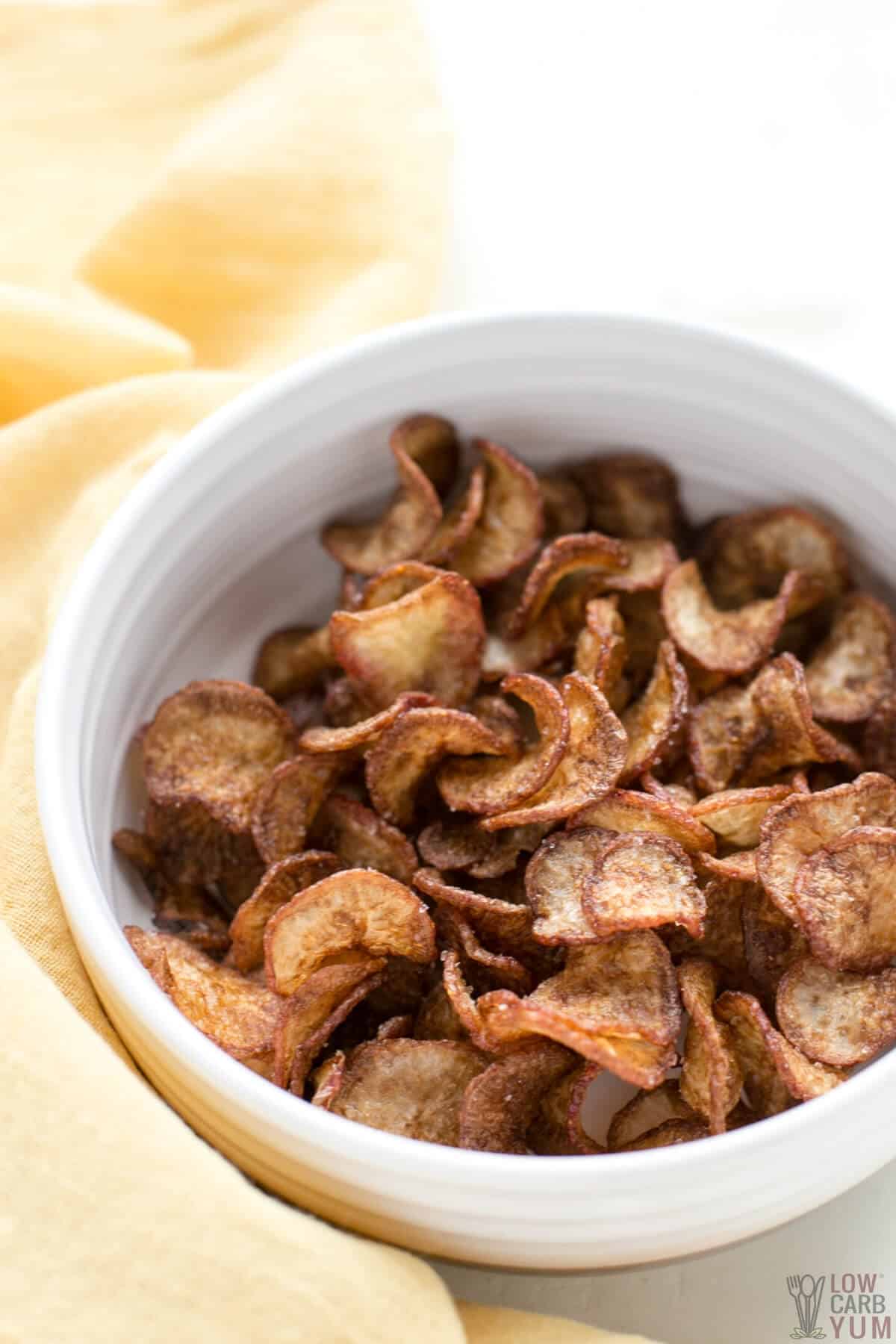 4. Keto sausage casserole
My daikon and sausage casserole features ground meat, daikon radishes, and a buttery cream sauce for an indulgent, hearty meal.
This daikon radish keto recipe is one of my favorite meals to prepare ahead of time, then stick in the oven when it's time for dinner!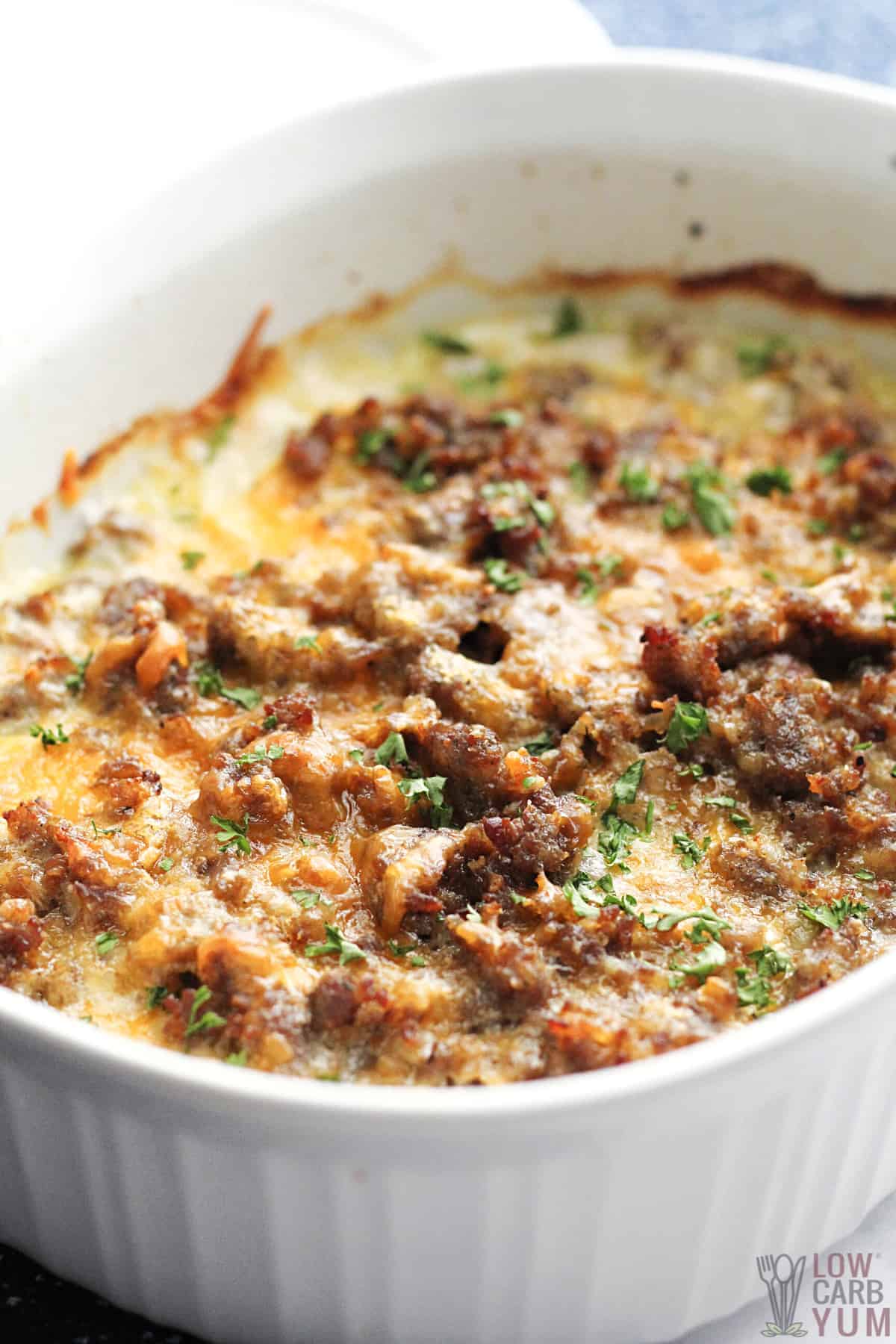 5. Roasted celery root and radishes
For a twist on roasted radishes, try my roasted celery root and radishes. These root vegetables mimic roasted potatoes, flavored with rosemary, olive oil, and salt and pepper.
Both vegetables are low in carbohydrates, making them a tasty keto side dish.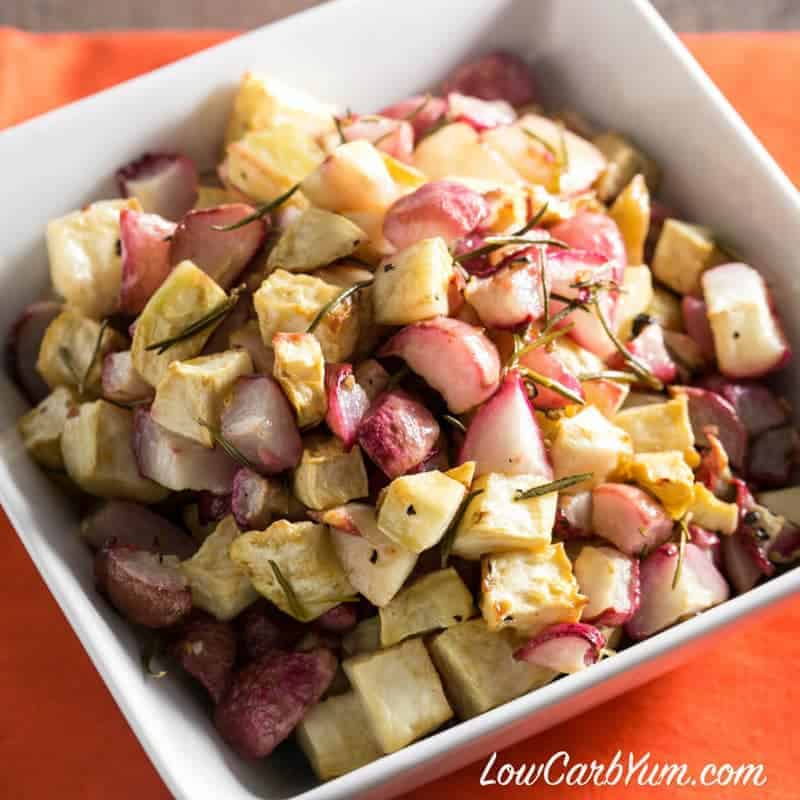 FAQs
Here are some questions people often ask about eating radishes on the keto diet. If you don't see your question in this list, please leave it in the comments.
Are radishes low-carb?
Radishes are definitely considered low-carb, with just 1.8g net carbs per 100g of raw, traditional radishes. Daikon radishes are also low in carbs, with 2.5g net carbs per 100g.

You can easily fit a serving of radishes into your daily carb intake.
What are the carbs in radishes vs potatoes?

Radishes include a significantly lower carb count than potatoes. 100g of radishes contain 1.8g net carbs in comparison to the 18.3g net carbs in 100g of potato.

Because these vegetables can be cooked similarly, radishes make a great low-carb substitute for potatoes. Deep fry traditional radish slices or sliced daikon radishes as chips. Or, make roasted radishes instead of roasted potatoes.
What does cooked radish taste like?
While raw radishes are fresh and peppery, cooked radishes taste far different. They're slightly sweet and similar to turnips or potatoes.
They hold on to a small amount of peppery bite, though it is much more subdued. Think of the difference between raw and cooked garlic.
Are radishes healthier than potatoes?
Health is in the eye of the beholder!

Both radishes and potatoes contain nutrients that can contribute to an overall healthy diet. That being said, potatoes are full of carbohydrates and sugars that will leave you feeling sluggish and bloated.

Those following a low-carb keto diet will find radishes to be the healthier option. This is because radishes contain fewer carbohydrates than potatoes and are more suitable for their daily macronutrient goals.

Plus, they are just plain delicious!

If You Like This Post, Check These Out!
Now that we've answered "Are radishes keto?", check out these other low-carb, veggie-inspired recipes:
Follow us on FACEBOOK, PINTEREST, and INSTAGRAM for even more tasty keto-friendly recipes!