The super green that Popeye just can't get enough of – spinach is a total powerhouse in the world of nutrition. But is spinach keto-friendly? Discover nutrition facts, nutritious recipes, and health benefits to determine if spinach is suitable for your low-carb lifestyle.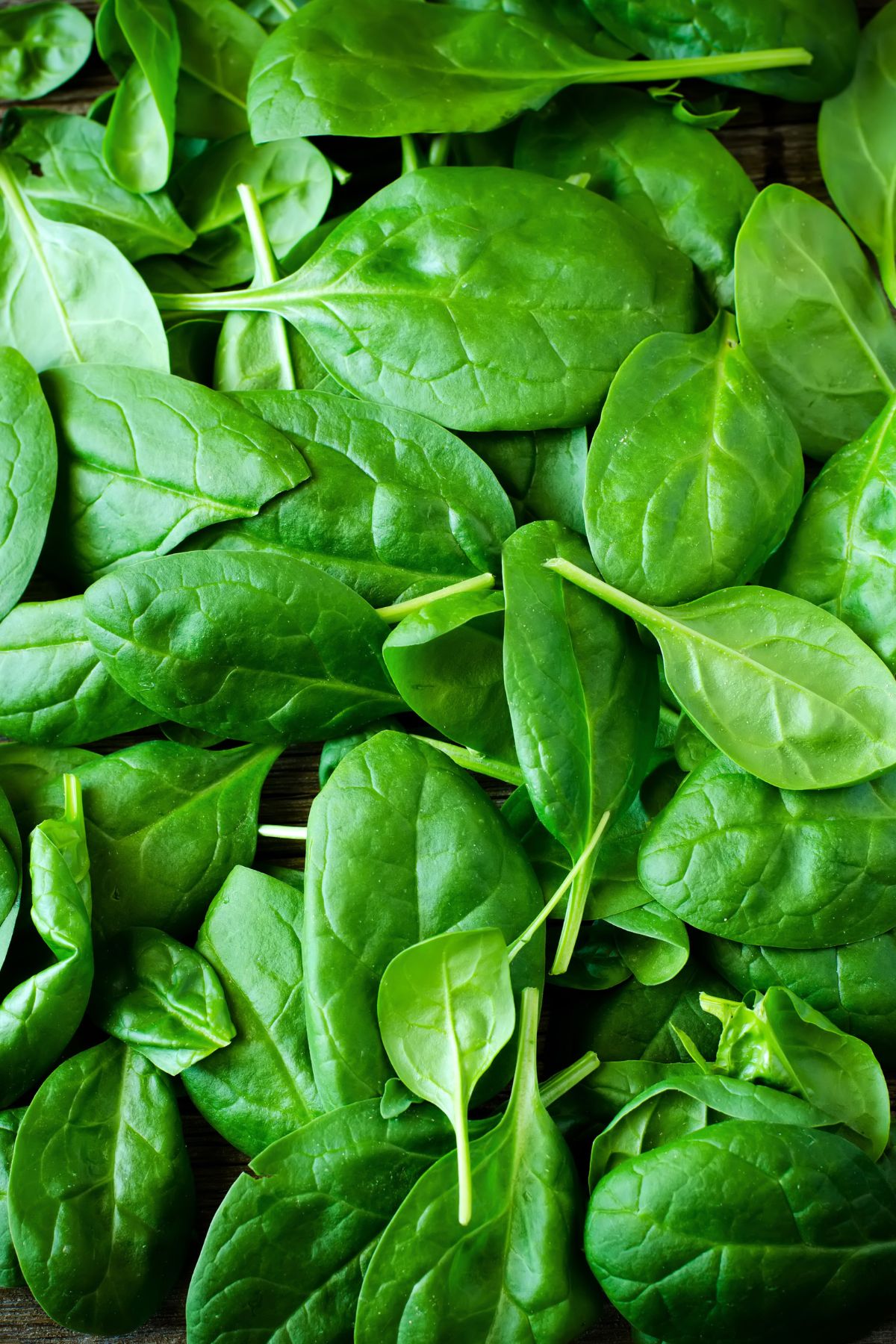 Incorporating more leafy green vegetables into your diet is always a good nutrition goal - the benefits are just unparalleled!
Spinach is an excellent vegetable to eat regularly. It's versatile, easy to pack into your favorite recipes, and incredibly diverse in nutrients.
But the question remains, "Is spinach keto?"
In this post, I'm sharing whether or not you can enjoy spinach on a ketogenic diet. I'm also offering in-depth nutrition facts, recipe ideas, and listed macronutrients for your convenience.
Note: Check out the best keto vegetables for more low-carb veggie ideas. For even more food groups, the keto food list is perfect for anyone starting the keto diet.
Is spinach keto-approved?
Spinach is suitable for keto diets!
There are just 1.4 grams of net carbs in spinach per 100g. This makes spinach an incredible veggie to incorporate into your low-carb diet.
A keto diet generally limits your daily carb intake to less than 50g. A serving size (or several) of spinach can easily fit into your daily allotment.
Try incorporating spinach into your smoothies, casseroles, salads, and stir-fry dishes for an ample bout of nutrition!
Keto nutrition facts
Wondering what makes spinach one of the best leafy greens? It's macro and micronutrients, of course!
Here are the macronutrients for a serving size, or 100g, of raw spinach:
Total carbs: 3.6g
Net carbs: 1.4g
Protein: 2.9g
Fat: 0.4g
Fiber: 2.2g
There are also tons of health advantages to eating spinach. Some reported benefits include:
Helps digestion with a high fiber content.
Includes high levels of vitamin C, vitamin A, iron, calcium, and folic acid.
Has several plant compounds, improving your overall health.
Includes antioxidants that can help fight signs of aging.
Improves eye health.
Studies show it may help prevent cancer.
Can help reduce blood pressure.
Whew! In short, spinach is a health-food-beast.
Keto spinach recipes
If you'd like to include more spinach in your low-carb diet, I have the goods for you! Check out these tasty spinach keto recipes:
1. Keto hot spinach dip
My hot spinach cheese dip puts other appetizers to shame, layered with parmesan cheese, mozzarella, and cream cheese.
Serve it to guests for a guaranteed plate cleaner!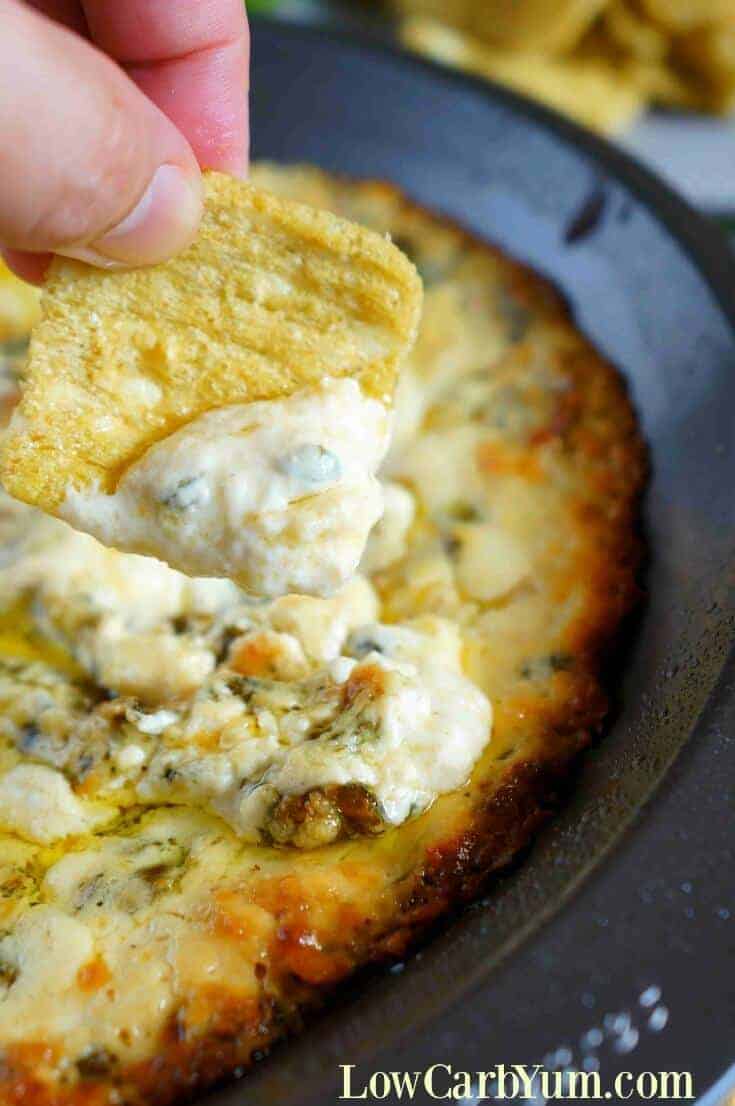 2. Palak soup (Indian spinach soup)
This palak soup is Indian-inspired, filled with humble yet delicious ingredients like baby spinach, ginger, and cumin.
Coconut milk makes this soup rich and creamy. Plus, it adds some healthy fat content.
Drizzle your bowl with a bit of olive oil and let the flavors do their work.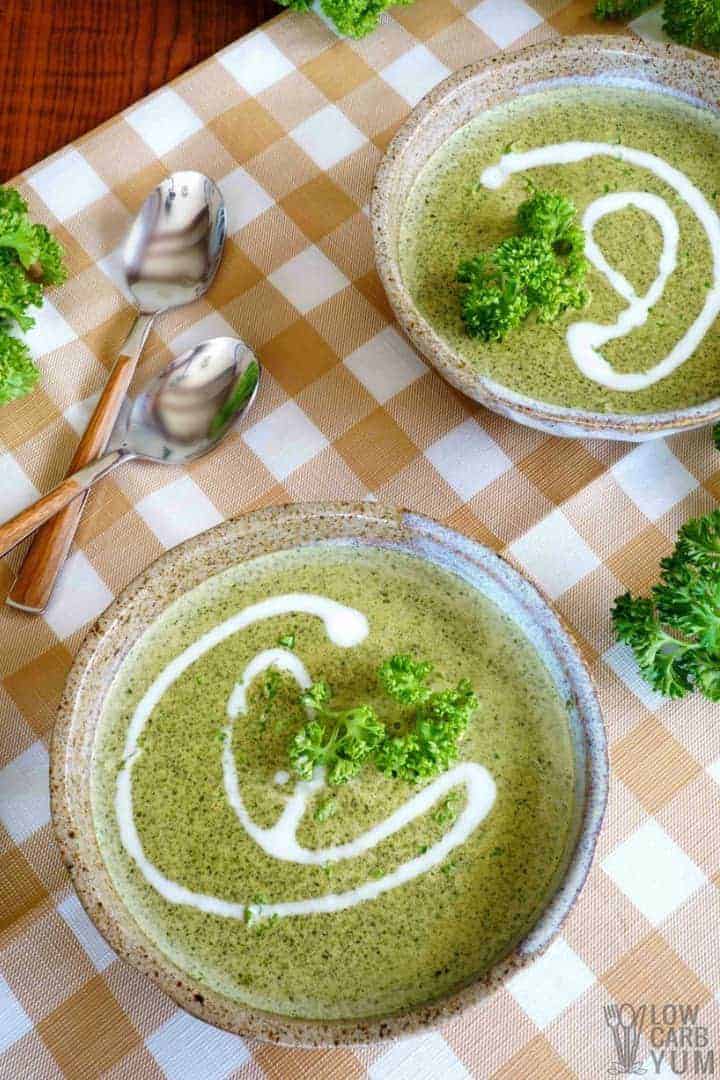 3. Spinach tomato meatza pizza
A spinach tomato meatza pizza uses spiced ground beef and eggs as a low-carb crust substitute.
You can pile your "crust" high with the toppings of your choice like nutritious spinach, fresh basil, and mozzarella cheese.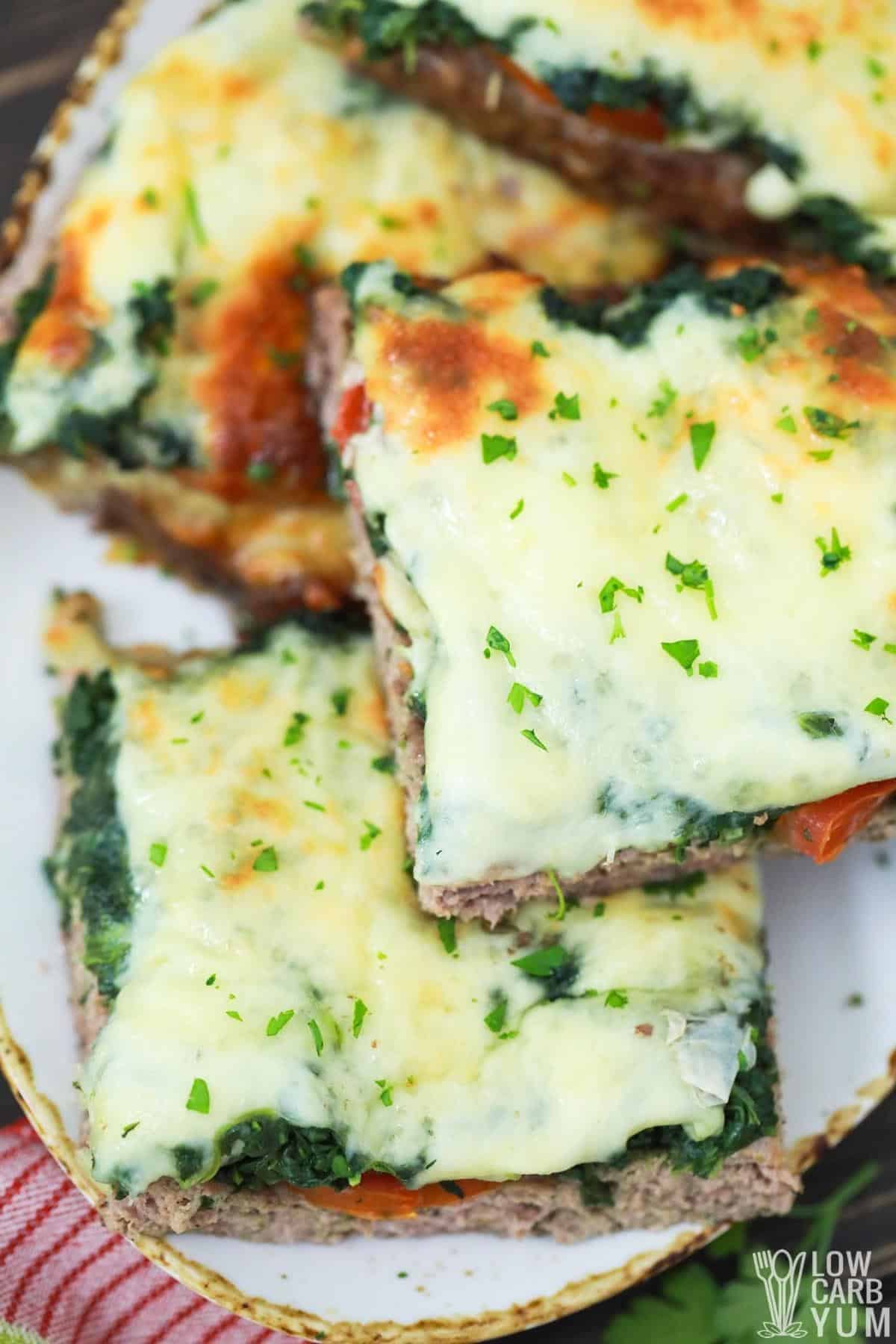 4. Spinach strawberry salad with vinaigrette
I love eating this spinach strawberry salad for lunch because it's simple, nutritious, and filled with yummy low-carb extras like sliced strawberries and almonds.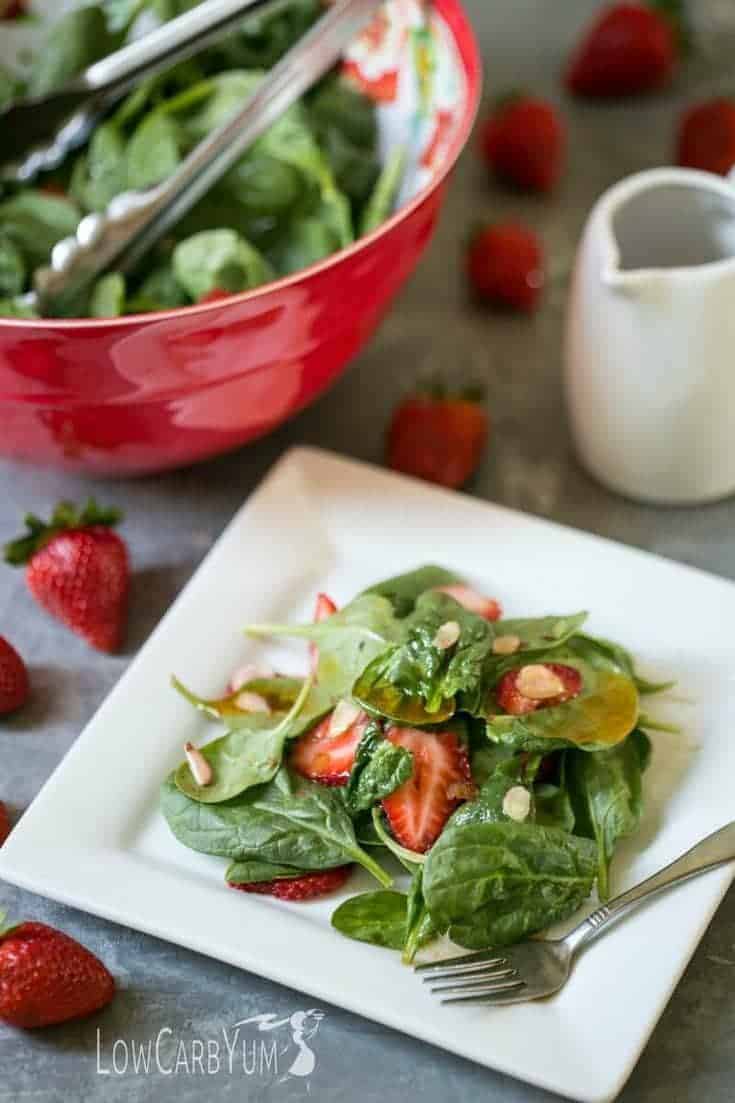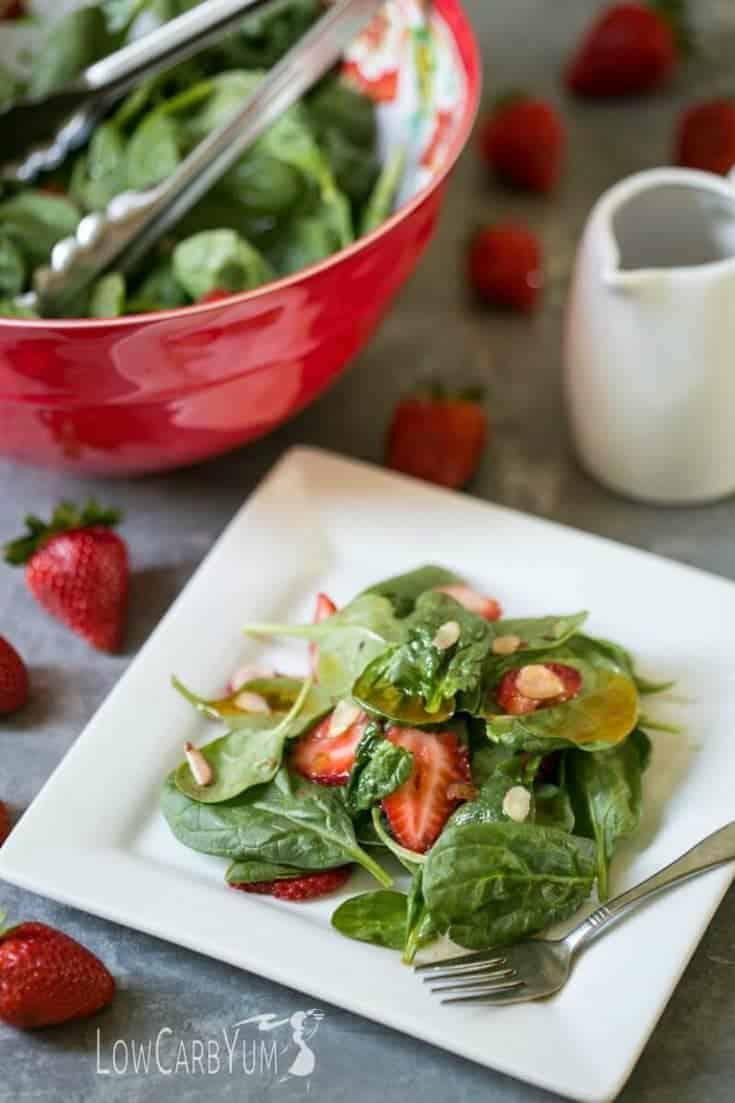 5. Stuffed portobello mushrooms with spinach and artichoke
These stuffed portobello mushrooms are super versatile and easy to make. I combine cooked spinach, artichoke hearts, and parmesan cheese for a decadent creation!
Melted mozzarella is the perfect cheesy addition to bring this appetizer dish together.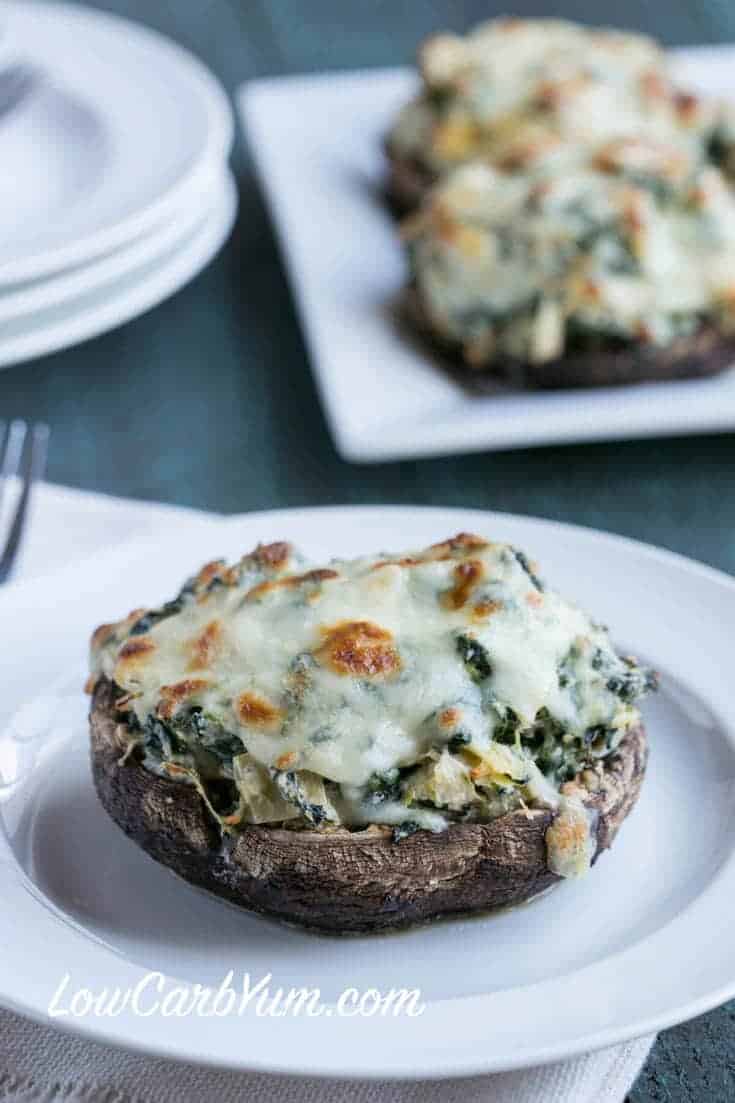 6. Crustless spinach cheese pie
My crustless spinach cheese pie is a favorite keto spinach recipe in my house, made simply with layers of egg, cheese, and spinach.
This quiche-like dinner is easy to prep in a pie dish for a quick weeknight dinner option.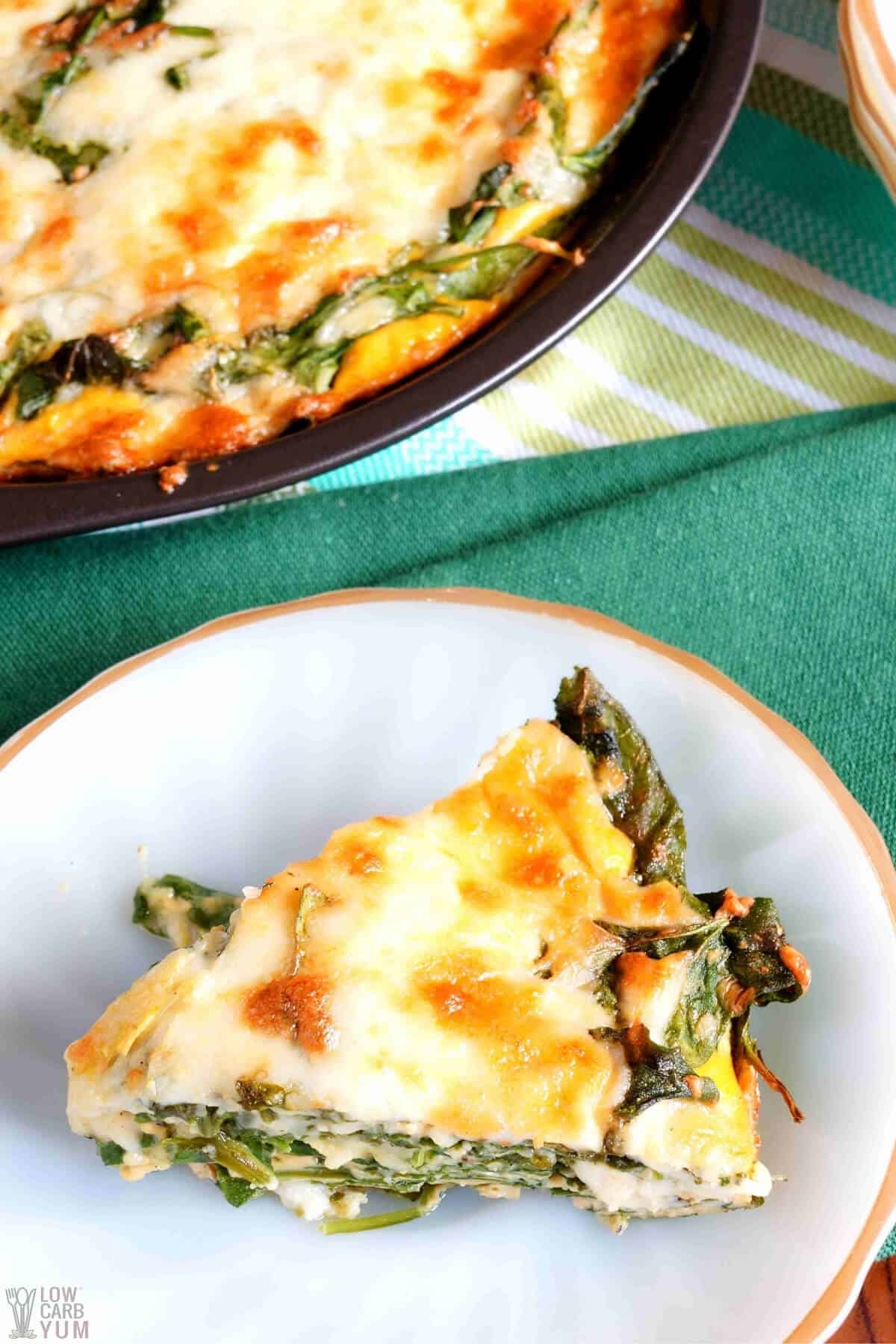 7. Creamed spinach with cheese
In the market for the best keto creamed spinach recipe out there? My creamed spinach with cheese takes the cake!
Yummy, high-fat ingredients like cream cheese, heavy cream, and romano cheese make this a veggie side dish that even kids adore.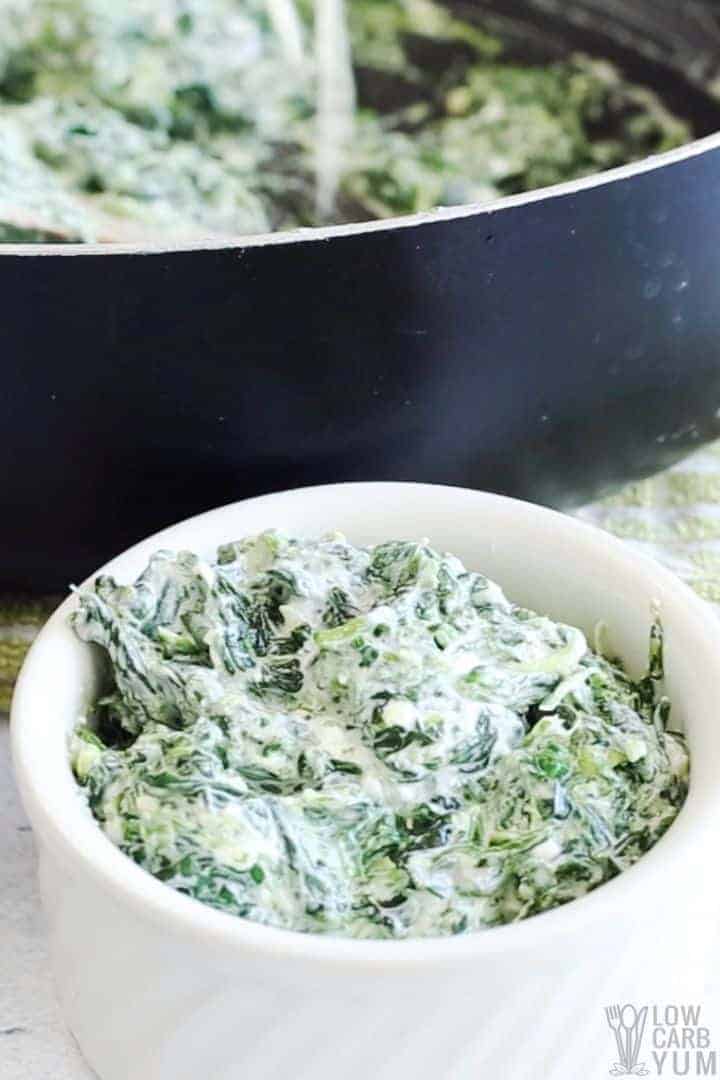 8. Pumpkin lasagna with spinach
My pumpkin lasagna with spinach is super hearty and made with protein-packed meatza noodles.
Plus, the cheese blend is out of this world!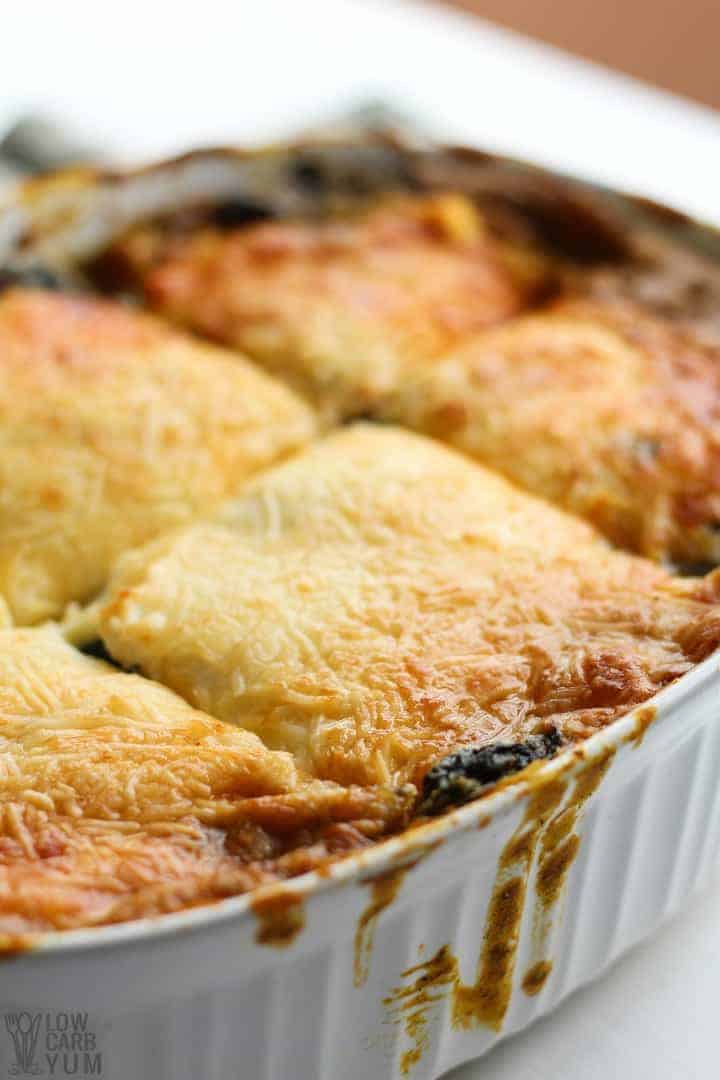 9. Keto baked fish florentine
This baked fish florentine combines all the nutritious value of spinach and cod with a creamy sauce that will have you reaching for seconds.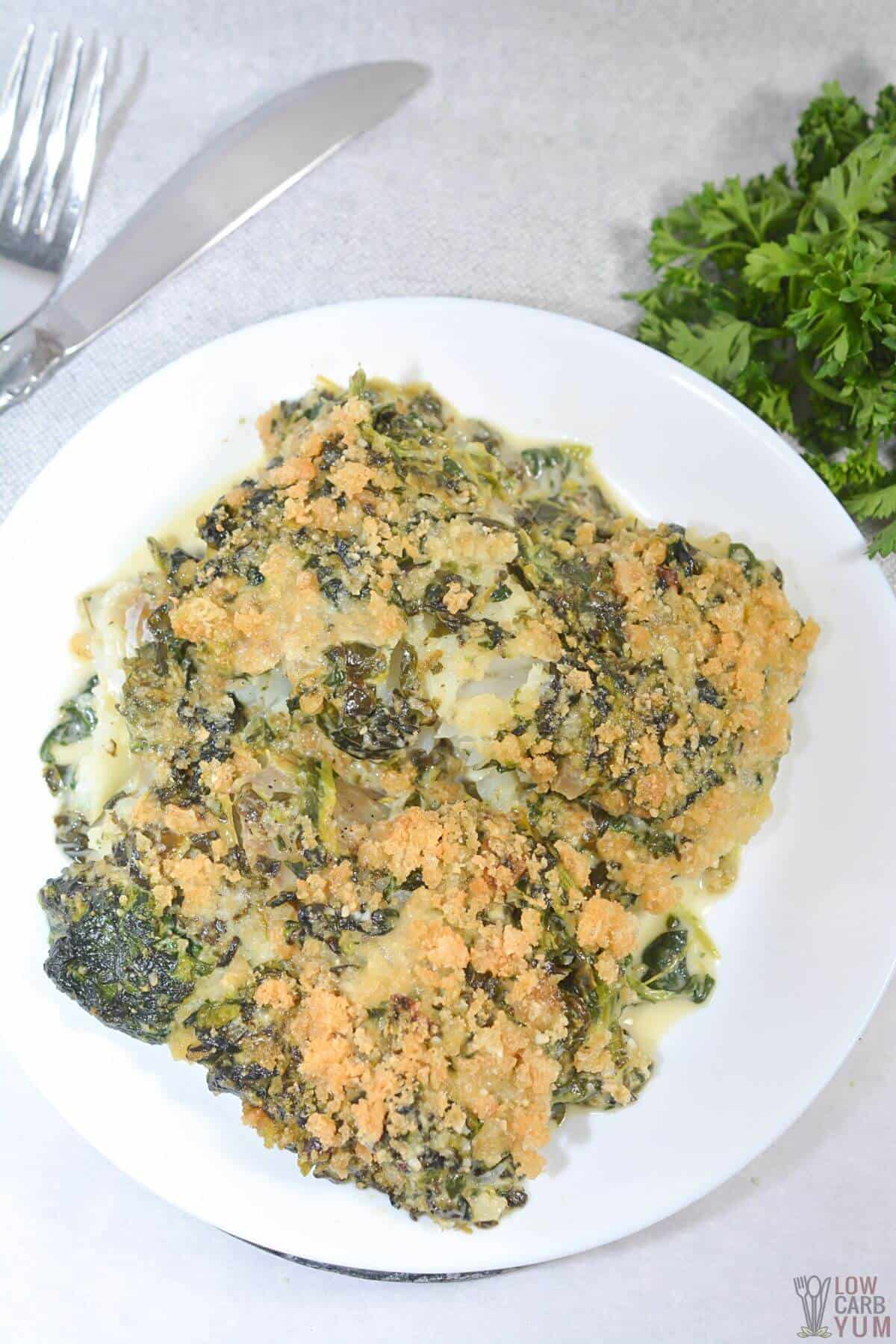 FAQs
Here are some questions people often ask about eating spinach on the keto diet. If you don't see your question in this list, please leave it in the comments.
What are the best low-carb vegetables?
Some of the best low-carb vegetables include:
- Lettuce
- Spinach
- Broccoli
- Cauliflower
- Asparagus
- Zucchini
Is spinach helpful for weight loss?
Spinach can be a helpful ingredient in weight loss because it's a low-calorie and low-carb food.

This lower carb count can help you reach ketosis, helping your body burn fat in the process.
Which leafy vegetables are keto-friendly?
Leafy vegetables are both nutrient dense and widely keto-friendly! Keto leafy vegetables include:

- Spinach
- Lettuce
- Swiss chard
- Arugula
- Kale
How many net carbs are in 2 cups of cooked spinach?
There are approximately 5.4g net carbs in 2 cups of cooked spinach. This is well under your daily carb allowance of 50g per day.

Also, note that 2 cups of cooked spinach is a very manageable portion! So you'll be benefiting from tons of vitamins and minerals with a low-carb and low-calorie intake.
If you like this post, check these out!
Now that we've answered, "Is spinach keto?" let's take a look at some other low-carb, veggie-centered recipes:
Chicken and Shrimp Stir-Fry With Broccoli includes two protein sources for a healthy and filling meal. This recipe is also suitable for a variety of diets, including paleo, keto, and AIP!
Keto Pulled Pork Nachos With Cauliflower are the perfect low-carb alternative to corn nachos piled high with cheese, pulled pork, and hot peppers.
Prosciutto-Wrapped Asparagus makes a delicious keto-friendly appetizer, complete with a healthy dollop of cream cheese in each bite.
Turkey Zucchini Meatballs stay super moist from the shredded zucchini for a tasty and nutritious addition to any meal.
Keto Cabbage Hash Browns are perfectly crispy and salty, making them even tastier than their traditional high-carb potato form. Dip them in your favorite dipping sauce for the best snack – ever!
Follow us on FACEBOOK, PINTEREST, and INSTAGRAM for even more tasty keto-friendly recipes!