Sweet potatoes are often advertised as the healthy alternative to traditional potatoes – but is this naturally sweet root vegetable keto diet approved? Read on to learn nutritional information, health benefits, and the answer to the question of the hour: are sweet potatoes keto?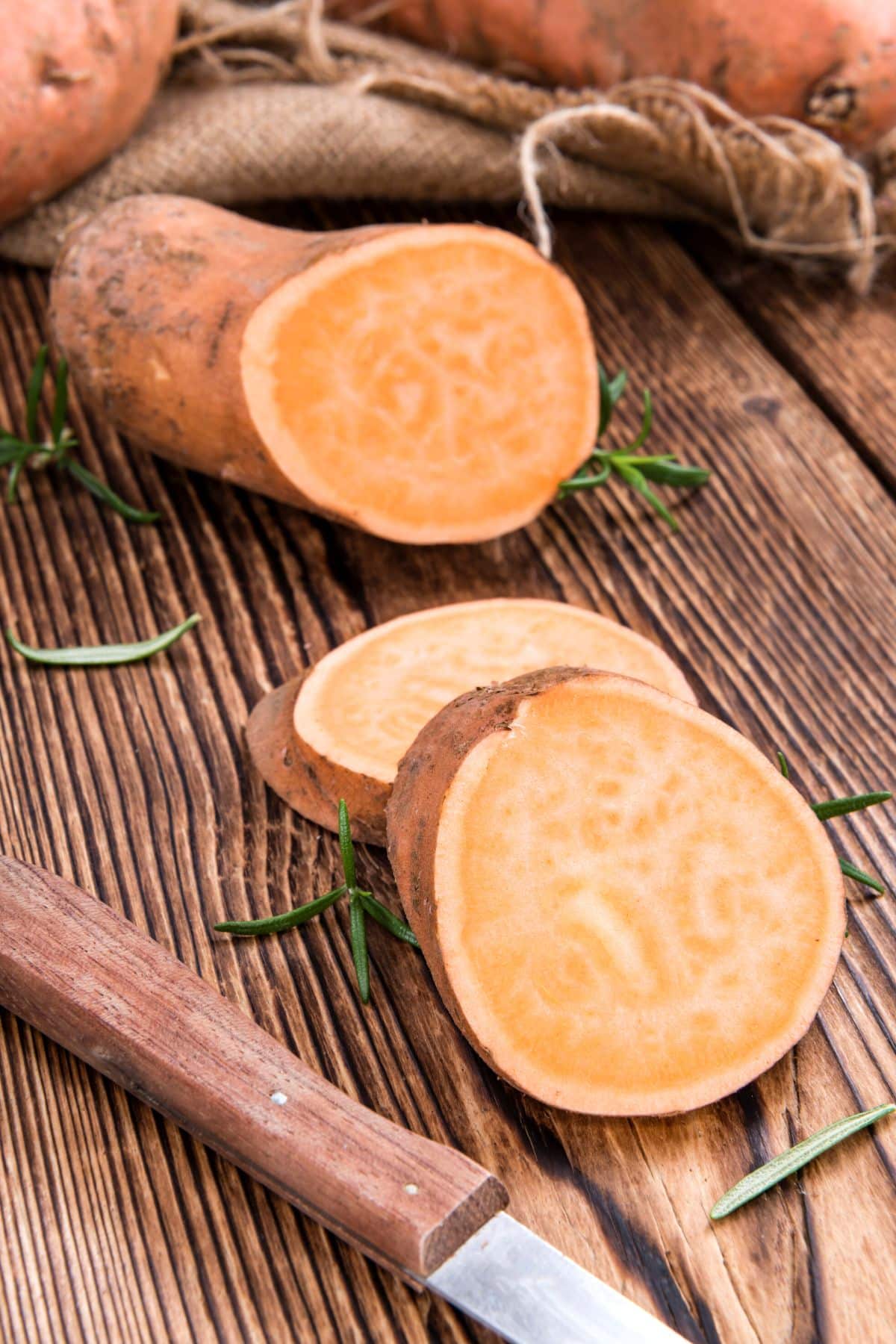 Starchy vegetables aren't evil!
Root veggies like potatoes and sweet potatoes are packed full of vitamins and minerals that could contribute to a well-rounded, healthy diet.
But, the keto diet calls for specific macronutrients that starches struggle to meet.
Keto diets are based on the avoidance of high-carb foods and the emphasis on including healthy fats in your meals; the logic being that the body will begin burning stored fat because of the lowered carbohydrate reserves.
This process is called ketosis. And to reach it, tracking net carbs is a must.
While nutrient-dense sweet potatoes are often seen as a healthy alternative to white potatoes, can their net carbs fit into a healthy keto diet?
In this post, I'll share sweet potato nutrition facts, reported benefits, and low-carb recipes.
I'll also answer once and for all, "are sweet potatoes keto?"
Note: Check out the best keto vegetables for more low-carb veggie ideas. And for even more food groups, the keto food list is perfect for anyone starting the keto diet.
Are sweet potatoes keto?
So, are sweet potatoes keto?
Unfortunately, it's not recommended that you eat sweet potatoes on a low carb diet.
A medium-sized sweet potato contains, on average, 27 grams of carbs which is more than half of your daily carb allowance.
A daily carb count of 50g or less is suggested for most keto diets.
Eating too many carbs will put your ketosis at risk and prevent you from burning fat and succeeding in weight loss.
And, while you can technically enjoy sweet potatoes in small quantities on a ketogenic diet, most servings go far beyond the recommended carb limit.
Just one order of sweet potato fries could kick you out of ketosis.
Sweet potato nutrition facts
If you're watching your carb intake, sweet potatoes are not the vegetable for you.
Let's take a look at the nutritional information for sweet potatoes, including their total carb count, to see why they're unsuitable for a low-carb diet.
The nutrition information for 100g of raw sweet potatoes includes:
Total carbs: 20.1g
Net carbs: 17.1g
Protein: 1.6g
Fat: 0.1g
Fiber: 3g
While sweet potatoes aren't considered appropriate for a keto diet, they are beneficial to those who aren't concerned with carb consumption.
The reported health benefits of sweet potatoes include:
Rich in beta-carotene, vitamin C, and potassium
Helps prevent vitamin deficiencies
Reduces risks of cancer
Improves your blood sugar regulation
Keto sweet potato alternatives
Because cooked sweet potatoes aren't ideal for a ketogenic diet, you need to be a little bit inventive in substitutions.
Help keep your carb count low with any of these clever sweet potato alternatives:
Radish
A lesser-used vegetable, radishes are super tasty when oven-roasted like traditional sweet potatoes - and they are keto!
You can even grate them up and use them for latkes!
Jicama
For a satisfying crunch, without the high carb content, try substituting jicama in your sweet potato recipes.
Jicama would work great in a sheet pan meal or as an alternative to sweet potato fries.
Turnip
I love the flavor of turnips; it's subtly sweet and super unique to the vegetable.
This natural sweetness makes it a fabulous sweet potato alternative; blend them in soups, add them to a roast, or fry some up in a pan.
Keto recipes for sweet potato alternatives
If you're looking for a way to satisfy your sweet potato craving without sacrificing your ketosis, I have the recipes for you.
Each of these recipes is a carb-friendly version of a potato-focused dish; with them, you'll never miss regular potatoes again!
Healthy Keto Sweet Potato Casserole
My low carb sweet potato casserole is perfect for the holidays with a clever substitution that is even tastier than the original!
This keto casserole uses cauliflower and pumpkin puree in place of traditional sweet potatoes; the results are creamy, low-carb, and full of flavor.
The crispy pecan topping makes this meal a total crowd-pleaser. Serve it up at family holiday dinners, or enjoy it year-round. Who's stopping you?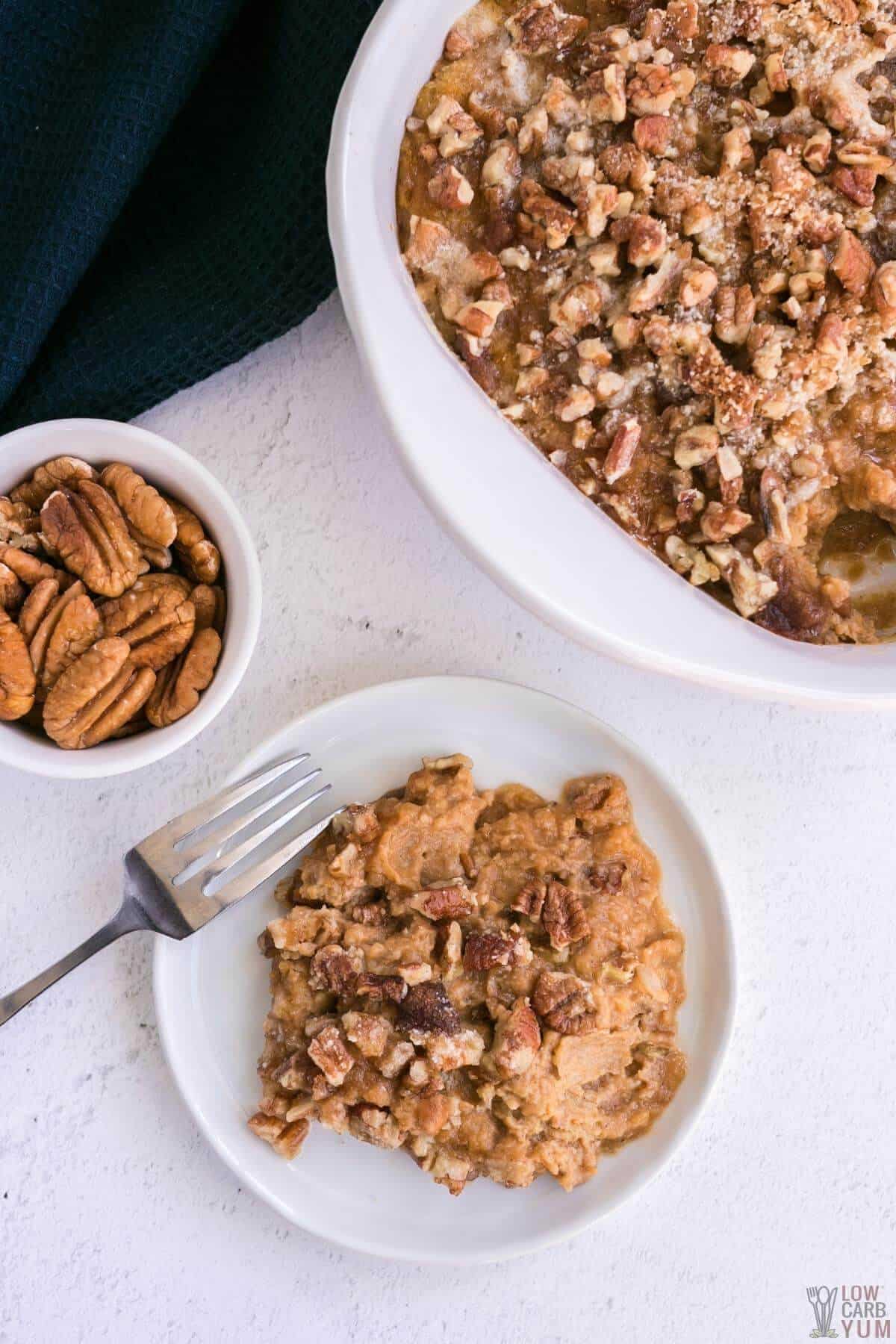 Mashed Turnips (Mashed Potato Substitute)
These mashed turnips make a wonderful mashed potatoes substitute.
They have a slightly sweet flavor that is similar to that of sweet potatoes (I actually prefer it!).
This recipe is made with coconut milk, coconut oil, and chives for garnish, though you can dress them up however you'd like!
Add butter, garlic, heavy cream, and parmesan cheese for a truly decadent dish.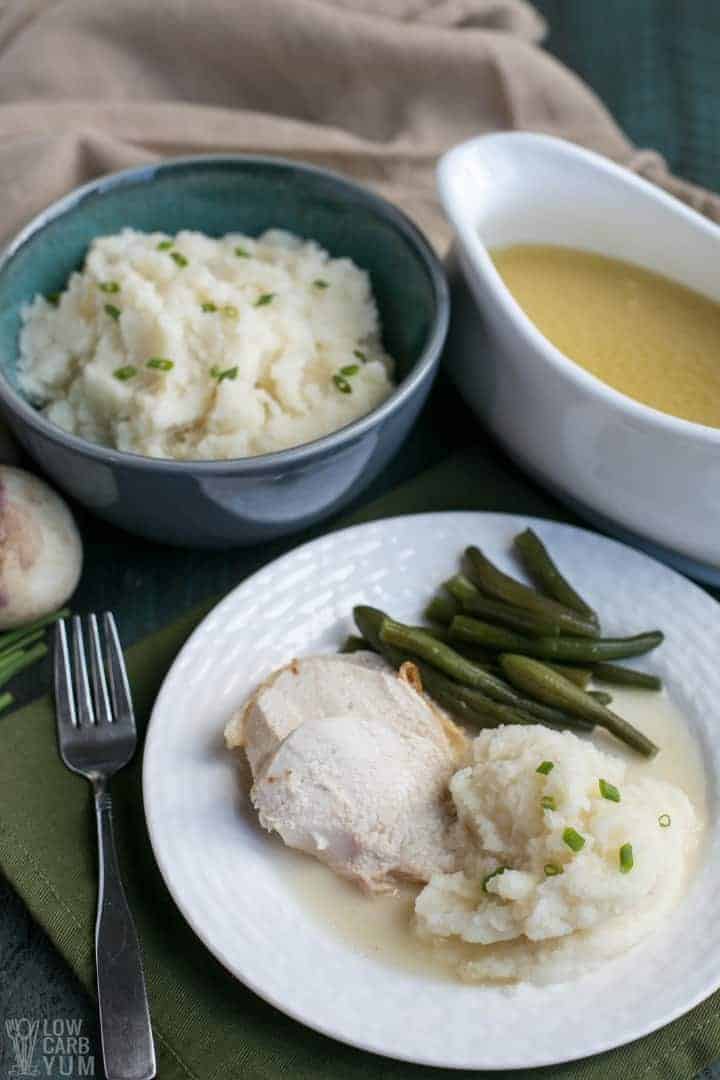 Mock Low-Carb Potato Salad
Potato salad is a comfort-food classic that is often missed on a keto diet.
But with my low-carb mock potato salad recipe, you'll never have to go without!
Made from steamed cauliflower, hard-boiled eggs, and savory extras, it'll be the most popular dish at the summer barbeque.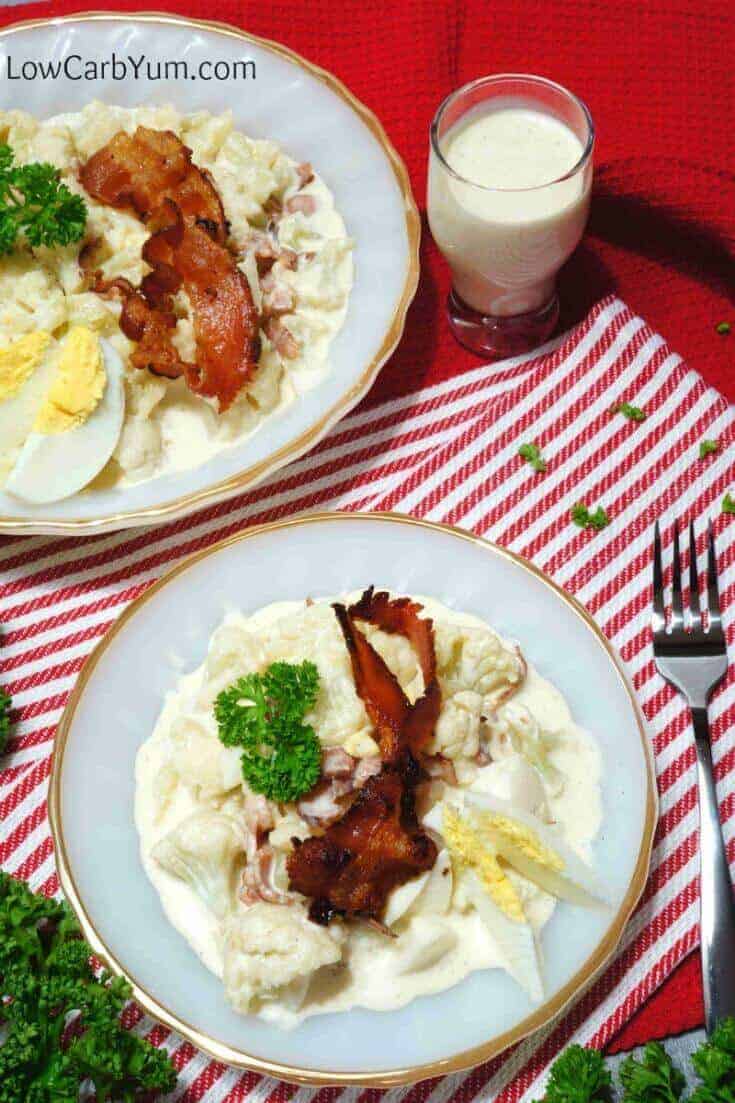 Crock Pot Ham Cauliflower "Potato" Stew
My ham and cauliflower "potato" stew are perfectly suited for the keto lifestyle with ham, cheese, and cauliflower florets.
The heavy cream addition makes this soup incredibly creamy and comforting – perfect for warming up on a cold day.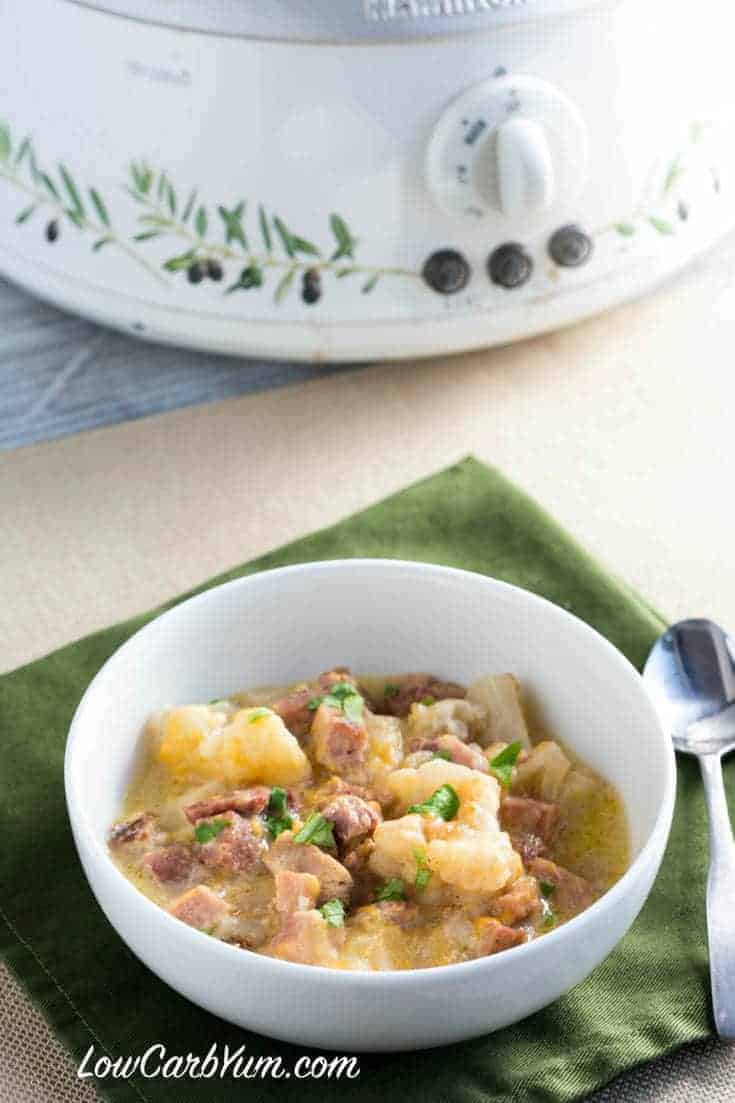 Air Fryer Turnips
These air fryer turnips are an excellent alternative to roasted sweet potatoes.
They're quick to make, have fewer carbs than traditional potatoes, and go with just about anything!
I love using this low-carb dish as a side to any protein. The simple seasonings along with parsley and olive oil make it the perfect, versatile pairing.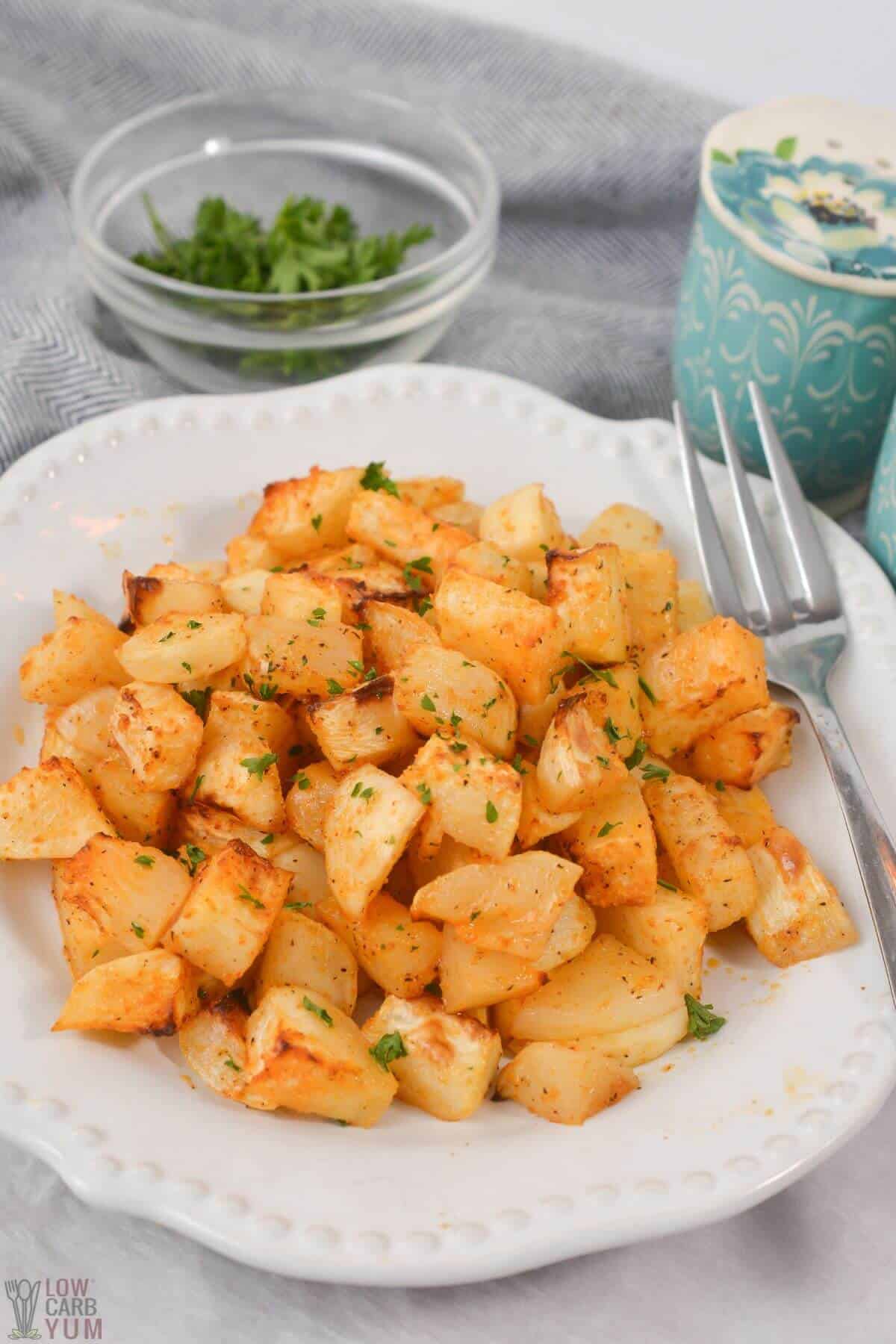 Roasted Jicama With Green Beans
My roasted jicama and green beans recipe is keto-friendly and a great source of plant-based protein.
Jicama is not given enough credit in the vegetable world; it's low in carbs, has a great crunchy texture, and has a neutral flavor that can be jazzed up, however, you'd like.
My recipe contains simple ingredients like olive oil, garlic, and herbs.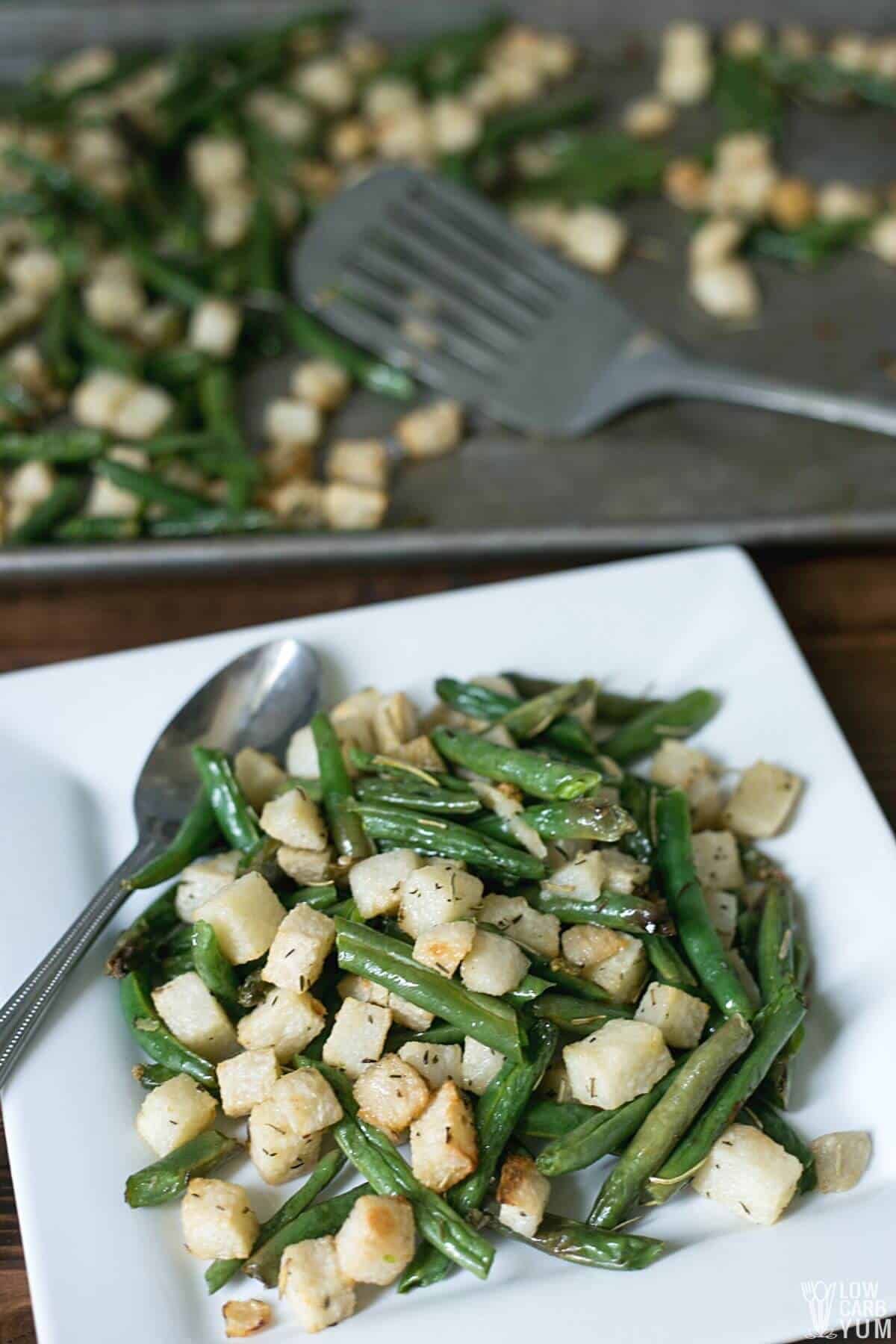 Keto Cabbage Hash Browns
These cabbage hash browns make for a satisfying breakfast without the excess carbs.
Using shredded cabbage in place of potatoes keeps the carb count low while still satisfying that hashbrown craving.
Plus, they're super quick to make – especially if you buy pre-shredded cabbage!
Enjoy them with a keto dipping sauce like my jalapeno ranch dip.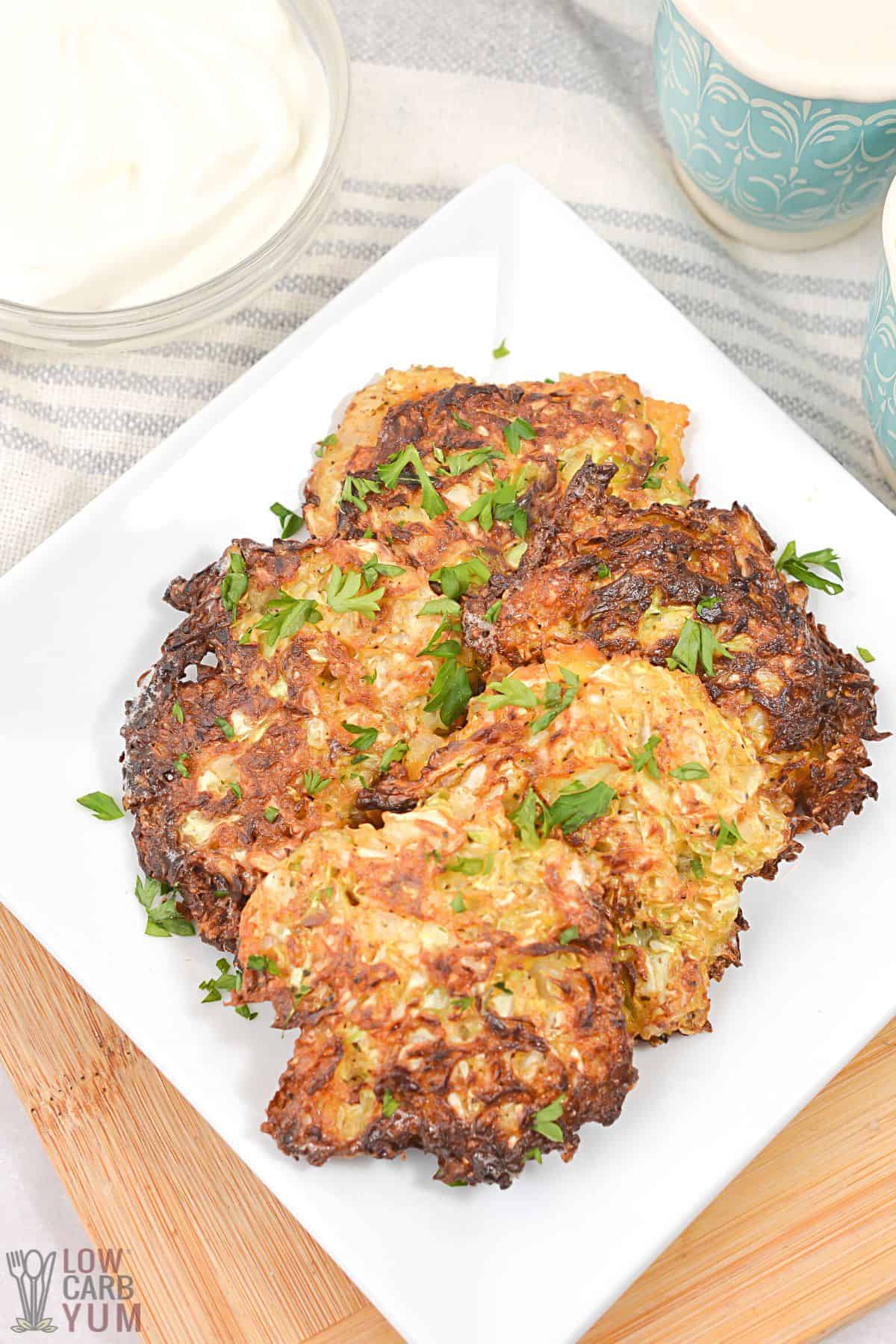 Keto Loaded Cauliflower Casserole
This loaded cauliflower casserole makes a great side dish though it's so tasty, you'll want to eat it as your main!
I think this casserole would make a great addition to keto meal plans because it's quick to throw together, full of high-fat ingredients, and is something the entire family will get behind.
Made with bacon, cheese, and sour cream, this casserole is one yummy concoction!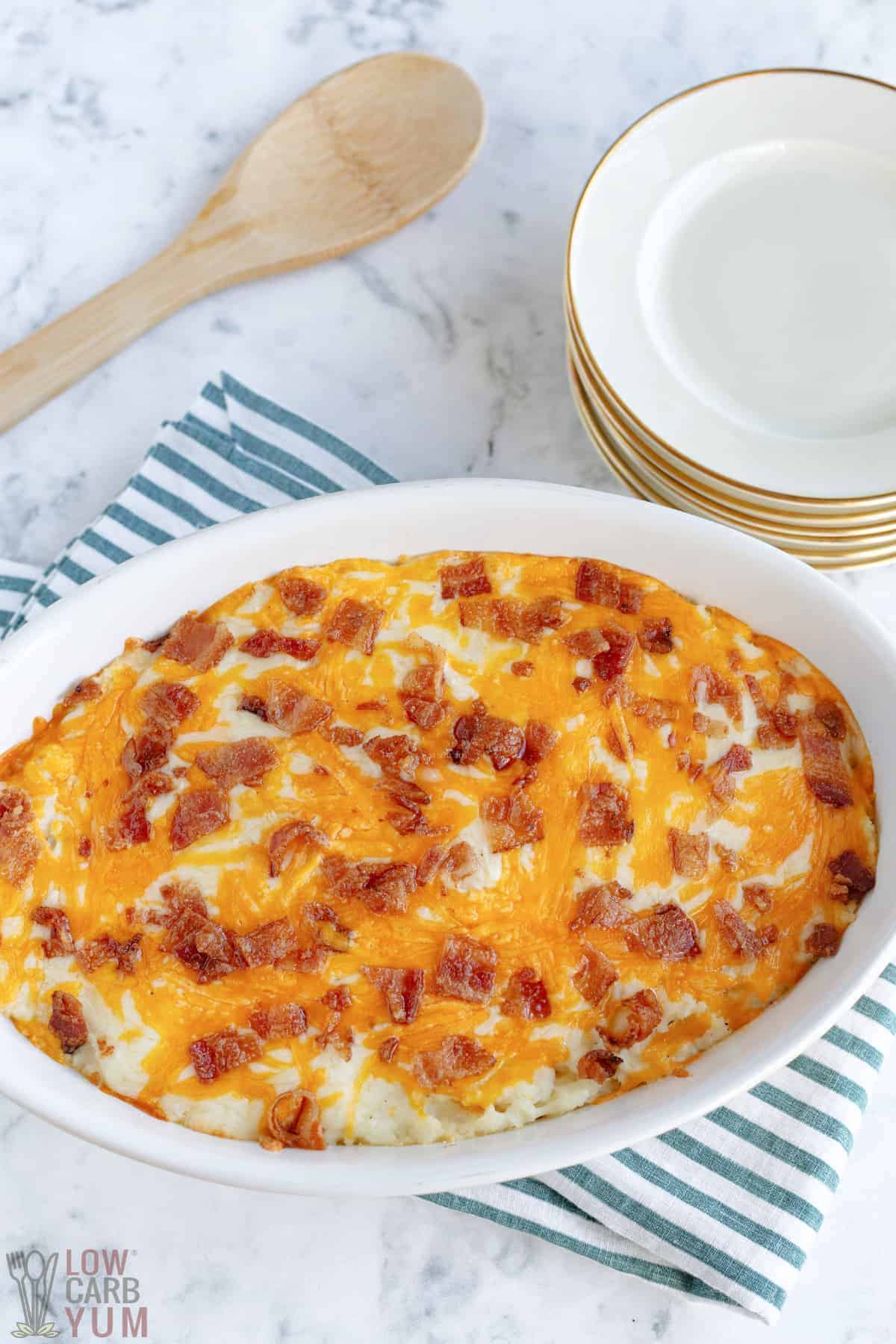 Keto Jicama Fries
If you are trying to lower your carbohydrate intake but miss the taste of crunchy sweet potato fries, make my keto jicama fries instead.
Enjoy this low-carb vegetable with tasty seasonings and a perfectly crispy texture.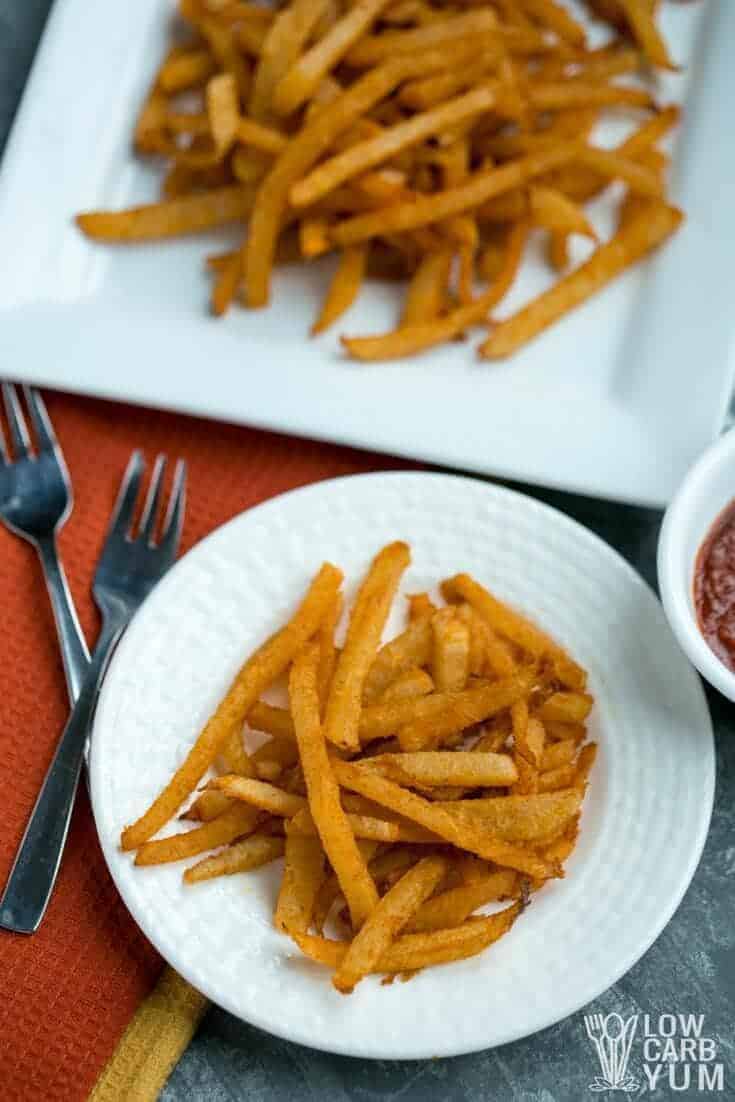 FAQs
Here are some questions people often ask about eating sweet potatoes on the keto diet. If you don't see your question in this list, please leave it in the comments.
Can I eat sweet potato on a keto diet?
Eating potatoes on a ketogenic diet can disrupt your ketosis temporarily, setting you back on your weight loss goals. So if you're following a standard keto diet, I wouldn't recommend it.
With that being said, very active people may be able to eat more carbs and fit sweet potatoes into their diet without breaking ketosis.
How many sweet potatoes can you have on keto?
While sweet potatoes aren't the most keto-friendly vegetables, it is possible to consume a small amount.
When choosing how many sweet potatoes to include in your meal, remind yourself of their macronutrient information:
A medium sweet potato contains on average 27g carbs towards your overall carb consumption (over half of your allotted daily carbs).
This means that if you eat an entire sweet potato, you'll have very few carbohydrates left over for the rest of the day; eating high-carb foods can make it difficult to plan a balanced, nutritiously complete day of meals.
I'd recommend including a little bit of sweet potato (around 50g) in a salad mixture or sheet pan meal. Try using sweet potatoes as a fun extra rather than an entire meal.
What is the lowest-carb potato?
There aren't any potatoes that are particularly low in carbohydrates.
If you're looking for a low-carb potato substitute, I'd recommend choosing an alternative vegetable instead like turnips or cauliflower.
Related recipes
Now that we've answered "are sweet potatoes keto?", let's give some low-carb vegetables their time to shine!
I have a ton of veggie-focused keto recipes for you to explore:
Follow us on FACEBOOK, PINTEREST, and INSTAGRAM for even more tasty keto-friendly recipes!