Bell peppers are packed full of vitamin C and make a fresh and crunchy snack food – but are bell peppers keto? Discover what makes bell peppers so wonderful with their health benefits, macronutrients, and delicious low-carb meal possibilities.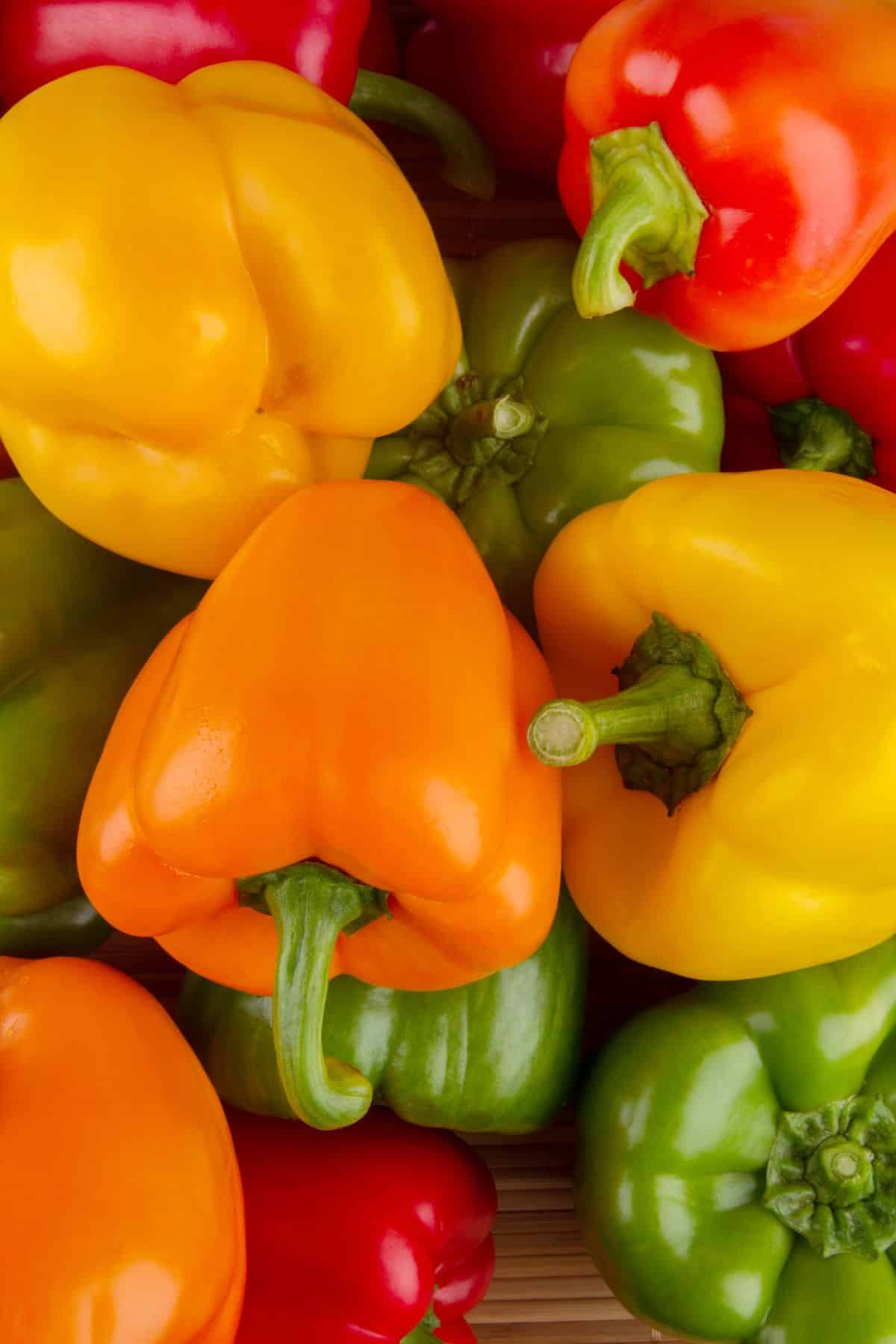 Vegetables are an absolute necessity for any healthy diet.
And while all vegetables contain helpful vitamins and minerals, not every vegetable is built the same.
With ketogenic diets, your food choices need to be more than just healthy; they need to fit a specific set of guidelines so that you can reach ketosis.
The general logic behind a keto diet is reducing the number of carbohydrates that you consume and adding in additional fats.
By doing this, it forces your body to stop burning carbohydrates to create energy. Instead, your body will begin to burn fat stores which can help with weight loss.
Because of this process, you need to be picky about which foods you're choosing based on their macros. While some vegetables may seem suitable on the surface, they could have surprisingly high carb counts that would inhibit your ketosis.
So, are bell peppers low enough in carbohydrates that they can be included in a keto diet?
In this post, I'll share bell pepper nutritional information and health benefits that will help answer this question.
I've also included some low-carb vegetable recipe ideas to help you in your keto diet journey.
Note: Check out the best keto vegetables for more low-carb veggie ideas. And for even more food groups, this keto food list is perfect for anyone starting the keto diet.
Are bell peppers keto?
They sure are!
You can eat bell peppers on a keto diet, maintain your ketosis, and lose weight in the process.
Bell peppers have slightly varying macronutrients based on their color, though they're all relatively low in carb counts and can be enjoyed on a low-carb diet.
Green bell peppers have the lowest net carb count and can be eaten most freely, at just 2.9g net carbs per serving.
Some keto-friendly peppers include:
Bell peppers (all colors)
Jalapeno peppers
Red chili peppers
Habanero peppers
Bell pepper nutritional information
Bell peppers make a great addition to keto diets because they are filled with essential vitamins and have several associated health benefits.
They also have a low-carb count meaning you can enjoy them in abundance without affecting your ketosis.
This makes them an awesome vegetable for cooking or snacking.
The nutritional information for 100g of red bell peppers includes:
Total carbs: 6g
Net carbs: 3.9g
Protein: 1g
Fat: 0.3g
Fiber: 2.1g
Orange bell peppers and yellow bell peppers have comparable nutritional information to their red pepper counterparts.
Green bell peppers, however, have slightly different stats with an overall lower net carb count.
The nutritional information for green bell peppers includes:
Total carbs: 4.6g
Net carbs: 2.9g
Protein: 0.9g
Fat: 0.2g
Fiber: 1.7g
Beyond being a low-carb vegetable, bell peppers have several reported health benefits including:
Being a good source of vitamin C
Improving eye health
Preventing anemia
Reducing risk of chronic illnesses
Keto recipes using bell peppers
Want to try including more bell peppers in your diet? Add any of these low-carb bell pepper recipes to your arsenal.
Each of these recipes is quick and easy to make with amazing flavor that the whole family will love.
Pulled Pork Stuffed Peppers (Without Rice)
My pulled pork stuffed peppers work with any colored bell pepper for a healthy and delicious weeknight meal.
These keto-stuffed bell peppers include the ultimate combination of tender pulled pork, parmesan, and mozzarella.
Because these stuffed peppers don't include rice, they have just 2g net carbs per serving.
This recipe is also totally customizable – easily swap out your pulled pork for ground turkey, shredded chicken, or whatever meat you have on hand.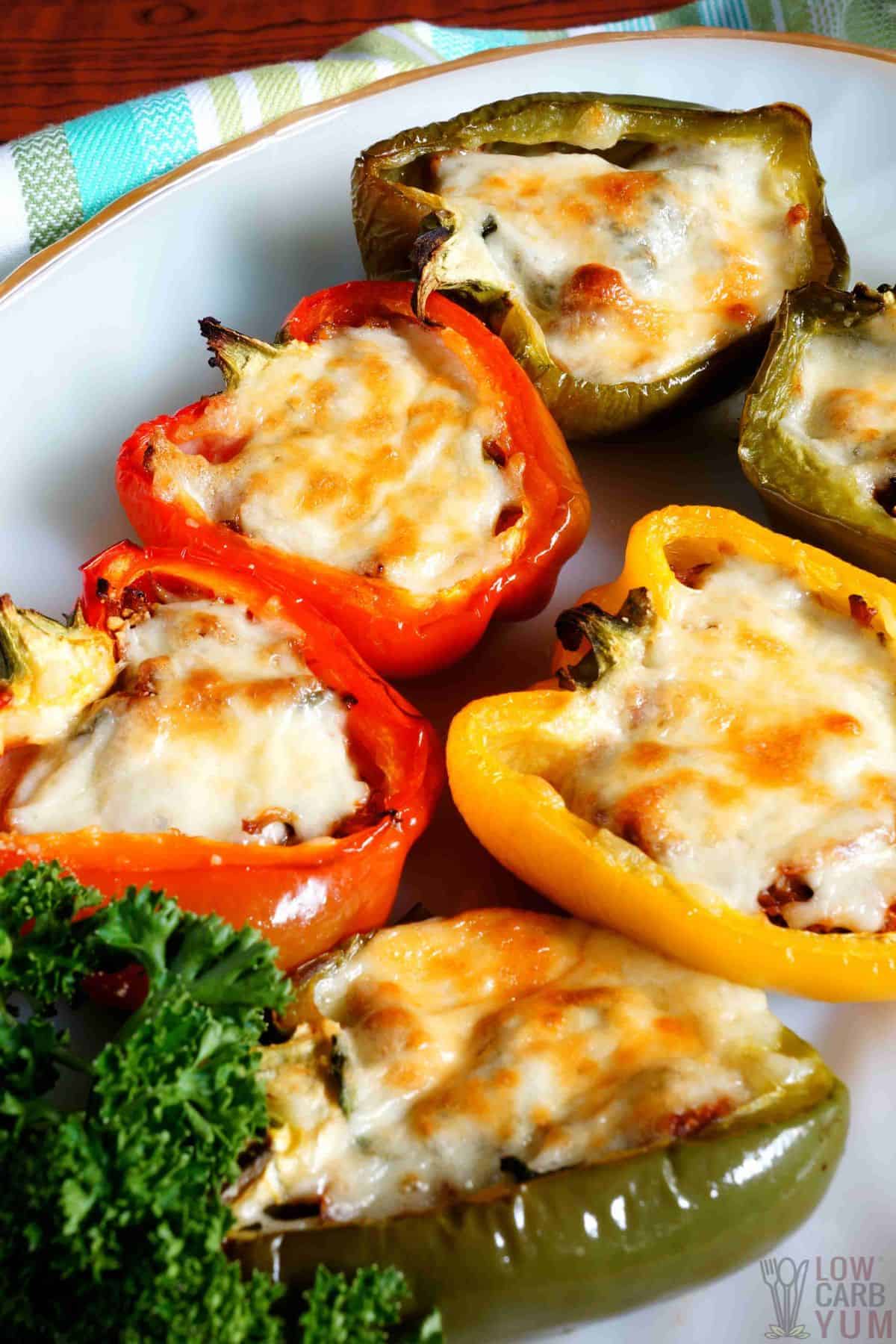 Keto Jambalaya
My keto jambalaya is made with juicy shrimp, sausage, peppers, and cauliflower rice for a spicy concoction that is bursting with flavor.
This is one of my absolute favorite keto foods because of the incredible seasoning that elevates the dish.
With 9g net carbs per serving size, keto jambalaya makes the ultimate dinner recipe.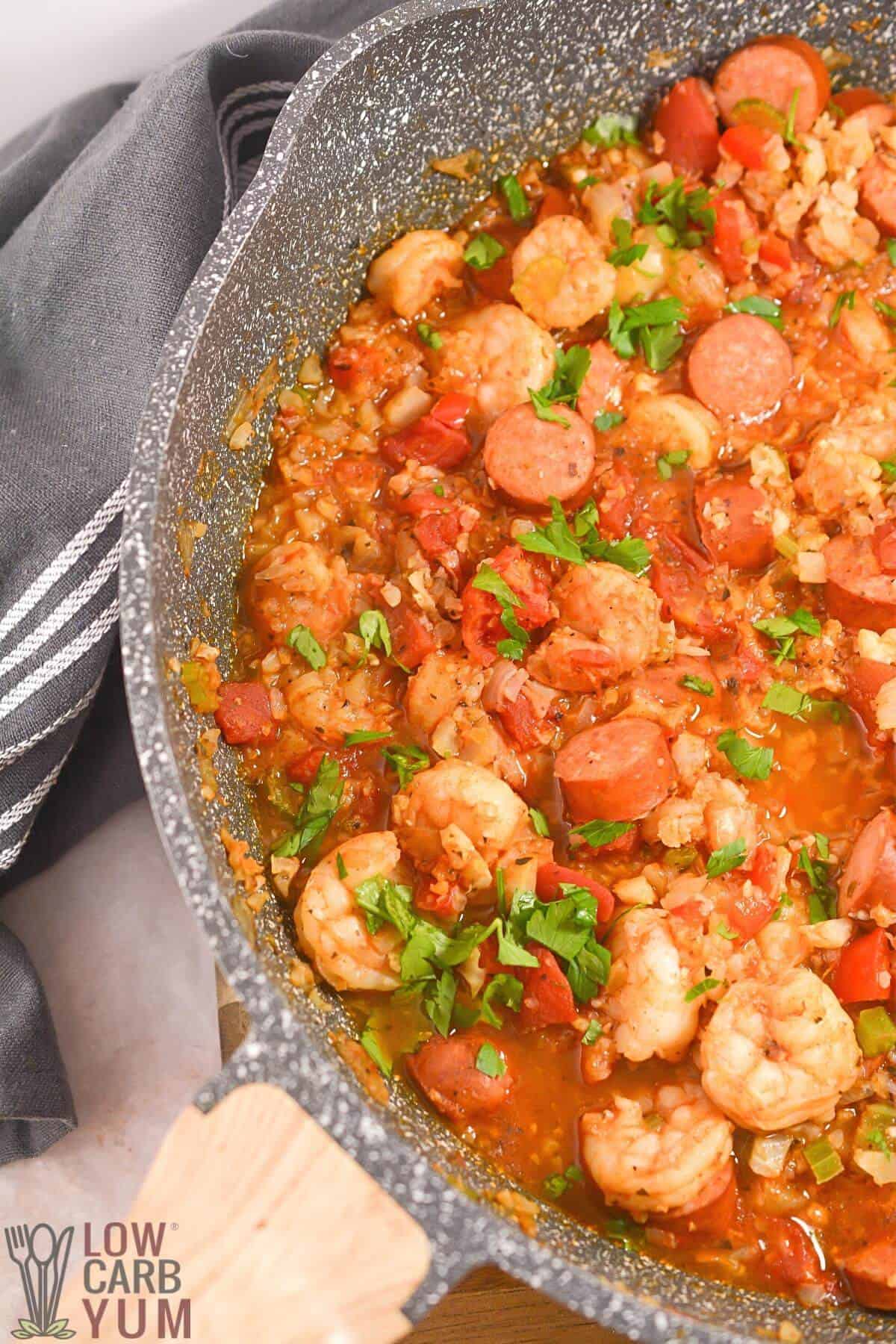 Easy Keto Shakshuka
This keto shakshuka recipe is so quick and easy to make while looking impressive enough to serve to guests!
While it's a pretty simple dish made with just eggs, veggies, and tomato sauce, it is so easily customizable.
Switch things up with the seasonings or low-carb vegetables of your choice to bring variety to your breakfasts.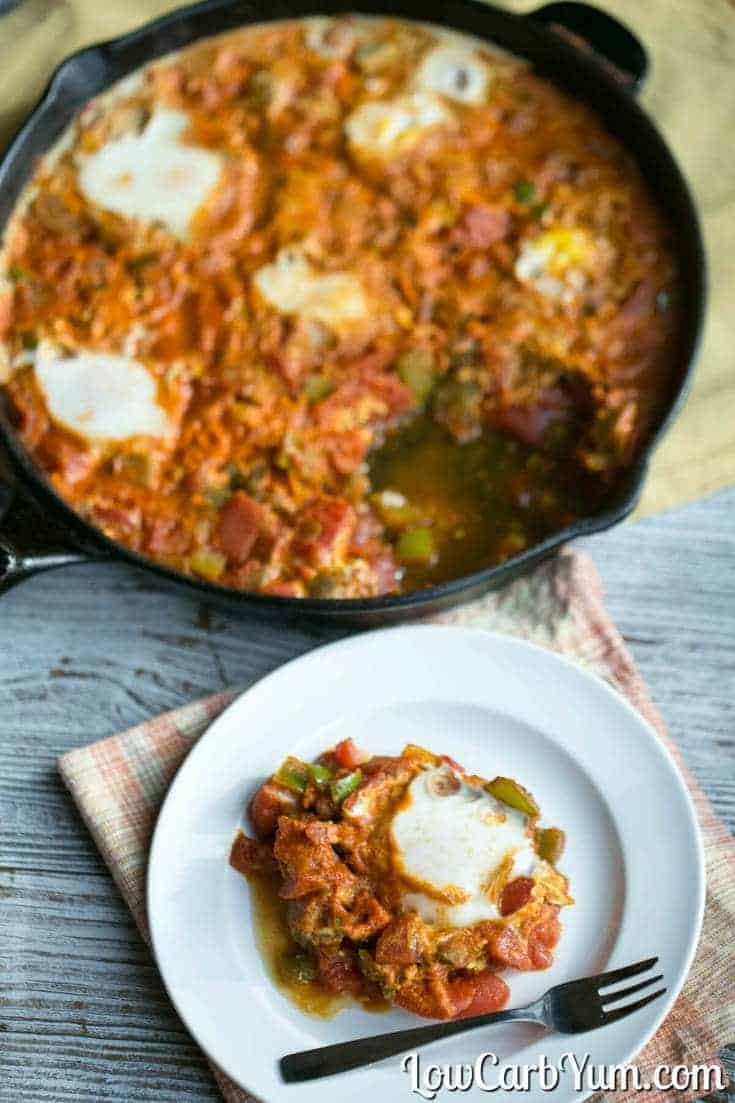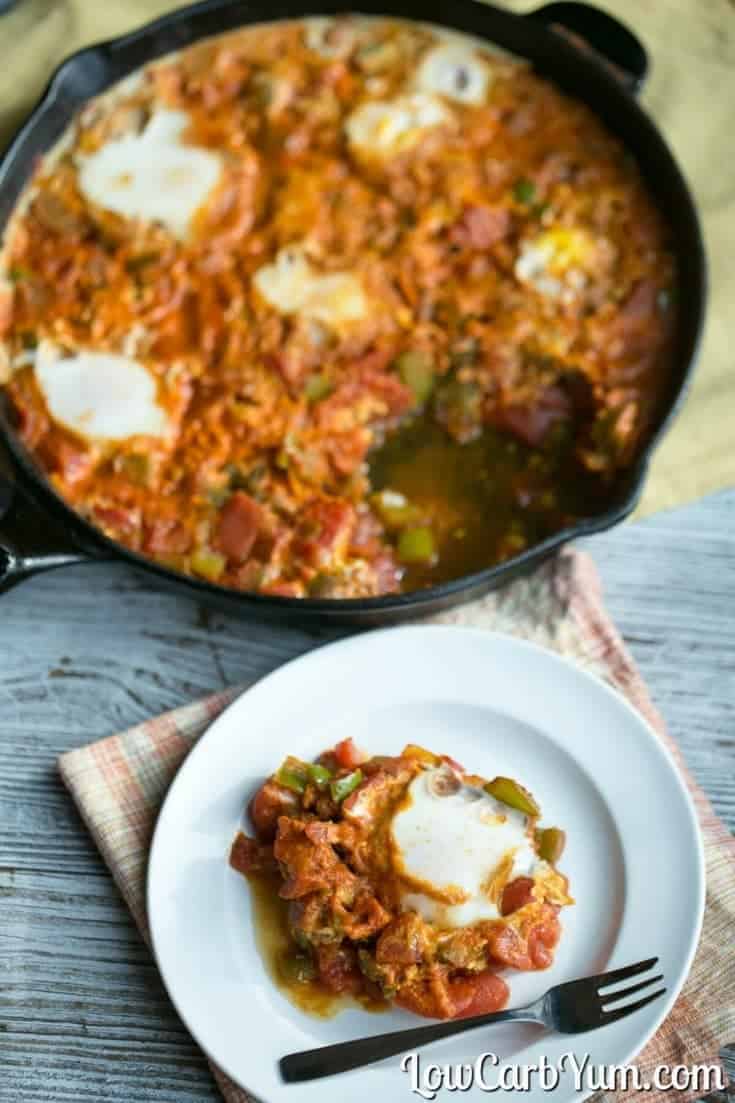 Unstuffed Pepper Casserole
My unstuffed pepper casserole takes classic comfort food to new heights! It's also even easier to make than traditional stuffed bell peppers with simple, throw-and-go meal prep.
This recipe calls for low-carb cauliflower rice, green bell peppers, ground beef, and ground pork for a great variety of flavors.
And of course, it's topped off with some browned mozzarella cheese for extra fat content (and the yum factor!).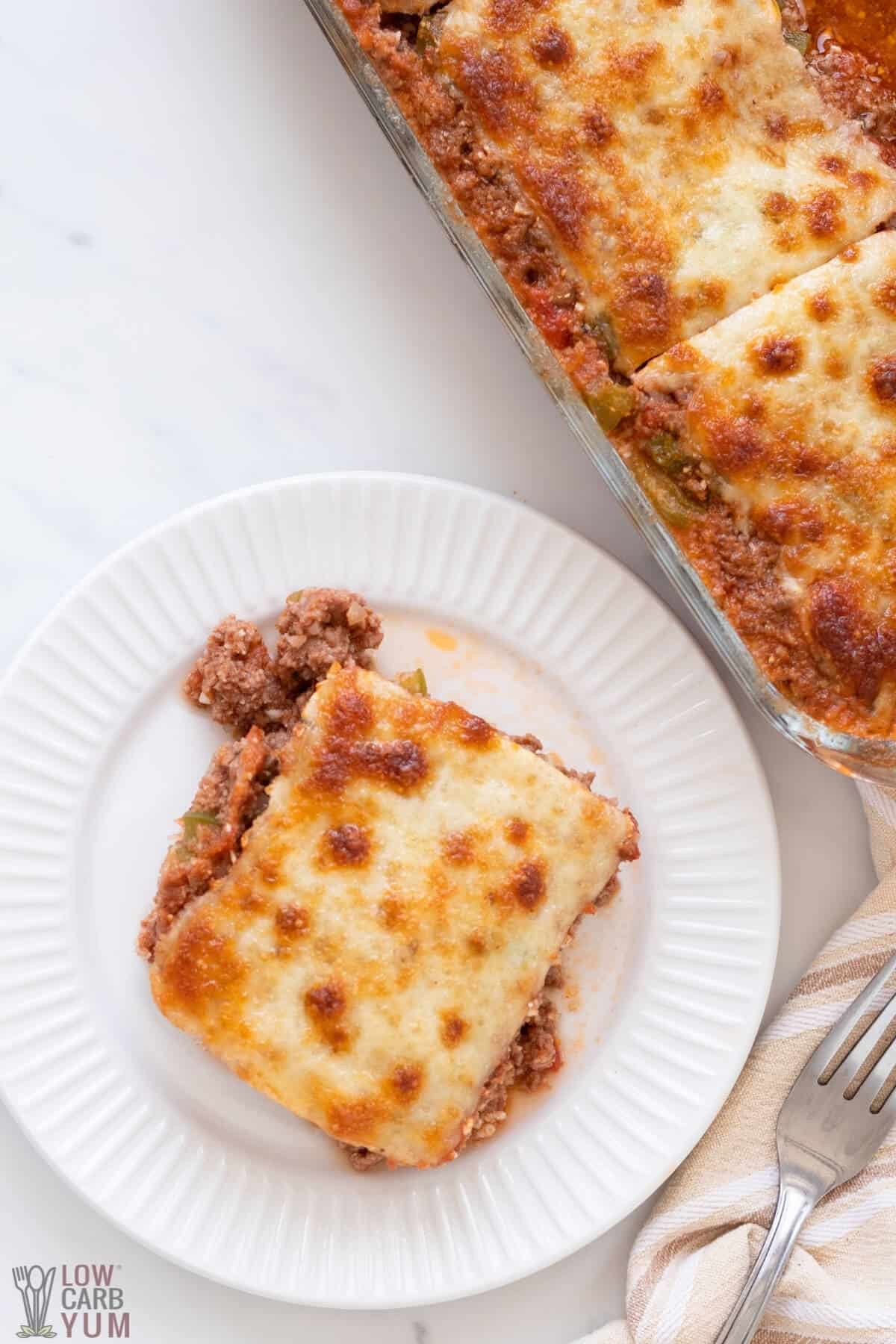 Easy Oven Roasted Vegetables
This oven-roasted vegetable recipe is one of my most used side dishes because it's ridiculously easy to prepare and packs a lot of nutritional value into a single sheet pan.
These veggies are dressed simply with olive oil and salt and pepper for a versatile side.
While this recipe calls for green bell peppers and zucchini, you can use any low-carb veg that you prefer.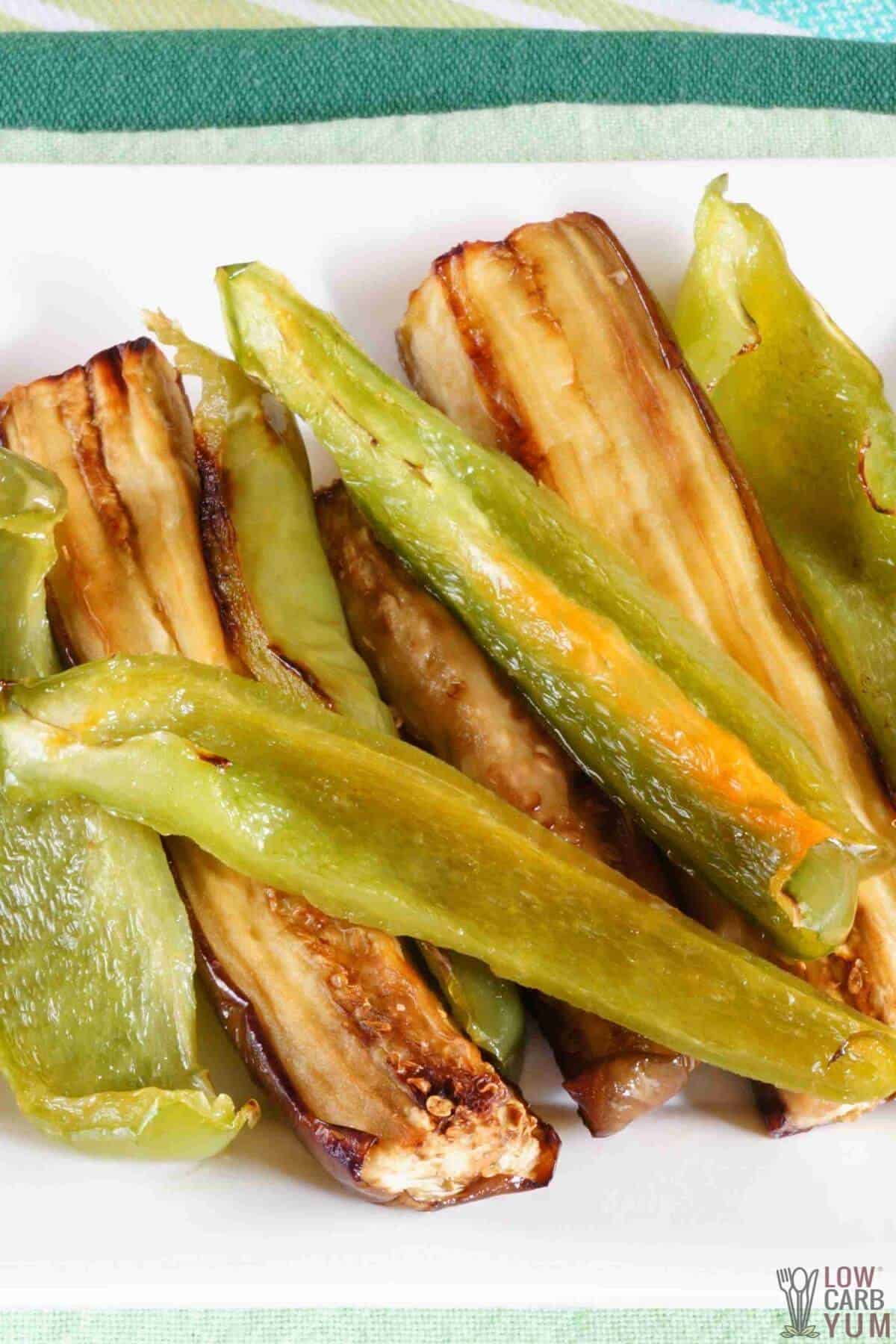 Low-Carb Stuffed Peppers Topped with Cheese
My low-carb stuffed peppers are a total treat with seasoned ground beef, green bell peppers, and Colby Jack and mozzarella cheeses.
I like this recipe because it's made from super healthy, low-carb ingredients that are boosted by tasty melted cheese; this addition turns a "health food" into something practically divine.
You can even make this recipe ahead of time; simply freeze your peppers in airtight containers for super quick meals on the go.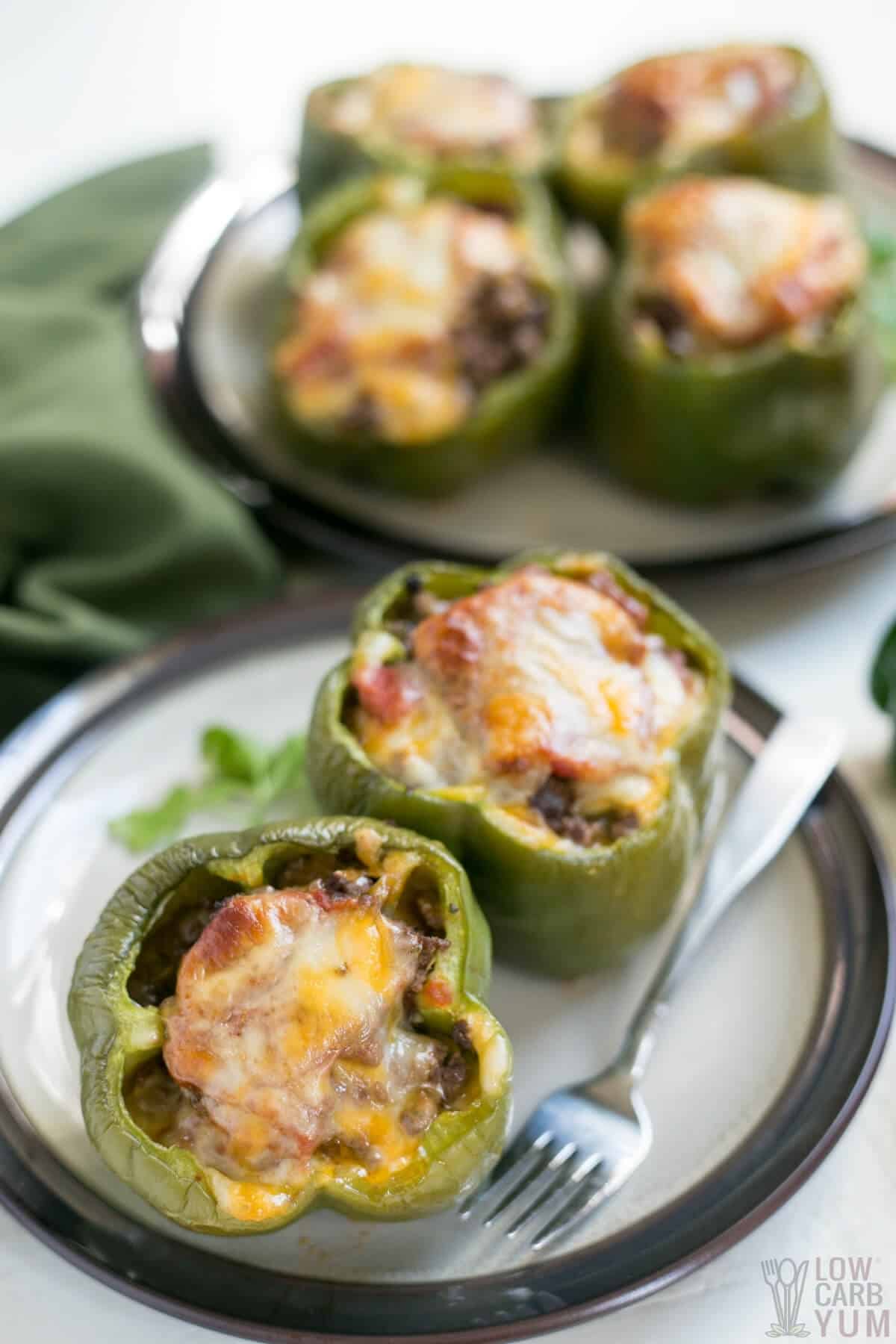 Air Fryer Quesadillas Recipe (with Chicken)
My air fryer quesadillas are out of this world delicious – made with Mexican blend shredded cheese, chicken, bell peppers, and onions.
Taco seasoning adds a burst of flavor that compliments this dish perfectly. Top with sour cream for a high-fat extra.
This quesadilla recipe is so classic, even the pickiest of eaters will enjoy it.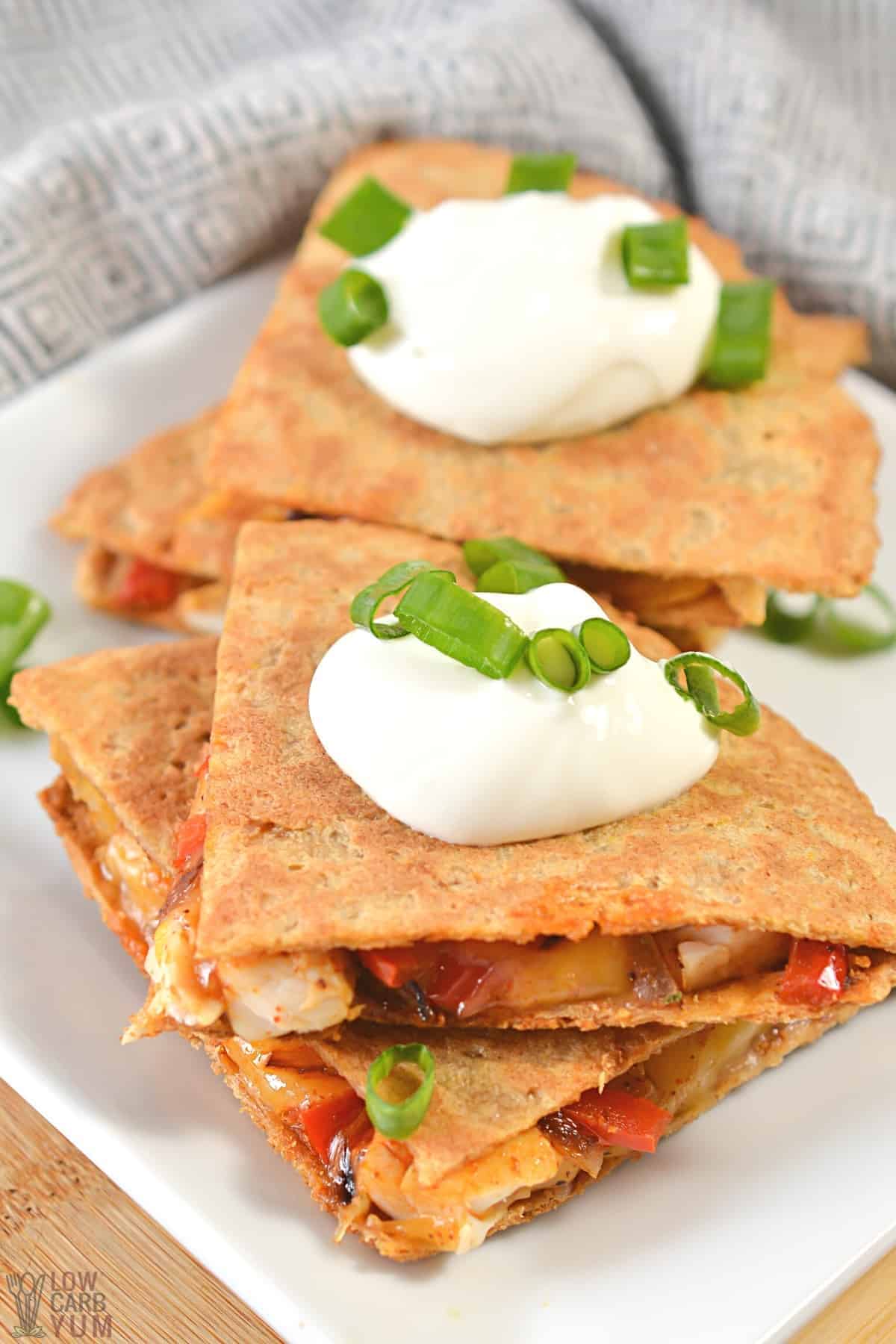 Taco Stuffed Yellow Squash and Peppers
My taco stuffed yellow squash and peppers recipe has the best of both worlds, with keto-friendly summer squash and low-carb bell peppers.
Made from stuffed bell pepper halves and hollowed yellow squash, this protein-packed dish has excellent nutrition and taste!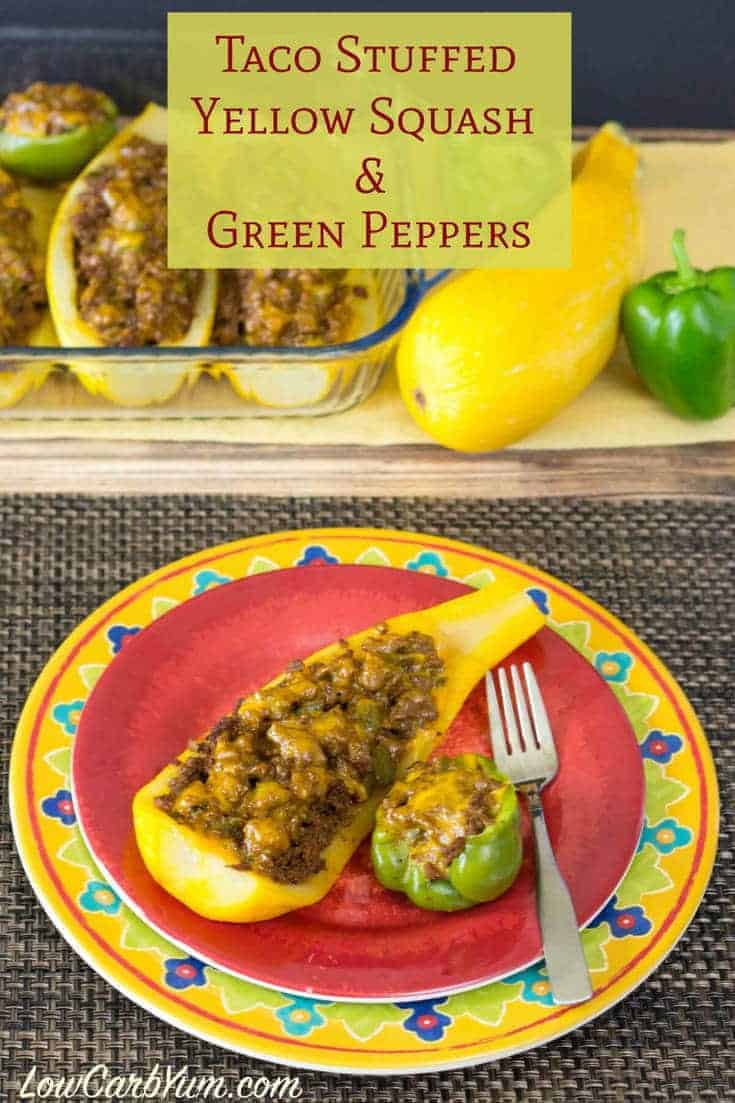 Low Carb Lettuce Wraps with Turkey & Roasted Peppers
These turkey and roasted pepper lettuce wraps are perfect for lunch because they're simple to assemble and nutritiously complete.
With just 2g net carbs per serving, these turkey wraps will keep you full all day without the high carb count.
This keto-approved recipe is made from fresh ingredients like roasted peppers, smoked turkey, and provolone cheese, all wrapped up in a lettuce leaf.
You can even customize this recipe based on the meats, cheeses, and keto sauces you have on hand.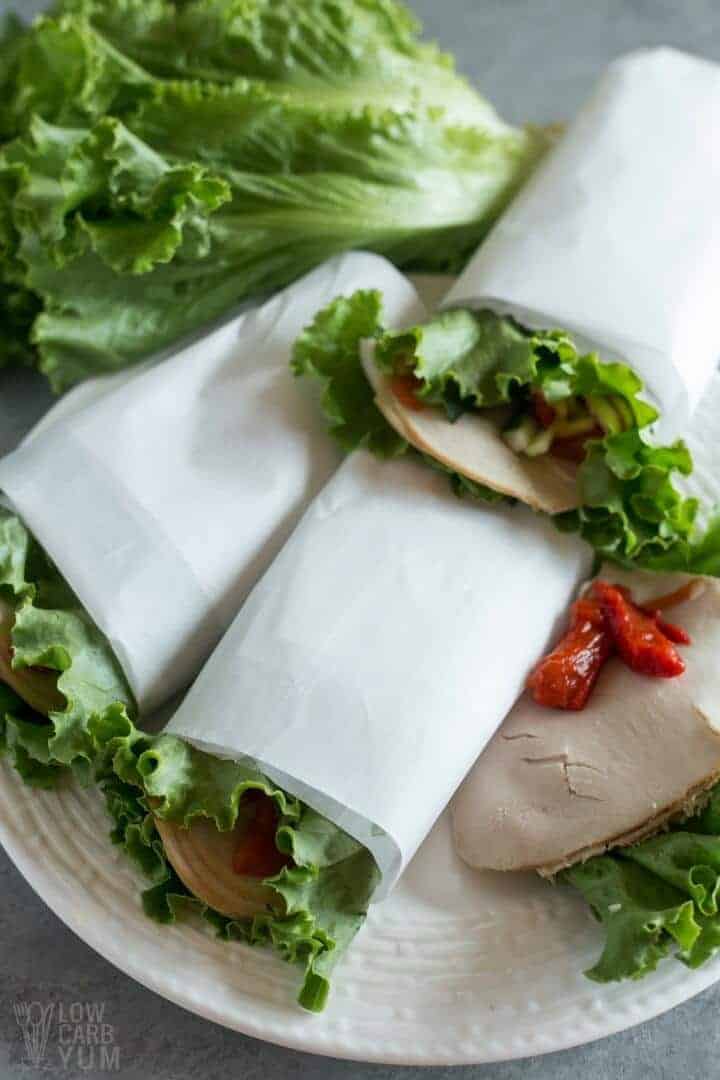 FAQs
Here are some questions people often ask about eating bell peppers on the keto diet. If you don't see your question in this list, please leave it in the comments.
What's the difference between red bell peppers and green bell peppers?
While red and green bell peppers are very distinct in color, their similarities far outweigh their differences. Green peppers are actually the same vegetable as red bell peppers; they're just at different stages of ripeness. The same is true for yellow and orange bell peppers.
With this being said, yellow, orange, and red bell peppers are all genetically different from green peppers at their stage of ripeness.
They differ in carbs and other macronutrients; they also differ in taste.
Red peppers tend to be much sweeter than slightly bitter green peppers.
Is a green bell pepper keto diet approved?
Green bell peppers are absolutely keto diet-approved. In fact, green peppers have the lowest net carb count of all bell peppers.
Are bell peppers high in carbs?
No, bell peppers are generally considered a low-carb vegetable. Their net carbs can range from 2.9g to 3.9g per serving size based on their variety.
Which bell pepper is lowest in carbs?
Green bell peppers are the lowest in total carbs making them perfect for a low-carb diet. Use them as a quick crunchy snack, or add them to your favorite recipes.
Related recipes
Now that we've answered "are bell peppers keto?", you may want to check out some other keto-approved vegetables.
Start with these related recipes:
Follow us on FACEBOOK, PINTEREST, and INSTAGRAM for even more tasty keto-friendly recipes!