Not all fruits and vegetables are good for a keto diet...even the alleged healthiest options! So, are tomatoes keto? Dig into tomato nutrition information, low-carb recipes, and health benefits.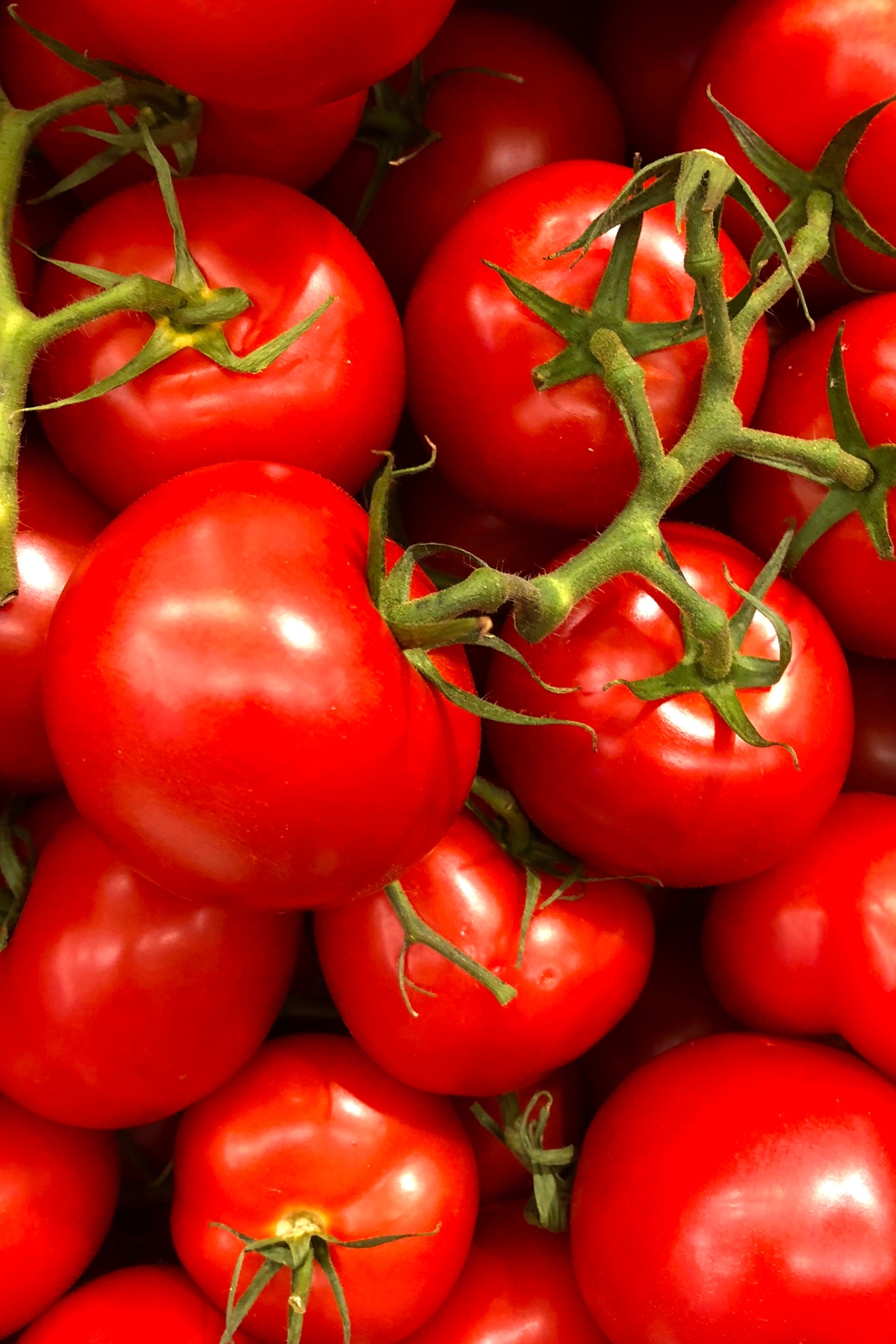 Did you know that not all fruits and veggies are keto?
It's true! While fresh produce is essential in any diet, the keto diet has specific criteria when selecting your farmer's market harvest.
A keto diet favors low-carb fruits and vegetables to limit your daily carb intake. This means avoiding starchy vegetables and sugary fruits like the plague!
But where do tomatoes land on this spectrum?
Today, I'm sharing all there is to know about this versatile fruit (yes, it is a fruit, not veggie, technically!), including nutrition facts and tomato-based recipes. I'll also answer once and for all: "Are tomatoes keto?"
For more information on keto foods, check out my posts on The Best Keto Friendly & Low Carb Fruits and the Best Keto Foods List.
Are tomatoes keto?
Good news! Tomatoes are a keto-friendly fruit and a nutritious addition to your low-carb meal plan.
One medium tomato contains approximately 3 grams of net carbs. In other words, eating tomatoes on a low-carb diet is a great idea!
With this being said, not all tomato products are keto.
Tomato products that are often high carb include tomato sauce, tomato paste, and sundried tomatoes; this comes from added sugars and processing.
Before you eat tomatoes from a can, remember to consult the listed macronutrients.
Tomato nutrition facts
What makes red tomatoes so great for a ketogenic diet, you ask? The macros, of course!
The macronutrients for 100g of red tomatoes include:
Total carbs – 3.9g
Net carbs – 2.7g
Fat – 0.2g
Protein – 0.9g
Fiber – 1.2g
Calories – 18
There are also several reported health advantages of eating tomatoes! These benefits include:
High levels of vitamin C, vitamin K1, folate, and potassium
Decreased risk of heart disease (heart attacks and strokes)
Improved skin health (fewer sunburns)
Links between eating tomatoes and decreased risk of cancer
12 Low-carb tomato recipes
Are you ready to start chowing down on some ripe tomatoes? Try any of these tasty low-carb recipes:
1. Keto tomato soup
This keto tomato soup is made with heavy whipping cream for a super lush and high-fat broth.
Don't forget to serve it with a keto grilled cheese sandwich for a classic comfort meal minus the extra carbs.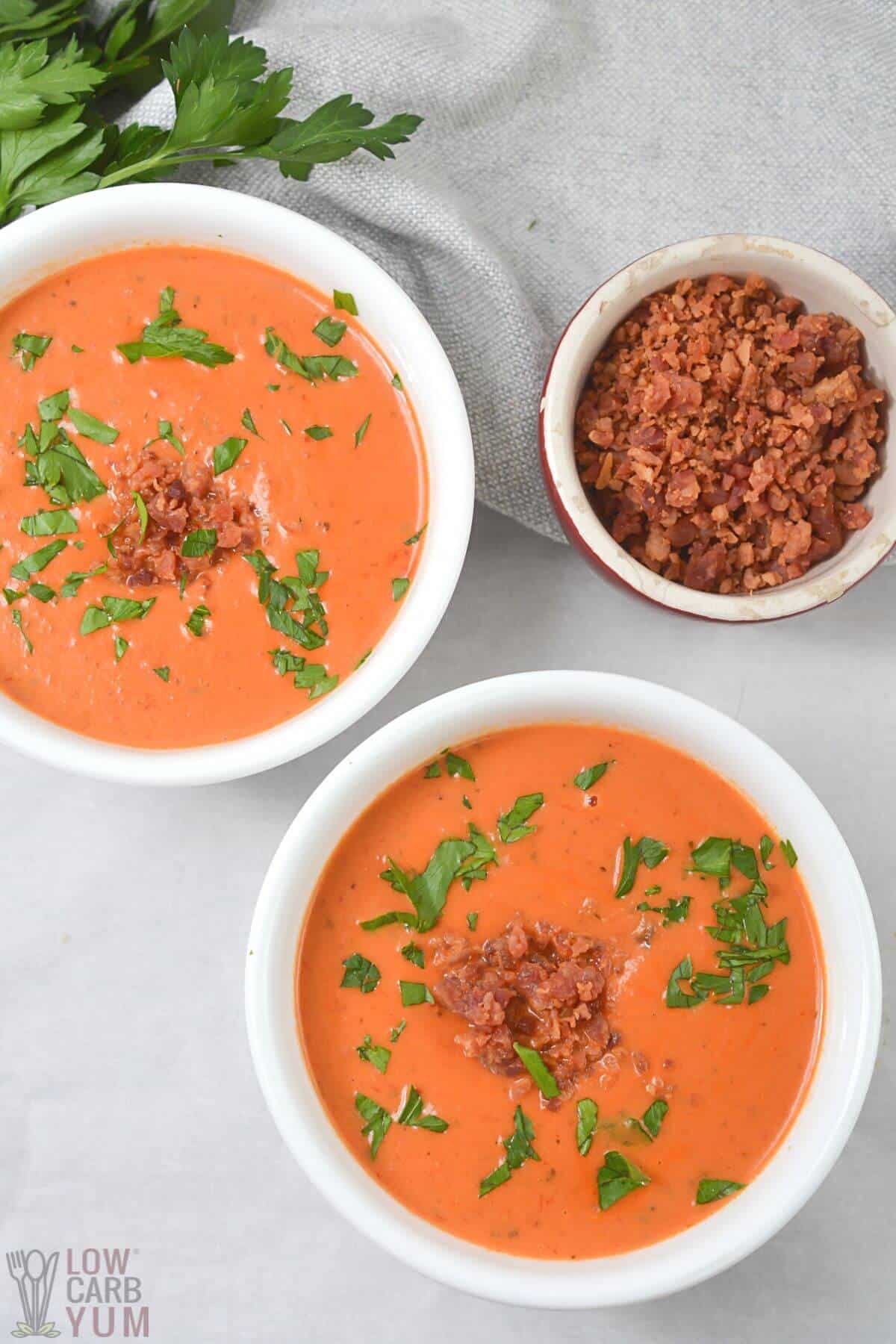 2. Cucumber salsa with fresh tomatoes
My cucumber salsa is fresh and simply made with tomatoes, jalapenos, and red onion. Enjoy it with low-carb tortilla chips for a tasty snack or as a bright topping on sheet pan chicken fajitas.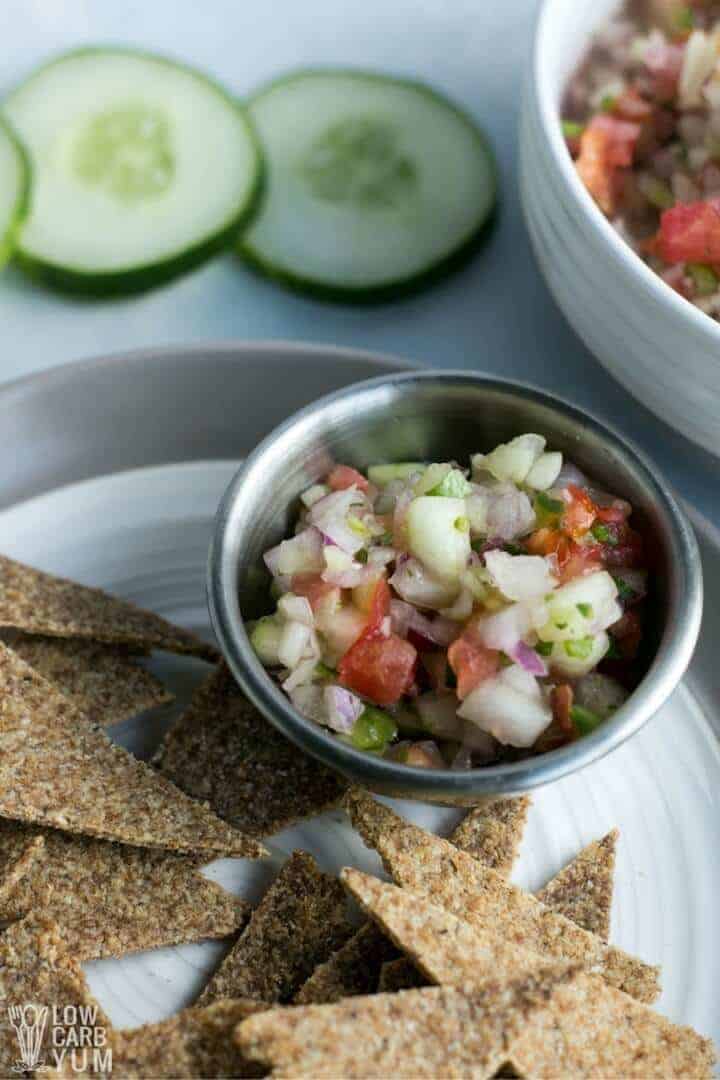 3. Spinach tomato meatza pizza
My spinach tomato meatza pizza is made with a ground beef crust, cooked flat to crispy perfection!
Top your crust with thin-sliced tomatoes, nutrient-packed spinach, and loads of ooey gooey mozzarella cheese.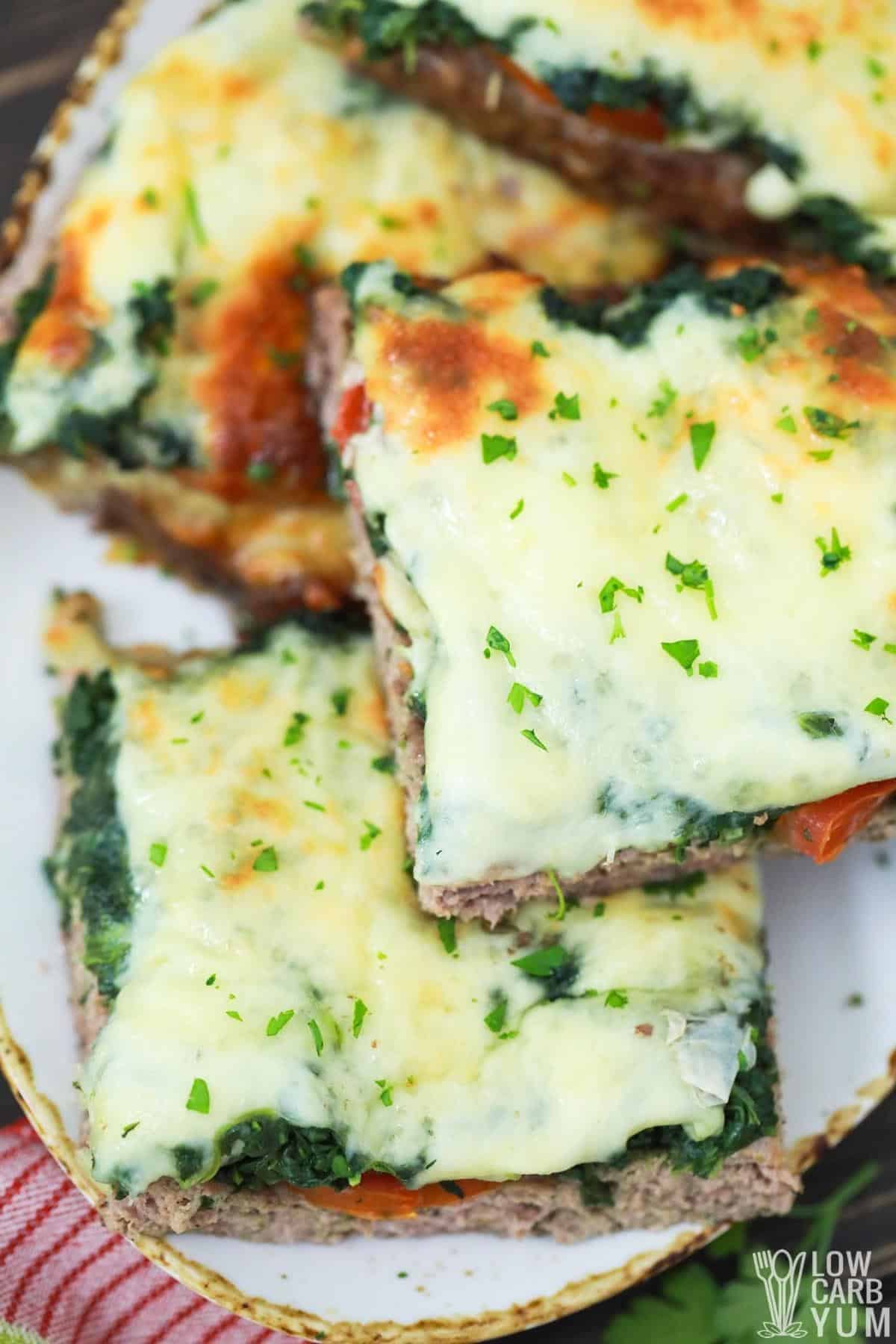 4. Cucumber tomato salad with vinegar
This cucumber tomato salad is incredibly simple to throw together and especially delicious when made with garden-grown ingredients.
Eat it as a side dish to any of your favorite mains.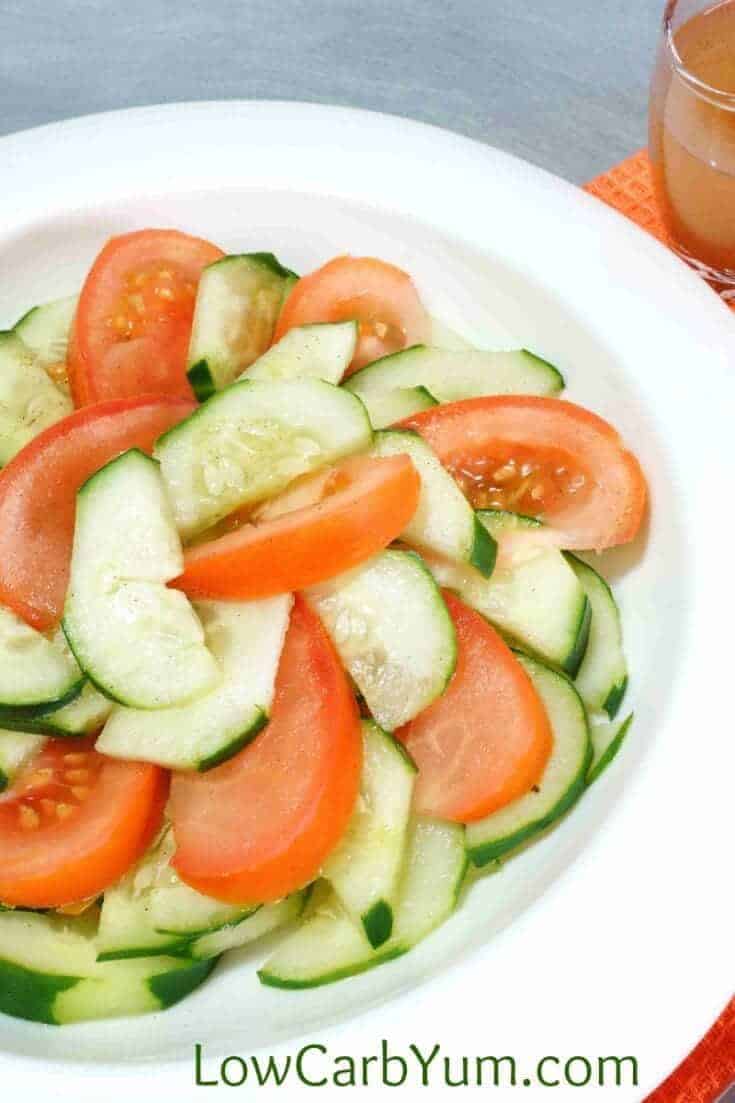 5. Stuffed tomatoes with meat and cheese
These stuffed tomatoes with meat and cheese are filled with ground sausage, Monterey jack cheese, and olive oil.
In other words, a ton of great fat content that your macros will adore.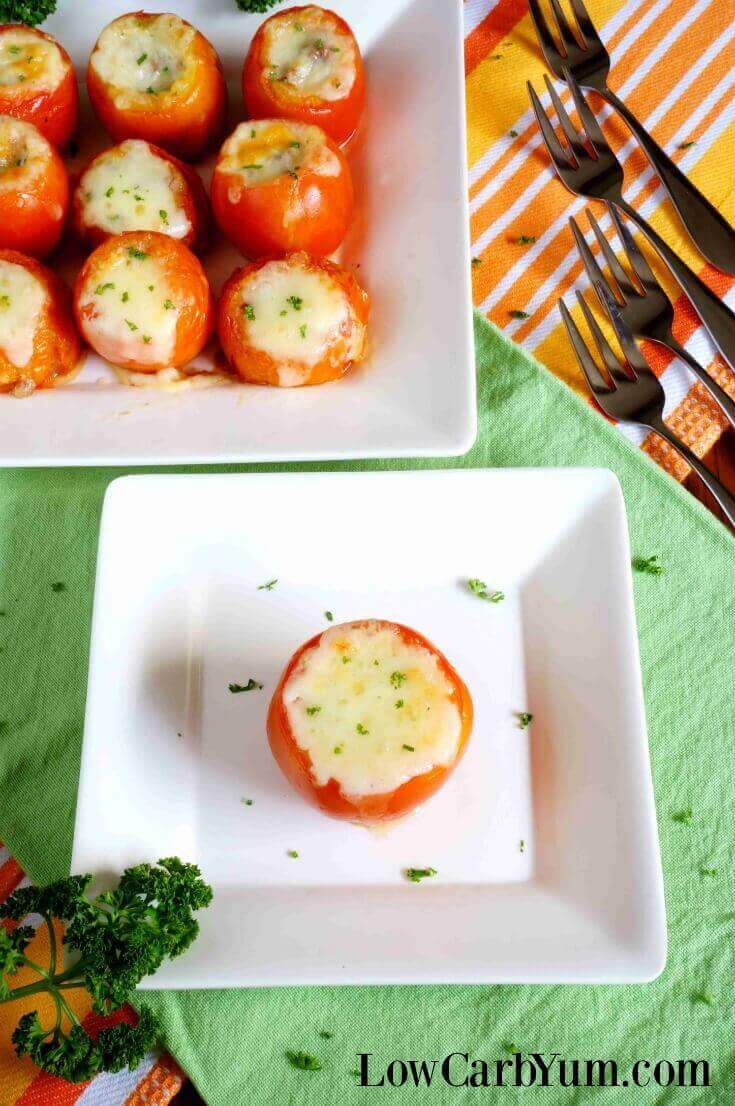 6. Chicken green bean stir fry with tomatoes
This chicken green bean stir fry comes together in under 30 minutes for a nutritious weeknight dinner.
Added tomato also gives great acidity to the dish, adding interest and flavor.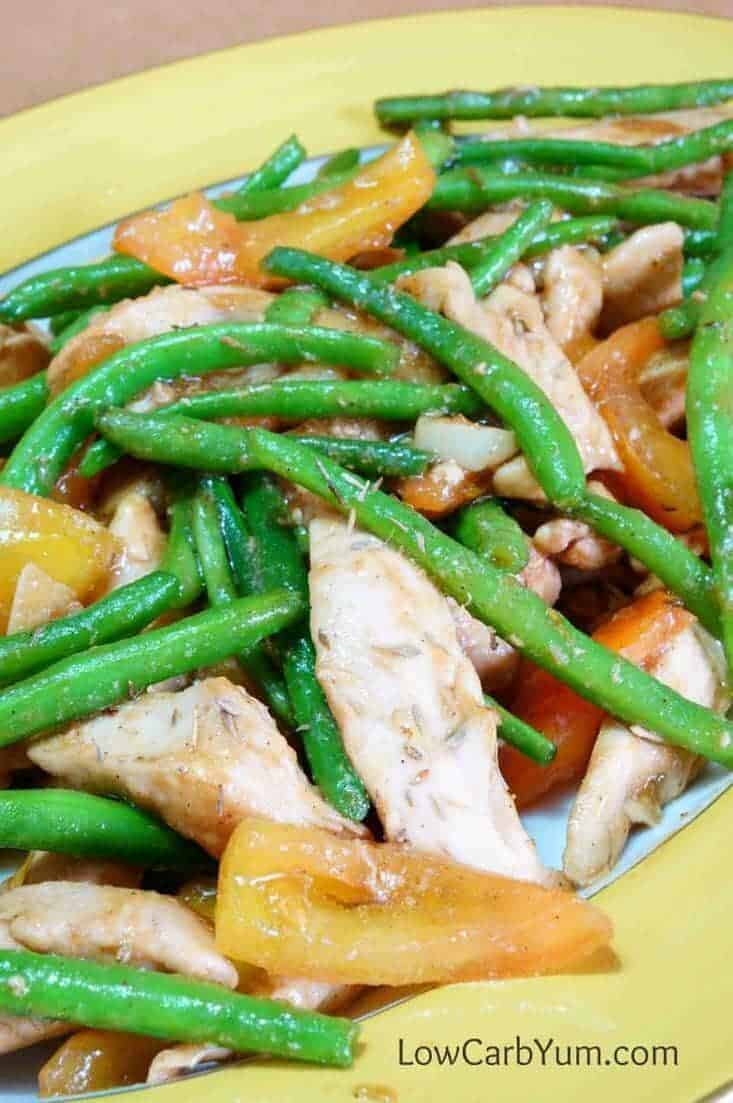 7. Tomato casserole
My tomato casserole contains great fat content from sugar-free bacon, shredded cheese, and homemade ranch dressing.
Serve alongside a tasty grilled protein.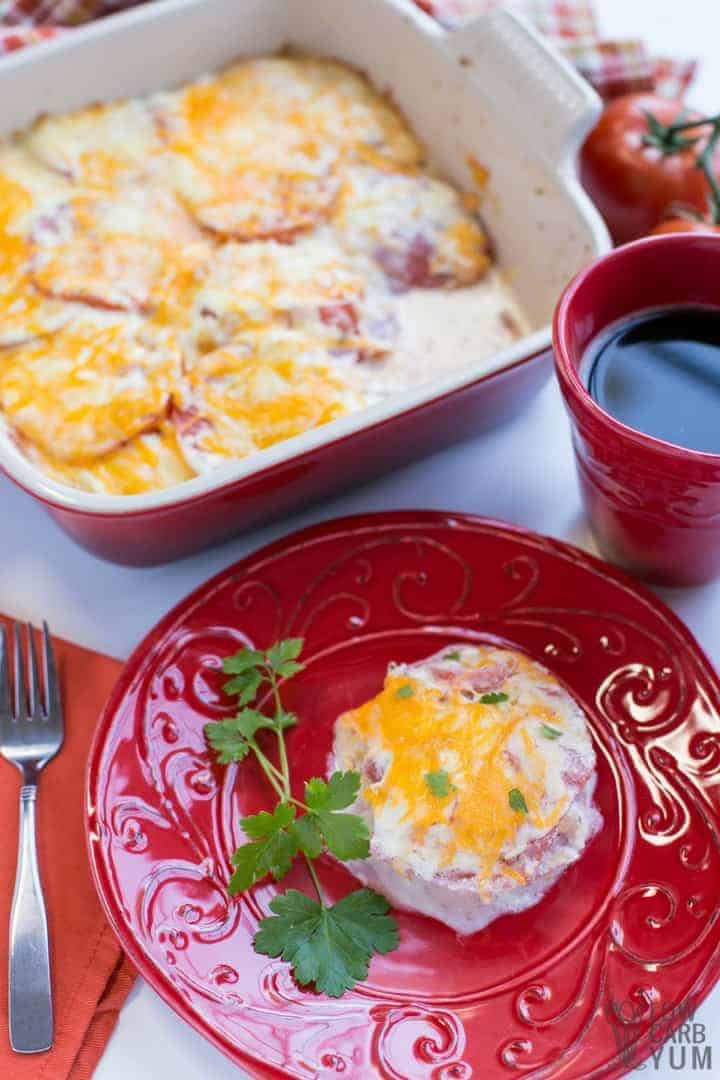 8. Eggplant tomato sauce
Struggling to find a tomato sauce keto alternative?
You just need to try my eggplant tomato sauce! It's full of flavor and delicious low-carb vegetables.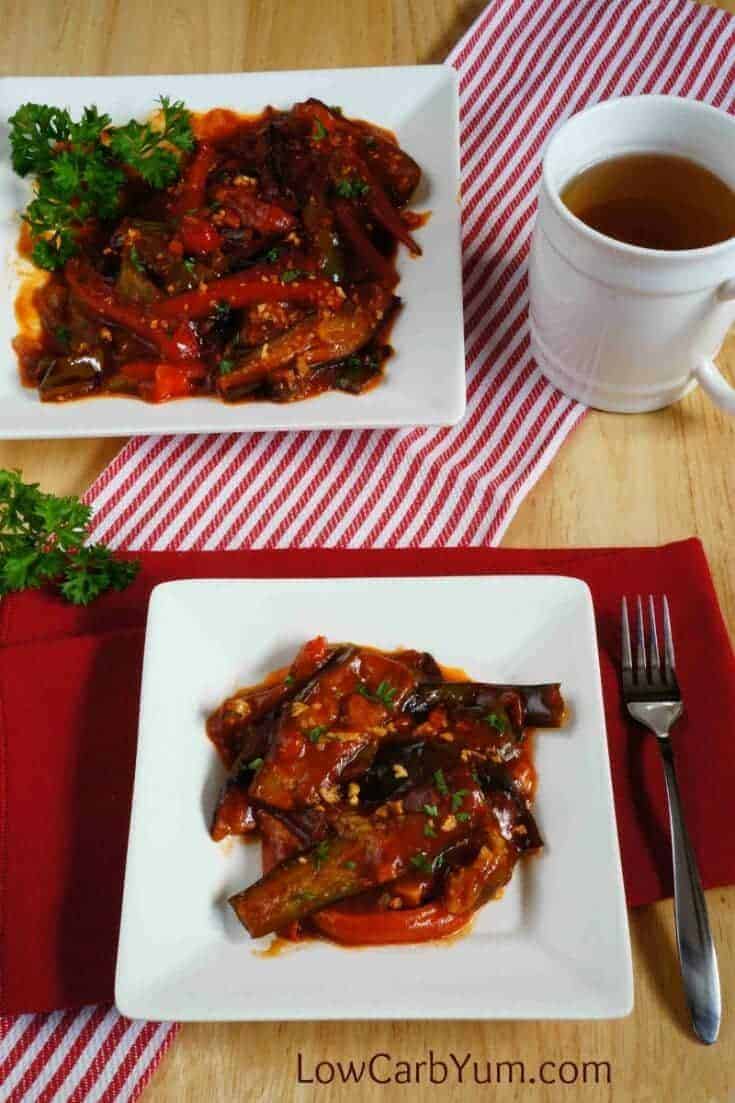 9. Chicken spinach tomato dish
My chicken spinach tomato dish cooks up quickly in a single pot for an on-the-go meal with quality ingredients.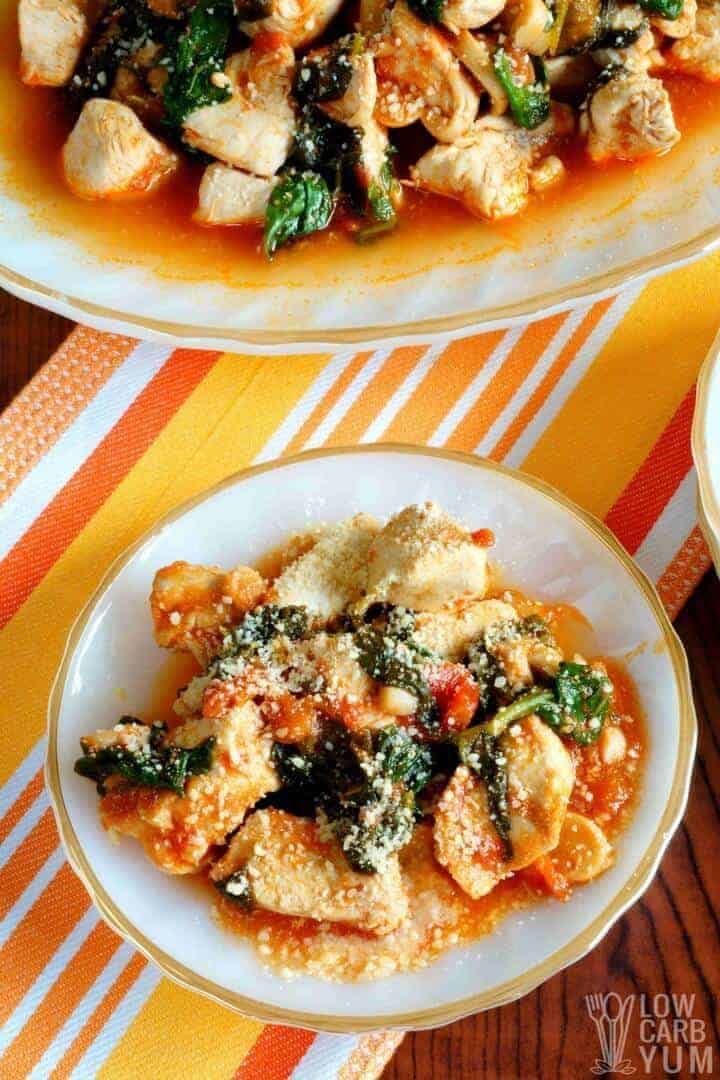 10. Eggplant and tomato pizza rounds
These easy pizza rounds scrap the crust altogether!
To make them, simply slice a medium whole tomato or eggplant, top with your favorite toppings, bake, and enjoy.
My favorite toppings are sausage and lots of cheese!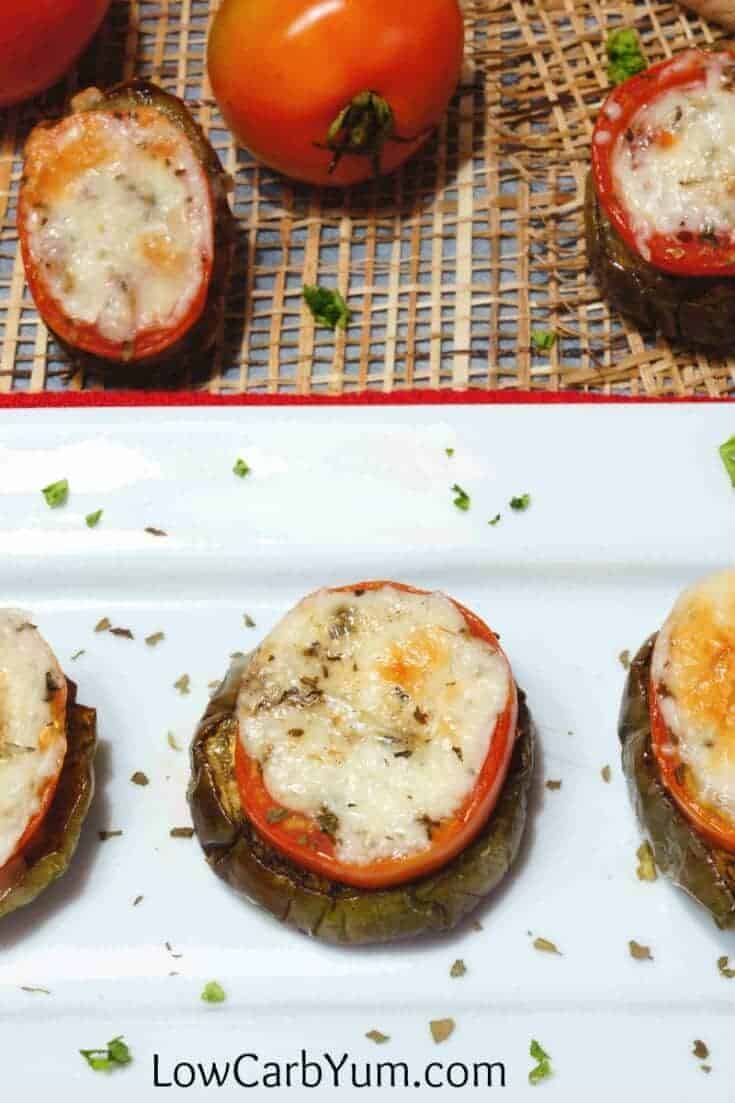 11. Summer zucchini and squash salad
This summer zucchini and squash salad is made even better with well-dressed grape tomatoes.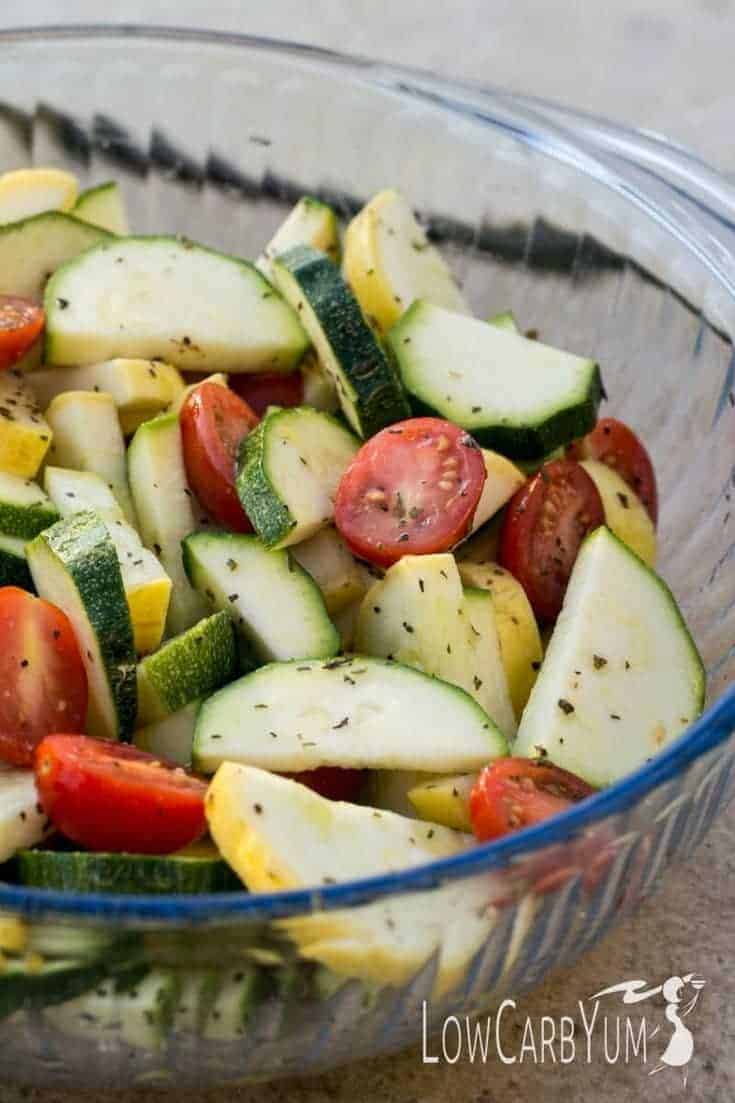 12. Baked chicken and zucchini casserole with tomatoes
This baked chicken and zucchini casserole is filled with tasty whole ingredients like seasoned chicken breasts, diced tomato, and melted mozzarella.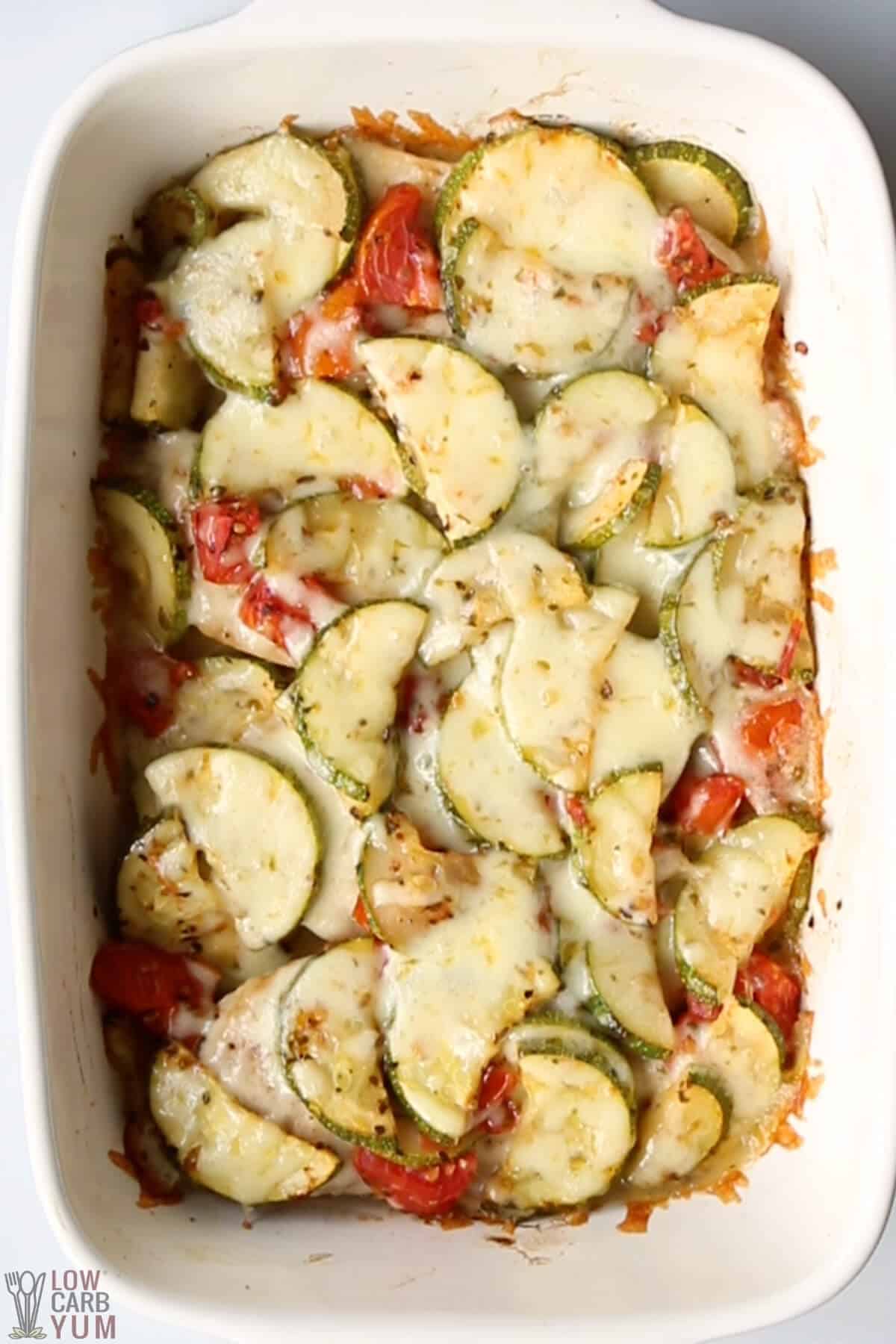 FAQs
Here are a couple of answers to my most-asked questions about eating tomatoes on a keto diet. If you don't see your question answered, feel free to drop it in the comments down below.
Are raw tomatoes high in carbs?
Raw tomatoes are pretty darn low in carbs. In fact, 100g of raw tomatoes contain just 3.9g total carbs and 2.7g net carbs (total carbs minus the dietary fiber content).

This makes raw tomatoes a great keto food. They help restrict your daily carb consumption so that your body burns fat for energy rather than the usual carbohydrates.
What kinds of tomatoes are keto?
In short, most of them! Most kinds of raw tomatoes are absolutely suitable for a keto diet. But when processing happens, things get a little more wishy-washy.

Tasty tomatoes that you can eat on a keto diet include:
- Cherry tomatoes
- Grape tomatoes
- Green tomatoes
- Plum tomatoes
- Unsweetened canned tomatoes

In general, avoid canned tomatoes, tomato paste, sundried tomatoes, and other processed creations. While some may be keto, they tend to include added sugars, which will spike your daily carb count!
Want more keto recipes? Try these!
Looking for more low-carb recipes? Each of these meals contains fresh, whole ingredients. Bonus: They're also delicious!
Follow us on FACEBOOK, PINTEREST, and INSTAGRAM for even more tasty keto-friendly recipes!