This post may be sponsored or contain affiliate links. We may earn money from purchases made through links mentioned in this post, but all opinions are our own. We are a participant in the Amazon Services LLC Associates Program, an affiliate advertising program designed to provide a means for us to earn fees by linking to Amazon.com and affiliates sites.
Want a quick low carb snack? It only takes two minutes to whip up a gluten free chocolate mug cake from scratch. So give it a try!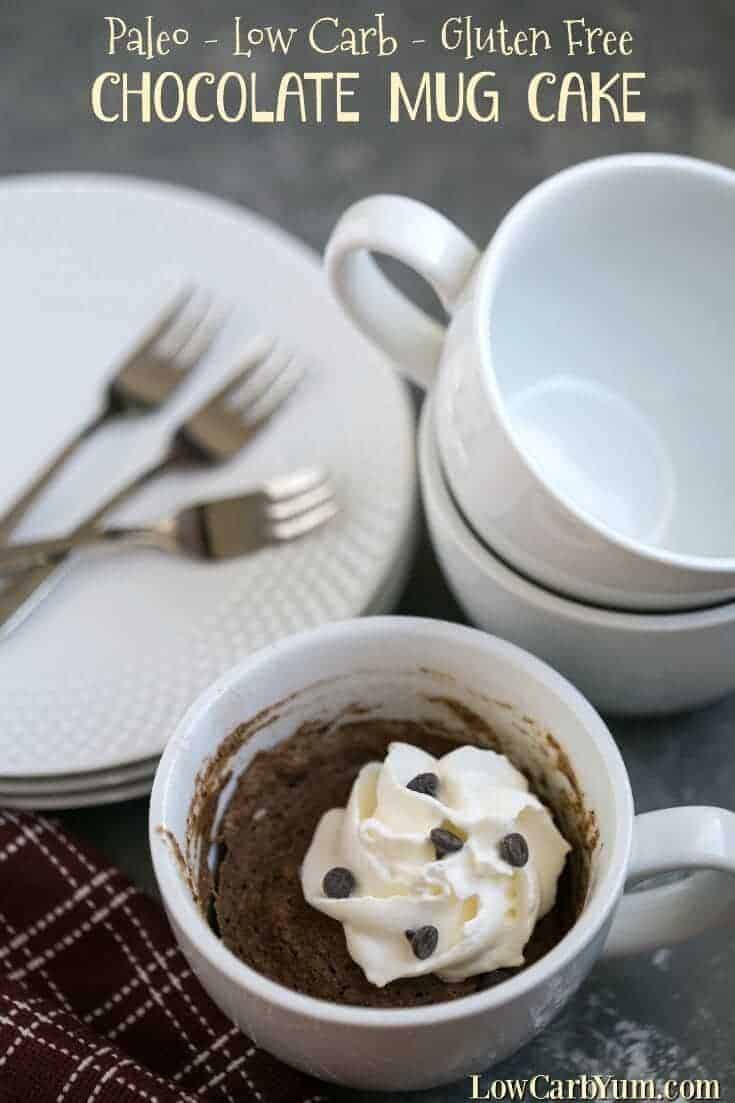 With so little time on my hands, I find there's less time for me to experiment in the kitchen these days. I've actually had to hire on some help for recipe creation.
Next month isn't going to get any better. Although I asked to stick with my forty hour weeks, I was put on a sixty hour week schedule working second shift.
You may see me post more quick and easy low carb recipes like this gluten free chocolate mug cake. It's ready in about two minutes from start to finish so I didn't have to spend much time on it.
After many years of hard work, this website has started to bring in a decent income for me. So I may be able to leave my engineering job sooner than I thought.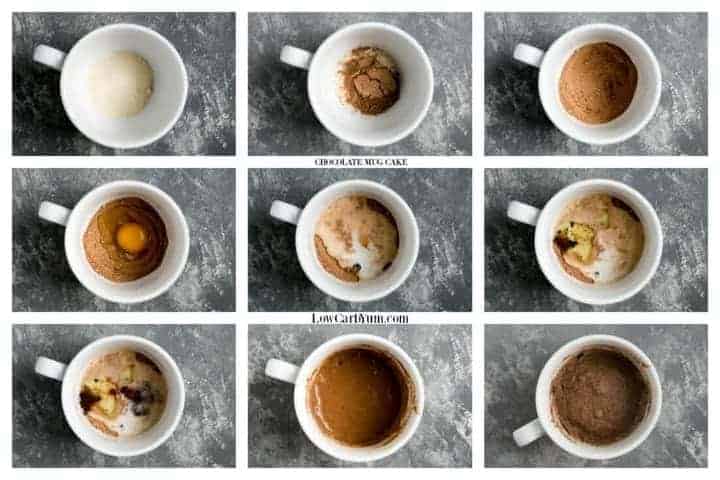 A lot of people have complained about the website ads. But, they are a large source of revenue which is bringing me closer to my dream of working completely for myself.
Blogging is a ton of work. It's even harder when you work full time and have young kids at home. But, I feel it's worth it because I get so many comments from others on how my blog has helped them.
This gluten free chocolate mug cake recipe may not become as popular as my cream cheese peanut butter fudge, but it's so much easier to make. And, it only makes one serving so you won't overindulge.
Since I've cut back significantly on sugar alcohols, I used only stevia and monk fruit drops in the recipe. However, I've also provided the equivalent bulk sweetener amount.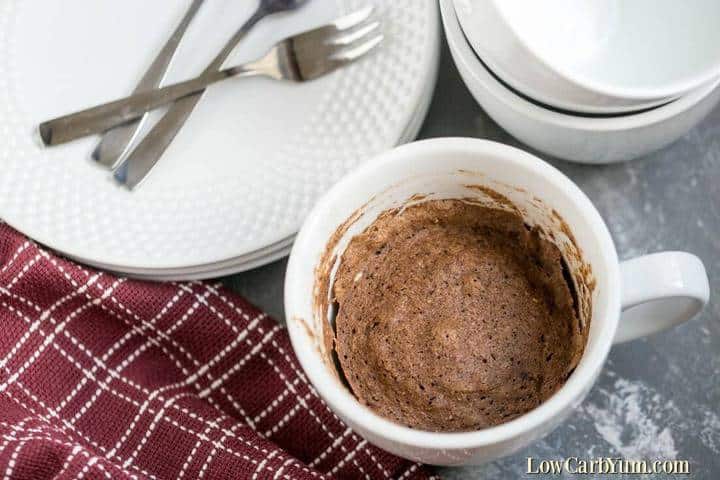 A lot of people wonder why I use more than one sweetener. It's because I prefer stevia, but I don't like how it tastes by itself. You get a much better sweet flavor if you mix stevia with another low carb sweetener.
My preferred sweetener blend used to be stevia and erythritol. I have since discovered monk fruit, or lo han guo, which is a natural concentrated sweetener like stevia without the aftertaste.
I used a blend of stevia and monk fruit drops to sweeten this gluten free chocolate mug cake. Why? It gives the best taste without adding in any sugar alcohol or fiber carbs.
Unlike stevia, monk fruit concentrate tastes great by itself. However, I blend it with stevia to cut the costs. Monk fruit isn't as concentrated as stevia and tends to be more expensive to use.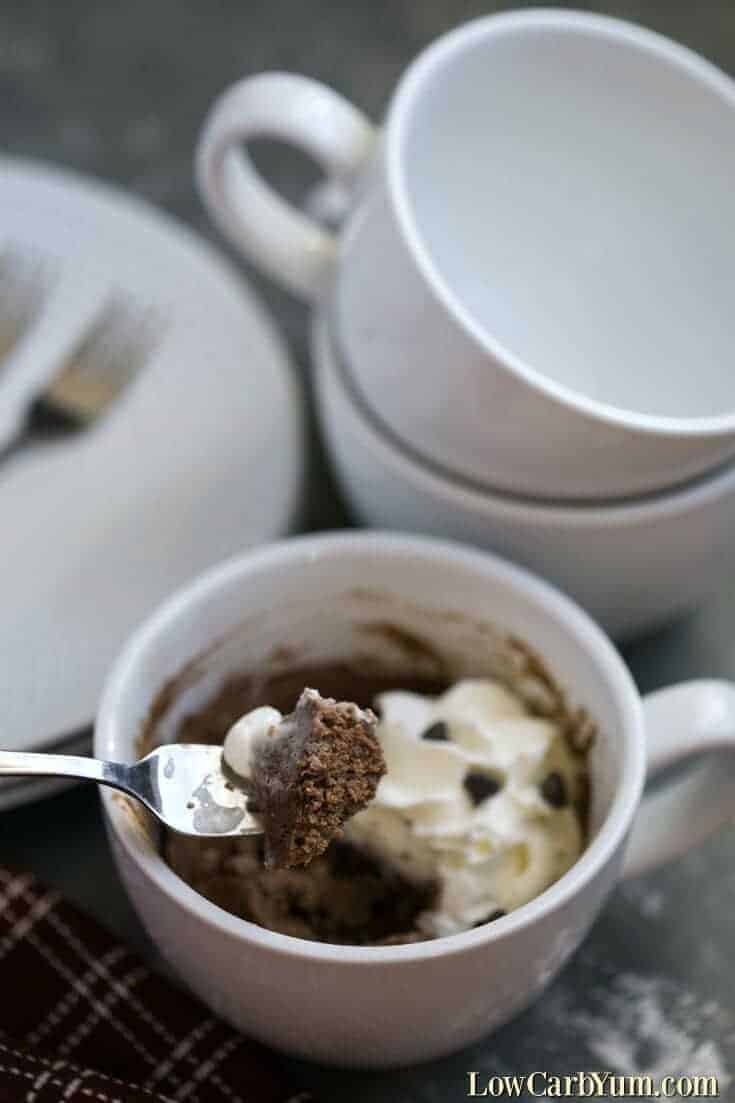 For those who have never tried blending stevia and monk fruit, you really should give it a try. There's a reason why packaged low carb products often combine the two.
My sweetener drops seem to last a long time and I'm not the only one using them. My four year old daughter loves adding five drops of vanilla stevia and four drops of monk fruit into a cup of plain whole milk yogurt. It's one of her favorite snacks.
I hope you enjoy this quick to make chocolate cake as much as I did. It was inspired by a recipe I found on Food.com.
Chocolate Mug Cake Recipe Video
Paleo Gluten Free Chocolate Mug Cake Recipe – Low Carb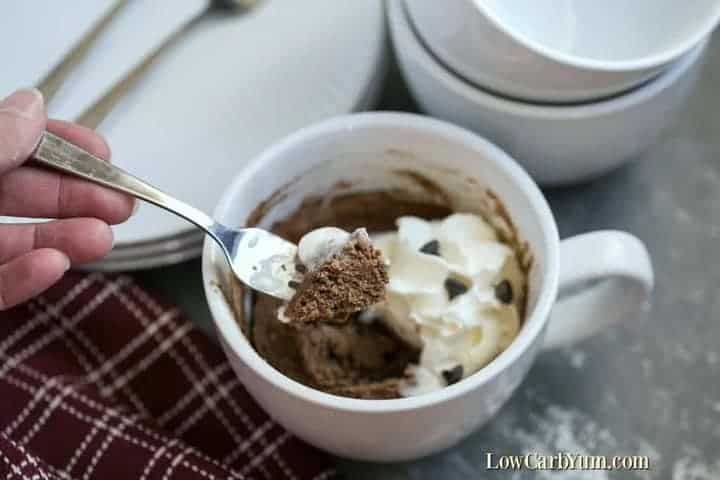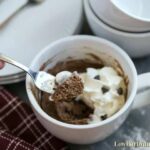 Paleo Gluten Free Chocolate Mug Cake
Want a quick low carb snack? It only takes two minutes to whip up a low carb chocolate mug cake from scratch. So give it a try!
Ingredients
2

tablespoons

coconut flour

1

tablespoon

unsweetened cocoa powder

1

large

egg

2

tablespoons

almond milk

or coconut milk

1

tablespoon

avocado oil

or coconut oil

1/2

teaspoon

vanilla extract

10

drops

stevia liquid extract

see note

10

drops

monk fruit extract

see note

1

tablespoon

sugar free chocolate chips

optional

sugar free whipped cream

optional
Instructions
In coffee mug or ramekin, mix together coconut flour and cocoa powder.

Stir in egg, almond milk, avocado oil, vanilla extract, and sweetener(s) until well combined. Add in a few chocolate chips if desired.

Microwave on high for 1 1/2 to 2 minutes. Allow to cool slightly. Top with optional sugar free whipped cream and chocolate chips if using.
Recipe Notes
Concentrated sweetener drops can be replaced with 1 tablespoon of your favorite bulk sweetener like Swerve or Splenda.
Entire cake has 5 grams net carbs.
Nutrition Facts
Paleo Gluten Free Chocolate Mug Cake
Amount Per Serving (1 cake)
Calories 281
Calories from Fat 198
% Daily Value*
Total Fat 22g 34%
Cholesterol 186mg 62%
Sodium 147mg 6%
Potassium 199mg 6%
Total Carbohydrates 12g 4%
Protein 9g 18%
* Percent Daily Values are based on a 2000 calorie diet.
Related Posts