Wondering what keto Shake Shack options there are to enjoy? Indulge in our low-carb Shake Shack menu – complete with meal options, ordering tips, and menu items to avoid at all costs!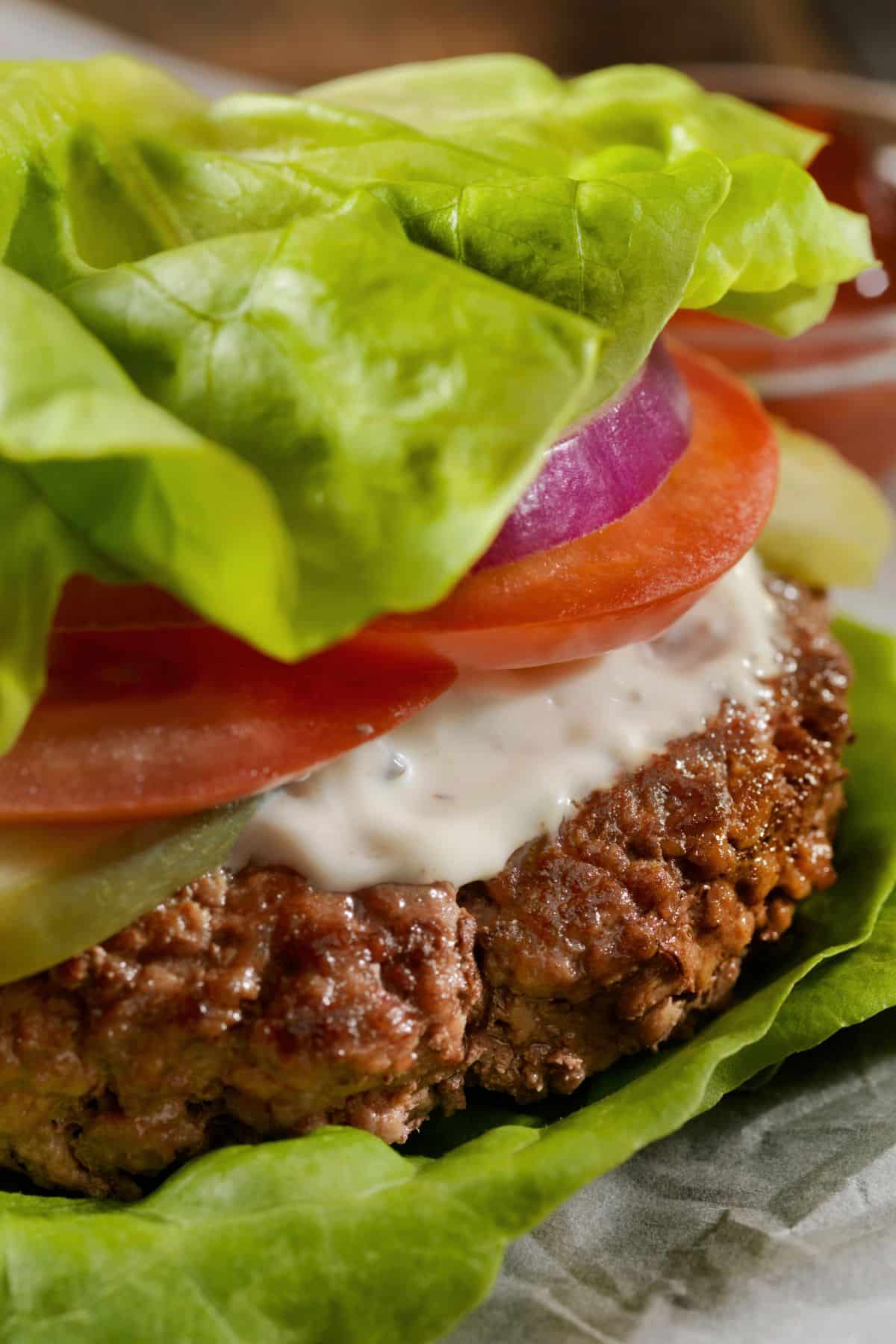 Eating fast food on a keto diet is no easy task.
When meals are filled with carb-heavy sides, hamburger buns, and sugary beverages, it may seem impossible to find a well-rounded meal on the go.
Luckily, you can eat keto at just about any restaurant with a few smart ordering tips. And Shake Shack is no exception.
In this post, we're covering the best keto Shake Shack options to enjoy on a ketogenic diet without blowing your daily carb intake.
Learn how to order your perfect low-carb burger, along with customizable toppings to optimize your macros.
Looking for more keto fast food restaurants? I have a bunch of keto tips for eating on the go, including how to eat fast food at Wendy's, Wingstop, Starbucks, and Dunkin' Donuts.
Keto Shake Shack options
It's definitely possible to eat a low-carb meal at Shake Shack – you just need to know what to order. This list contains possible Shake Shack keto menu items for you to enjoy.
Visit the Shake Shack website for full menus and nutritional information.
Breakfast options
Shake Shack offers a range of breakfast sandwiches that can be made keto-friendly...simply remove the bun! Dig into the egg, meat, and cheese of your choice. A few options to order include:
Bacon breakfast sandwich
Cheese breakfast sandwich
Sausage breakfast sandwich
Note: Shake Shack doesn't list the macros for their breakfast sandwiches (without the bread). Still, with just meat, egg, and cheese, they're definitely a keto-friendly option.
Keto Shake Shack burgers
Choose between several low-carb burger options. Simply order your burger patty with no bun. And good news – Shake Shack offers lettuce-wrapped burgers!
Add a lettuce wrap to your order for just 0.5g net carbs.
Avocado bacon burger – 0g net carbs
Bacon cheeseburger – 0g net carbs
Cheeseburger – 0g net carbs
Double cheeseburger – 0g net carbs
Hamburger – 0g net carbs
ShackBurger – 1g net carbs
SmokeShack – 2g net carbs
Shake Shack also offers a range of hot dogs on their menu; you can safely eat a flat-top dog (removing the bun) on a low-carb diet.
Ask for a sausage link (2g net carbs), remove the bun, and add cheese sauce (1g net carbs) for a high-fat extra!
Toppings
You can customize your Shake Shack meal with any of these low-carb toppings; they can help add a bit more satiety to your meal.
Bacon – 0g carbs
Cheese sauce – 1g net carbs
Cherry peppers – 2g carbs
Herb mayonnaise – 0g carbs
Lettuce – 0g carbs
Lettuce wrap – 0.5g carbs
Onions – 1g carbs
Pickles – 0g carbs
Shack sauce – 0g carbs
Tomatoes – 1g carbs
Drinks
While you won't be able to indulge in one of Shake Shack's famous milkshakes, you can finish off your meal with one of these low-carb drink options:
Bottled water
Diet soda
Unsweetened iced tea
Unsweetened black coffee
Shake Shack menu items to avoid
Several Shake Shack menu items should be avoided at all costs. Each contains high levels of sugar and carbohydrates that could affect your ketosis.
Remember to avoid:
Hotdog & hamburger buns
Veggie Shack
Chick'n Shack
Shroom burger
Fries
Chicken bites
Sugary drinks

Lemonades
Shakes
Sodas
Iced teas
How to order keto at Shake Shack
Ready to order? Follow these tips for a seamless experience:
1. Try a breakfast sandwich
Fast food breakfast is rarely low-carb. Take advantage of Shake Shack's breakfast sandwiches when you need an on-the-go breakfast solution.
2. Remove the bun
Whether you order a breakfast sandwich, burger, or hot dog, remember to remove the bun to avoid excess carbohydrates.
For burgers, ask for a lettuce wrap for a satisfying crunch!
3. Include tasty toppings
Customize your Shake Shack burger or hotdog with the toppings of your choice for extra flavor, satiety, and fat content.
Try adding high-fat extras like avocado, bacon, and cheese sauce.
4. Skip the sides
Though tasty, french fries and chicken bites are high in carbs.
If you're really hungry, skip the sides and order an extra burger patty.
5. Stick to water
While a shake might sound tempting, Shake Shack milkshakes are filled with sugar and will blow your daily carb count before you hit the bottom of your cup!
Instead, wash down your meal with some water or unsweetened iced tea.
FAQs
Here are a few answers to the most frequently asked questions about Shake Shack keto options. If you don't see your question in this list, please leave it for me in the comments.
Can you eat Shake Shack on a keto diet?
Absolutely! Just remember to pick a low-carb main, ditch the bun, and avoid high-carb sides and drinks.
Does Shake Shack do a lettuce wrap?
Yes! Shake Shack will lettuce wrap any burger patty of your choice.
How many carbs are in a Shake Shack burger without the bun?
While each Shake Shack burger contains different carb counts based on toppings and extras, the traditional Shake Shack hamburger contains 0g net carbs without the bun.
How many carbs are in Shake Shack fries?
Shake Shack fries are high in carbohydrates and far from keto-approved.
One order of regular Shake Shack fries contains 63g of total carbs.
Related recipes
If these Shake Shack keto options have you craving fast food, here are some low-carb recipes you can make at home! All of them will effectively replace anything you can order at the chain.
Follow us on FACEBOOK, PINTEREST, and INSTAGRAM for even more tasty keto-friendly recipes!