This post may be sponsored or contain affiliate links. We may earn money from purchases made through links mentioned in this post, but all opinions are our own. We are a participant in the Amazon Services LLC Associates Program, an affiliate advertising program designed to provide a means for us to earn fees by linking to Amazon.com and affiliates sites.
A simple low carb spinach strawberry salad with vinaigrette dressing. It's a light salad to enjoy on the side made with fresh greens, berries, and almonds.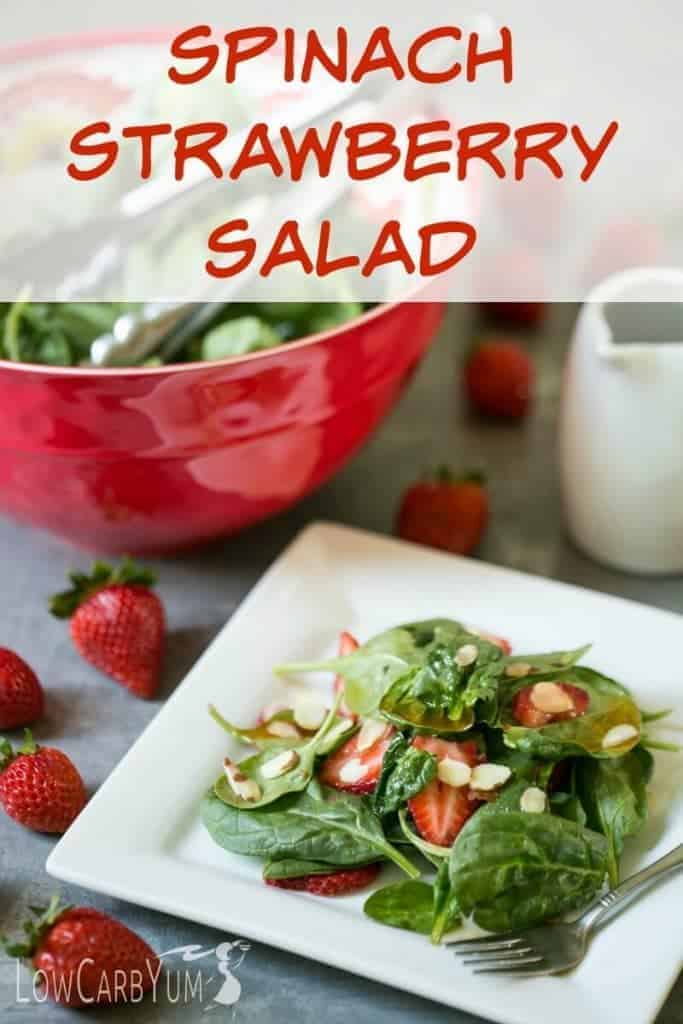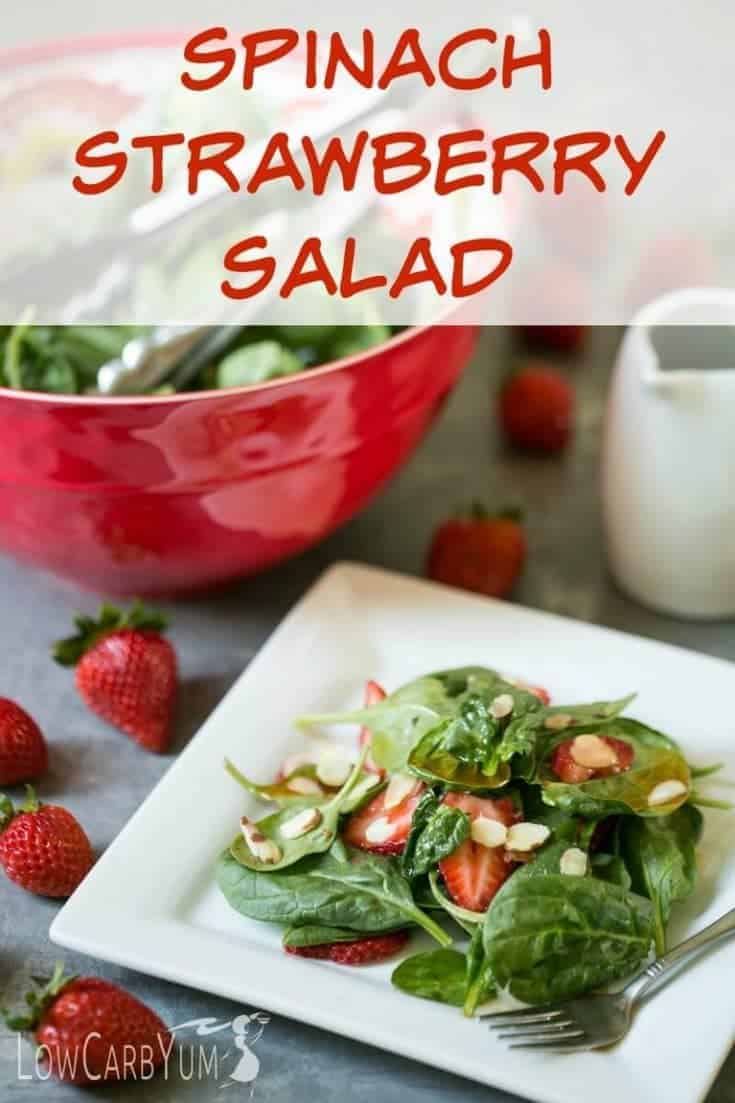 The weather has finally gotten hot here in Connecticut. The last few days have been in the 80s which is somewhat of a heatwave for this time of year.
I don't like to cook much in the heat. We do have central air conditioning in our home, but I prefer opening the windows. Even when I do turn on the AC, it's never set below 76 degrees. I'm a warm weather person.
In the warmer summer months, I eat a lot of salad. I almost didn't post this low carb spinach strawberry salad because it's so easy. But, I decided to share it as others may love it as much as I do and be encouraged to make it.
Strawberries are in season here right now and we've had a few ripen in the yard. Unfortunately, the wild critters have bitten them before we had a chance to pick them. I've got to grab some netting to keep the animals out. We do have the strawberry plants in a fenced area, but something is still able to get in. Hopefully, covering them with nets will ensure we have some to enjoy ourselves.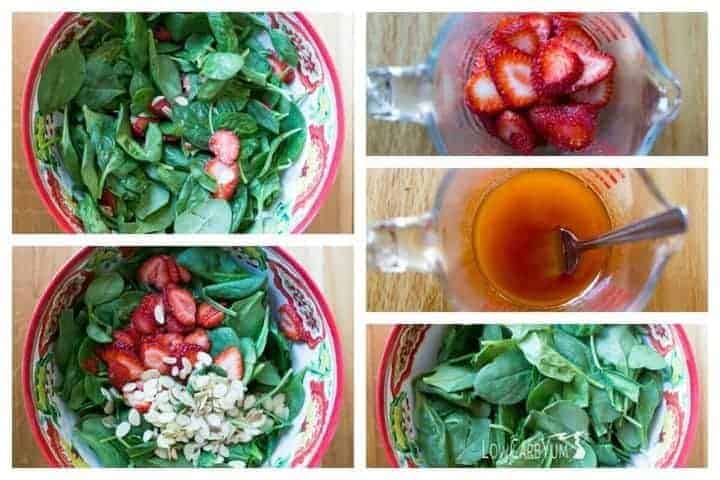 I use a red wine vinegar and avocado oil vinaigrette as the dressing for this low carb spinach strawberry salad. To offset the sour taste of the vinegar, I use vanilla flavored stevia drops. You could use plain stevia, but the hint of vanilla is a nice complement to the strawberries.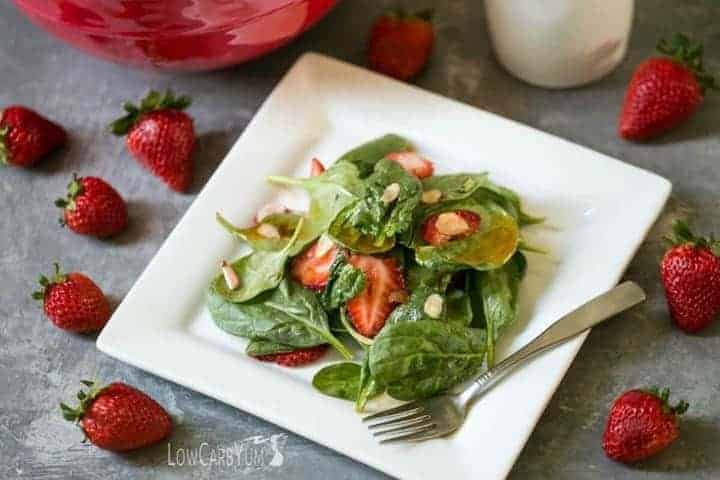 I don't use a lot of strawberries in the salad. You could add extra in for a sweeter salad. Since fruit has natural sugars, I try to limit the amount I eat. It's tough, though, in the summer. Fresh summer berries are so good!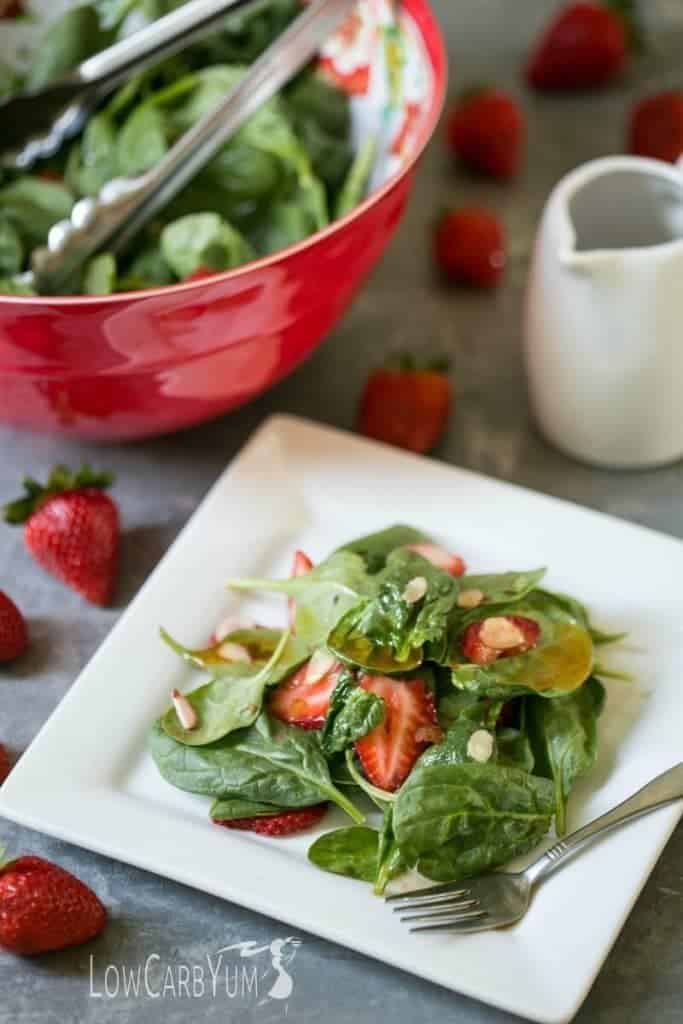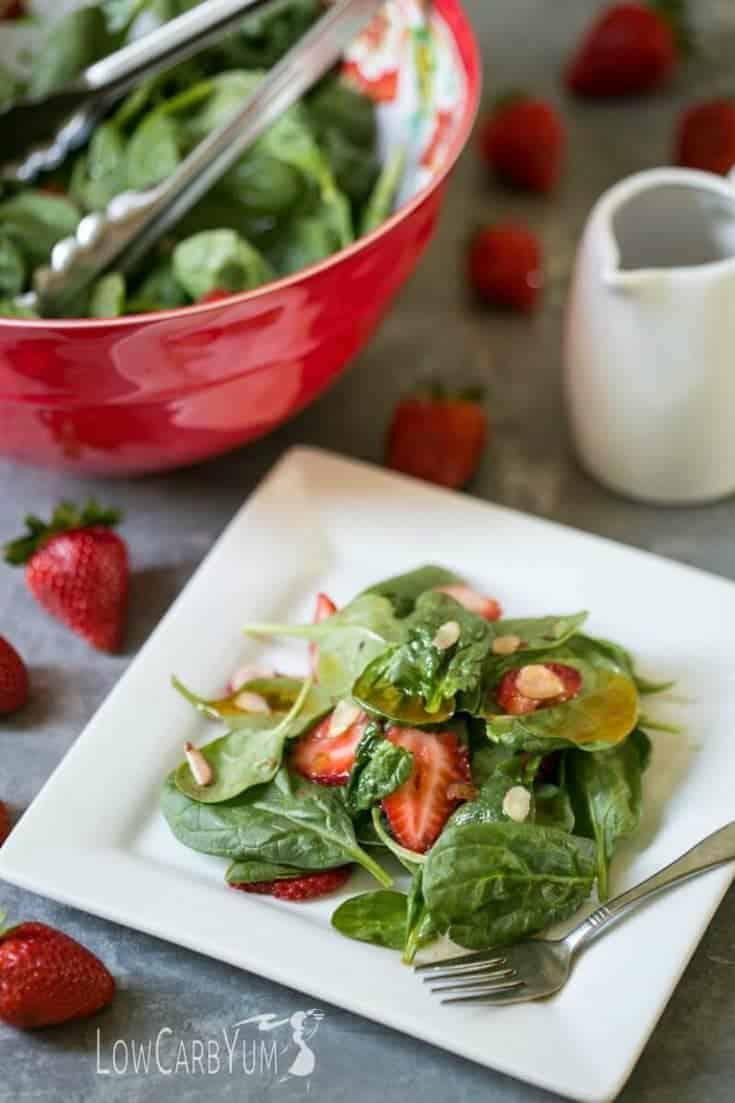 The sliced almonds give a nice crunch to this spinach strawberry salad. If you don't like them or allergic to nuts, you could replace them with sunflower seeds.
Bacon bits would also be a nice add on to the salad. I didn't have any bacon cooked so I didn't bother thawing and cooking a package. We keep a good supply of sugar and nitrate free bacon in our freezer.
Peace Love and Low Carb also has a wonderful Strawberry Spinach Salad recipe here. Kyndra's recipe includes red onions, feta cheese, and tomatoes along with bacon. Those are excellent topping to add to the salad.
I kept this spinach strawberry salad somewhat plain. Feel free to customize it to your liking. The dressing can also be adjusted to taste. You may want to add more or less sweetener or adjust the salt.
To keep the salad crisp, keep the dressing separate. I leave the dressing in a separate container and pour it on just before serving. You can also keep extra sliced strawberries and almonds on the side to top off each serving.
Low Carb Spinach Strawberry Salad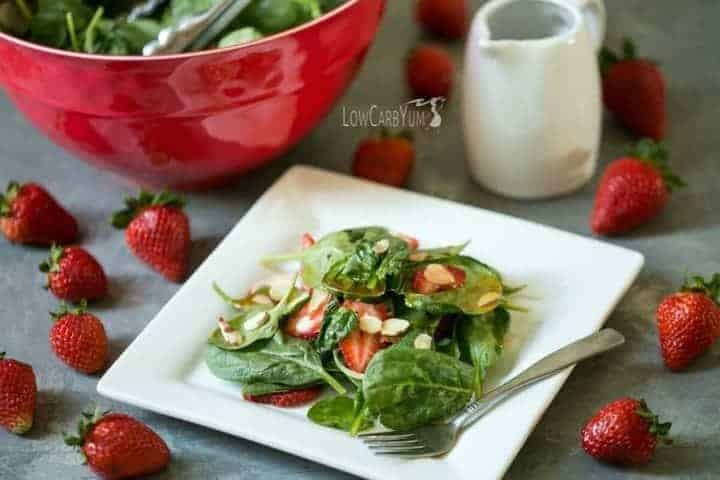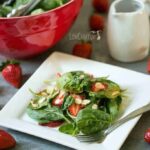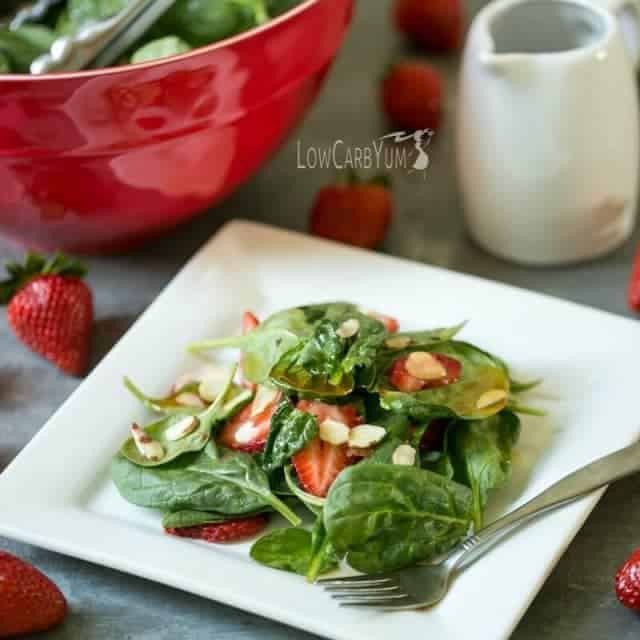 Spinach Strawberry Salad with Vinaigrette
A simple low carb spinach strawberry salad with vinaigrette dressing. It's a light salad to enjoy on the side made with fresh greens, berries, and almonds.
Ingredients
5

ounces

baby spinach

1

cup

strawberries

sliced

1/4

cup

almonds

sliced

1/4

cup

avocado oil or olive oil

2

tablespoons

red wine vinegar

1/2

teaspoon

vanilla stevia drops

1/8

teaspoon

paprika

1/8

teaspoon

garlic powder

1/8

teaspoon

salt
Optional Toppings:
cheese

bacon

onions

tomatoes
Instructions
In medium bowl combine baby spinach, strawberries and almonds.

In small bowl or cup, blend remaining ingredients to make dressing.

Divide salad into four servings. Drizzle dressing over salad just before serving.
Nutrition Facts
Spinach Strawberry Salad with Vinaigrette
Amount Per Serving (95 g)
Calories 75
Calories from Fat 45
% Daily Value*
Total Fat 5g 8%
Sodium 408mg 17%
Total Carbohydrates 6.3g 2%
Protein 2.7g 5%
* Percent Daily Values are based on a 2000 calorie diet.
Related Posts