This post may be sponsored or contain affiliate links. We may earn money from purchases made through links mentioned in this post, but all opinions are our own. We are a participant in the Amazon Services LLC Associates Program, an affiliate advertising program designed to provide a means for us to earn fees by linking to Amazon.com and affiliates sites.
Delicious sugar free peanut butter cups with only 2 grams net carbs each. With carbs so low, there's no reason you can't enjoy this low carb keto candy.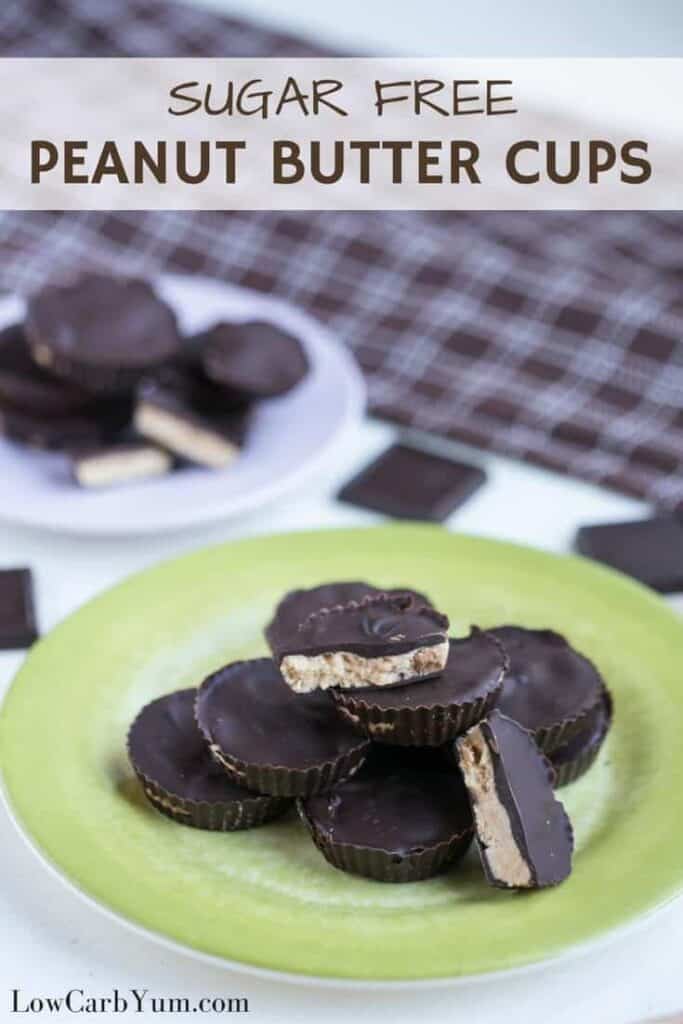 With all the Easter candy floating around, I wanted to have my own low carb candy to enjoy. Plus, it was also my birthday weekend so I deserved to have a yummy treat.
I recently received some complimentary bags of ChocZero dark chocolate to experiment with in low carb recipes. The milk chocolate squares are already a favorite of mine.
To see how the dark chocolate squares melted down, I made up a batch of sugar free peanut butter cups. And, the ChocZero chocolate melted beautifully as expected.
To make the candy, I used the filling from an old blog recipe for peanut butter cup bars. Rather than press the filling out into a single baking pan, I used silicone cupcake molds.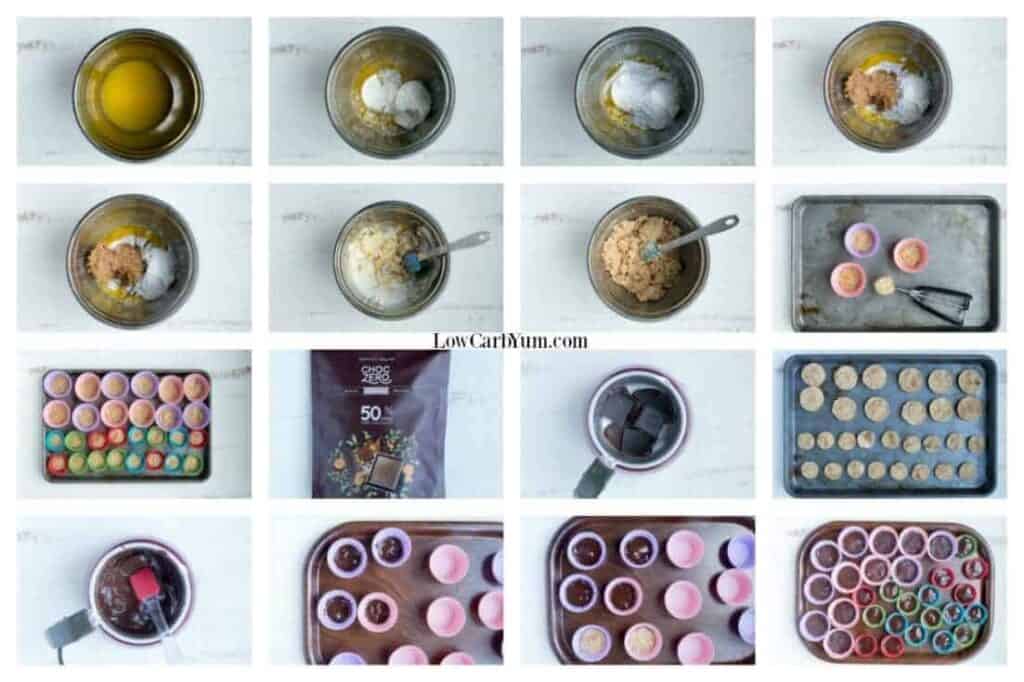 If you have a craving for Reese's, this low carb candy is sure to satisfy. The filling is very similar to what you get in the popular Hershey's treats.
I actually liked these sugar free peanut butter cups too much. I had to give them away before I ended up eating the whole batch!
If you end up making this yummy treat, you'll need some good will power. You could put them away somewhere out of sight or share them with your family and friends. Just don't eat too many at once.
The great thing about making your own low carb candy is that you control what's in it. Most of the sugar free candy sold in stores is made with sugar alcohols that can have a laxative effect.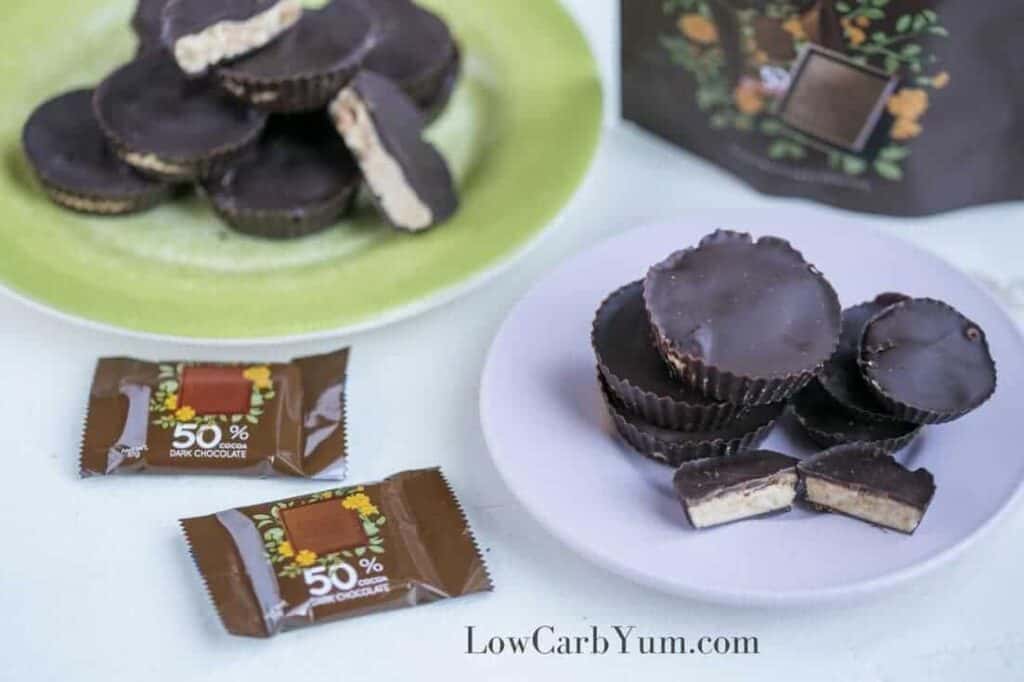 I've always wanted to turn my original bar recipe into low carb sugar free peanut butter cups. Originally, I thought that it would be difficult and time consuming.
It does take more time to make the candy in individual molds. But, the process is super easy. And, I like that you get more chocolate in every bite.
I just divided the peanut butter filling into regular and mini sized silicone cupcake molds. If making all regular sized ones, the recipe makes about 20 candies.
After pressing into the molds, I froze the filling for about an hour. That way, they would be sure to hold together when placing into the melted chocolate.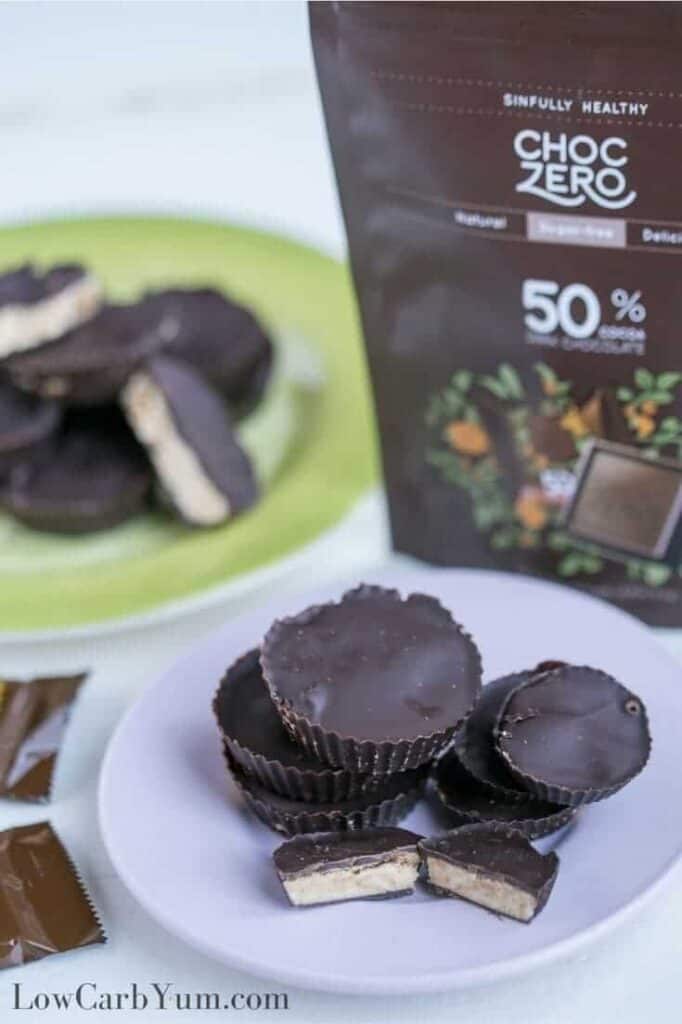 To assemble each of the sugar free peanut butter cups, you just brush chocolate onto the bottom of each mold. Then, the frozen peanut butter filling is placed into the mold and topped off with a layer of chocolate.
I wanted to make sure the chocolate covered the sides of the filling. So, I squeezed each mold to let the chocolate drip down from the top.
The silicone cupcake molds are also great for making fat bombs. I used them to make white chocolate fat bombs and these ones made with chocolate and peanut butter.
Sugar Free Peanut Butter Cups Recipe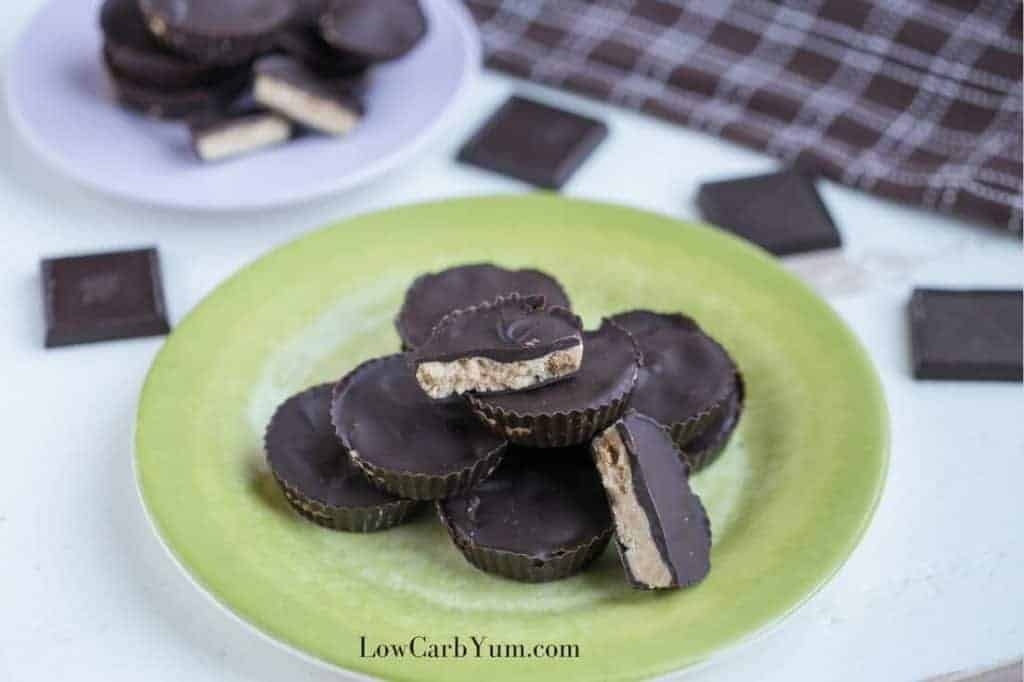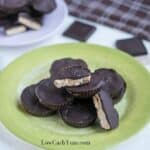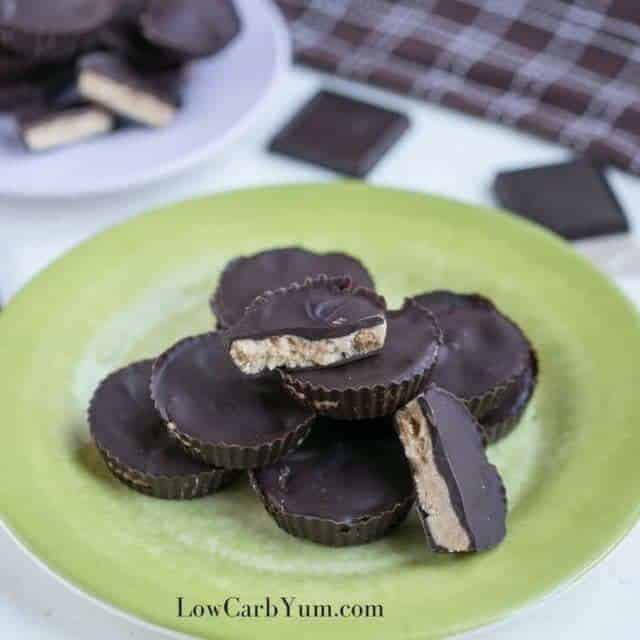 Sugar Free Peanut Butter Cups
Instructions
In medium bowl, mix the butter, whey protein powder, erythritol, stevia and peanut butter together.

Using cookie scoop, drop about a tablespoon of peanut butter mixture into silicone cupcake molds. Press mixture down into bottom of each mold. Freeze for at least an hour.

In a chocolate melter, melt the dark chocolate and keep melted on warm setting. Note: this could also be done in microwave or double boiler, but the melter is best to get the right temperature.

Remove frozen peanut butter filling from each silicone mold and set aside.

Brush melted chocolate to cover bottom and a little bit along the sides of each silicone cupcake mold. While chocolate is still melted, press the frozen peanut butter filling on top of the chocolate in each mold. Top off with a layer of melted chocolate.

Chill cups in the refrigerator to set the chocolate. Once set, the candy can be removed from the molds. The cups are fine to have out at room temperature or can be kept in the refrigerator for longer storage.
Nutrition Facts
Sugar Free Peanut Butter Cups
Amount Per Serving (1 cup)
Calories 103
Calories from Fat 90
% Daily Value*
Total Fat 10g 15%
Cholesterol 8mg 3%
Sodium 51mg 2%
Total Carbohydrates 7g 2%
Protein 2g 4%
* Percent Daily Values are based on a 2000 calorie diet.
Related Posts