A basic low carb ham cheese and broccoli quiche. The crust is made with a blend of almond and coconut flours. Gluten free. Make with or without crust.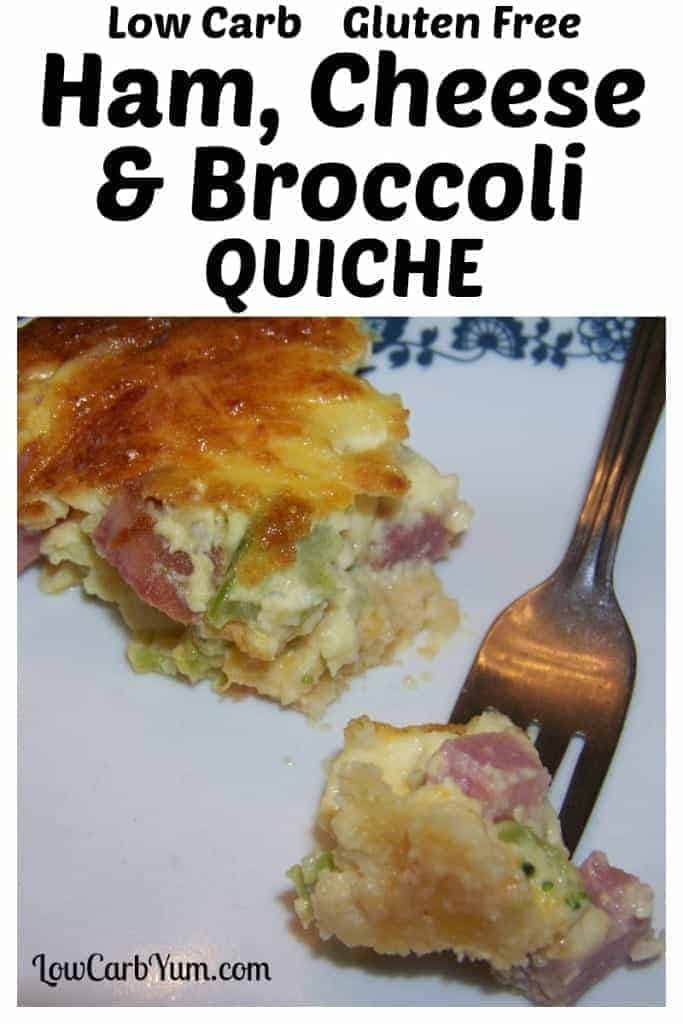 I usually make my quiche without a crust to save on carbs, but this time I decided to try it with an almond and coconut flour based crust. It did give the pie a nice crisp edge at the bottom as well as an added nutty flavor. The crust can be omitted if you'd rather not have the extra carbs.
I was going to make a simple ham and cheese quiche, but added the broccoli for a little extra color and nutrition. Similar to my crustless spinach cheese pie, this is another great breakfast dish to make ahead and heat up for a quick meal on those busy mornings
I also added a little mozzarella cheese on top to give it a nice brown color. Parmesan cheese would be another option if you don't have any mozzarella or the cheese topping can be omitted. Cheddar is the classic cheese with ham, but you can certainly change that up if you wish so feel free to modify the recipe to your liking. I often buy different specialty cheeses at our local Aldi store. They offer many gourmet cheese varieties at prices that are hard to beat!
FREE eBook!
​LOW CARB TIPS and TRICKS
Subscribe now to receive your free copy of Low Carb Tips and Tricks which includes 20 easy to prepare recipes. Plus, get access to the weekly newsletter and special offers only for subscribers!
Quiche is a popular low carb dish. This ham cheese and broccoli quiche will not disappoint. It also has plenty of room to customize with add-ins like mushrooms and onions.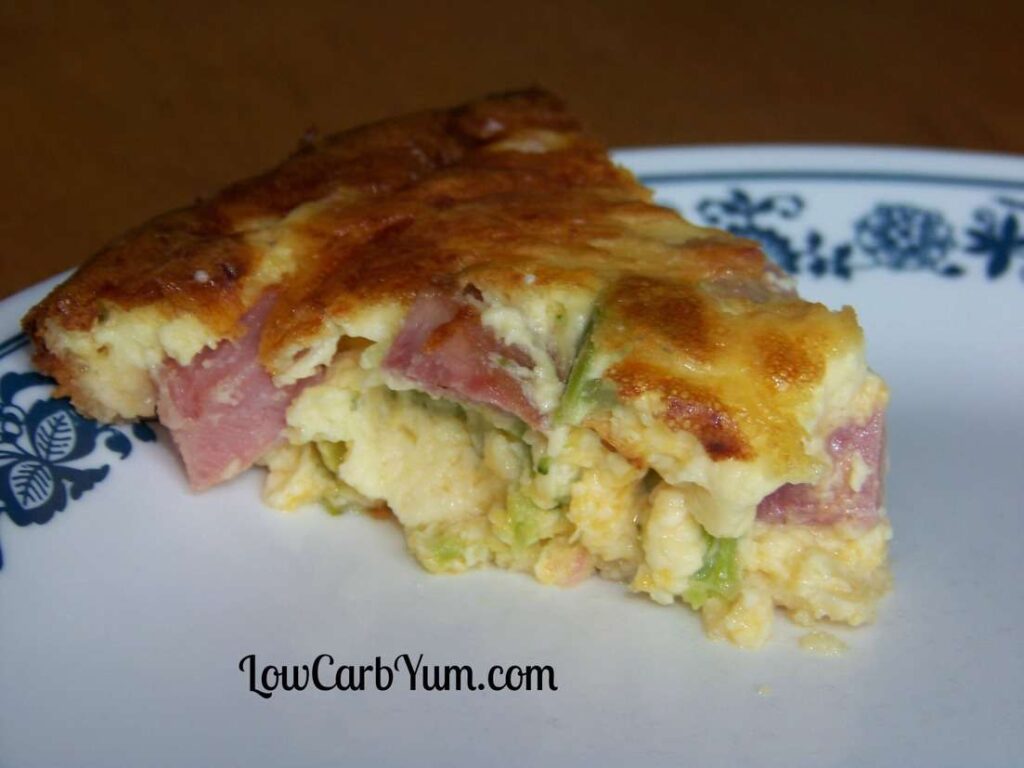 If you have some ham leftover from dinner, this ham cheese and broccoli quiche is a terrific way to use up leftovers the next morning. Other ideas for using up ham include my Cheesy Cauliflower Ham Casserole, Crock Pot Ham and "Potatoes", and Spinach Cauliflower Rice Ham Casserole recipes.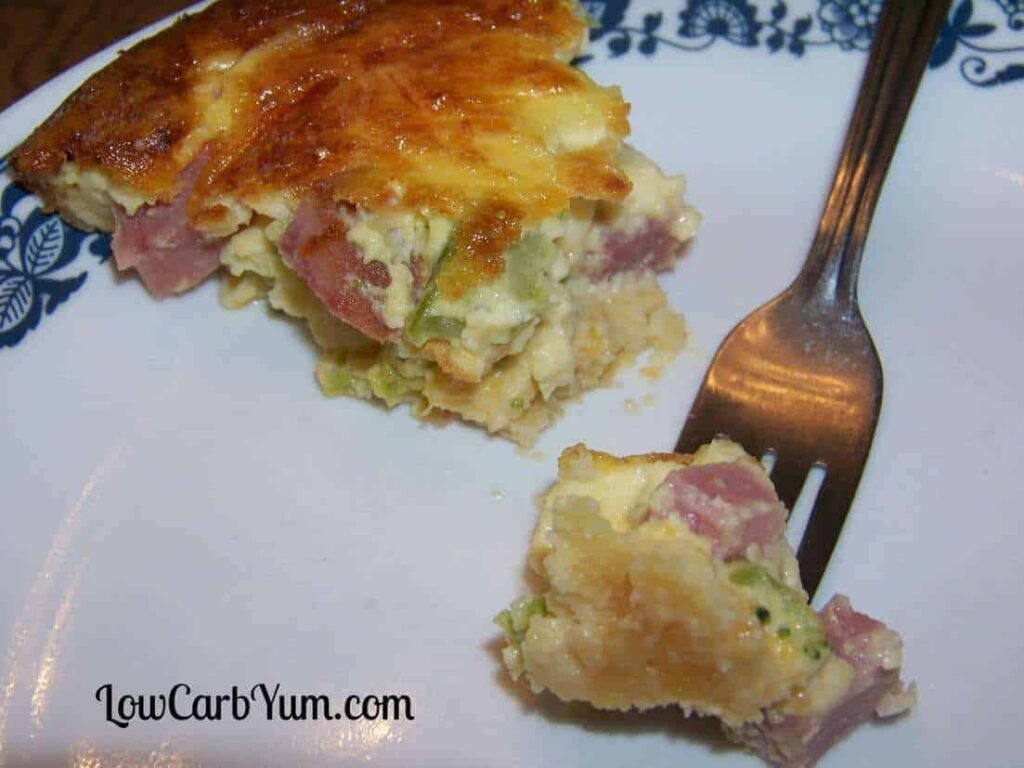 Ham Cheese and Broccoli Quiche – Low Carb & Gluten Free
Ham Cheese and Broccoli Quiche
Author:
Lisa | Low Carb Yum
Nutrition Information
Serving size:

1 slice

Calories:

363
Fat:

28

Saturated fat:

17

Carbohydrates:

4

Sugar:

1

Sodium:

590

Fiber:

2

Protein:

16

Cholesterol:

175
Prep time:
Cook time:
Total time:
A basic low carb quiche featuring ham, cheese, and broccoli. The crust is made with a blend of almond and coconut flours. Gluten free.
Ingredients
Crust:
1/2 cup almond flour
1/3 cup parmesan cheese, grated
2 Tablespoons coconut flour
3 Tablespoons butter, melted
1 egg
Filling:
1 cup heavy cream
1 ½ cups cubed ham
1/2 cup broccoli, cooked and chopped
3 eggs
1/4 teaspoon salt
1/8 teaspoon pepper
1 cup cheddar cheese, grated
Instructions
Crust:
Combine all crust ingredients. Press into a 9-inch glass pie dish. Bake in 350 degrees F (180 C) oven for 10 minutes.
Filling:
In large bowl, beat eggs with salt and pepper. Beat in cream.
Stir in ham, broccoli and cheddar cheese. Pour over crust. Sprinkle with mozzarella cheese.
Bake 15 minutes at 400 degrees F (200 C). Reduce heat to 325 degrees F (160 C); bake for 20-25 minutes more.
Let stand 10 minutes before serving.
Notes
About 2 g carbs per slice without crust

Vitamin A 20 %
Vitamin C 9 %
Calcium 35 %
Iron 7 %
Related Posts