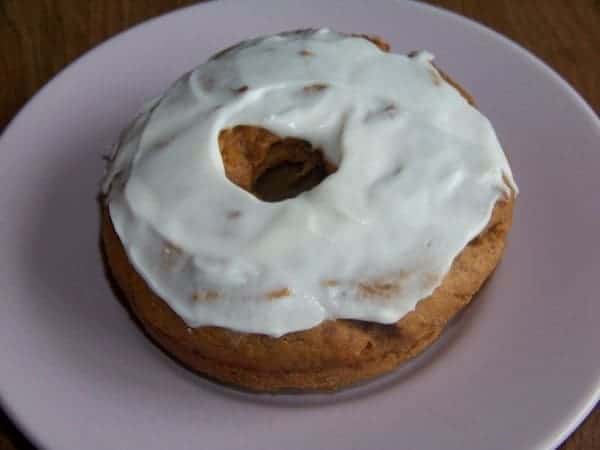 This is my first attempt at baking with peanut flour. The nutritional values for Protein Plus brand of 12% fat peanut flour are pretty impressive.
Each 1/4 cup serving has 110 calories, 4g fat, 8g carbs, 4g fiber and 16g protein. That's a total net carb of about 4g per serving.
It's also much lighter and finer than almond flour as some of the fat has been removed. It can be used as a thickener for soups, a breaded coating, and in baked goods.
Peanut flour is also a good source of vitamin E, folate, fiber, niacin, magnesium and phosphorus. I was going to make some pumpkin muffins, but since I have a donut pan, I chose to make these gluten free pumpkin cake donuts instead.
FREE eBook!
​LOW CARB TIPS and TRICKS
Subscribe now to receive your free copy of Low Carb Tips and Tricks which includes 20 easy to prepare recipes. Plus, get access to the weekly newsletter and special offers only for subscribers!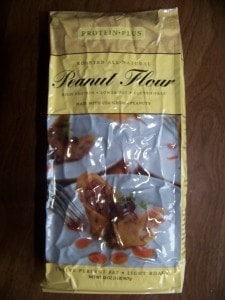 I wasn't sure if the peanut flour was going to add a strong peanut flavor. While mixing it into the wet ingredients, it gave off a peanut butter aroma and the donut batter was thick like peanut butter.
I hoped that the strong pumpkin flavor would take over in baking. I wasn't sure how much the batter would rise so I filled up the molds close to the top.
I probably should have only gone 2/3 the way up as the the batter did rise better than I was expecting. The peanut butter flavor was also lost for the most part in baking with just a hint remaining.
Overall, I was pretty happy with how the donuts came out. In retrospect, there are a few changes I would probably make next time like add a bit more spices, maybe a little more sweetener, and add less batter to each mold.
However, I'm very pleased with how the peanut flour performed in baked goods. I will definitely use it in my low carb baking.
The donuts were moist and light. So I'm certain the peanut flour can be used to make a delicious cake for the holidays or special celebration.
Low Carb Gluten Free Pumpkin Cake Donuts
Nut flours work well in baking when substituting out regular flour. These low carb gluten free pumpkin cake donuts are made with peanut flour.
Ingredients
DONUTS:
1 ½ cups peanut flour
1/2 teaspoon salt
1 ½ teaspoon baking powder
1 teaspoon ground cinnamon
1/2 teaspoon ground nutmeg
1/4 teaspoon ground ginger
1/8 teaspoon ground cloves
2 Tablespoons coconut oil
2 Tablespoon unsweetened almond milk
1/2 cup Steviva Blend or 1/2 cup erythritol and 1/2 tsp stevia extract powder
3 large eggs
1 cup fresh or canned pumpkin
GLAZE
Instructions
DONUTS:
In a medium bowl, combine peanut flour, salt, baking powder, and spices.
In a separate bowl, mix coconut oil, almond milk, sweetener, eggs and pumpkin until smooth.
Stir dry ingredients into wet mixture.
Grease donut pan. Spoon batter into the donut molds.
Bake at 350°F for about 20-25 minutes or until toothpick inserted comes out clean.
Cool and top with donut glaze.
GLAZE:
Combine all the glaze ingredients in a small bowl and beat until smooth.
Use glaze immediately as it will harden as it sits.
Notes
Makes 7 donuts

Carbs per donut: 5.5g
Related Posts