This post may be sponsored or contain affiliate links. We may earn money from purchases made through links mentioned in this post, but all opinions are our own. We are a participant in the Amazon Services LLC Associates Program, an affiliate advertising program designed to provide a means for us to earn fees by linking to Amazon.com and affiliates sites.
A no bake almond butter balls recipe that's quick and easy to make. These little protein bites are a perfect snack to boost energy during the day.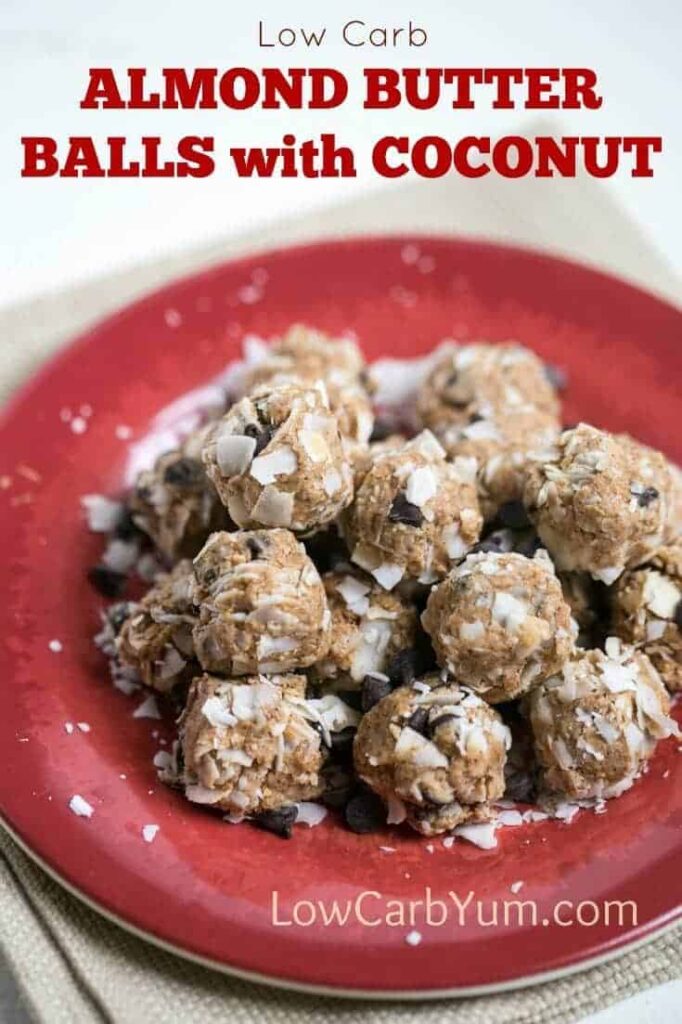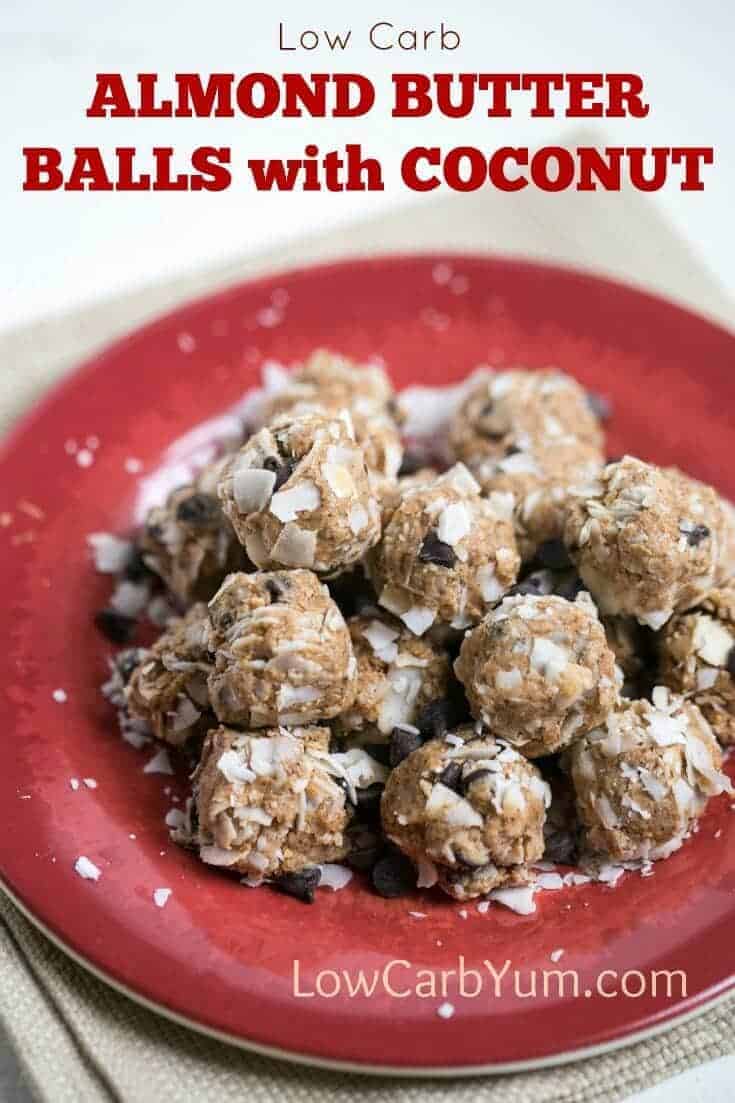 Back in the day, I used to love snacking on protein bars. However, it's tough to find a healthy brand that's also low in carbs. That's why I don't buy them any more.
Now that I've been making my own low carb snacks, I need to find a way to make a good protein bar. Although I've used VitaFiber to make homemade Quest bars, it's been found that the isomalto-oligosaccharide IMO syrup isn't so low carb.
After experimenting with different methods, it seems using a nut butter is the way to go for making your own protein bars. However, the resulting bar can be a bit crumbly.
These almond butter balls could also be called protein bites. Rather than making bars, I formed them into balls so they wouldn't fall apart.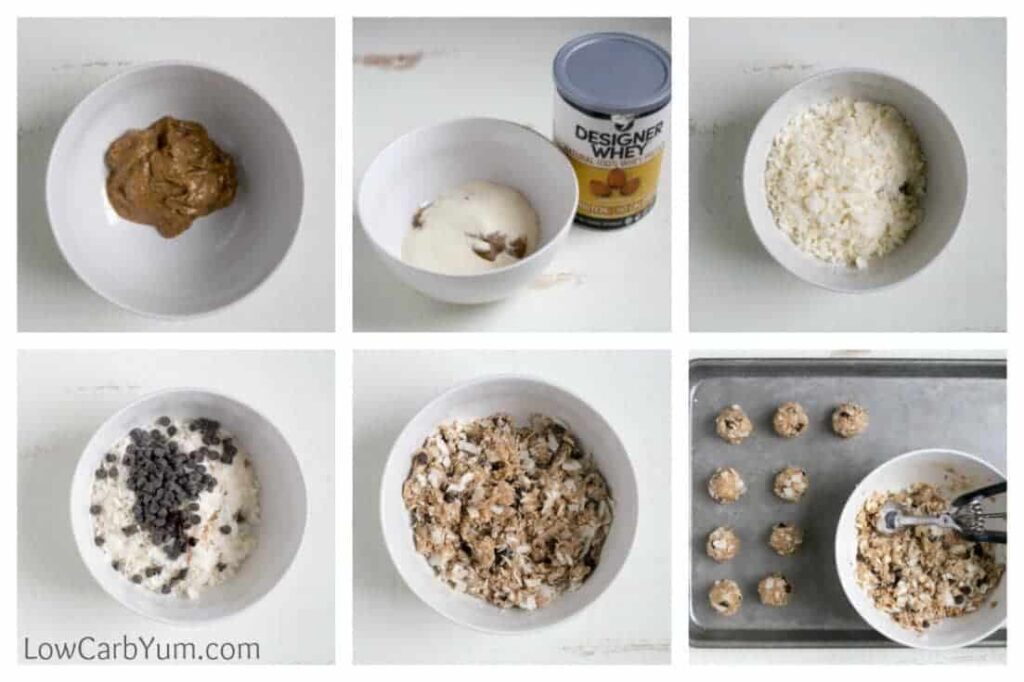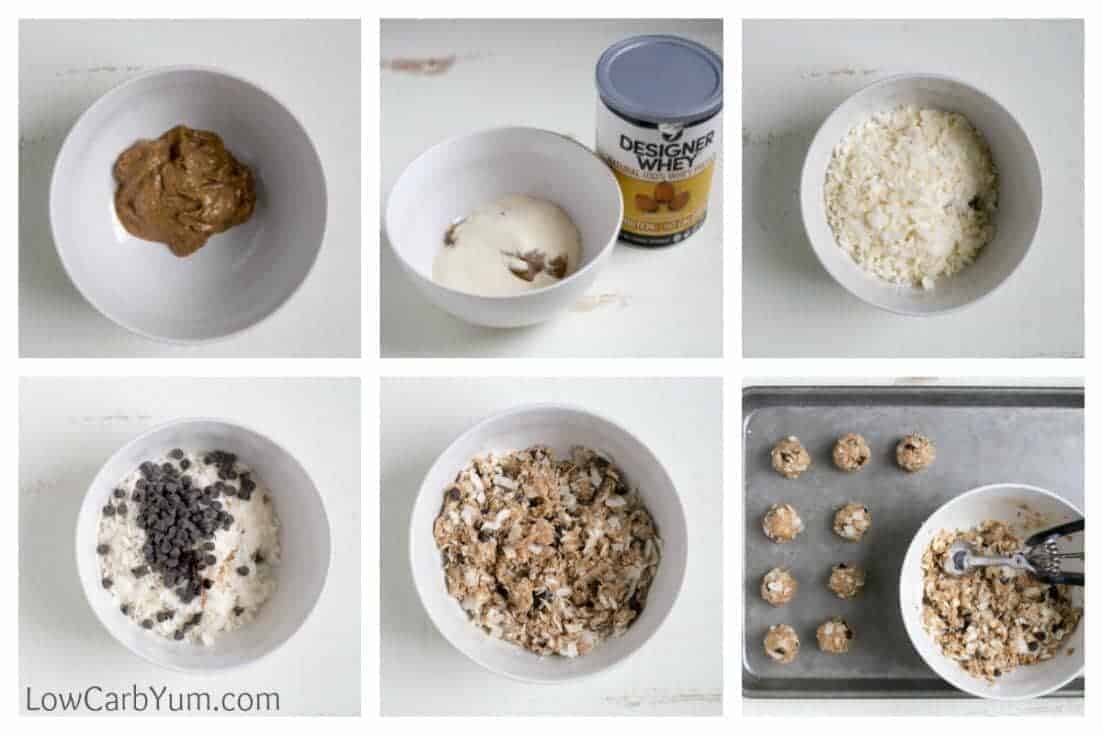 It's incredibly easy to make these tasty little snack bites. You just dump all the ingredients into a bowl, stir to combine, then form into balls. It couldn't be any easier!
I love no bake treats because they are so quick to prepare. The process for making these almond butter balls is very similar to the chocolate chip cookie dough bites I've made in the past.
Because it's so simple to make these little treats, it's perfect for those with busy schedules! Just try not to eat too many because there's about 2g net carbs in each ball.
These little treats came out looking pretty cute. I'd even make them up to serve on a cookie try over the holidays. That way, you can offer guests a healthier option to the cookies.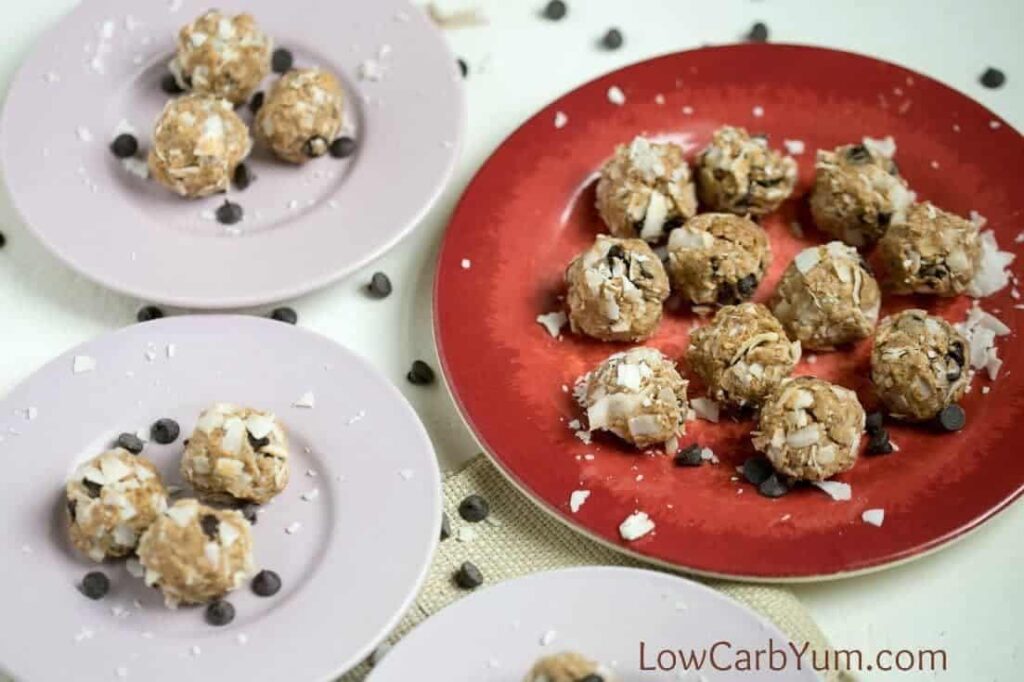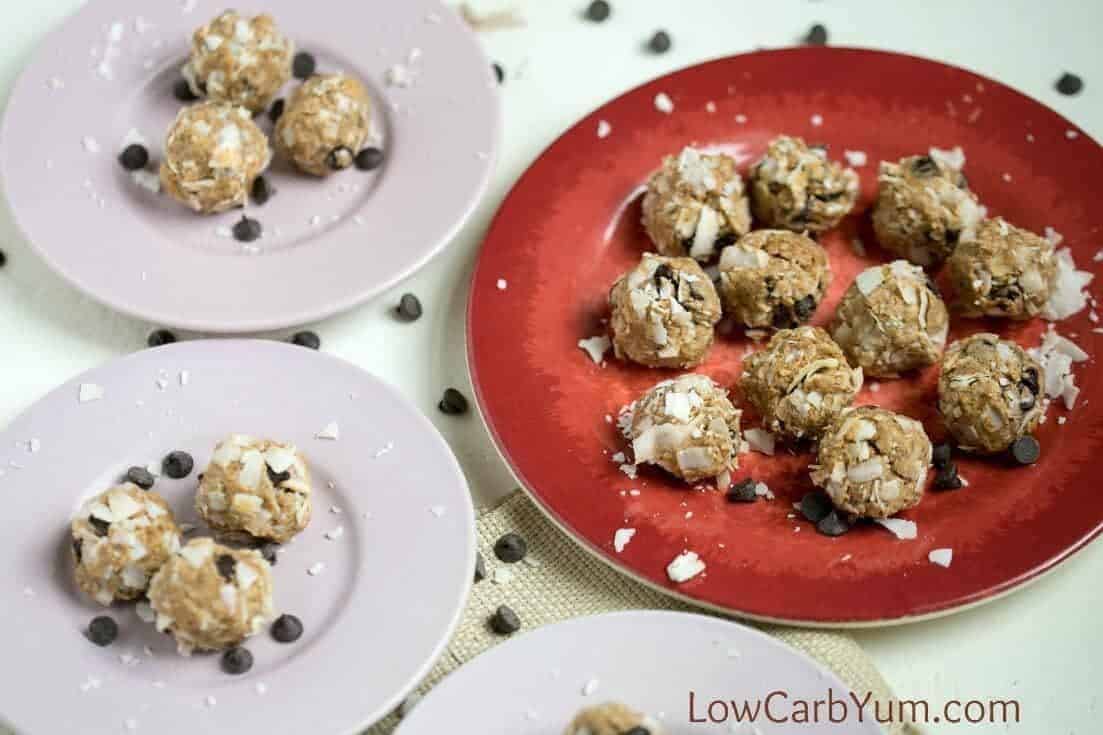 You can use any whey protein powder you'd like in these bites. I used Designer Whey Vanilla Almond. Designer Protein is my favorite brand. And, each scoop of Designer Whey has only 3g net carbs.
If you visit the Designer Protein website using the link here, you'll save 20% off. But, you'll need to hurry because the discount expires on December 31, 2016.
I know they say too much protein can get turned into sugar. But, as long as you aren't overdoing it, I think it's fine to have a protein shake as a snack.
If you decide to use a plain unflavored protein powder in these almond butter balls, you'll want to add a flavor extract in too. Coconut, vanilla, or almond extracts would all taste great in these.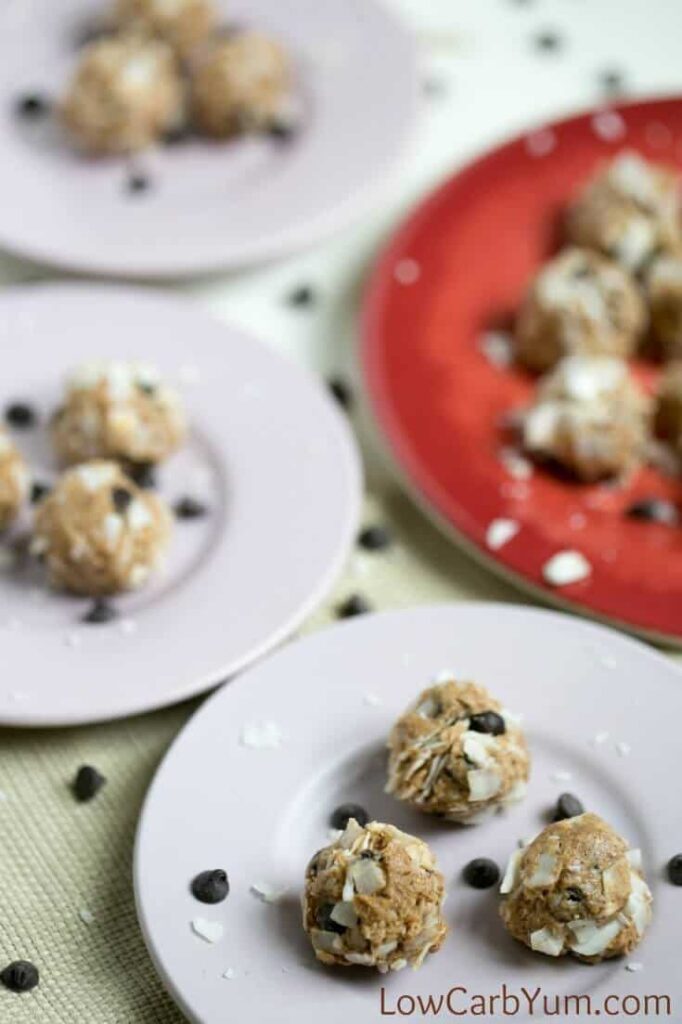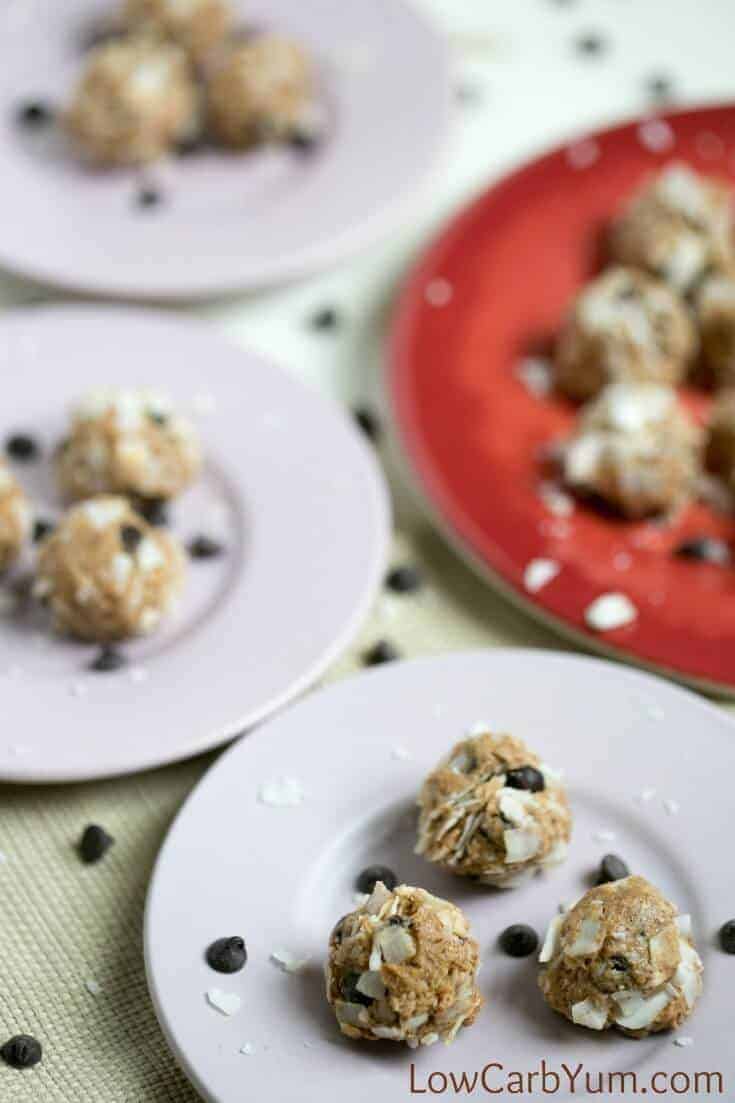 Rather than use a flavoring extract, I used coconut SweetLeaf stevia drops. This really brought out the coconut flavor. The whey protein already had almond flavor so I though I'd enhance the coconut.
Coconut is one of my favorite flavors so I really liked the fact that these nut butter balls are loaded with it. Can you ever get too much of this fantastic flavor?
If you aren't a fan of coconut, you might be able to replace it with something else. You might be able to substitute it with a nut or seed instead.
I'm going to have to play around with this recipe and see if I can figure out how to make them keep the shape of a bar. Maybe I just need to add some coconut oil like I did with the no bake chocolate chip cashew butter bars. Since cashew butter is a bit high in carbs, I'd sub that out with a lower carb nut or seed butter.
Almond Butter Balls Recipe with Coconut and Chocolate Chips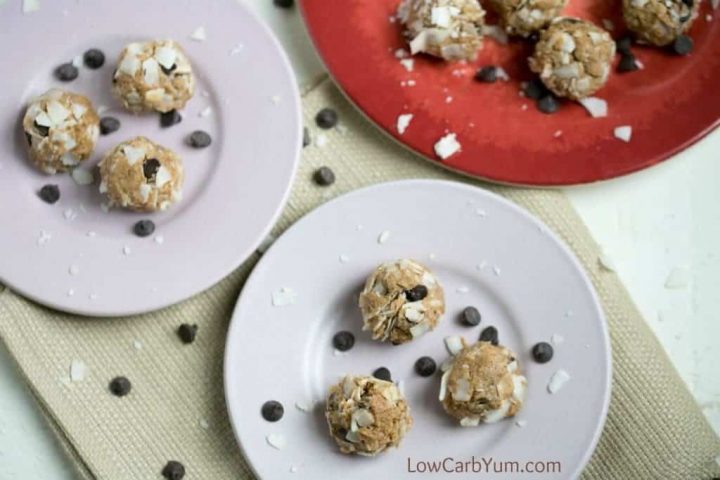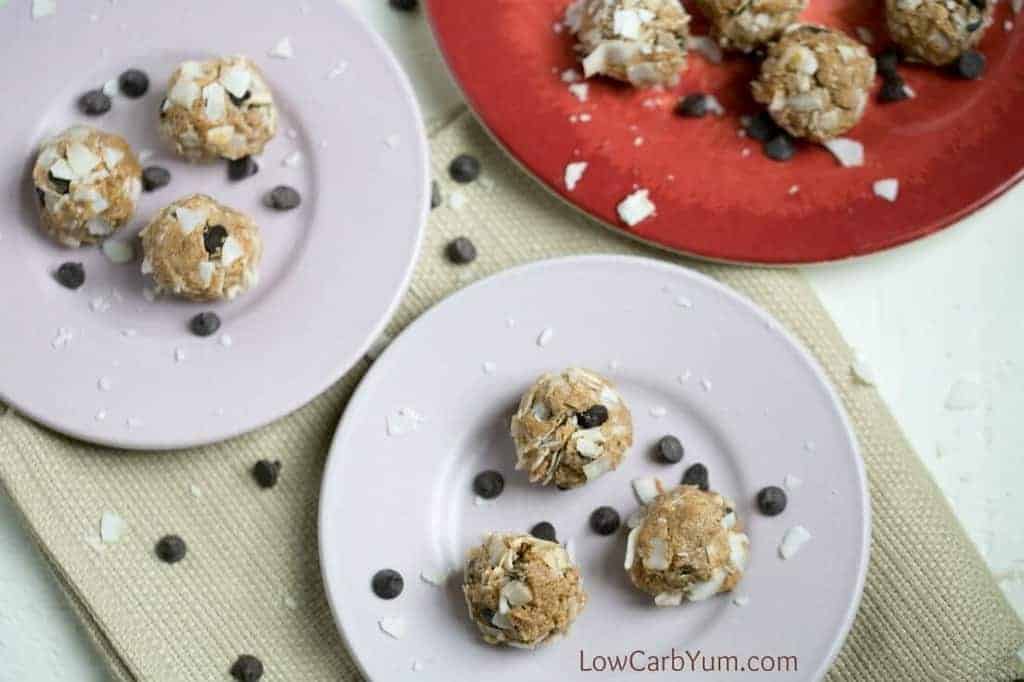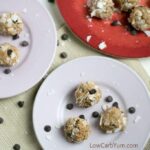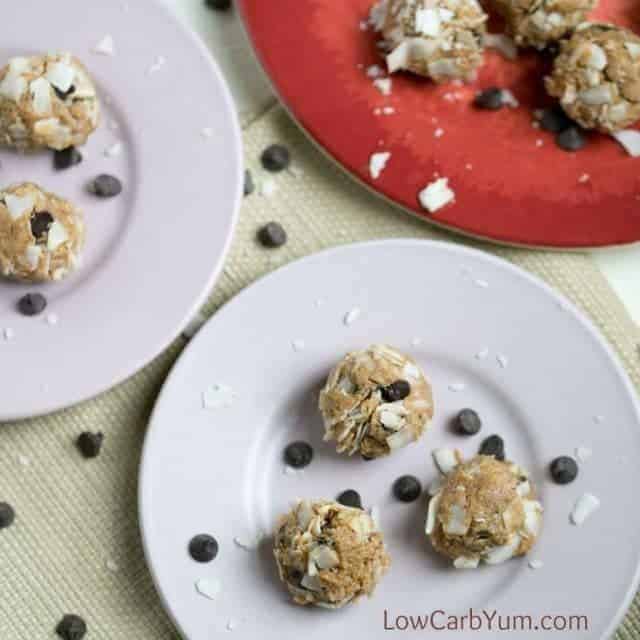 Almond Butter Balls with Coconut and Chocolate Chips
A no bake almond butter balls recipe that's quick and easy to make. These little protein bites are a perfect snack to boost energy during the day.
Instructions
Mix all ingredients together in medium bowl until well combined.

Scoop and form into balls about a tablespoon in size.

Cover and store in refrigerator.
Nutrition Facts
Almond Butter Balls with Coconut and Chocolate Chips
Amount Per Serving (1 g)
Calories 87
Calories from Fat 63
% Daily Value*
Total Fat 7g 11%
Cholesterol 3mg 1%
Sodium 6mg 0%
Total Carbohydrates 4g 1%
Protein 3g 6%
* Percent Daily Values are based on a 2000 calorie diet.
Related Posts