This is the best homemade low carb yeast bread recipe that I have found that gets great results every time. Can be baked in a bread machine or the oven.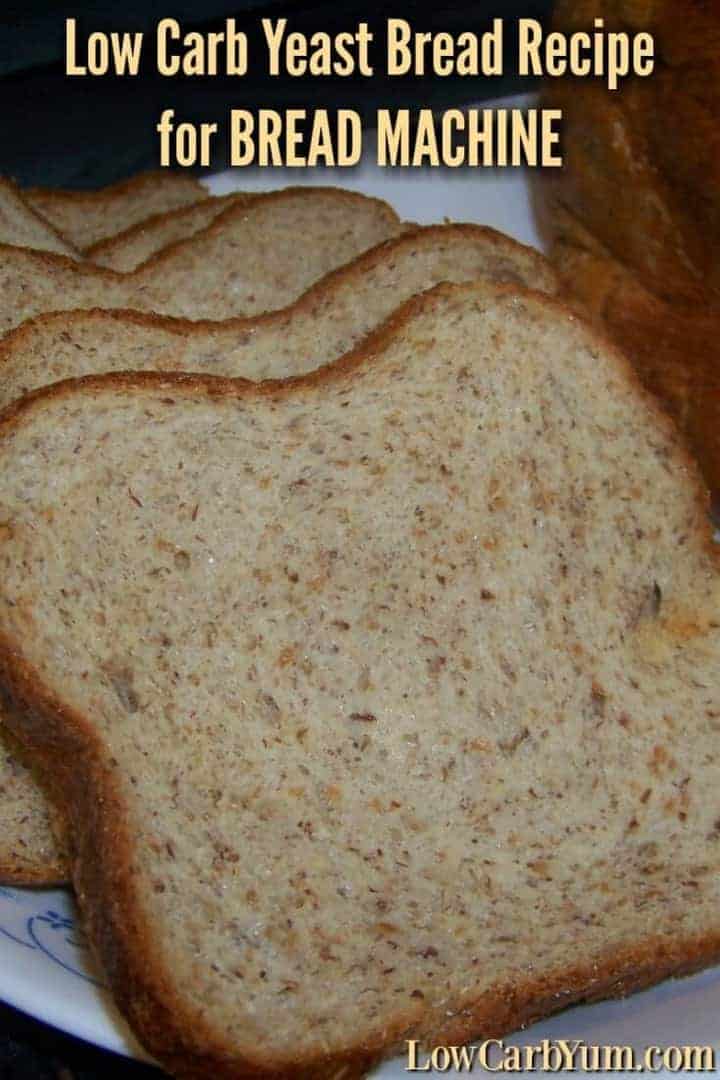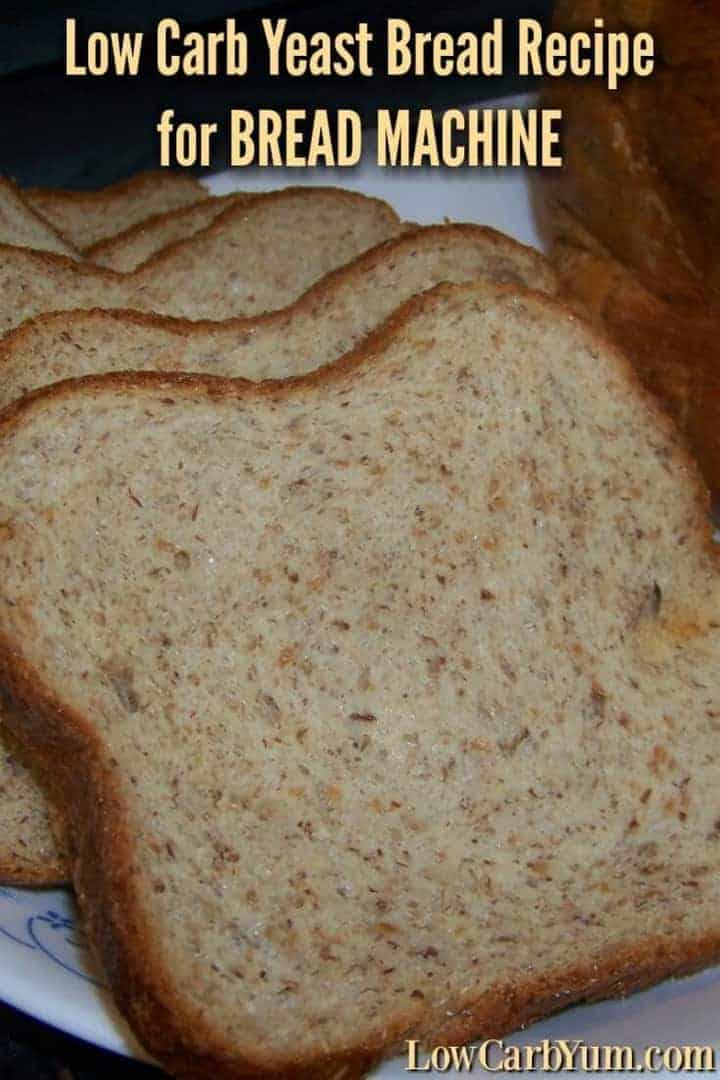 After several failed attempts at making a low carb yeast bread in my bread machine, I have finally succeeded. Instead of continuing to try things on my own, I went to the internet to find a validated recipe.
The Gabi's World-Famous Low Carb Bread recipe found here seemed like just the recipe I was looking for. I also used some of Lora's suggestions in the recipe note.
Lora recommends putting the liquids on bottom, the dry mix next, and the yeast sprinkled on top like my bread machine calls for. However, I didn't turn the dough paddle off like Lora recommends.
FREE eBook!
​LOW CARB TIPS and TRICKS
Subscribe now to receive your free copy of Low Carb Tips and Tricks which includes 20 easy to prepare recipes. Plus, get access to the weekly newsletter and special offers only for subscribers!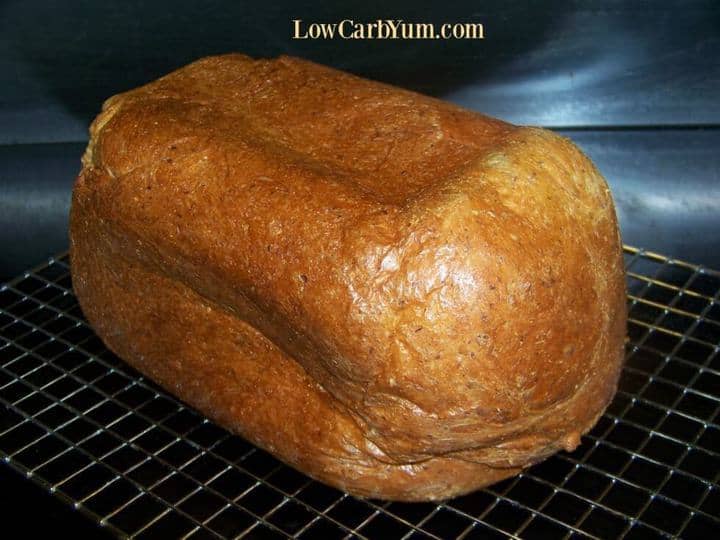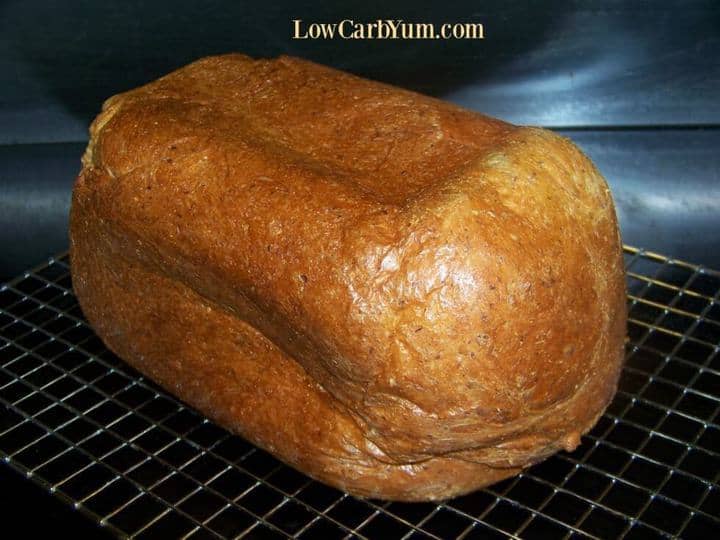 My bread machine is the kind that bakes the bread vertically instead of horizontally like this one. With this low carb yeast bread recipe, I set the machine for a large 1.5 pound loaf with a medium baking control selection.
I let the machine run through it's automatic cycle which took about 3 hours. I have a Welbilt bread machine, model ABM4100T, which I have owned for over ten years.
Since going low carb, this machine hasn't got much use other than for a few low carb bread mixes which tend to be a little pricey. It's good to know that it is fairly easy to make a low carb yeast bread from scratch in the bread machine.
I think one of the reasons for my original yeast bread failures was not measuring the temperature of the water. This time, I made sure my water was between 90-100 degrees F as bread making requires a lot of accuracy in measuring ingredients.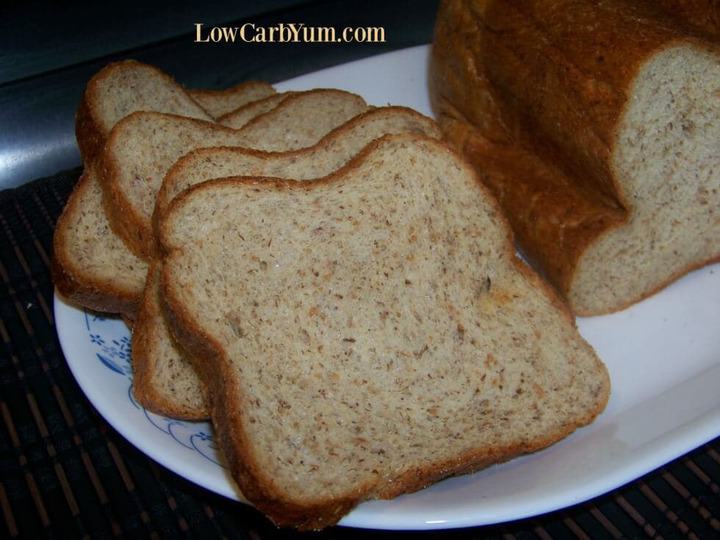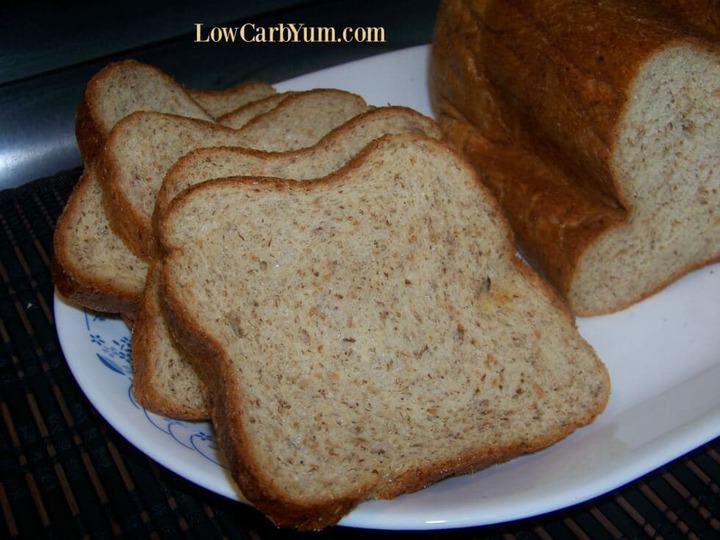 Low Carb Yeast Bread Recipe for a Bread Machine
I haven't figured out how to make a gluten free low carb bread in the machine. To be honest, I doubt that it's possible.
For those that would rather buy bread already made, ThinSlim Foods and LC Foods have great tasting products. I personally love the ThinSlim Foods bagels.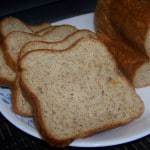 Gabi's Low Carb Yeast Bread
This is the best homemade low carb yeast bread recipe that I have found that gets great results every time. Can be baked in a bread machine or the oven.
Total Time
4
hours
5
minutes
Instructions
Pour yeast into bottom of bread machine pan. Add sugar and water. Stir, and let sit. (This is "proofing" your yeast to see if your yeast is alive. If it's not bubbling, it's dead and you can replace it without wasting all of the other ingredients).

In the meantime, mix all other dry ingredients together in a bowl. Add oil to bread machine pan. Add mixed dry ingredients. Set your machine to the basic cycle (3-4 hours) and bake.

Cool on a rack then slice.
Recipe Notes
* The sugar is totally consumed by the yeast and does not contribute to the carb count. I keep a few packets of restaurant sugar on-hand for this purpose so I never have to have a supply of actual sugar in the house.

Makes 16 slices. Per slice: 91 calories, 3.7g fat, 4.9g carbs, 1.5g fiber, 3.4g net carbs, 8.5g protein.

ADDITIONAL NOTE FROM LORA: The above basic instructions are Gabi Moeller's original ones. Please remember that your machine may require changes. Refer to the instructions that come with your bread machine — making note of any special instructions for specialty or "gluten" breads. I own a West Bend Deluxe with horizontal baking pan. To get mine perfect, I add water and oil to bottom of pan, then dry ingredients, then yeast sprinkled evenly on top. After initial kneading cycle (about 40 minutes), I stop the machine's kneading paddles so as not to over-work the dough, then finish baking in bread machine. The loaf comes out picture perfect, high and traditionally bread-like. With low-carb bread, I definitely discovered that practice makes perfect.

TO MAKE BREAD WITHOUT A MACHINE:

Follow the recipe in the same order as for the bread machine.

After you mix and knead all of the ingredients together, put the dough in a clean bowl and set it into a warm, draft-free place for about 45 minutes to an hour (one option is to turn on your oven for a pre-heat for a minute and a half to get it warm, then turn it completely off before setting the dough in to let it rise in the oven.) The dough should rise to about twice its original size. Afterward, knead slightly (do not over-knead — the gluten content will keep this bread from rising well the second time unlike "regular" bread! You'll want to be careful not to handle the dough too much after it rises the first time.) Put it in a loaf pan, cover and set in warm draft free place for another 30 to 45 minutes, and then bake at 380 degrees until done. (35-45 minutes — depending on your oven, you may have to shorten or lengthen the time.)
Nutrition Facts
Gabi's Low Carb Yeast Bread
Amount Per Serving (1 g)
Calories 91
Calories from Fat 33
% Daily Value*
Total Fat 3.7g 6%
Total Carbohydrates 4.9g 2%
Protein 8.5g 17%
* Percent Daily Values are based on a 2000 calorie diet.
Related Posts