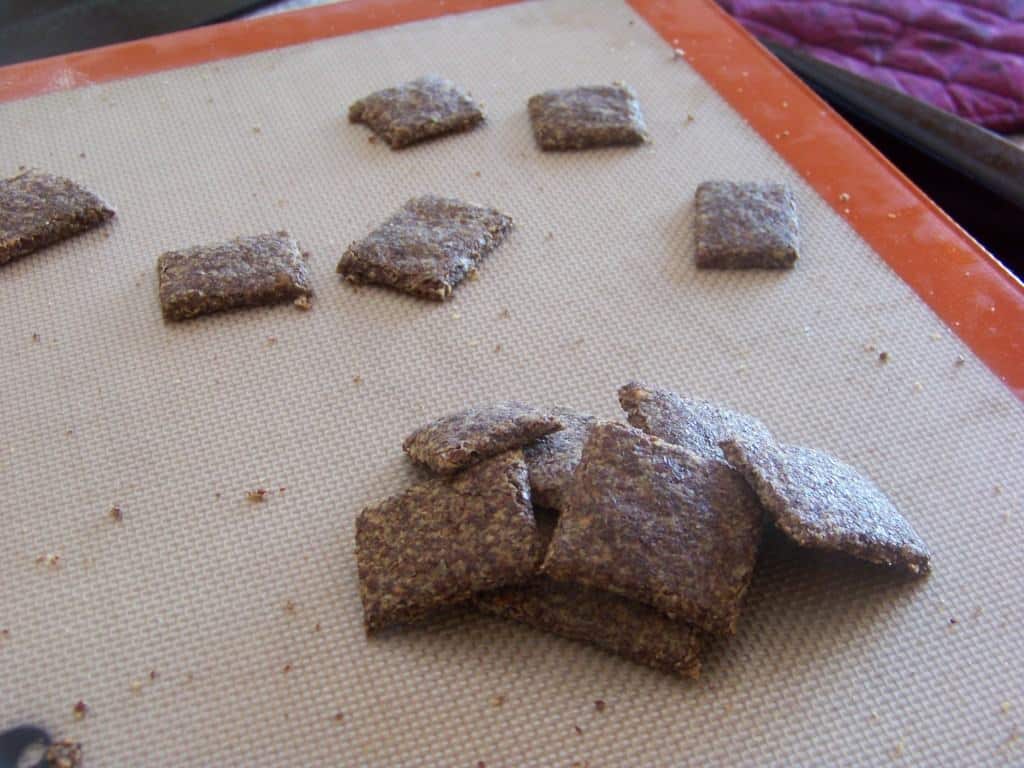 It's a good idea to go through the pantry and determine what items have been sitting on the shelf for a while. I had stocked up on flax seed several months ago because there were a lot of low carb recipes in my pile that called for flax. Unfortunately, I haven't had the time to try many of the recipes I've been saving.
I've been wanting to try Laura Dolson's Garlic Parmesan Flax Seed Cracker recipe. I was reminded when I saw Carolyn's Cheddar Asiago Cracker recipe. Although Carolyn's crackers looked so much better than Laura's, I didn't have any Vermont Cheese Powder and I was looking to use up some flax meal.
I may have to put in an order for that cheese powder very soon, though, because those cheddar asiago crackers looked so good and are high on my list of things to try.
This was the first time I ever made homemade crackers so I wasn't sure what to expect. It was a lot easier than I had anticipated. I did have trouble getting the dough to roll out even and the crackers in the middle were noticeably thicker than those on the edges.
I used a pizza cutter wheel to slice the rolled out dough before putting it in the oven, but I should have made guide marks to get the crackers more uniform in size. These are things that I will work to correct the next time I make crackers.
I've bought boxed low carb flax crackers in the past and they aren't any better than this simple recipe. I don't recall the price, but I'm sure it is cheaper to make them at home. I've always liked having crunchy snacks and the added fiber in these flax crackers definitely makes it a healthy choice.
Garlic Parmesan Flax Seed Crackers
Author:
Lisa | Low Carb Yum
This is a recipe for homemade low carb garlic parmesan flax seed crackers. They are made with flax seed meal and parmesan cheese. Super easy to make.
Ingredients
1 cup flax seed meal
1/3 cup Parmesan cheese, grated
1/2 teaspoon garlic powder
1/4 teaspoon salt
1/2 cup water
Instructions
Preheat oven to 400 F.
Mix all ingredients together.
Roll out on a silicone mat or greased parchment paper to 1/8 inch thickness.
Score with a sharp knife (careful not to cut silicone mat if using).
Bake until the center is no longer soft, about 15-18 minutes. If it starts to get more than a little brown around the edges, remove from oven to prevent burning. Cool completely.
Notes
Makes 4 servings

Net carbs per serving: 1.5g
Related Posts