This Easter, I made a low carb pie to share at the family gathering. There are a couple diabetics in my immediate family, but neither of them follow a low carb lifestyle. I believe that the low carb way of life is one way to treat and prevent the disease.
For most of my life, I got by eating a very high carbohydrate diet. It's only been the last ten years that I've gone to a higher protein and fiber low carb diet. My mother and grandmother both became diabetic in middle age and I am hoping that by eating lower carb foods, I can avoid that happening to me.
Although this pie is not comparable to a regular key lime pie made with condensed sweetened milk, it is a pretty good substitution for those who are staying away from sugar and white flour. The crust is another adaptation of Bruce Fife's recipes. I added some sweetener to Bruce's basic recipe since I was using it in a sweet pie and not a savory one like quiche.
FREE eBook!
​LOW CARB TIPS and TRICKS
Subscribe now to receive your free copy of Low Carb Tips and Tricks which includes 20 easy to prepare recipes. Plus, get access to the weekly newsletter and special offers only for subscribers!
The filling is not overly sweet. I used xanthan and guar gum to firm up the custard. The easiest way to combine filling ingredients is to process them together in a food processor. I suppose a blender would work just as well. I used liquid Splenda since that adds no calories or carbs, but a stevia/erythritol blend could be substituted if you prefer using natural sweeteners.

Key Lime Pie with Coconut Flour Crust
Author:
Lisa | Low Carb Yum
Nutrition Information
Serving size:

114g

Calories:

199
Fat:

15.3g

Saturated fat:

7.5g

Carbohydrates:

11.8g

Sugar:

0.9g

Sodium:

162mg

Fiber:

7.3g

Protein:

6.4g

Cholesterol:

125mg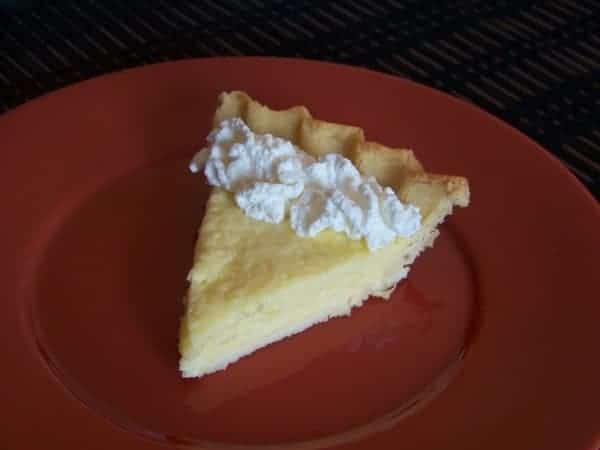 A low carb key lime pie with a flaky gluten free coconut flour crust. This is a great sugar free pie that isn't overly sweet. Perfect for the holidays.
Ingredients
Pie Shell:
Filling:
Instructions
Pie Shell:
Melt butter in a medium microwavable bowl.
Add almond flour, eggs, Swerve and salt. Mix well. Stir in sifted coconut flour.
Knead dough with hands for about one minute, then shape dough into a ball.
Roll out between wax paper to about 1/8 inch think and turn dough into 9 inch pie pan.
Prick bottom and sides of crust with fork.
Bake crust at 400 degrees F for 10 minutes. Set aside.
Filling:
Combine coconut milk, heavy cream, xanthan gum, guar gum and Swerve in a food processor.
Add egg yolks and lime juice. Process all ingredients until well blended.
Spread filling into pie crust.
Bake at 350°F for 10 minutes.
Allow to stand for 10 minutes before refrigerating. Just before serving, top with whipped cream.
Notes
You may sub the stevia with another 1/4 to 1/2 cup sweetener. Just be careful not to add too much erythritol as it may crystallize.

Serves 8

4.5g net carbs, 37g erythritol (not included)
Related Posts