This is my first and only blog which I started nearly six months ago to see how the whole thing works. During this learning period, I have met some great bloggers and have discovered new techniques for low carb cooking. The holiday season is here so I thought it would be a great time to have a giveaway.
When cooking, I like to keep things simple and natural. Although I do use artificial sweeteners on occasion, I prefer sticking with all natural sweeteners. My favorite sweetener is stevia, but when used alone, it is difficult to achieve the same level of sweetness that sugar provides.
By using more than one type of sweetener, a better sweetness can be achieved because the sweeteners are working synergistically together. Typically, a sweeter taste results from combining stevia with another sweetener and there is no aftertaste. The best combination I've found is stevia with erythritol and that combination is the base for many pre-made stevia blends like Truvia and PureVia.
FREE eBook!
​LOW CARB TIPS and TRICKS
Subscribe now to receive your free copy of Low Carb Tips and Tricks which includes 20 easy to prepare recipes. Plus, get access to the weekly newsletter and special offers only for subscribers!
The winner of the give away will receive one bottle of Steviva brand stevia. I've been using this brand of stevia for a several months and it has worked out really well as a sugar substitute. Here's how to enter the contest:
1. Have an address in the US or Canada
2. Leave a comment with your favorite food that you'd like to see a low carb recipe for
3. Contest runs until Thursday, December 16
4. Winner will be announced Friday, December 17 and contacted by email for shipping address
Here's a recipe for low carb cranberry bread using stevia and erythritol. The original recipe appeared in a Martha Stewart magazine. If you like cranberries, you are sure to like this one because it is loaded with berries. There is a full twelve ounce bag of cranberries in this loaf.
Low Carb Cranberry Bread
Author:
Lisa | Low Carb Yum
Nutrition Information
Serving size:

1 slice

Calories:

210
Carbohydrates:

8.0g

Fiber:

3.3g

Protein:

6.4g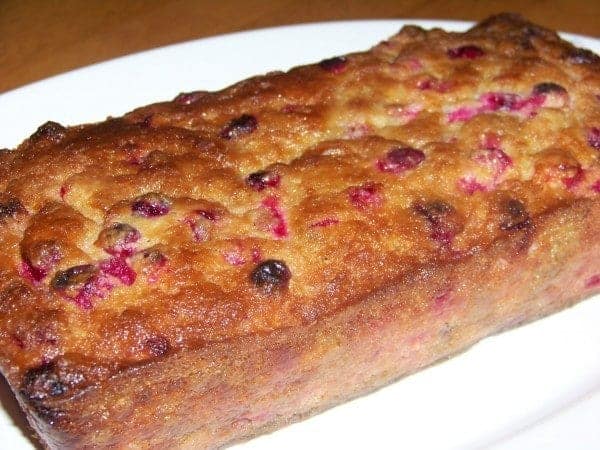 A delicious gluten free low carb cranberry bread with fresh cranberries. This sugar-free bread uses a combination of stevia and erythritol sweeteners.
Instructions
Preheat oven to 350 degrees; grease a 9-by-5 inch loaf pan and set aside.
In a large bowl, whisk together flour, erythritol, stevia, baking powder, baking soda, and salt; set aside.
In a medium bowl, combine butter, molasses, eggs, and coconut milk.
Mix dry mixture into wet mixture to dry mixture until well combined.
Fold in cranberries. Pour batter into prepared pan.
Bake until a toothpick inserted in the center of the loaf comes clean, about 1 hour and 15 minutes.
Transfer pan to a wire rack; let bread cool 15 minutes before removing from pan.
Notes
Sweeteners can be replaced with about 3/4 to 1 cup of any low carb sugar replacement depending on sweetness desired.

Makes 12 servings

4.7g net carbs
Related Posts