Are you still looking for the perfect low carb zucchini bread? Look no further. This recipe beats all the other ones I've tried and it's gluten free!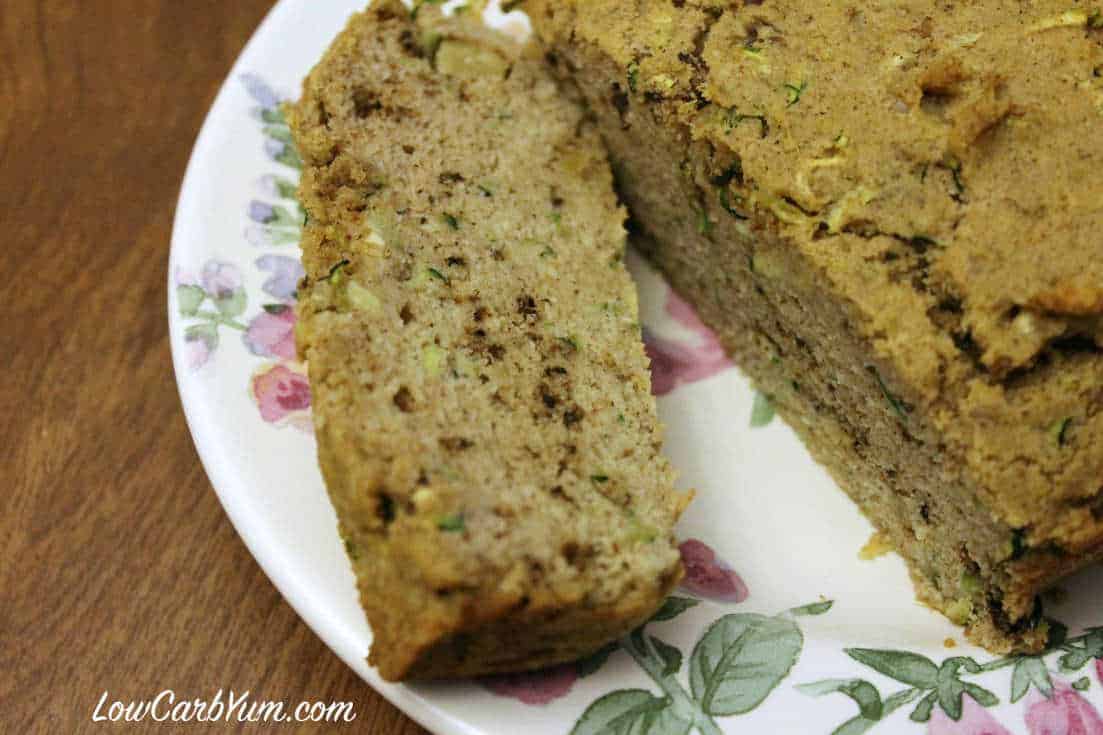 My search for a good low carb zucchini bread is over! Now I have a keeper recipe to get rid of some of those pesky garden zucchini in the summer.
Although I love to eat plain steamed zucchini, I've tried a few low carb zucchini bread recipes that just didn't make a good replacement for the real thing. And, I have had trouble getting the bread to completely cook in the middle.
Using my popular basic quick bread recipe as a guide, I came up with a recipe for gluten free low carb zucchini bread. I've had great success making other low carb sweet breads using the basic recipe. You may want to check out my recipes for low carb banana bread, key lime coconut bread, and cinnamon swirl bread. All these recipes are delicious, low carb, and gluten-free! Now there is a yummy low carb zucchini bread to add to the list.
FREE eBook!
​LOW CARB TIPS and TRICKS
Subscribe now to receive your free copy of Low Carb Tips and Tricks which includes 20 easy to prepare recipes. Plus, get access to the weekly newsletter and special offers only for subscribers!
I only had five eggs so that is all I put in. I'm not sure if adding additional eggs would have made a difference. This bread did have a good texture and cooked well throughout. In the past, I've had trouble getting the bread to cook in middle, but this one did not have that problem.
What's your favorite way to use up the extra garden zucchini? Have you been successful making a low carb zucchini bread? I enjoyed this bread so much that I will be making another loaf of this low carb zucchini bread very soon!
If you have an excessive amount of zucchini, you may also want to try my frosted zucchini brownies, and low carb chocolate zucchini cake.
Gluten Free Low Carb Zucchini Bread Recipe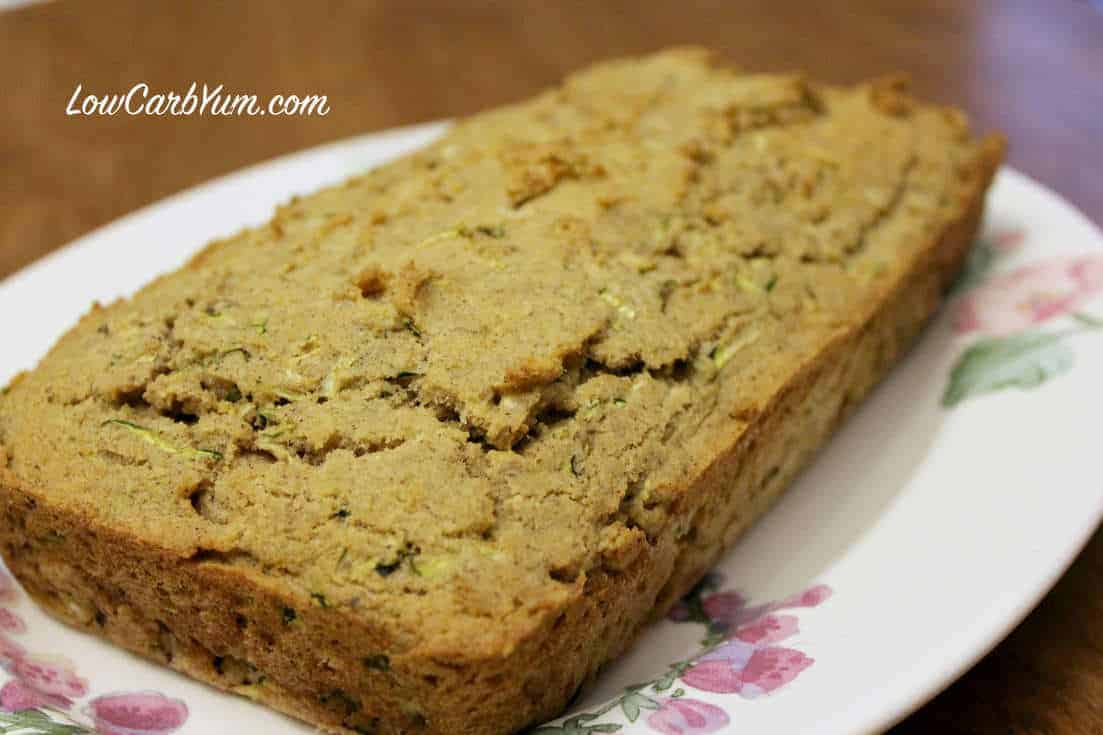 Low Carb Zucchini Bread - Gluten Free
Author: 
Lisa | Low Carb Yum
Nutrition Information
Serving size: 

1 slice

Calories: 

196
Fat: 

18.0

Carbohydrates: 

4.9g

Fiber: 

2.9g

Protein: 

5.3g
Prep time: 
Cook time: 
Total time: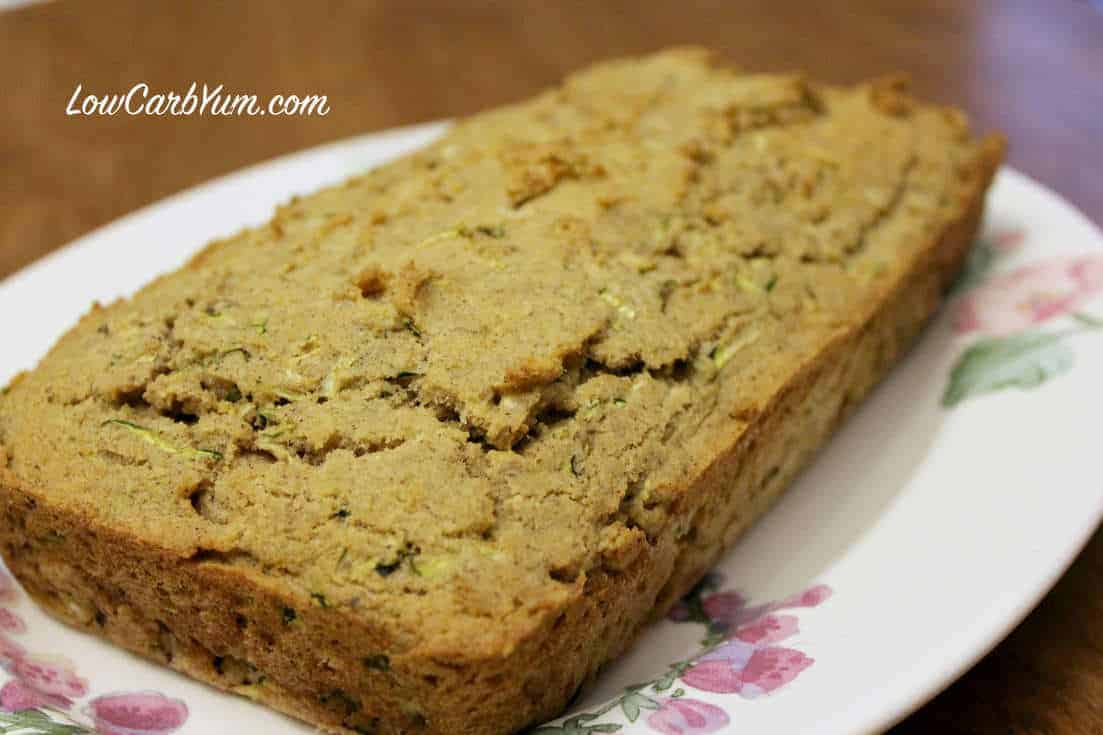 Are you still looking for the perfect low carb zucchini bread? Look no further. This recipe beats all the other ones I've tried and it's gluten free!
Ingredients
1 cup almond flour
1/2 cup coconut flour
1/2 teaspoon salt
2 teaspoons baking soda
1/2 teaspoon xanthan gum
1/2 teaspoon baking powder
1 ½ teaspoons ground cinnamon
5 eggs
1/2 cup butter
3 tablespoons coconut oil, liquified
1 cup equivalent sugar substitute, I used liquid sucralose
1 ½ teaspoons vanilla extract
1 cup zucchini, grated
1/2 cup walnuts
Instructions
Grease 9×5 bread pan.
n small bowl, mix together almond flour, coconut flour, salt, baking soda, xanthan gum, baking powder, and cinnamon.
In large bowl, beat eggs, butter, coconut oil, sweetener, and extract.
Beat in flour mixture until well combined.
Stir in zucchini and nuts.
Pour into greased pan.
Bake for 50-60 minutes at 325 degrees F.
Cool for about 15 minutes, then remove from pan. Cool completely. Store in refrigerator.
Notes
Makes 12 servings
2g net carbs
Related Posts