Everyone deserves a treat once in a while – even on a keto diet. And what's more indulgent than a meal at The Cheesecake Factory? Discover how to eat keto at Cheesecake Factory with menu options, clever substitutions, and ordering tips!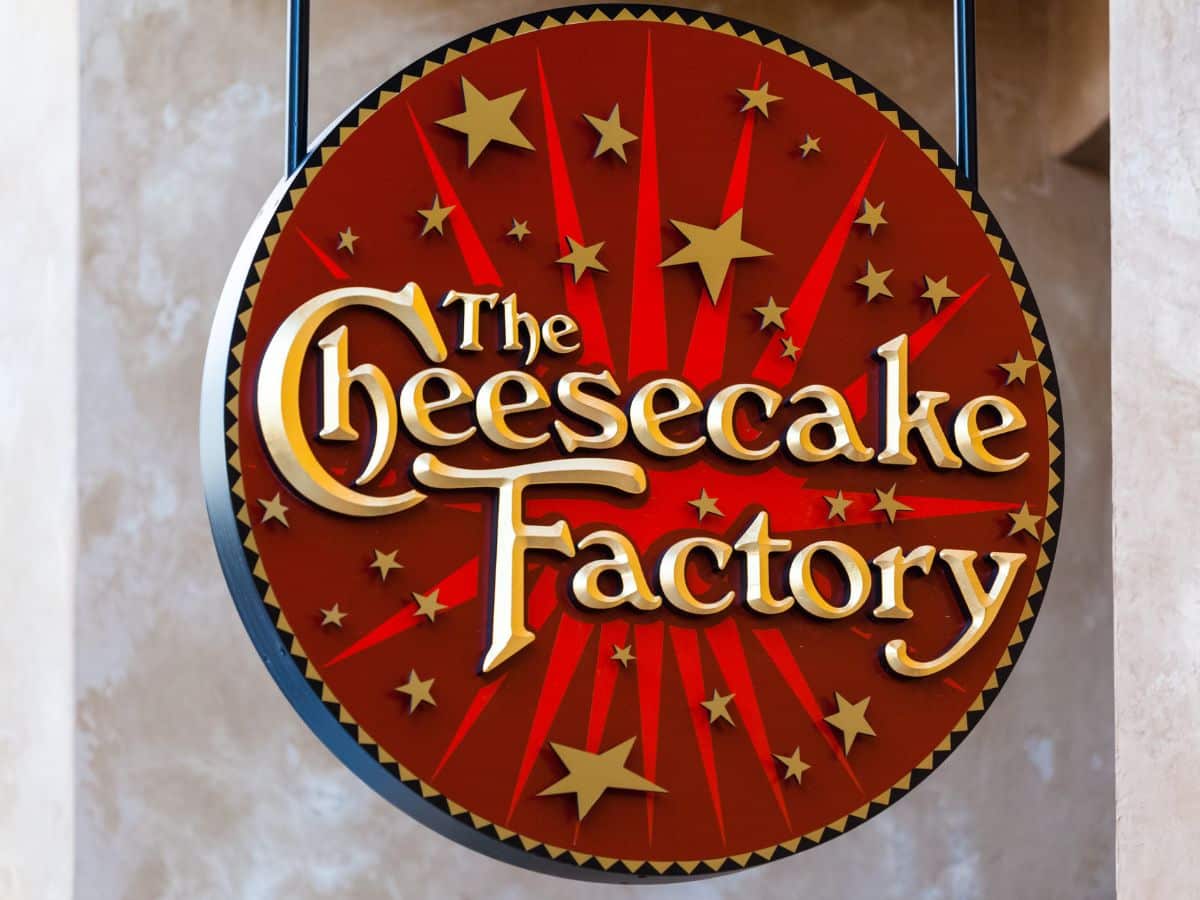 Cheesecake factory is known for its extensive menu, share-worthy appetizers, and, of course, its endless cheesecake options.
And though it's not always an easy task to find a low-carb meal when eating out, Cheesecake Factory seems to be the exception!
There are actually tons of options available on the menu that you can enjoy on a keto diet – some without any substitutions necessary.
In this post, I'm sharing every menu item that you can enjoy from The Cheesecake Factory on a low-carb diet. With breakfast options, tasty sides, and drool-worthy main courses, you have plenty to choose from.
I also include tips on how to order and a way to even sneak a little bit of cheesecake into your meal plan too.
Looking for more keto fast food restaurants? I have a bunch of keto tips for eating on the go, including how to eat fast food at Wendy's, Wingstop, Starbucks, and Dunkin' Donuts.
Best keto options at Cheesecake Factory
The Cheesecake Factory menu is LONG and not all that easy to navigate. Luckily, I've done the work for you.
These are the best keto options at Cheesecake Factory to help you build the perfect low-carb meal.
Breakfast
It's not often you can find chain restaurants with keto-approved breakfast items – there always seems to be some kind of biscuit or sugary additive that throws things off.
But at The Cheesecake Factory, you can eat a low-carb breakfast without any substitutions.
Breakfast options to try include:
Farm Fresh Eggs – 3g net carbs
Plain Omelet – 2g net carbs
California Omelet – 8g net carbs
Spinach Mushroom Bacon Cheese Omelet – 6g net carbs
There's even a "create your own omelet" option if you feel like getting creative with toppings. Add yummy extras to your plain omelet, like bacon, avocado, mushrooms, cheese, sour cream, and more.
Appetizers
Cheesecake Factory offers low-carb appetizers to whet your appetite before the main course. Order an appetizer or two to share with the table, including:
Buffalo Wings – 14g net carbs
Crispy Crab Bites – 17g net carbs
Edamame – 8g net carbs
Stuffed Mushrooms – 15g net carbs
Main courses
On to the main event – main dishes!
You can enjoy several protein-focused mains at Cheesecake Factory, some without any substitutions at all. Here are my top keto-friendly picks:
Glamburgers
Glamburgers are Cheesecake Factory's version of hamburgers. There are several "Glamburgers" that can be made keto with a couple of substitutions.
Tip: Make sure you order these without the bun and swap for a low-carb sauce option. As a side dish, also choose a side salad over fries.
Keto-friendly burgers to try include:
Americana Cheeseburger
Bacon Bacon Cheeseburger
Classic Burger
Factory Turkey Burger
Mushroom Burger
Old Fashioned Burger
Smokehouse BBQ Burger (remove crispy onions)
Stuffed Cheddar Burger
Note: Cheesecake Factory doesn't list their carb counts by ingredients, so net carbs for these modified burgers aren't available.
Salads
It's easy to order a keto salad at Cheesecake Factory. These options already include low-carb dressing:
Caesar Salad with Grilled Chicken (remove croutons) – 12g net carbs
Cobb Salad – 19g net carbs
Greek Salad – 12g net carbs
Seared Tuna Tataki Salad – 12g net carbs
Main courses without substitutions
These main dishes require no further substitutions. Enjoy them as is!
Pan Seared Branzino with Lemon Butter – 10g net carbs
Grilled Branzino with Mediterranean Salsa – 9g net carbs
SkinnyLicious Grilled Salmon – 14g net carbs
Main courses with substitutions
These mains come with high-carb sides like mashed potatoes and rice. To keep them keto-approved, simply order the main meat with modified side dishes that are keto-friendly, such as fresh vegetables, a side salad, or grilled asparagus.
See the sides section below for more ideas:
Carne Asada Steak
Char-grilled New York Steak
Filet Mignon
Grilled Ribeye Steak
Grilled Steak Medallions
Herb-Crusted Fillet of Salmon
Hibachi Steak
Steak Diane
Tuscan Chicken
Note: Cheesecake Factory doesn't list their carb counts by ingredients. Net carbs for these mains with modified sides aren't available.
Side dishes and extras
Use these extras to put the finishing touch on your Cheesecake Factory meal!
Sides
Low-carb sides to add to your main dishes include:
Broccoli
Fresh Vegetables
Green Beans
Grilled Asparagus
Sauteed Spinach
Tossed Green Salad (without croutons)
Sauces
If you want to add a keto-approved sauce to your side salad, burger, or fresh vegetables, here are your options to choose from:
Balsamic Vinaigrette – 2g net carbs
Blue Cheese – 1g net carbs
Caesar – 1g net carbs
Cilantro Dressing – 1g net carbs
Ranch – 1g net carbs
Shallot Vinaigrette – 1g net carbs
SkinnyLicious Mustard Vinaigrette – 1g net carbs
Cheesecake Factory keto desserts
Ready for the bad news? The Cheesecake Factory doesn't offer a keto cheesecake option.
The Cheesecake Factory low-carb cheesecake still contains almost an entire day's worth of net carb allowance at 37g.
But, if you're dying for a low-carb cheesecake to finish off your meal, you can split their "Low-Licious" cheesecake with a friend.
While it's not the best option, fitting 15.5g net carbs (for a half slice) into your daily carb intake is much more realistic.
Items to avoid at Cheesecake Factory
Here are a few Cheesecake Factory menu items that you should avoid at all costs:
Cheesecake & Other Desserts
High-Carb Sauces
Burger Buns
Sandwiches
Flatbread Pizzas
Pasta
Mashed Potatoes
Baked Potato Tots
Crispy Onions
How to order keto at Cheesecake Factory
Here are a few helpful tips to guide your order at Cheesecake Factory:
1. Try a custom breakfast
You can easily eat a balanced breakfast option at The Cheesecake Factory, particularly if you customize your meal!
Begin with a base of farm-fresh eggs or a plain omelet and dress it up with your favorite high-fat extras (cheese is a must!)
2. Remove the bun & sauce
If you're choosing to indulge in a Glamburger, always remember to remove the bun when ordering.
Instead, ask for your burger on a bed of greens or request a lettuce wrap.
And when picking out your burger, make sure to inspect the sauce choice closely. While some sauces may look keto-friendly, they often contain hidden sugars that could affect your ketosis.
Choose a sauce from my approved list above to be safe!
3. Share a low-carb appetizer
While the appetizers aren't particularly low in carbohydrates, you can still enjoy them as part of your keto diet, especially when shared at the table.
4. Get creative with side dishes
High-carb sides like mashed potatoes and french fries are definitely off-limits.
Instead, ask for creative swaps like sauteed spinach, broccoli, or green beans; these will also give your meal a good boost of nutrition which never hurts when eating out.
5. Skip the cheesecake
While it may hurt a little when choosing not to indulge in The Cheesecake Factory's namesake, it's well worth the sacrifice.
Skip dessert out and instead, try an easy low-carb dessert recipe at home.
FAQs
Here are a few answers to the most frequently asked questions about eating keto at Cheesecake Factory. If you don't see your question in this list, please leave it for me in the comments.
How many carbs are in a cheesecake from Cheesecake Factory?
Cheesecake Factory cheesecake is very high in carbohydrates because it's made with refined sugars.

The regular cheesecake carb counts vary between 76-139g; this is way higher than the daily recommended 50g net carbs.

If you try the Low Licious Cheesecake with strawberries, one slice is 31g net carbs.
What is Cheesecake Factory Low Licious cheesecake sweetened with?
The Cheesecake Factory Low Licious cheesecake is free from added sugars. Instead, it is sweetened with a sugar alternative called Zùsto.
This sweetener is made primarily from corn and chicory fibers.
Does Cheesecake Factory do lettuce buns?
While the Cheesecake Factory online menu doesn't offer lettuce wraps as a burger bun alternative, it never hurts to ask.

Because Cheesecake Factory offers lettuce wraps for other menu items, the kitchen will likely be able to give you a lettuce-wrapped burger or at least provide a bed of lettuce for the burger to sit on.
Is Cheesecake Factory cobb salad keto-friendly?
The Cheesecake Factory cobb salad is considered keto-friendly, with 19g net carbs for a full order. They also offer lunch-sized cobb salads with 15g net carbs.
Can you buy a keto cheesecake?
Because the keto diet is so widely followed these days, the market has followed suit! There are plenty of store-bought, keto-friendly desserts available for purchase on those days when you just can't be bothered to make a homemade recipe.

For example, Wonder Monday makes tasty low-carb cheesecakes in a variety of flavors for you to choose from.

Plus, check out the freezer aisle at your local grocery store to find more options!

Alternatively, you can find dozens of keto-friendly cheesecakes to make right here on the site. If you are looking for something that comes together quickly, this no-bake cheesecake comes together in under 15 minutes!
Related recipes
If reading all about eating keto at Cheesecake Factory have you craving cheesecake, here are some low-carb recipes you can make at home!
Follow us on FACEBOOK, PINTEREST, and INSTAGRAM for even more tasty keto-friendly recipes!