Leave the oven off with simple no bake low carb desserts that can be whipped up in no time. These easy recipes are perfect for all your summer gatherings!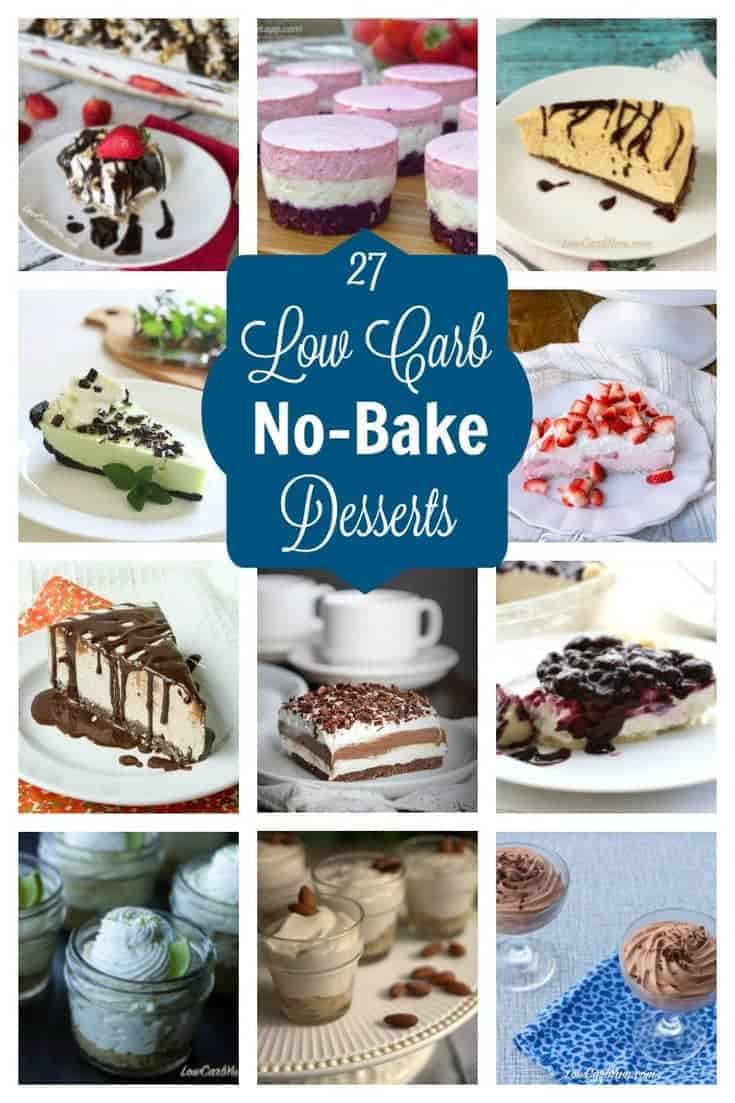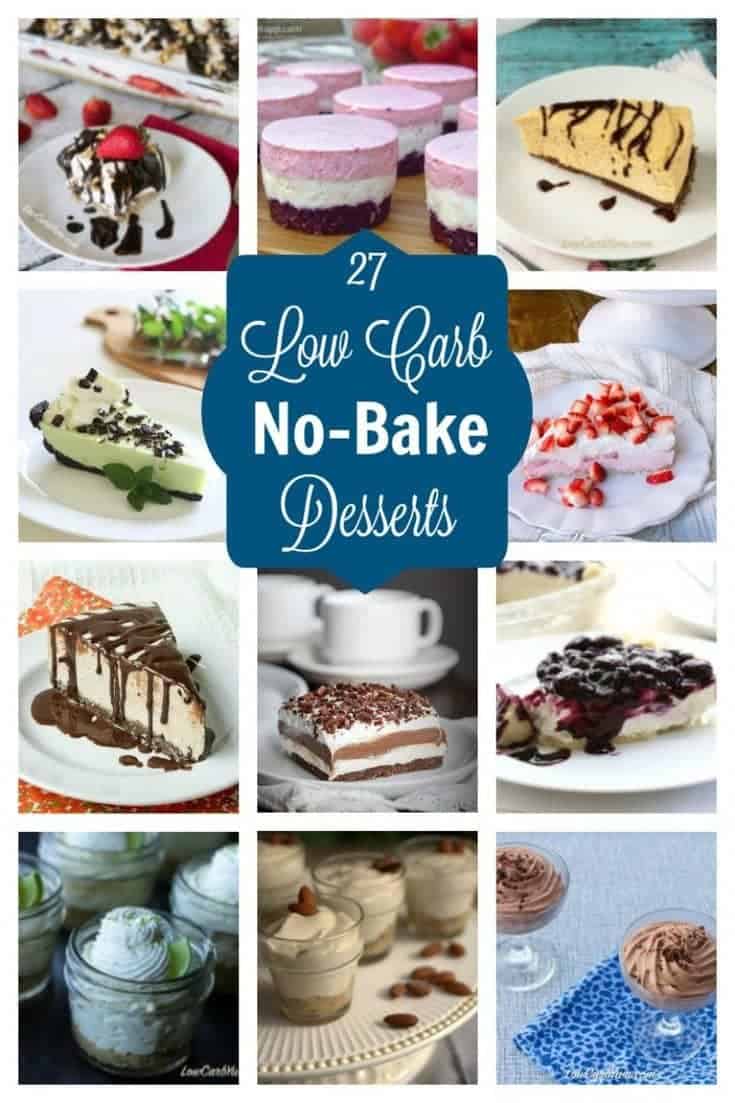 Article Index
I'm always looking for simple last minute desserts to bring to gatherings with family and friends. And, in the summer, it's often too hot to be turning on the oven. Easy no bake low carb desserts are the answer!
When I'm looking for easy sugar free desserts to make, I look for ones that are quick to prepare. These desserts often need at least a couple hours to chill, so they aren't completely instant. However, it is great that you don't have to keep an eye on the oven or deal with heating up the kitchen in hotter weather.
Since there's no baking involved in these easy no bake low carb desserts, many use gelatin to stiffen them. I always look for grass-fed gelatin because it has a better nutritional profile. But, regular gelatin is fine too if it's all you can find or afford.
Here's my list of 27 easy no bake low carbs desserts found at on all my favorite low carb recipe sites. You're sure to find one or two recipes to try this summer!
27 Easy No Bake Low Carb Desserts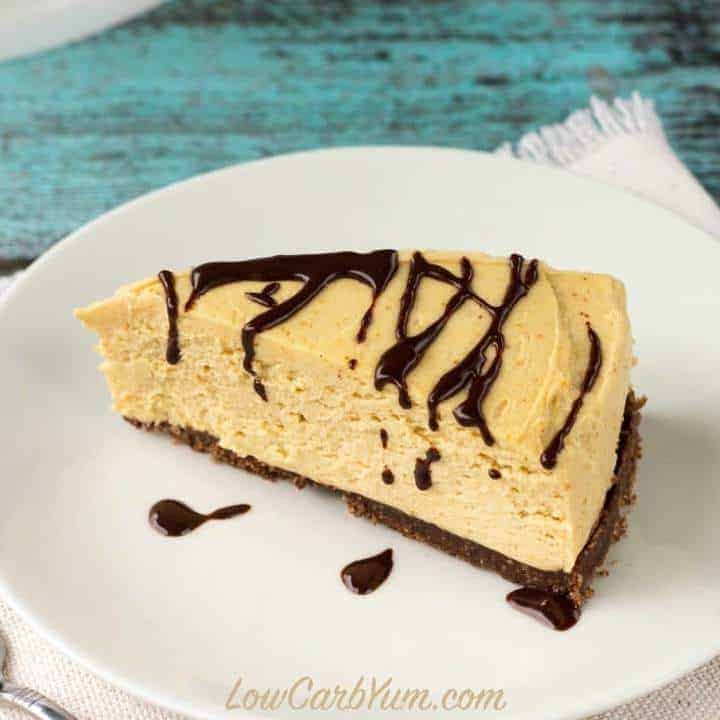 An easy no bake peanut butter cheesecake with a simple chocolate almond flour crust from Low Carb Yum. It's sure to be a crowd pleaser and looks fabulous on the dessert table.
Mult-colors of red, white and blue make these mini cheesecakes from Keto Diet app a festive treat for the 4th of July. Or, you can replace the blueberry with cocoa to add a chocolate layer.
Another one of the quick no bake low carb desserts that's perfect for celebrating the Fourth of July. It's a mix of blueberries and strawberries in a sweetened cream cheese base.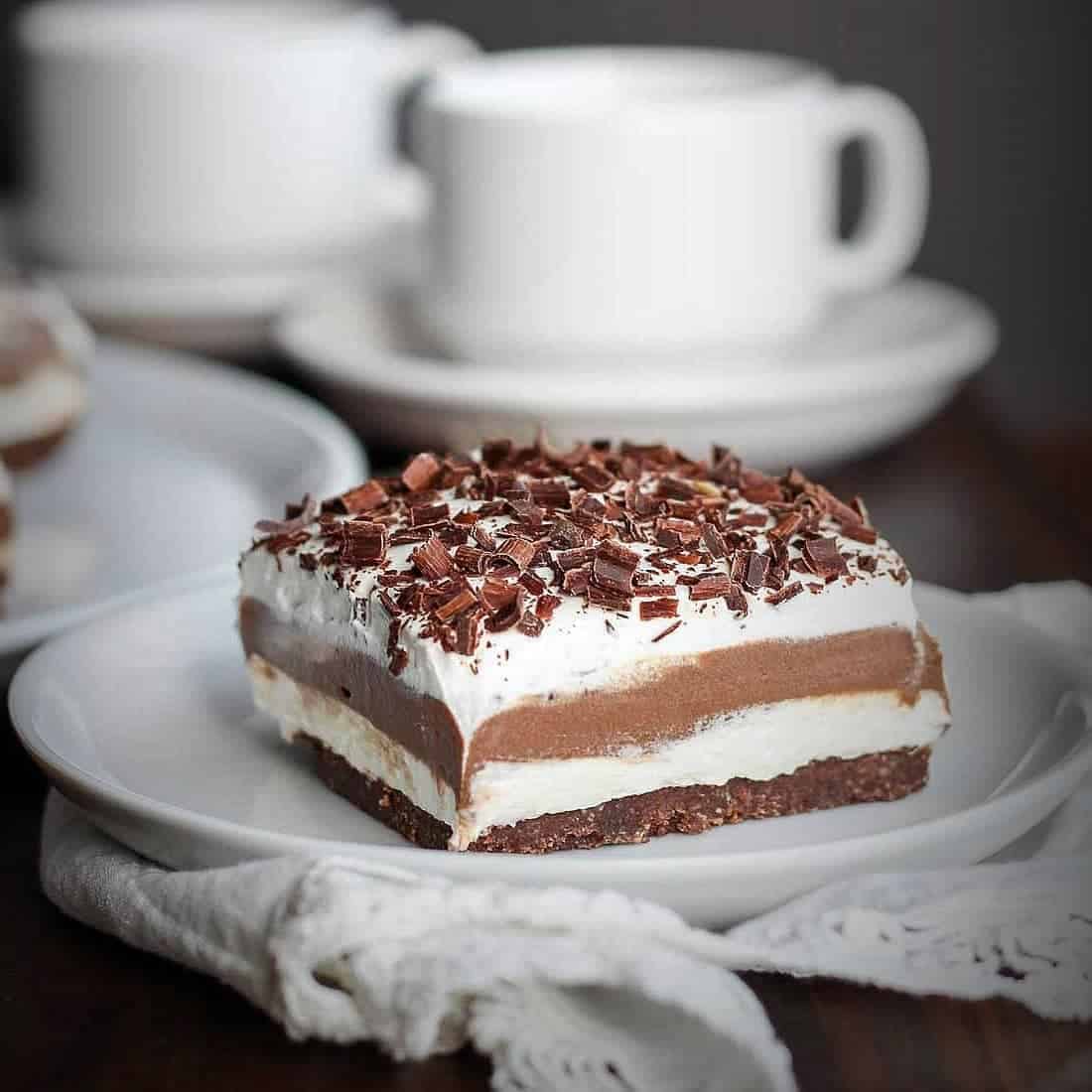 You'll love this chocolate lasagna from Low Carb Maven. It's got a cookie crust topped with a cream cheese layer, a chocolate pudding layer, and a whipped cream layer.
Because there's no eggs, this simple coconut flour chocolate chip cookie dough is safe to eat without baking. And, it mixes up quickly in a bowl for an instant keto friendly treat.
If you need a quick recipe to share, try this no bake blueberry cheesecake from Ditch the Carbs. It sets in the fridge so there's no need to turn on the oven.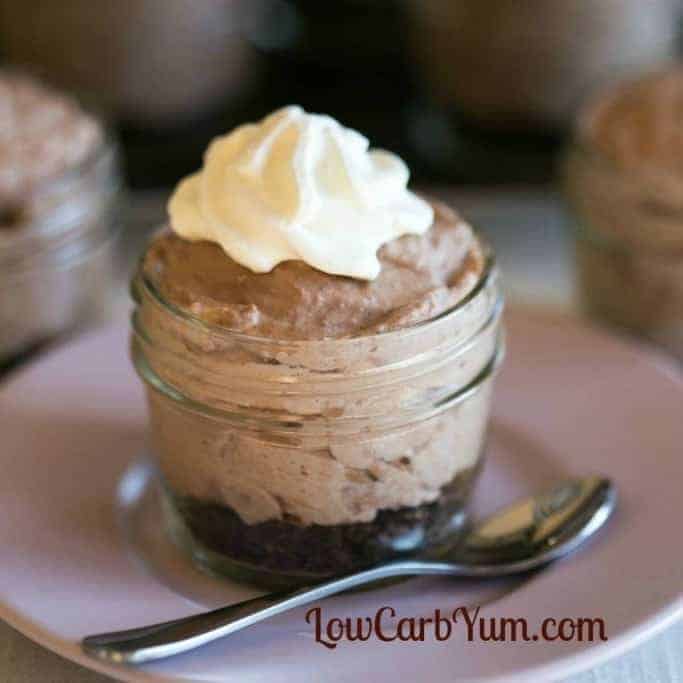 This quick cheesecake in-a-jar is flavored with homemade low carb Irish Cream. It's one of our favorite low carb desserts to celebrate St. Patrick's Day.
For a pretty summer treat, try this easy strawberry mousse pie from the Sugar Free Mom. It's luscious and creamy and sure to be a hit even with those not on a low carb eating plan.
It doesn't get much easier than a simple mascarpone cheese mouse layered with berries. Layering in blueberries and strawberries makes it a colorful sugar free treat for the 4th of July.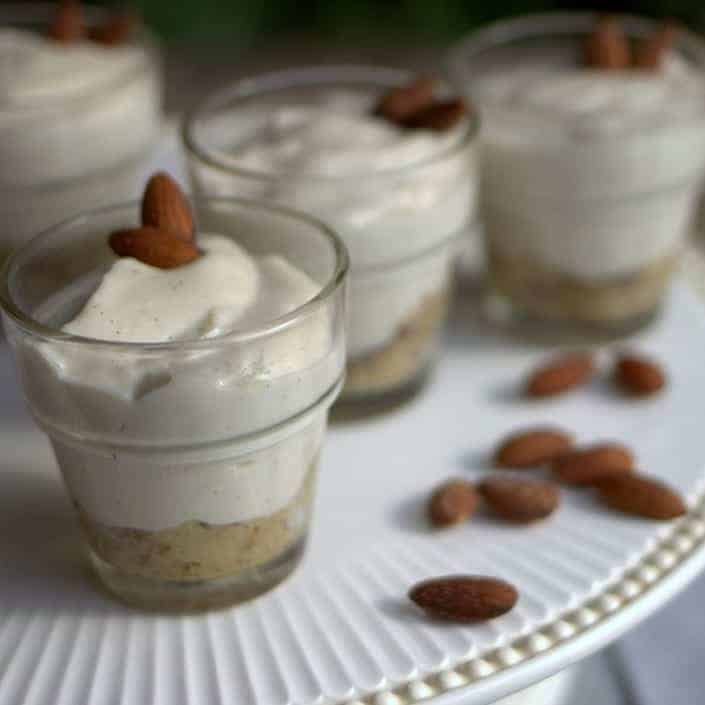 If you're avoiding dairy, you'll love this easy cheesecake from Maria Mind Body Health. It's made with an almond milk based low carb dairy-free cream cheese spread by Kite Hill.
When I'm looking for quick low carb desserts to make for a party, cheesecake mousse is one that always comes to mind. Although it's great plain, it can be taken up a notch with added sauce, fruit, or chocolate chips.
This easy strawberry fluff dessert whips up quickly in a blender or mixing bowl. We like to top it off with some chocolate shavings for a quick summer treat.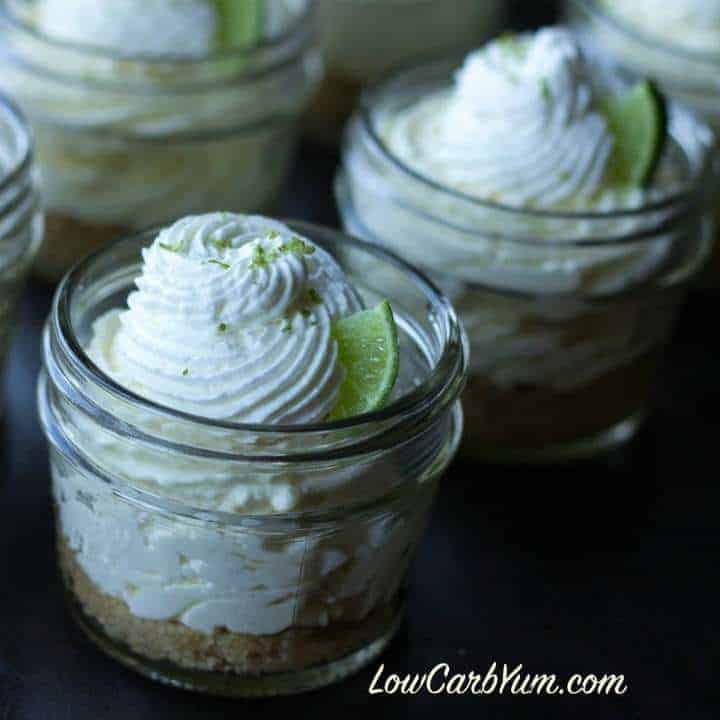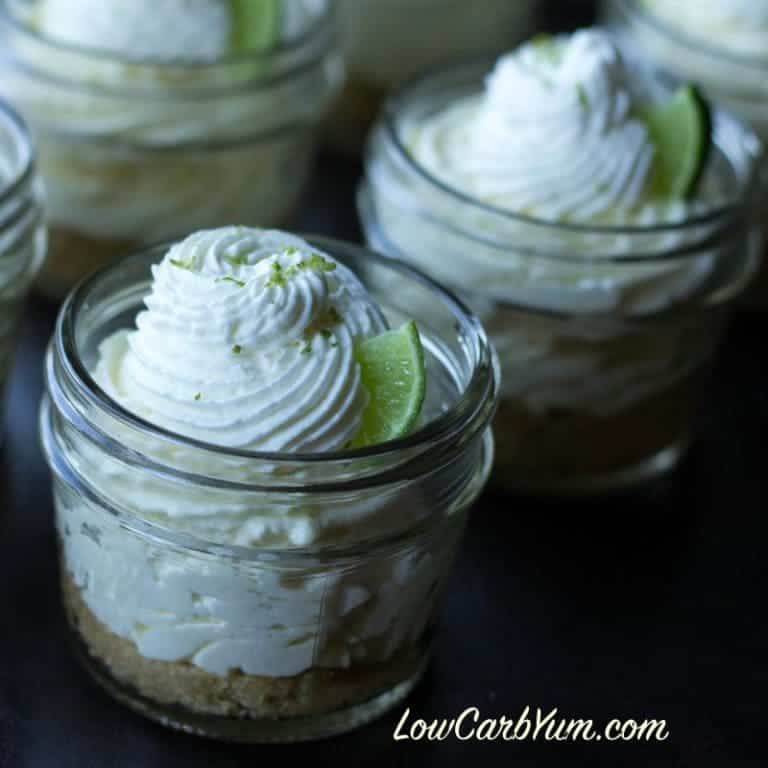 I like to make these cute key lime cheesecakes in jars to keep portion sizes under control. Even my friends and family who aren't low carb love these little sugar free treats.
A delicious pumpkin cheesecake by the Sugar Free Mom. It's a great Thanksgiving dessert that's quick and easy to prepare and keeps the oven free for all the other holiday food preparation.
I love the flavor of peanut butter so it's a flavor that shows up regularly in my low carb desserts. However, it's easy to sub it out if with sunflower seed butter you have an allergy.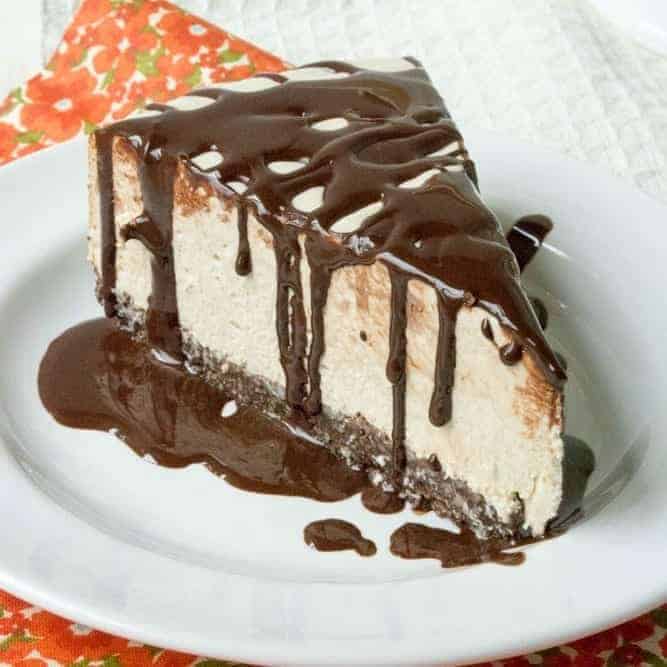 If you're a coffee lover, you'll appreciate this rich and delicious cheesecake that doesn't require any baking. It's one of the best no bake low carb desserts you'll ever make!
I love to make this ricotta cheesecake in mini sizes for better portion control. And, it's a nice change from the regular cream cheese based no bake desserts.
A simple lime cheesecake from Ditch The Carbs that's super simple to prepare. It uses a sugar free jello base that's blended in with cream cheese and lime zest.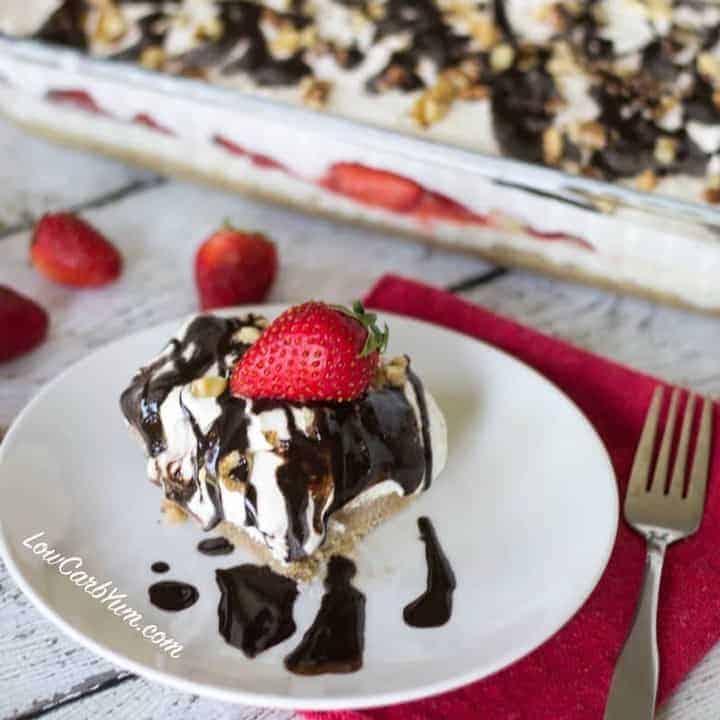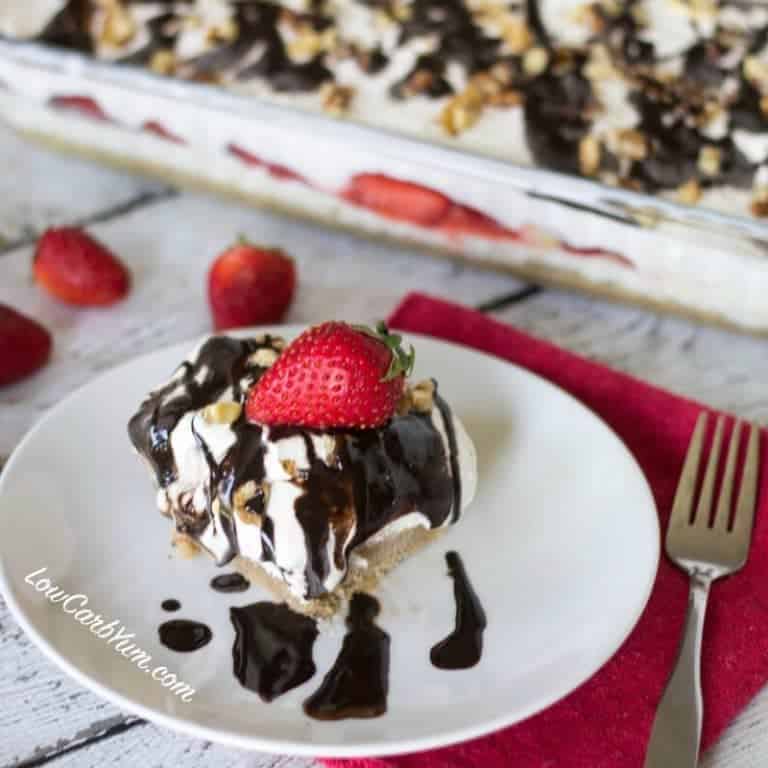 This easy banana split cheesecake is a fantastic looking treat that makes enough for a crowd. It's always a popular dessert even with those who aren't sugar free or low carb.
When I need a quick snack or easy breakfast, nothing beats this strawberry chia pudding made with almond milk. It only requires one bowl, a little stirring, and a cold place to store it.
For the easiest chocolate chip bars ever, try these no bake ones made with nutter butter. I used cashew butter, but any nut or seed butter works in the recipe.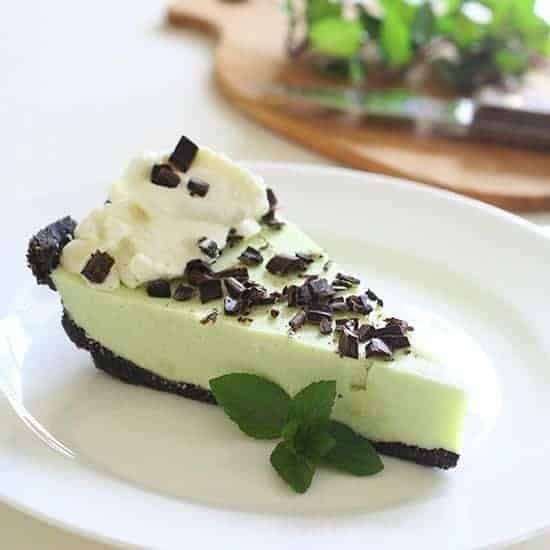 This grasshopper pie by All Day I Dream About Food is one of the easiest low carb desserts you can make to celebrate St. Patrick's Day with a little green. And, it tastes amazing too.
My kids love this easy chocolate mousse recipe and they don't even care that it has no sugar. It tastes great and whips up in no time for a simple snack the whole family will enjoy.
This lemon cheesecake by Ditch The Carbs is always a winning sugar free dessert. It sets up right in the refrigerator so it's perfect for the hotter months when you don't want to turn on the oven.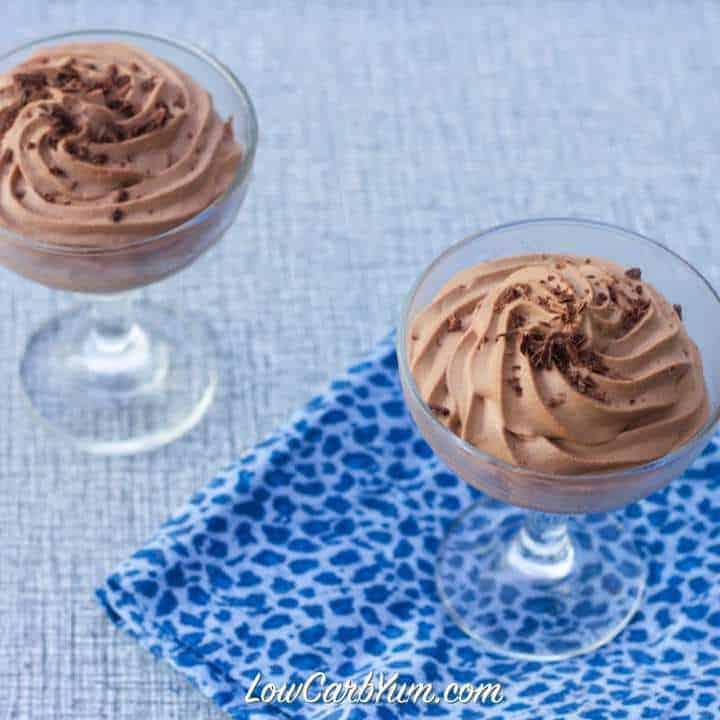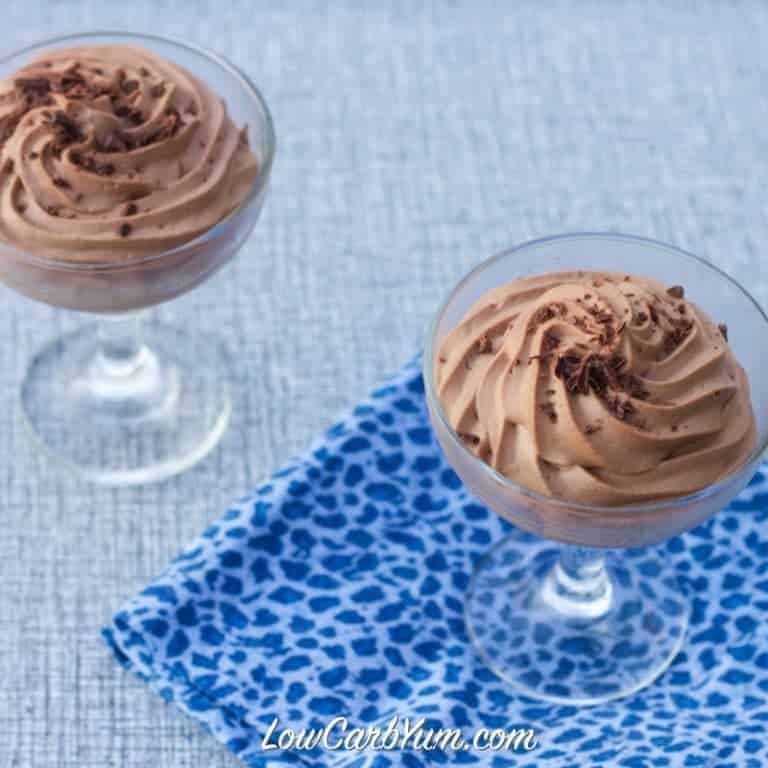 For a simple summer treat, try my no bake black forest cheesecake mousse topped with shaved chocolate or a fresh cherry. It can also be used to make a sugar free pie.
A simple raspberry cheesecake mousse made with only 5 ingredients. The Sugar Free Mom makes this dessert without any sugar alcohol too!
It's so quick to make a no bake low carb pumpkin mousse with cream cheese and pureed pumpkin. And, it can be added to a pie crust to make a tasty no bake pie.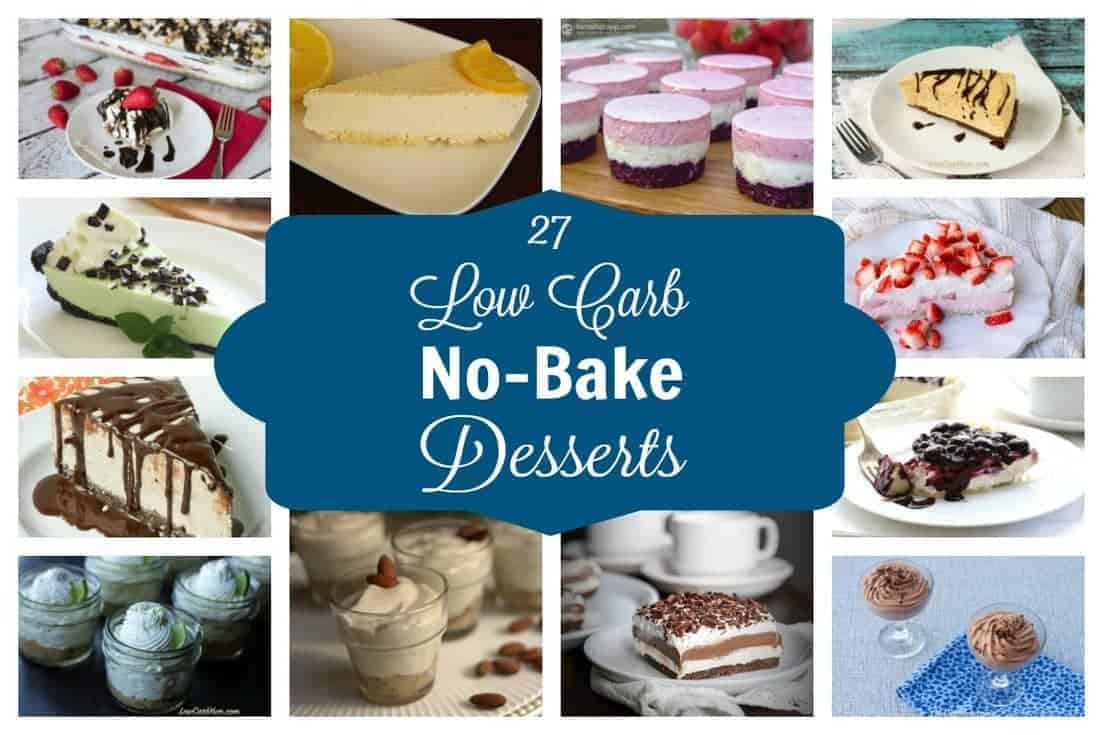 Need more ideas? Check out these keto no bake desserts.
Follow us on FACEBOOK, PINTEREST, and INSTAGRAM for even more tasty keto-friendly recipes!