With several tasty varieties and endless cooking possibilities, cabbage is a vegetable you want on your side. But is cabbage keto-approved? Discover cabbage macronutrients, low-carb recipes, and health advantages to determine if it's right for your keto diet!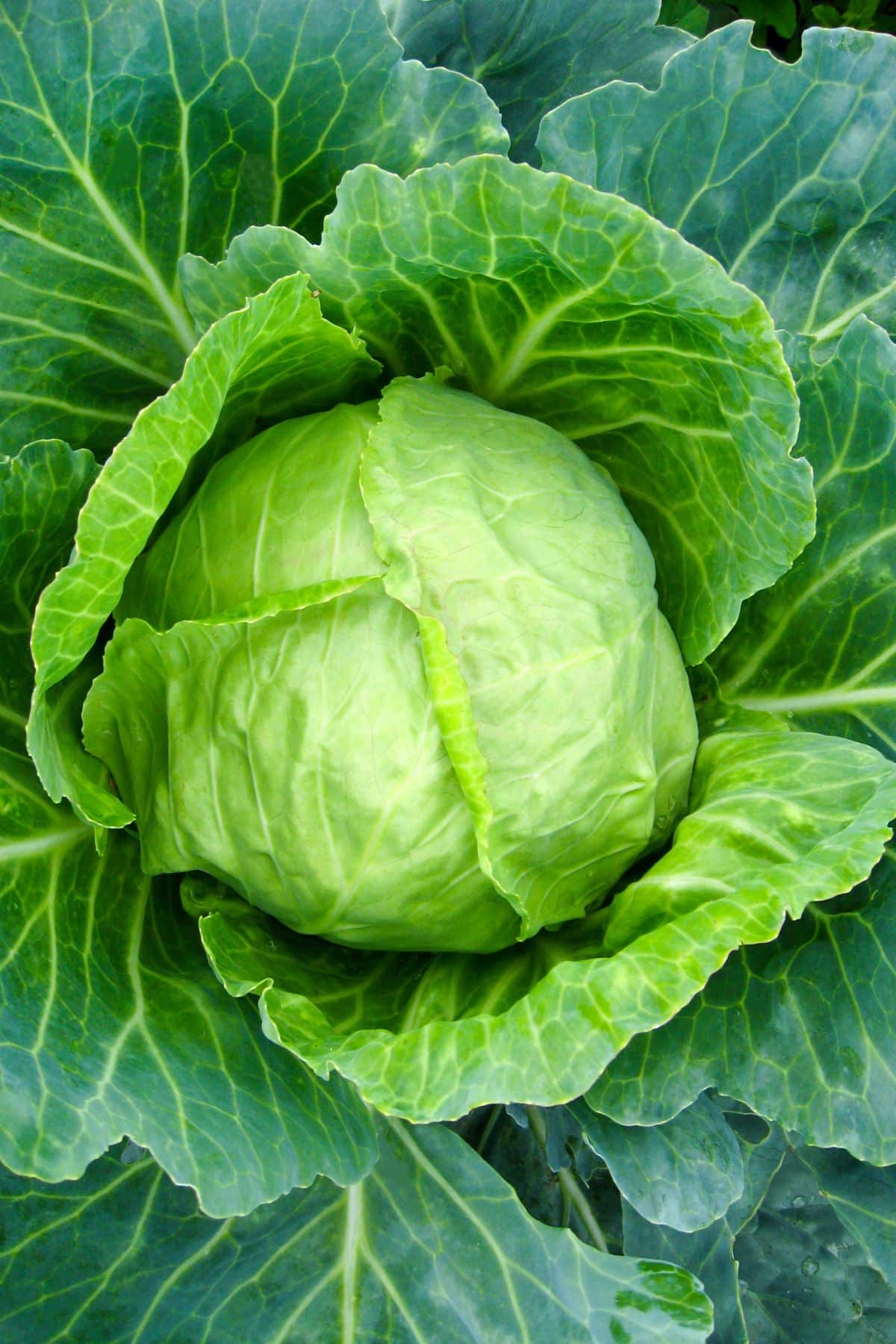 Shredded or baked, fried or boiled – cabbage is an extremely versatile vegetable. Its mild flavor lets this veggie transform based on dish, cuisine, and cooking method.
And while this filling vegetable is a staple in many homes, can keto dieters safely eat cabbage without sacrificing their ketosis?
On a ketogenic diet, we have to be smart with our vegetable consumption. Just because a food is healthy doesn't mean it can't contain sneaky hidden sugars and high carb counts (I'm looking at you, carrots!).
In this post, we're diving deep into the world of cabbage with nutritional information, health benefits, and low-carb recipes.
We'll also answer once and for all: "Is cabbage keto?"
Note: Check out the best keto vegetables for more low-carb veggie ideas. And for even more food groups, the keto food list is perfect for anyone starting the keto diet.
Is cabbage keto-friendly?
Good news – cabbage is suitable for a low-carb diet!
With just 3.5g net carbs per 100g serving (of raw, green cabbage), you can eat cabbage freely without worrying about your daily carb allowance.
Try incorporating shredded raw cabbage or boiled cabbage into your favorite keto dishes.
Cabbage nutrition facts
When it comes to macronutrients, cabbage is a keto-dream.
Nutrition information for 100g raw green cabbage includes:
Total carbs: 6g
Net carbs: 3.5g
Fat: 0.1g
Protein: 1.3g
Fiber: 2.5g
Nutrition information for 100g raw red cabbage includes:
Total carbs: 7g
Net carbs: 5g
Fat: 0.2g
Protein: 1.4g
Fiber: 2g
Note: When cabbage is boiled, dietary fiber levels lower slightly, at 1.9g per 100g. This makes the net carb count rise to 4g per 100g serving.
Beyond being suitable for a keto diet, eating cabbage has several additional health benefits. These health advantages include:
Nutritiously rich in vitamin C and vitamin K
High in antioxidants that can reduce chronic inflammation
Improves digestion
Promotes good heart health
Keto cabbage recipes
Ready to include cabbage in your weekly meal prep? I have several low-carb cabbage recipes for you to try.
1. Keto cabbage hash browns
My keto cabbage hash browns make the perfect potato breakfast alternative.
Perfectly seasoned and fried – serve them up with a tasty low-carb dipping sauce or a drizzle of spicy sriracha.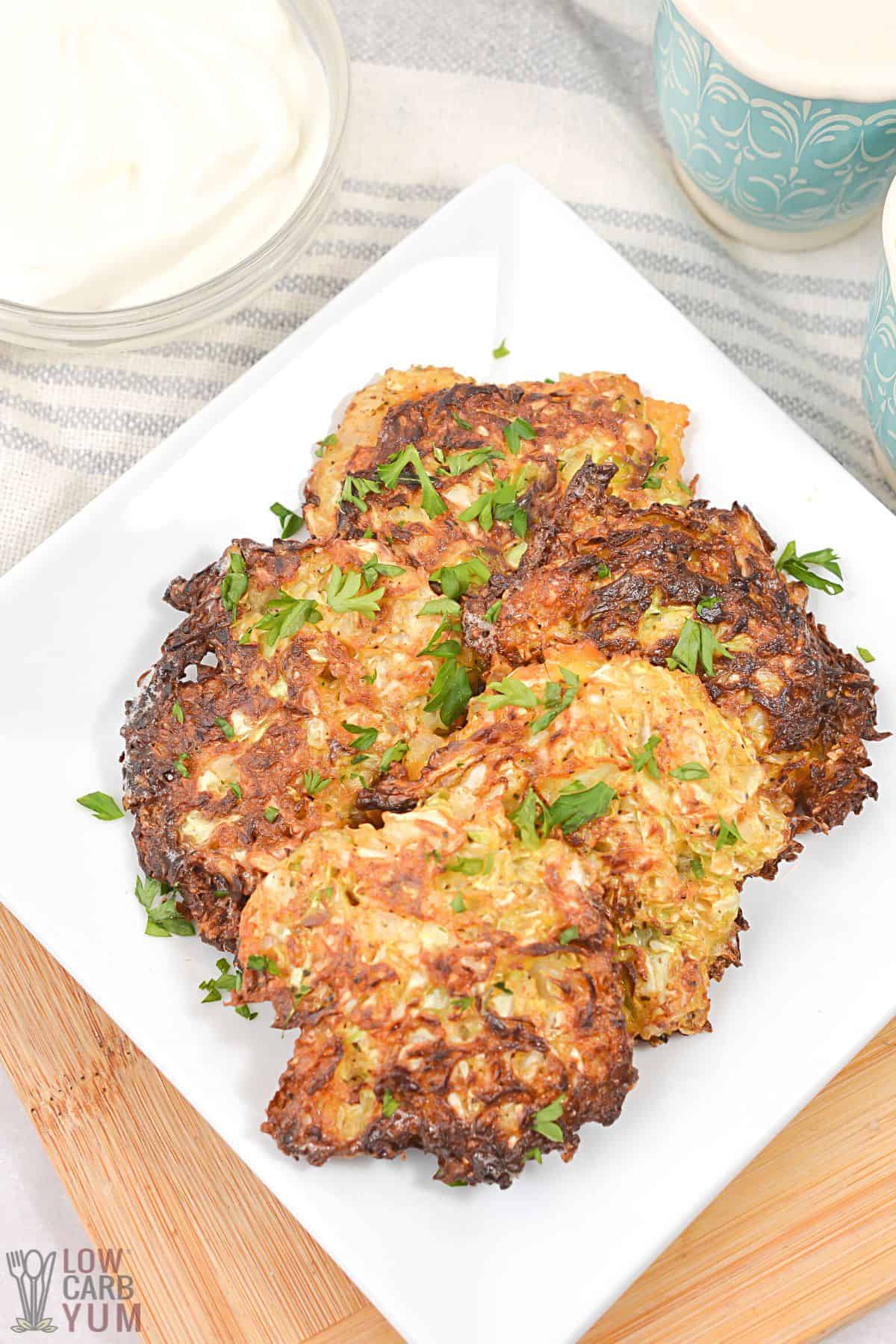 2. Keto crack slaw with beef and cabbage
This beef and cabbage slaw is absolutely addicting.
It's nutritionally complete, so it can be eaten as a main or as a tasty side dish.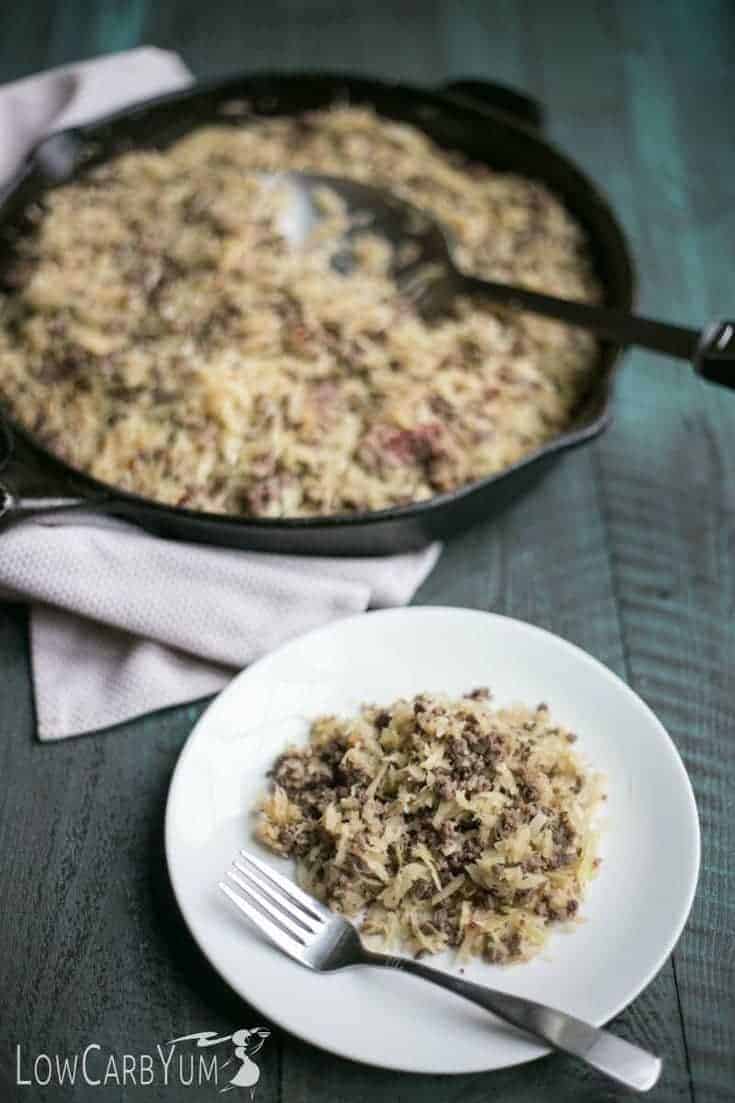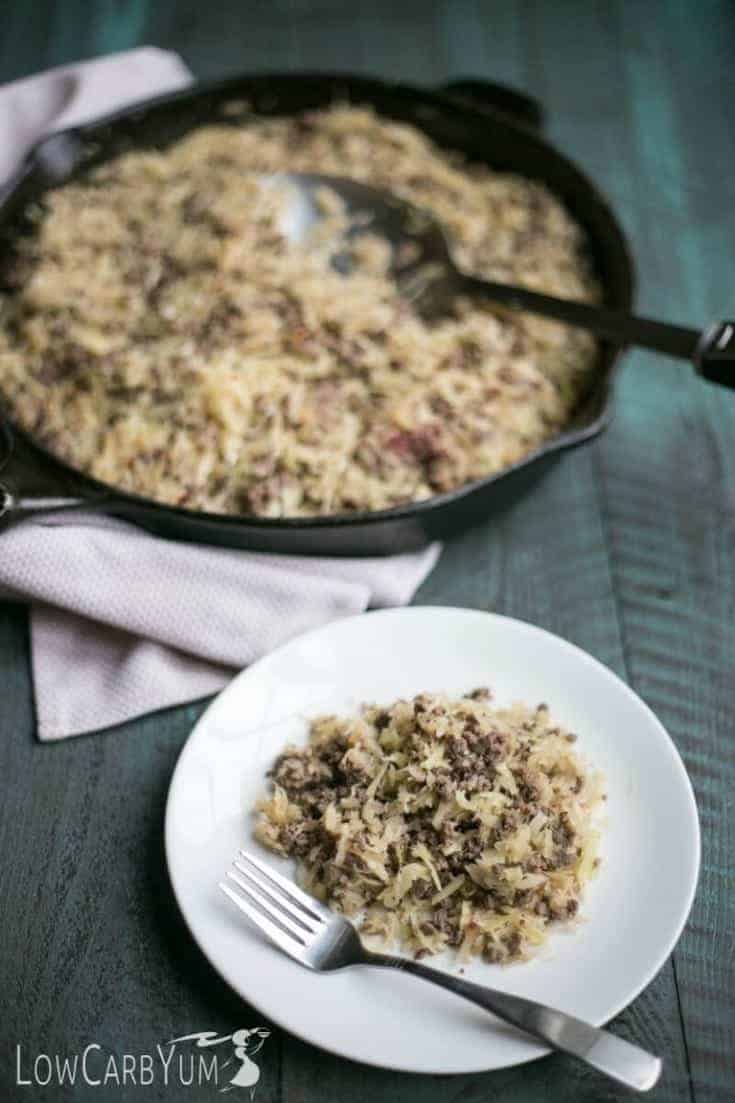 3. Sauteed red cabbage with sweet vinegar seasoning
Some sauteed red cabbage is quick to whip up for a crowd-pleasing side dish.
The naturally sweetened vinegar dressing adds a touch of tartness and will brighten up any dish.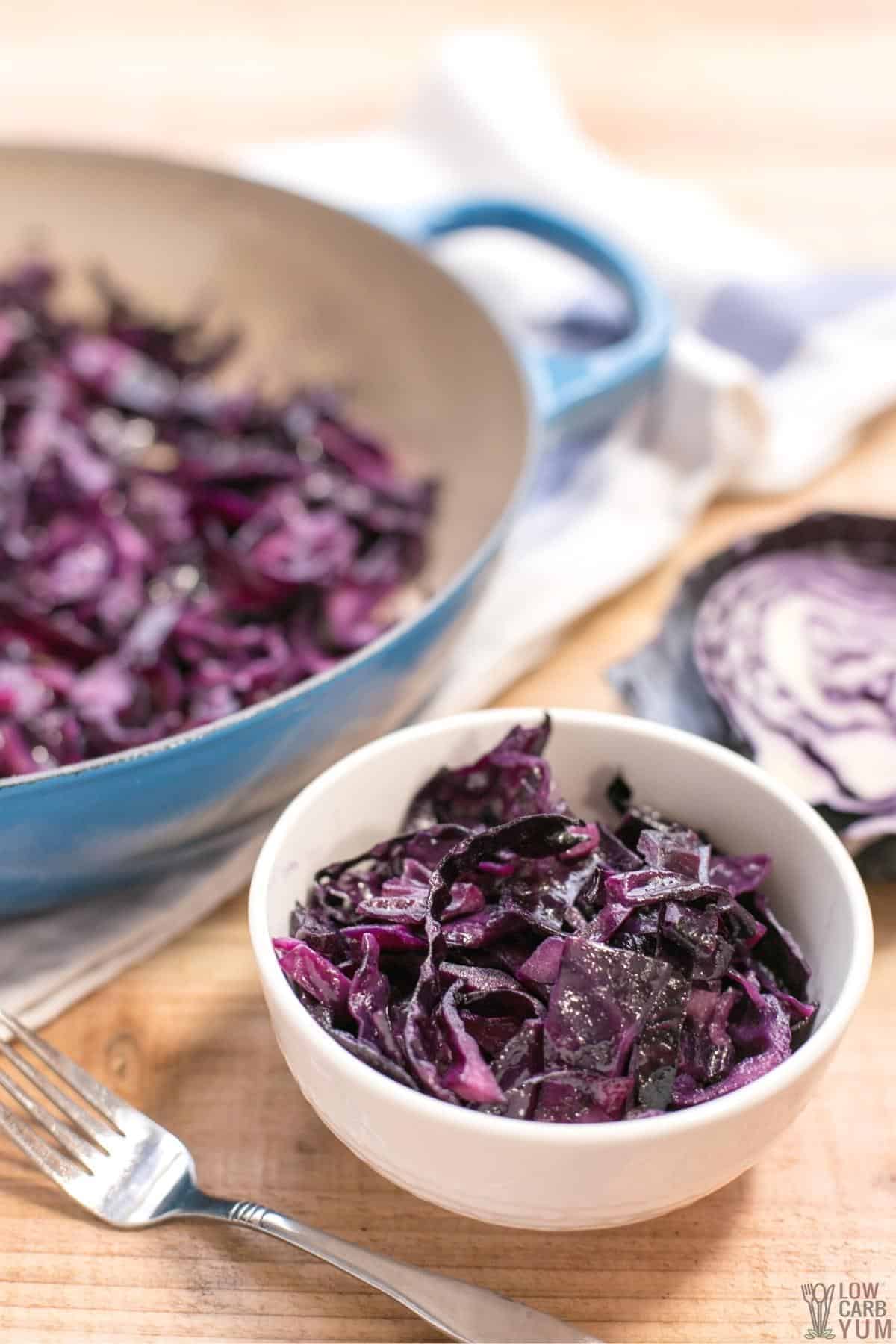 4. Keto unstuffed cabbage rolls
If you don't have the time to construct individual cabbage rolls, never fear! My unstuffed cabbage rolls are easy to throw together in just one baking dish.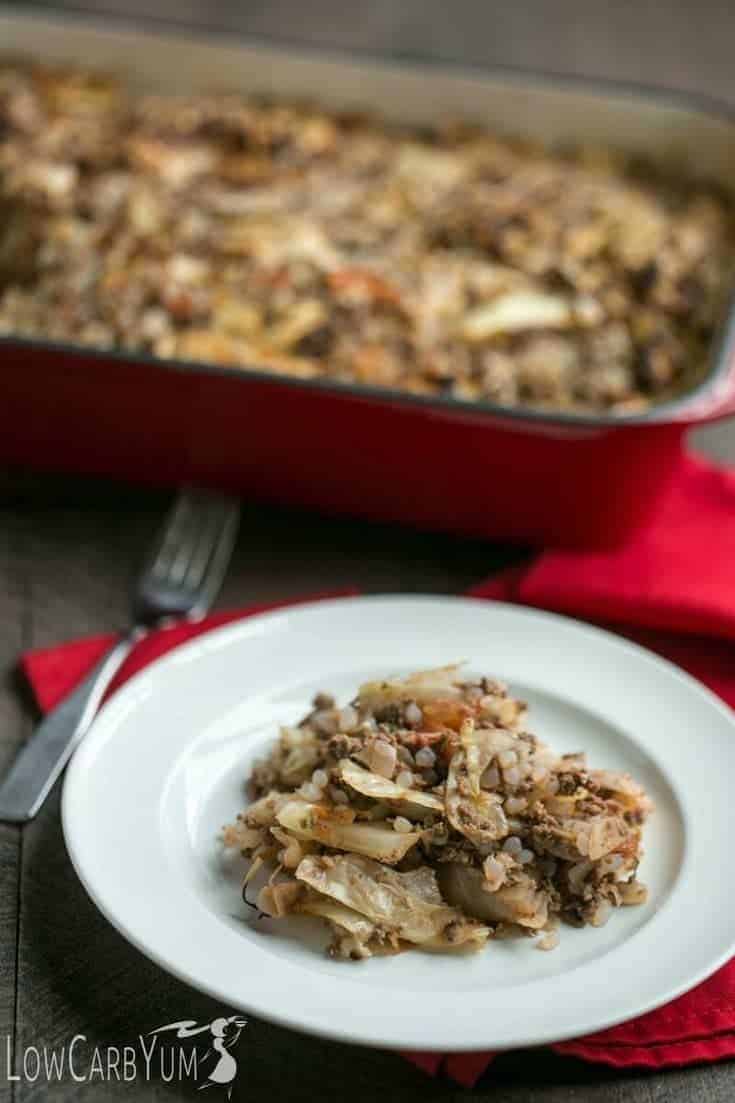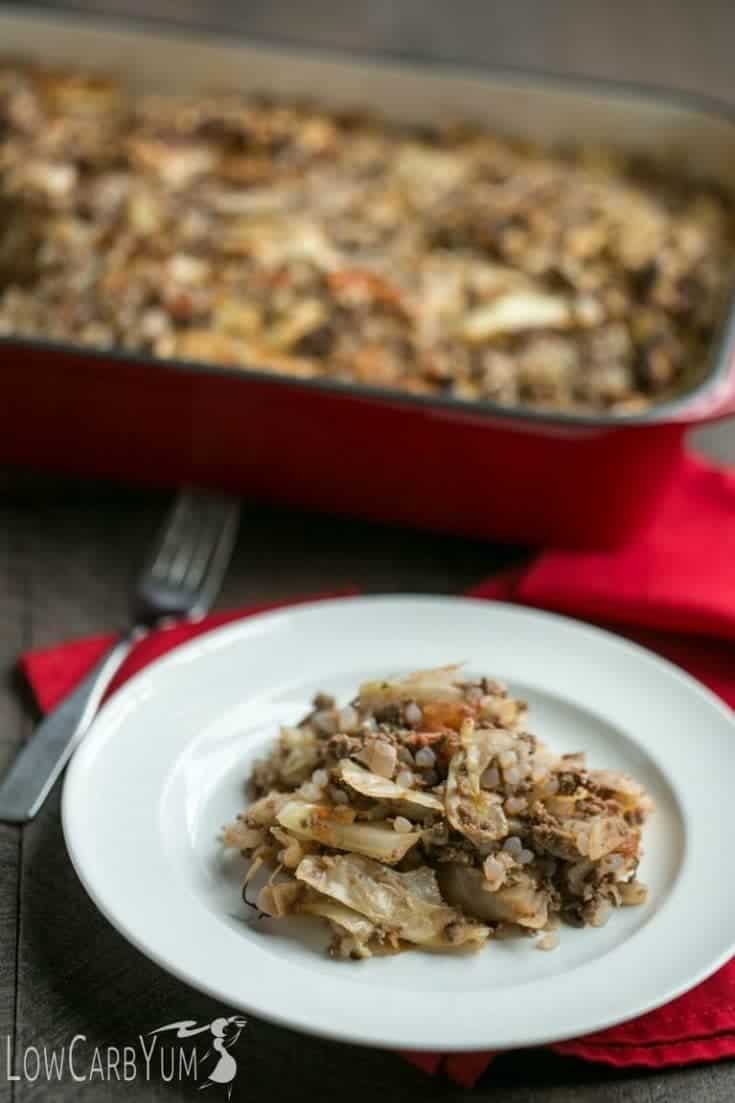 5. Corned beef casserole with cabbage
This corned beef casserole is made with cauliflower, coconut milk, and cabbage for a creamy, hearty dish.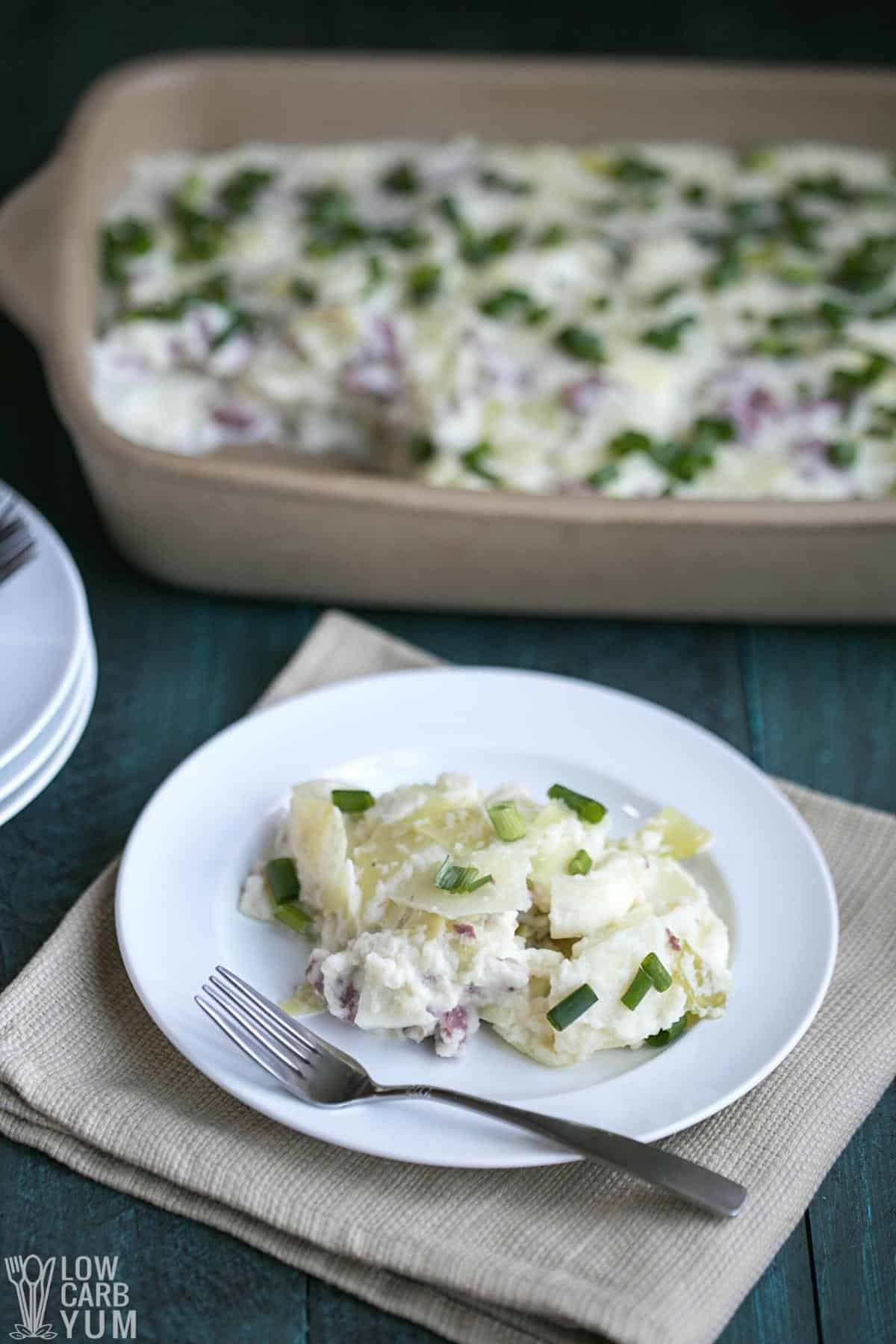 6. Cabbage steaks with bacon
These cabbage steaks can be grilled, fried, or roasted.
One thing is for sure – they're going to be delicious no matter how you cook them!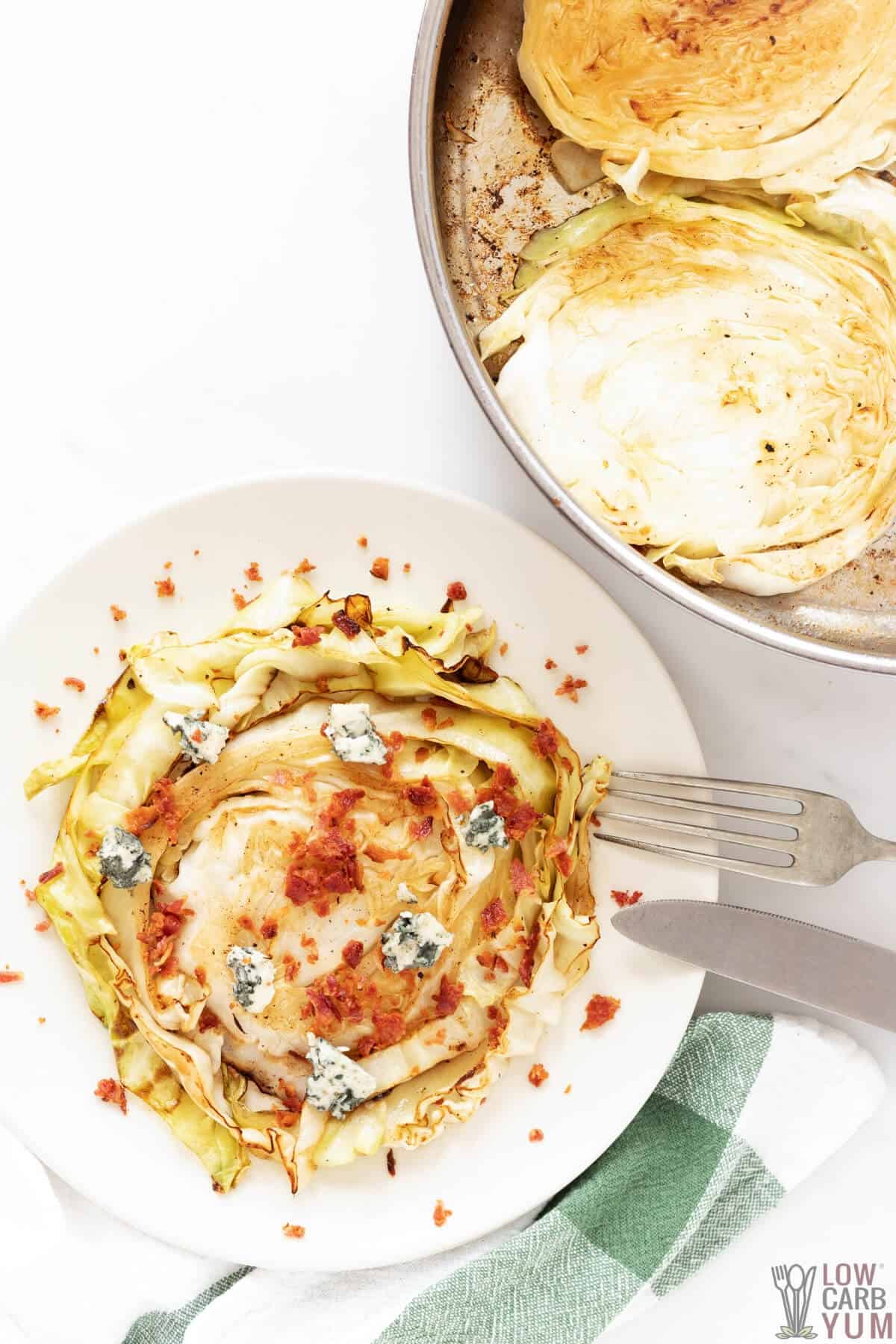 7. Cabbage rice with Indian spices
This cabbage rice makes a clever low-carb substitute. Serve it with a flavorful protein or a veggie-packed curry.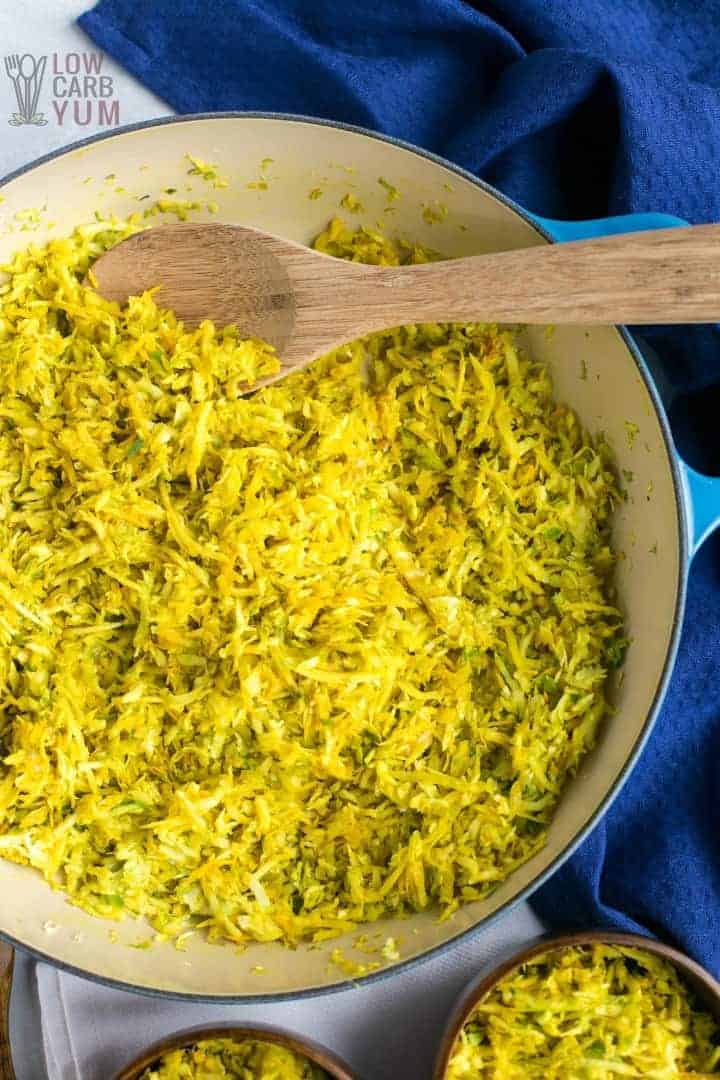 8. Chicken cabbage soup
My cabbage soup with chicken is super aromatic with curry and turmeric. Coconut cream adds a touch of high-fat decadence.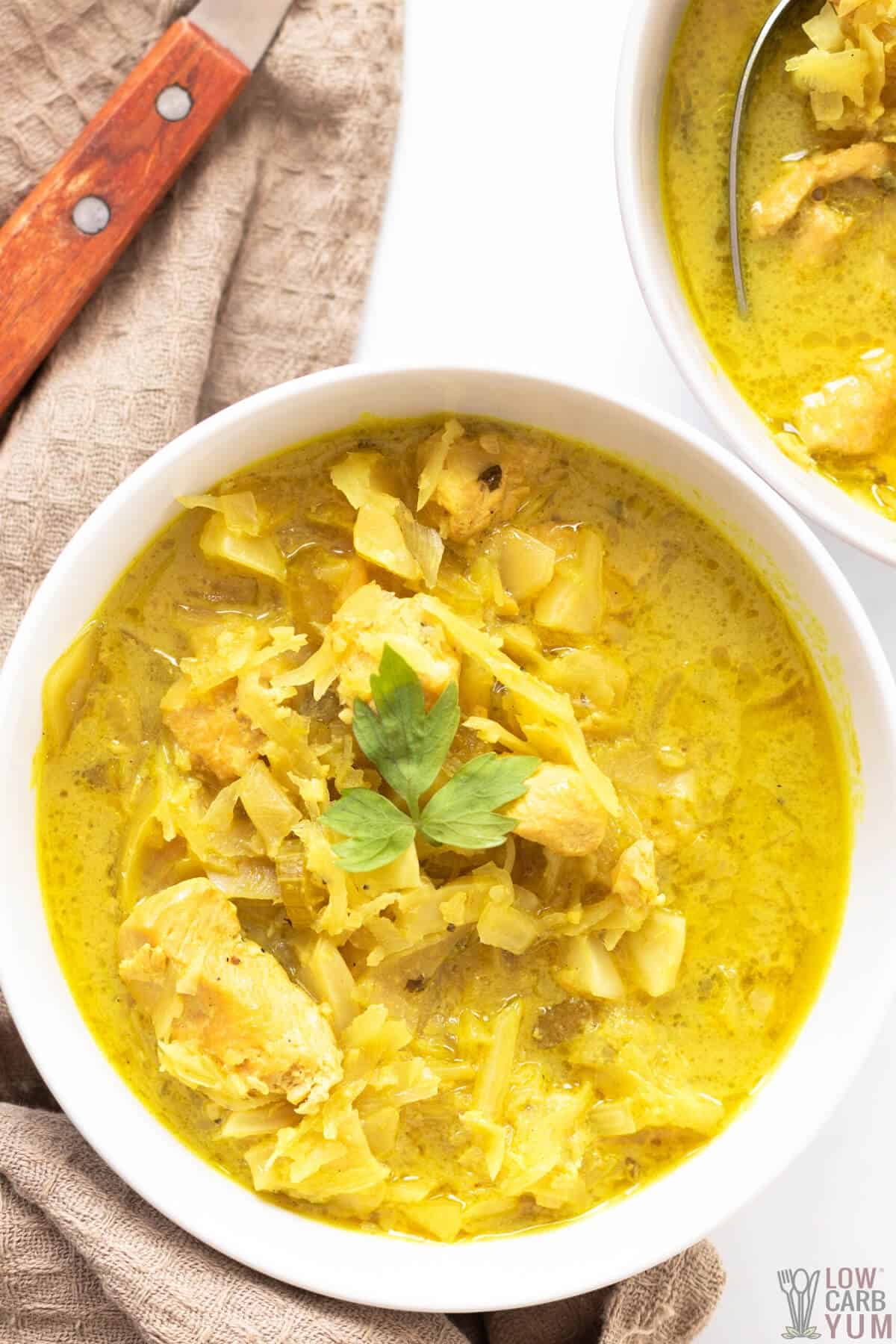 9. Cabbage lasagna
Layered with healthy fats, this cabbage lasagna is a cheesy dish that no one could turn down.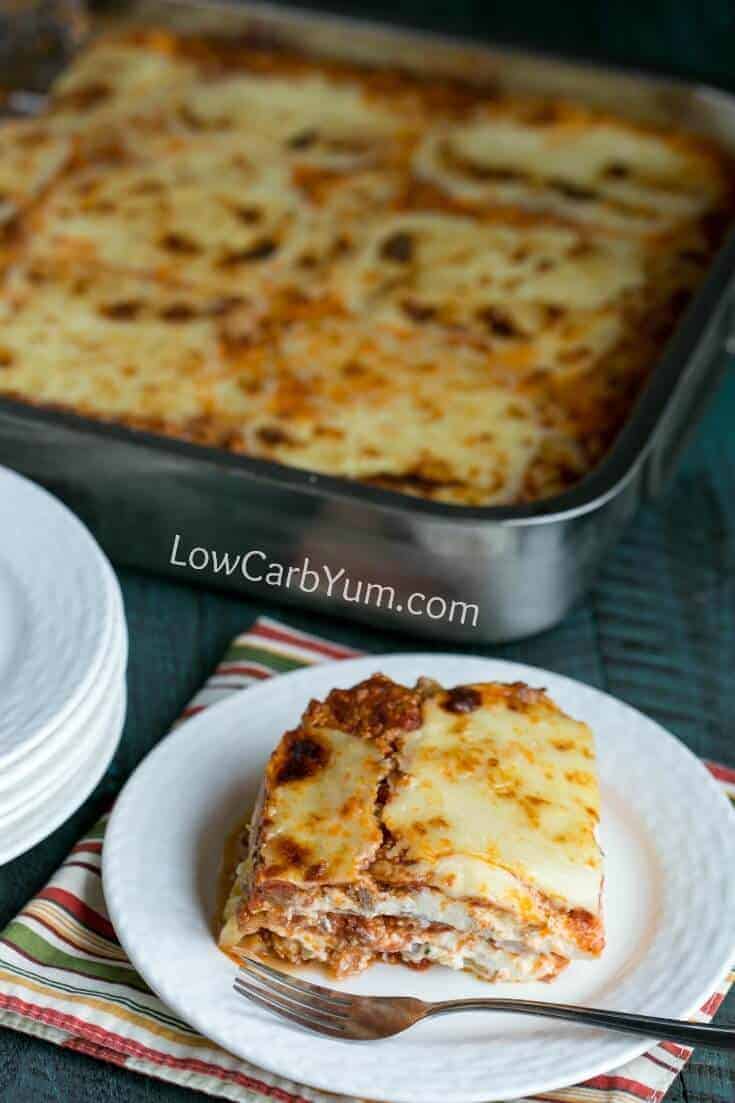 10. Fried cabbage and sausage
Looking for the perfect keto southern fried cabbage dish?
This fried cabbage and sausage is quick to make without skimping on flavor.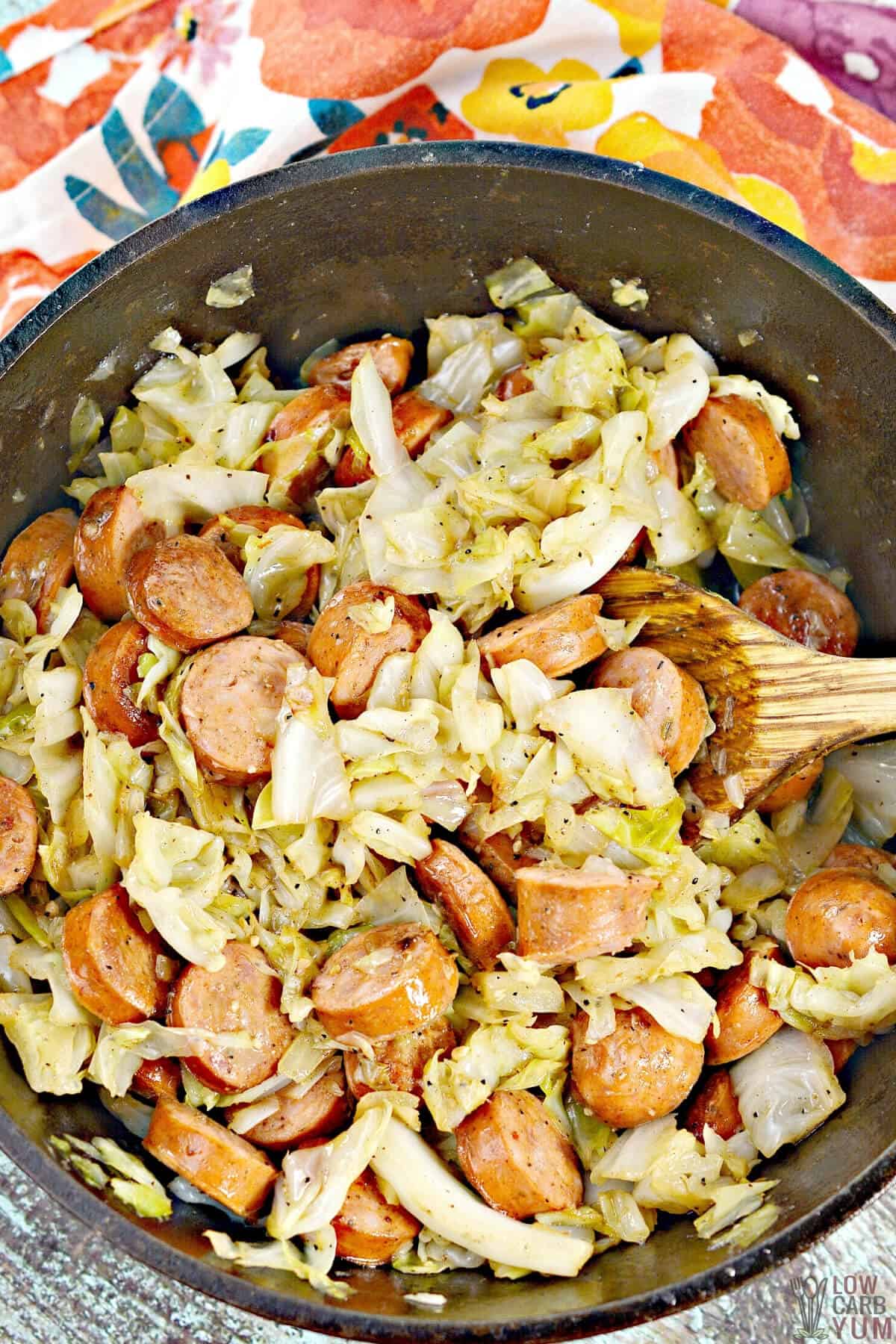 11. Creamed cabbage and ground beef casserole
My creamed cabbage and ground beef casserole is made with a cajun-seasoned cream sauce and topped with crispy bacon.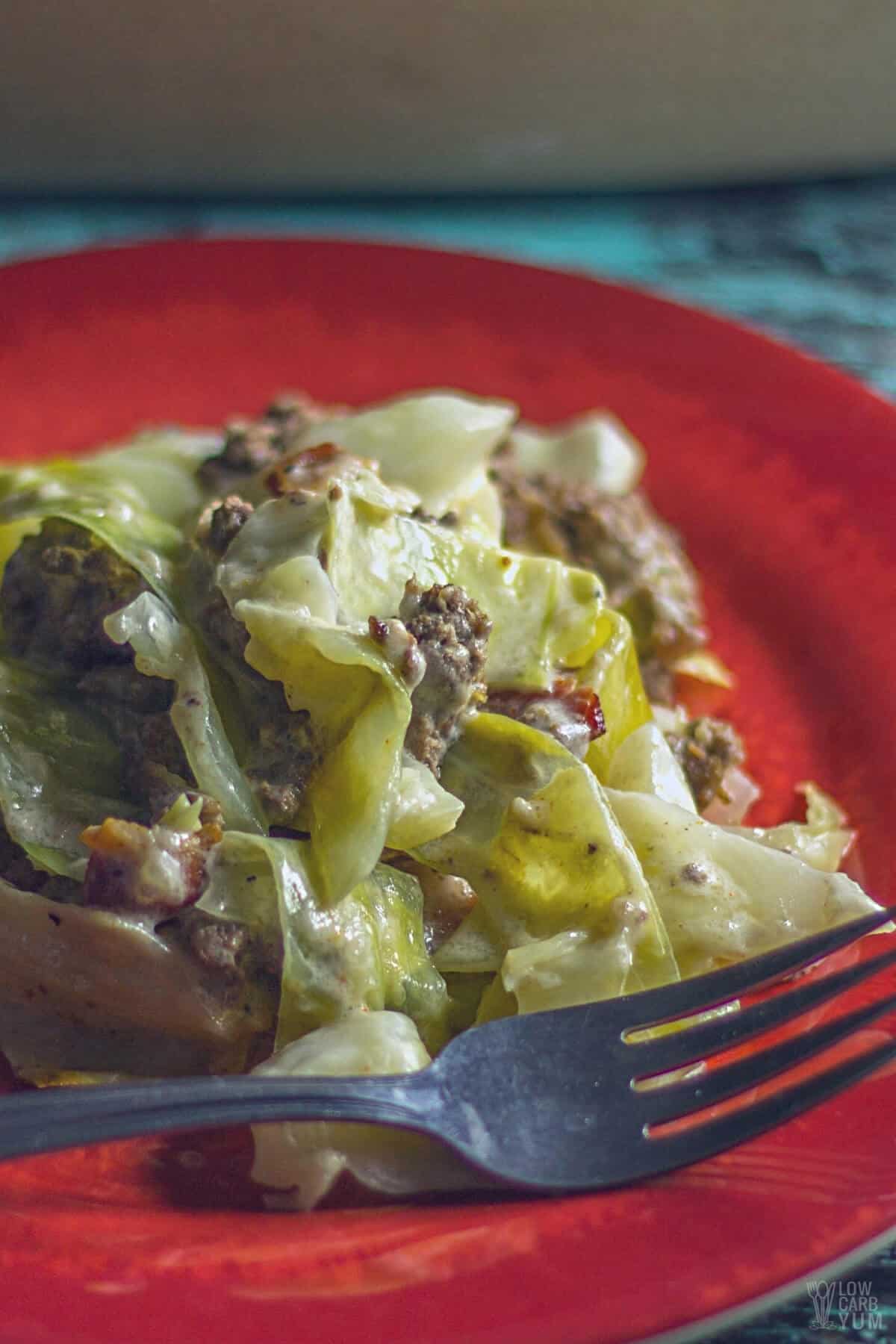 12. Stuffed keto cabbage rolls
These stuffed keto cabbage rolls take just 20 minutes to make and are perfect for a busy weeknight meal.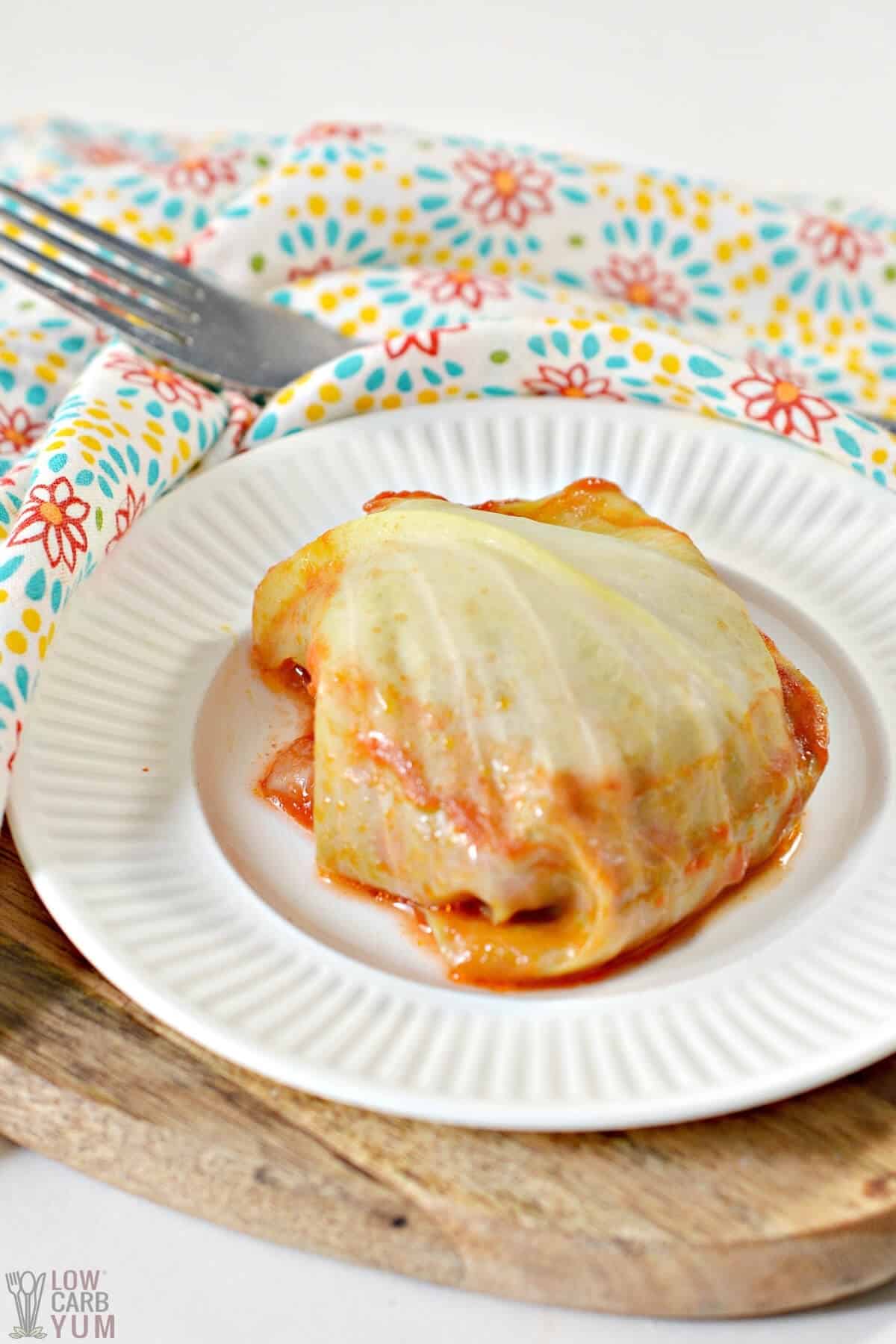 FAQs
Here are some questions people often ask about eating cabbage on the keto diet. If you don't see your question in this list, please leave it in the comments.
How many net carbs per serving of cabbage?
There are approximately 3.5 grams of net carbs per 100g servings of raw green cabbage. There are approximately 5 grams of net carbs per 100g serving for raw red cabbage.
Can you eat cooked cabbage on a keto diet?

You can definitely eat cooked cabbage on a keto diet. Just be aware that carb counts will differ once your cabbage cooks down.
This is because the cooking process breaks down some of the soluble fiber content, lowering fiber from 2.5g to 1.9g per 100g serving.
While this difference isn't huge, it's good to remember when recording your macronutrients.
What vegetables can you have on keto?
There are several keto-friendly vegetables that you can eat freely on your low-carb diet. Popular keto veggies include:
Broccoli
Bell peppers
Zucchini
Cucumber
Green beans
Brussels sprouts
Like with any food, make sure you're keeping track of your daily macronutrients, even when it comes to eating vegetables. While these veggies are low in carbohydrates by nature, carb counts can creep up on you when eating them in excess.
Related recipes
Now that we've answered "is cabbage keto?" you may want to check out some other keto-approved vegetables. Start with these related recipes:
Follow us on FACEBOOK, PINTEREST, and INSTAGRAM for even more tasty keto-friendly recipes!