Zucchini can be enjoyed in sweet or savory recipes – but can it be eaten on a keto diet? In this post, we'll explore zucchini nutrition facts, discover low-carb veggie recipes, and answer the question once and for all, "is zucchini keto-approved?"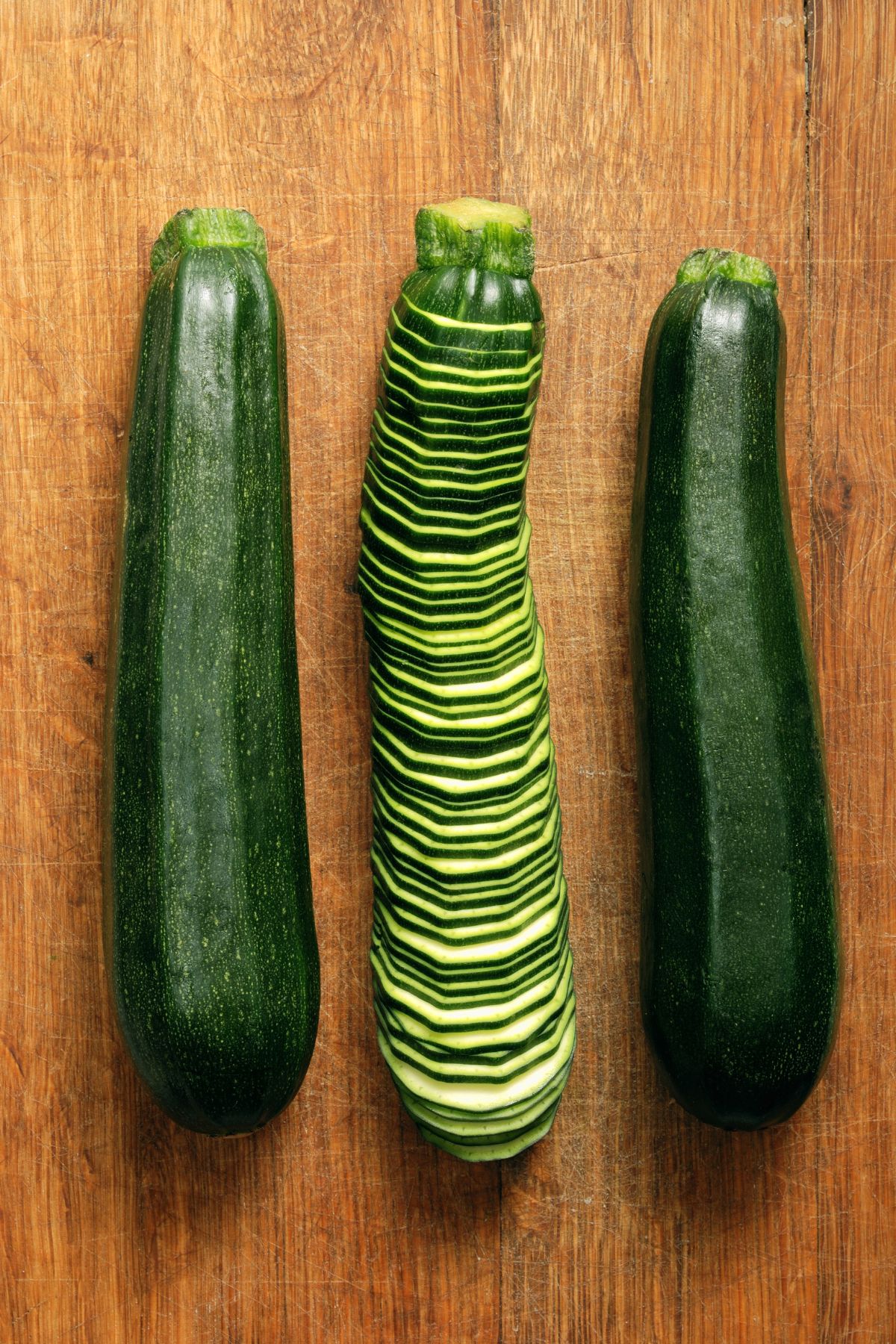 I love versatile vegetables. And when it comes to this mild-tasting squash, zucchini is about as versatile as they come.
With endless possibilities for shredding, baking, chopping, and more, zucchini can be included in just about any recipe.
Whether you bake it into a sweet chocolate loaf, make zucchini bread or highlight it in some classic zucchini boats (like these fun pizza boats!), or enjoy it roasted as a side dish, zucchini adds an extra boost of nutrition to your meals.
But is zucchini keto?
In this post, we're doing a deep dive into this summer squash, including macronutrients, health benefits, keto recipes, and more.
Note: Check out the best keto vegetables for more low-carb veggie ideas. And for even more food groups, the keto food list is perfect for anyone starting the keto diet.
Is zucchini keto-friendly?
In short – yes!
You can eat zucchini on a keto diet without sacrificing your ketosis.
Zucchini is an excellent, low-carb vegetable to add to your meal plans. It's filling, full of micronutrients, and extremely versatile.
Zucchini also makes an excellent substitute for high-carb items like noodles (aka zoodles) in cooking or bananas in baking.
So what makes this vegetable keto-approved?
It's all about the nutrition!
Zucchini contains approximately 2.1g net carbs per 100g serving size. This will fit nicely into a low-carb diet that's restricted to 50g carbs per day.
Zucchini nutrition facts
Let's break it down even further. When it comes to macronutrients, zucchini lines up perfectly with a ketogenic diet.
Zucchini nutrition information for a 100g serving includes:
Total carbs: 3.1g
Net carbs: 2.1g
Protein: 1.2g
Fat: 0.3g
Fiber: 1g
And beyond being allowed on a keto diet, zucchini comes with some additional benefits!
Loaded with health advantages, zucchini is:
Rich in heart-healthy antioxidants that can benefit skin and eye health.
A solid source of fiber that aids digestion.
Able to help reduce blood sugar levels.
A good source of vitamin A, manganese, and vitamin C.
Helpful in preventing heart disease.
Zucchini keto recipes
Ready to add zucchini to your weekly regimen? Check out these easy keto zucchini recipes.
Each one of these delicious dishes is low in carbs and easy to love!
1. Turkey Zucchini Meatballs
My turkey zucchini meatballs make the perfect appetizer food – with protein-rich turkey and tons of flavor.
They're also a great option for meal prep as they can be added as a side dish to any low-carb meal or eaten as a quick, high-protein snack (perfect for after a workout!).
The zucchini in this recipe helps to bind the meatballs while adding in some sneaky vegetables.
And to keep things low-carb, I use coconut flour in place of breadcrumbs.
Baking tip: Top your meatballs with parmesan cheese for extra flavor.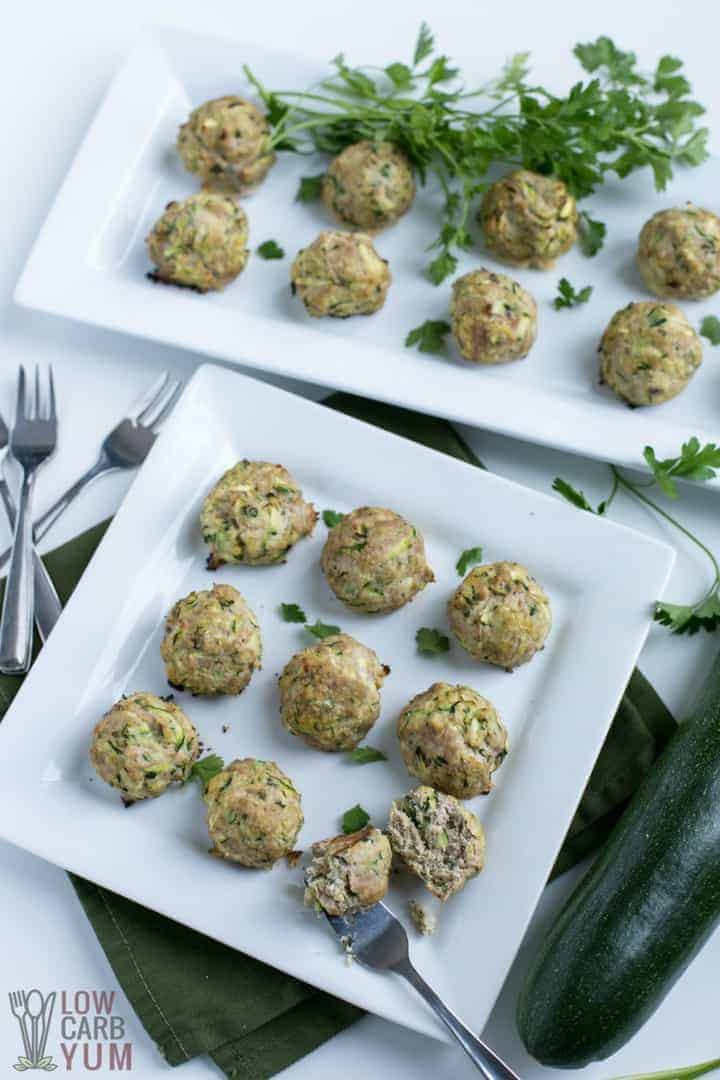 2. Zucchini Keto Apple Crisp
My keto apple crisp shows just how versatile zucchini can be!
While apples are far too high in carbohydrates to eat on a keto diet, you don't have to give up this classic dessert.
My recipe swaps apples for zucchini coated in cinnamon, nutmeg, and low-carb sweetener. It may sound odd, but you won't know the difference.
The topping is also made with whole ingredients, including almond flour, coconut flour, and chopped pecans for the perfect autumnal dessert.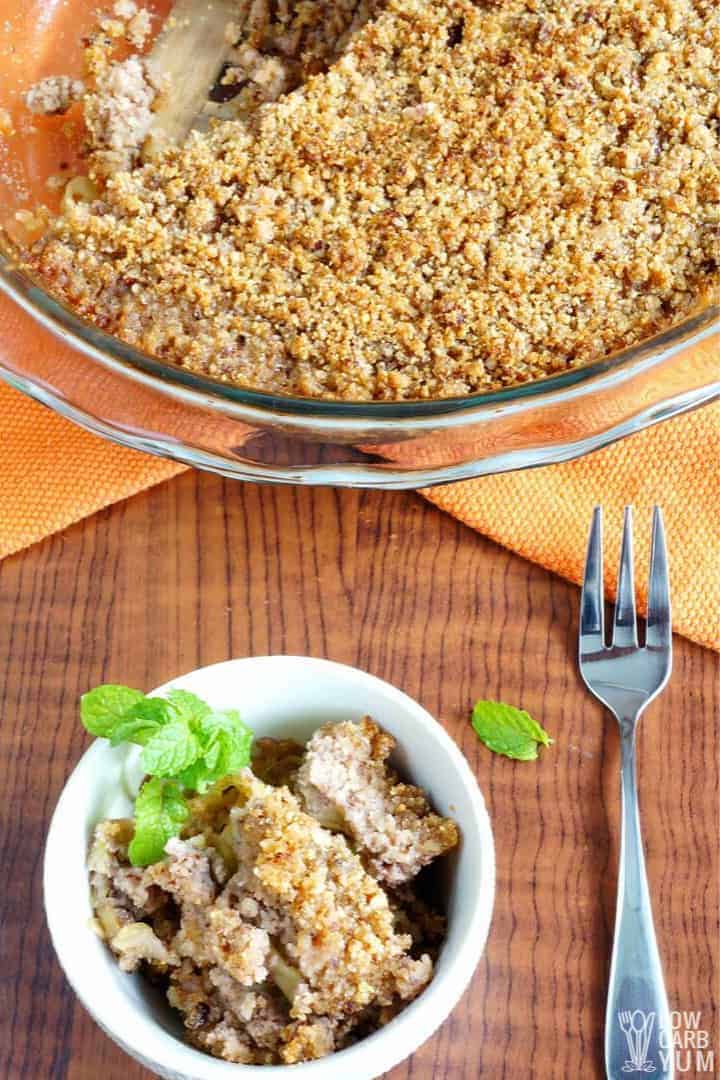 3. Scalloped Zucchini
Miss scalloped potatoes? Not anymore!
My scalloped zucchini recipe is filled with all things delicious – sliced zucchini, cream cheese, cheddar, and parmesan cheese. It makes an indulgent side dish while keeping things low-carb-friendly.
A touch of garlic powder takes this cheesy dish to new levels!
Serve it up with some roasted chicken or tasty turkey breast.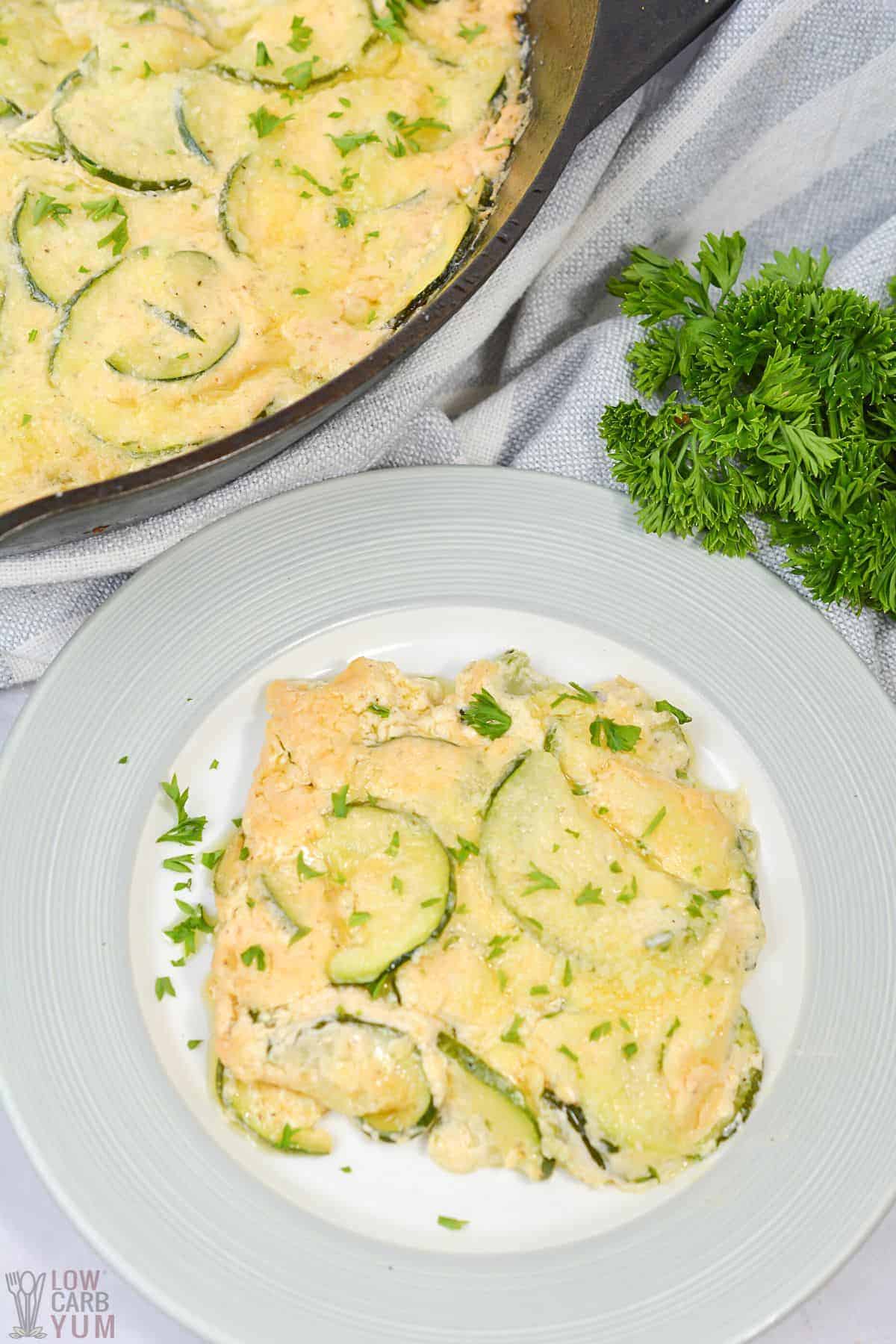 4. Oven-Baked Zucchini Chips
Potato chips are the ultimate snack food. But keto-approved? I think not.
My baked zucchini chips are just as addictive as their high-carb alternative; they're simply dressed with olive oil and salt for minimal prep.
Enjoy them alongside some healthy keto hummus made from roasted cauliflower.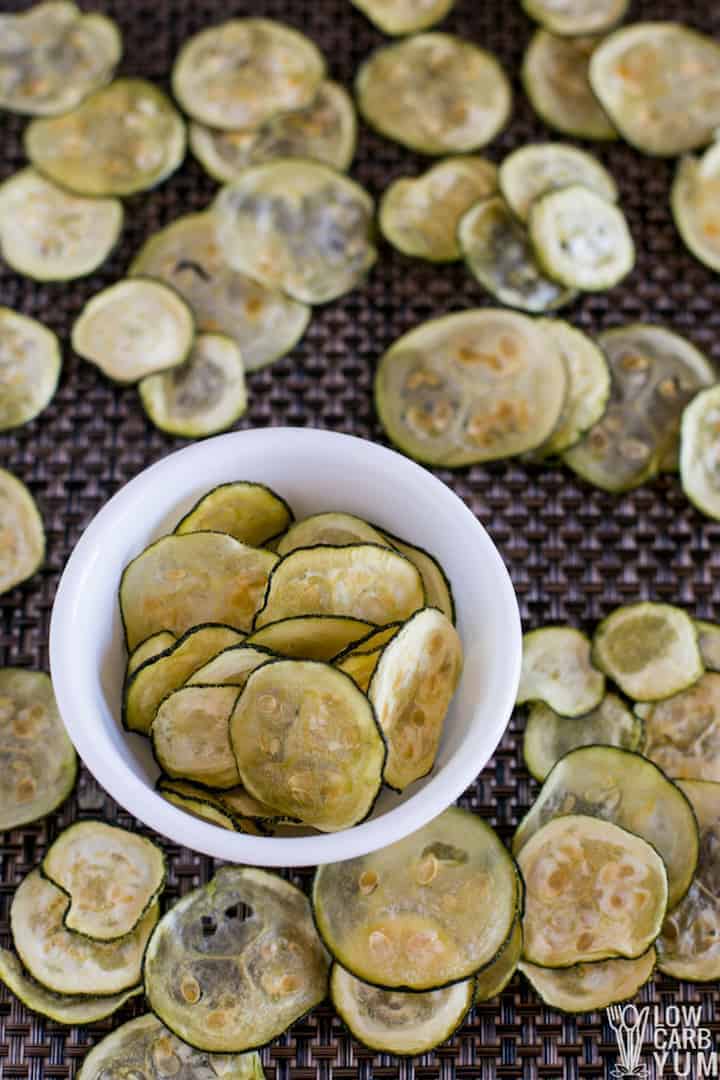 5. Chocolate Zucchini Bread
Calling all chocolate lovers!
This chocolate zucchini bread is dense, chewy, and incredibly moist.
Whether you eat it as a snack or serve it for dessert, this chocolate zucchini bread is going to satisfy your sugar craving every time.
This is a great recipe for sweet tooths because it includes low-carb sweeteners that won't spike your blood sugar.
It also holds all the nutritious benefits of eating zucchini while you get to enjoy dessert. Two birds, one stone!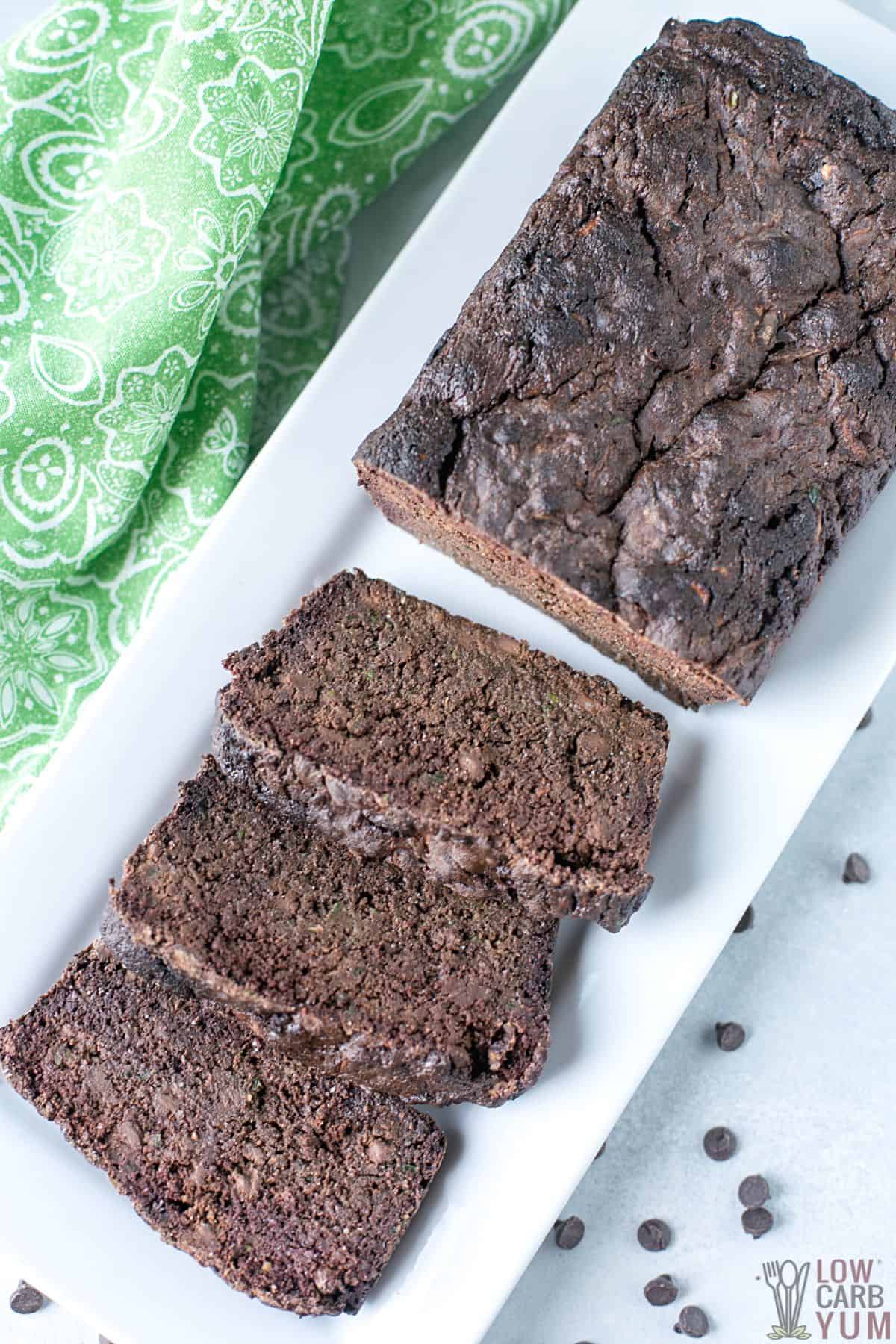 6. Zucchini Pizza Boats
Zucchini boats are one of my favorite foods to serve because they're naturally low in carbohydrates, and the fillings are totally customizable.
These pizza boats are made with simple ingredients, including diced tomatoes, olive oil, and minced garlic, and topped with melty cheese for a fan-favorite combination!
Add some ground turkey or Italian sausage to the mixture to make this recipe even more satiating.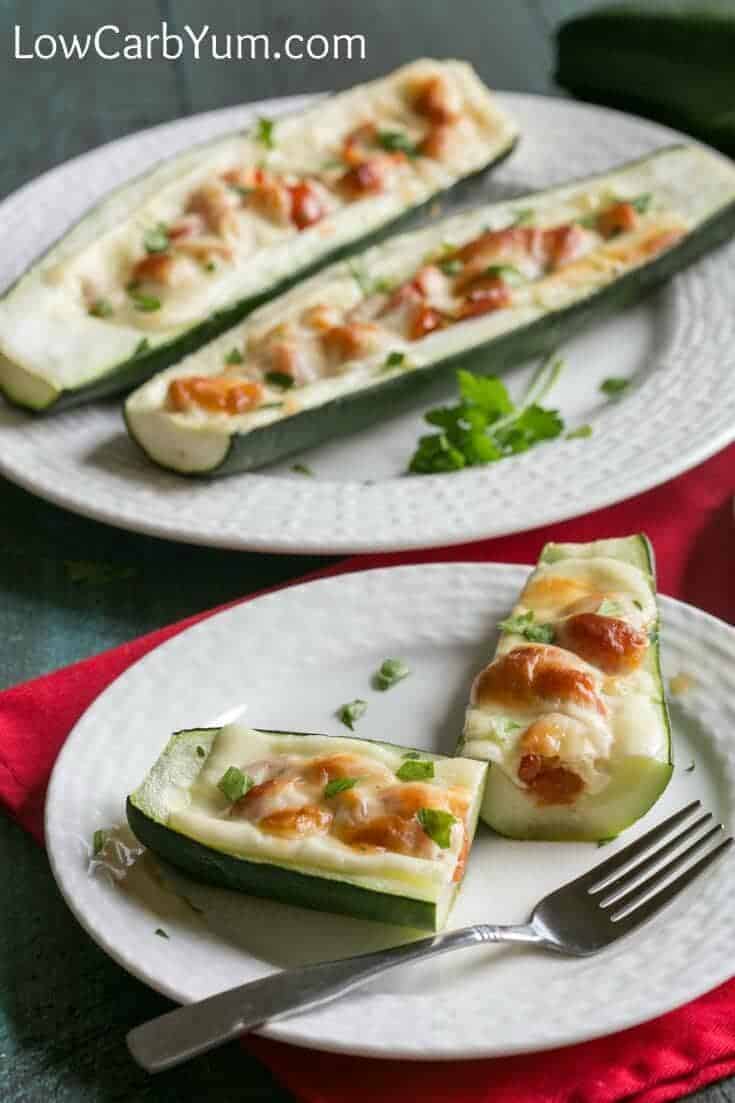 7. Mexican Zucchini and Ground Beef Skillet
My zucchini and ground beef recipe couldn't be easier to make with seasoned beef, diced tomatoes, and low-carb veggies.
This recipe is also extremely budget-friendly, yielding a huge batch using simple, low-cost ingredients.
Make this high-fat weeknight dinner in a pinch.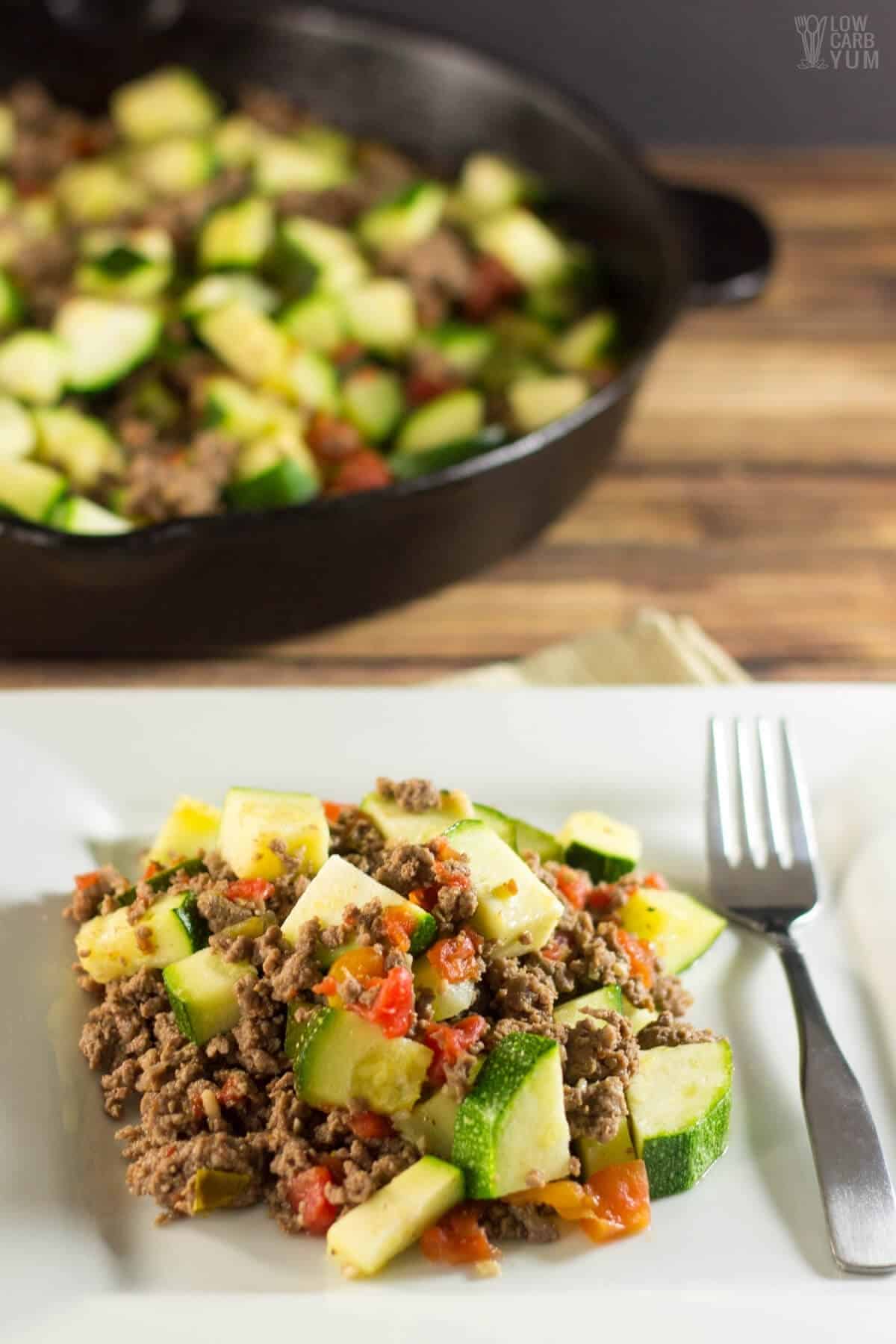 8. Zucchini Pizza Bites
I put a low-carb twist on the classic freezer food – mini pizza bagels.
Meet my zucchini pizza bites!
They consist of zucchini slices topped with sugar-free pizza sauce, Italian seasonings, and cheddar and mozzarella cheese.
This is such an easy recipe to throw together and is extremely kid-friendly.
Add optional toppings like chopped mushrooms or black olives for a custom flavor.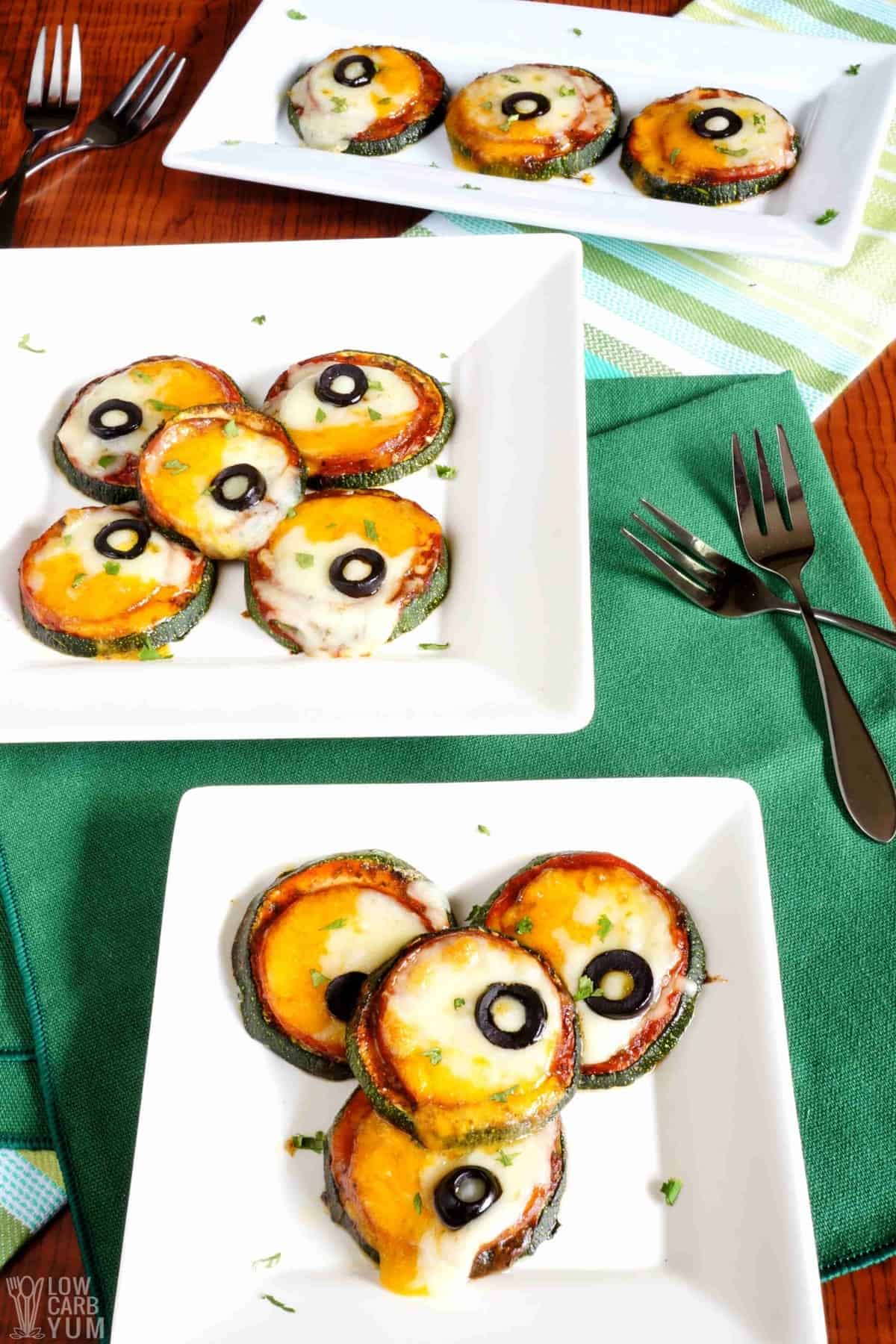 9. Keto Zucchini Fritters
These zucchini fritters make an awesome low-carb appetizer or breakfast food; they're filling, well-seasoned, and perfectly crispy.
The added parmesan cheese increases the fat content while contributing to the addicting quality these fritters offer. Shredded zucchini and eggs give added nutrition.
Enjoy these zucchini fritters with the dipping sauce of your choice, like my low-carb ranch dip.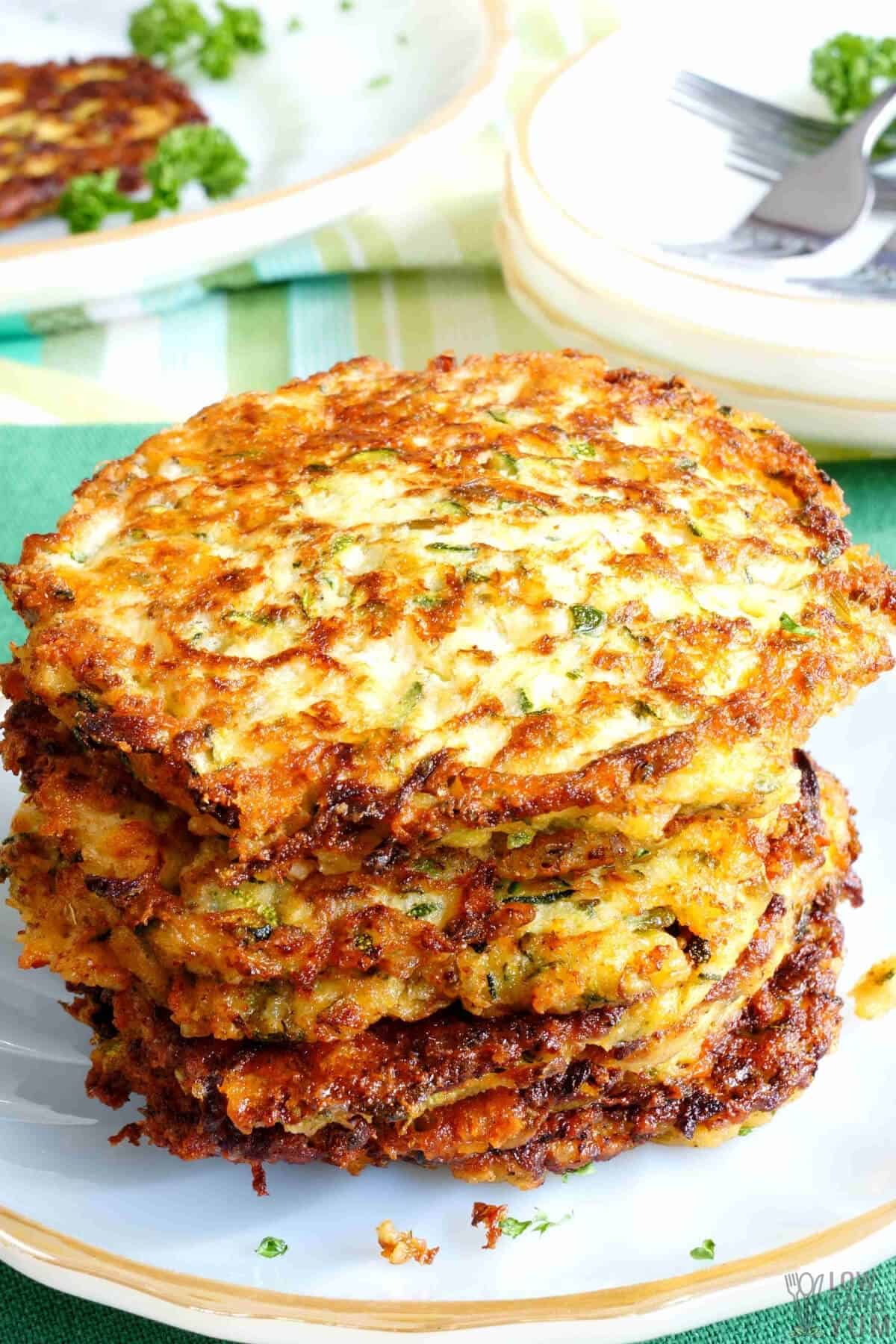 10. Gluten-Free German Chocolate Cake with Zucchini
This zucchini recipe is one for the books.
My German chocolate cake is sugar-free and delicious – perfect for serving to anyone, even if they're not keto.
The coconut pecan frosting is a total game changer made with shredded coconut, pecans, and a low-carb sugar substitute.
Serve it up at your next event, and get ready to share the recipe!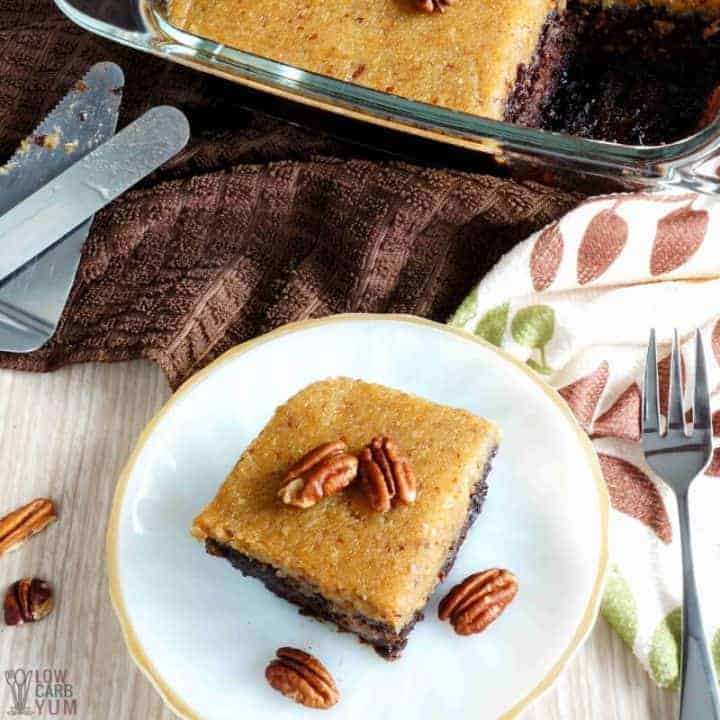 11. Asian Spiralized Zucchini Noodle Salad
My Asian noodle salad makes for the perfect summer side dish; serve it as an elevated coleslaw alternative to your barbeque.
It's crunchy, acidic, and slightly sweet with the addition of stevia.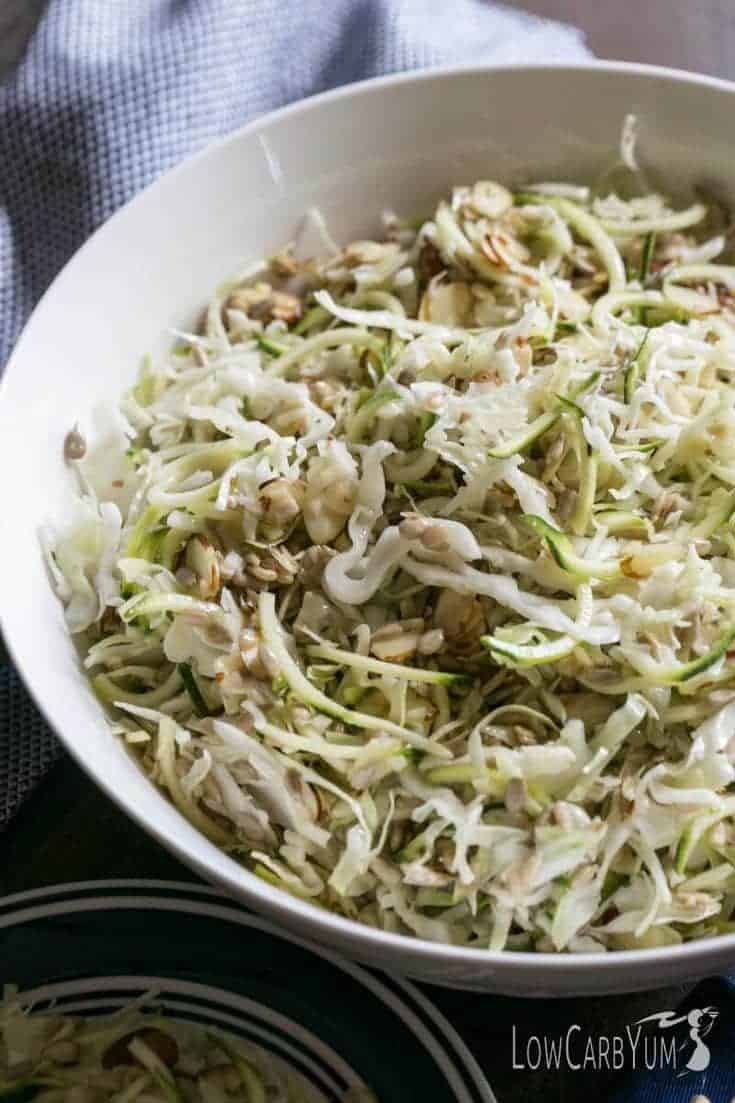 12. Gluten-Free Zucchini Blueberry Muffins
If you want to incorporate some keto-approved fruit into your meal plan, try out my zucchini blueberry muffins.
These muffins make awesome snacks or grab-and-go breakfasts.
They are also great for meal prep. Bake a dozen and see how fast they go!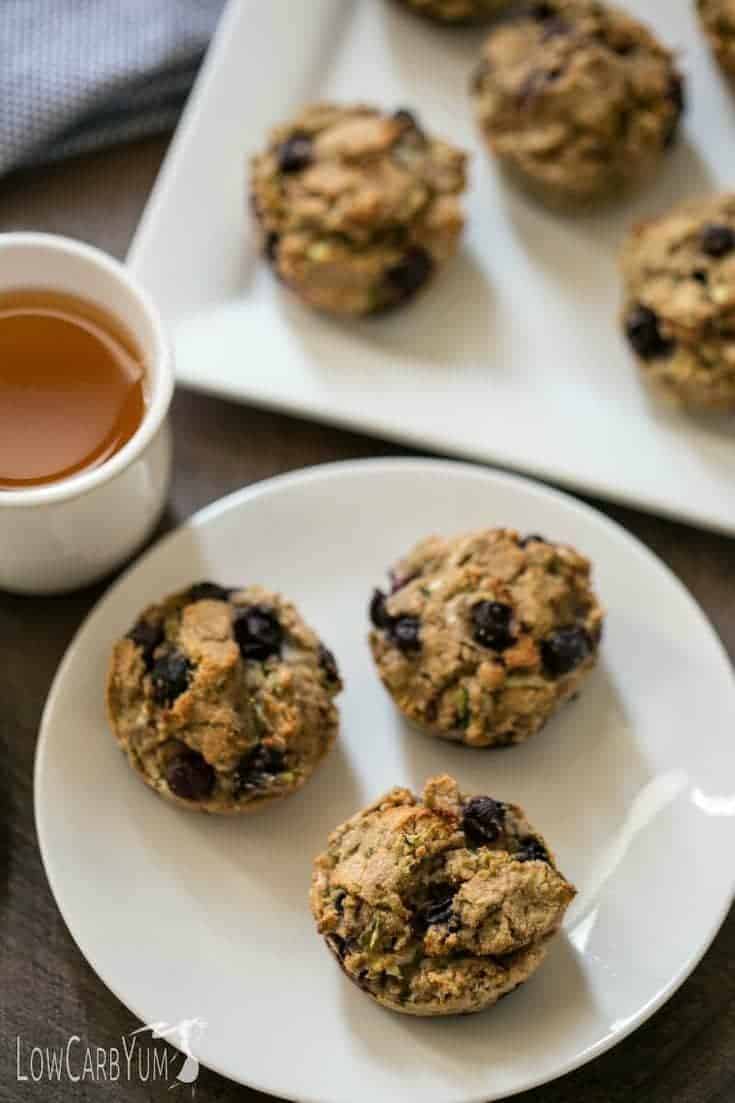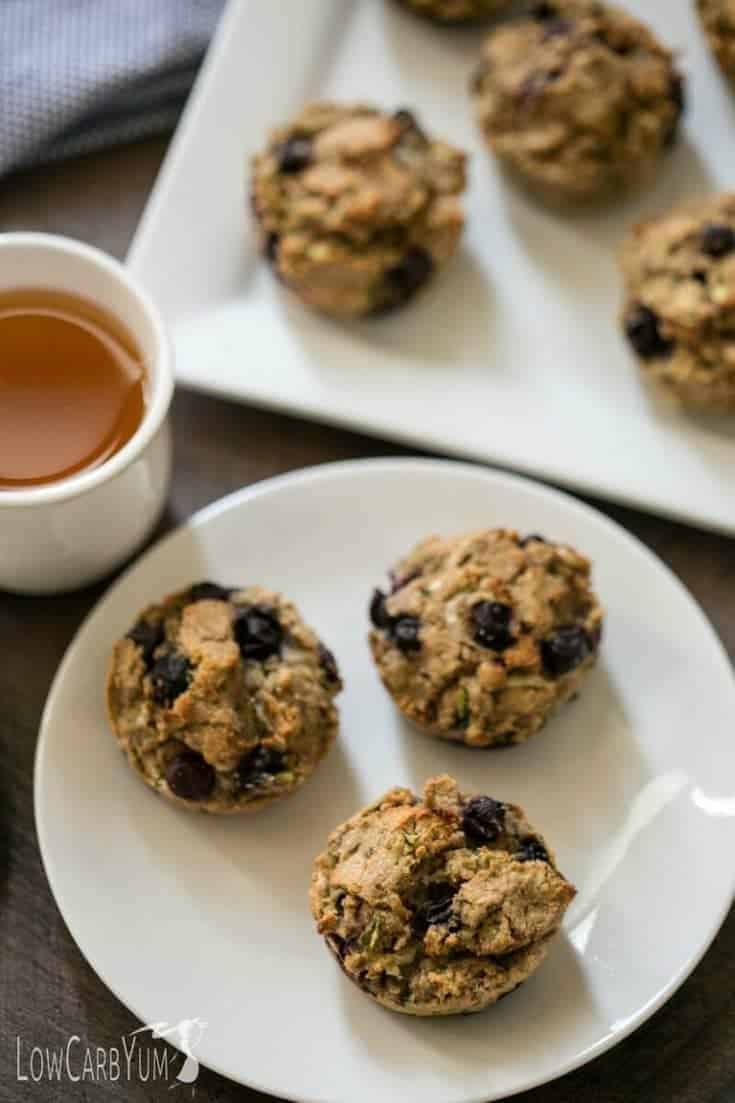 13. Baked Chicken and Zucchini Casserole with Tomatoes
This chicken and zucchini casserole is so easy to throw together. Simply add your prepared ingredients to a casserole dish and bake to perfection!
My recipe calls for seasoned chicken breasts, zucchini, and tomato, topped with a healthy serving of mozzarella cheese.
This meal is also incredibly easy to prep ahead of time—just add cooked chicken and chopped vegetables to your casserole dish in the morning. When it comes time for dinner, it'll be as easy as sticking in the oven!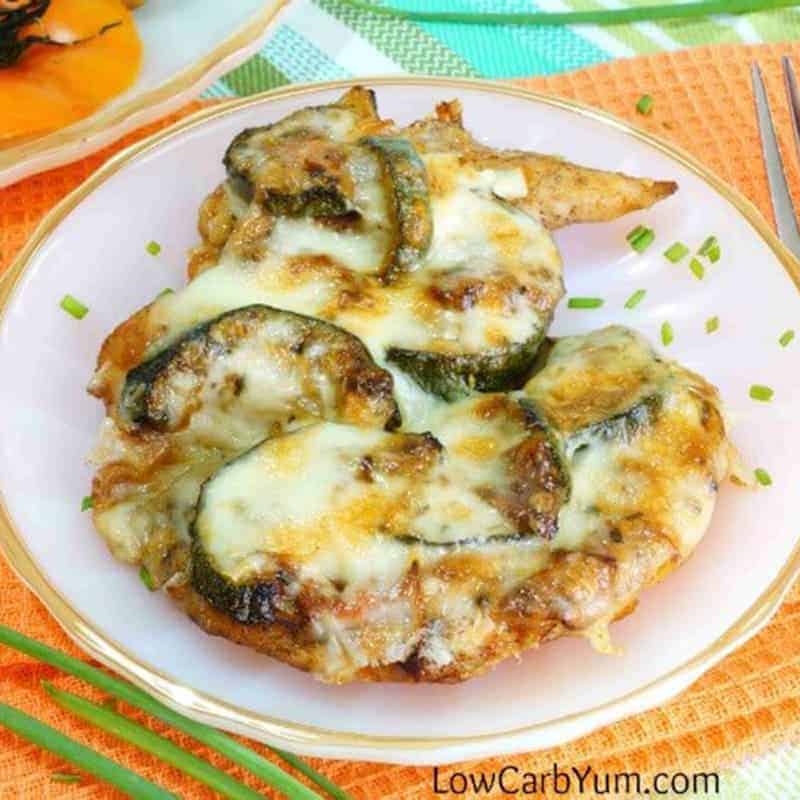 FAQs
Here are some questions people often ask about eating zucchini on the keto diet. If you don't see your question in this list, please leave it in the comments.
Can you eat zucchini on a keto diet?
You can eat zucchini squash on a keto diet and still lose weight. Zucchini is a low-carb vegetable that will easily fit into your daily carb allotment.

For one cup of sliced zucchini, there are approximately 2.4g net carbs.

In fact, if you really love the veggie, you could eat an entire medium zucchini with about 4g net carbs.
Is zucchini low or high-carb?
Zucchini is definitely a low-carb food. One whole zucchini has under ⅙th of the total carbs in a potato.
Is yellow squash keto-friendly?
Yes, summer squash varieties like yellow squash can be a welcome benefit to a low-carb diet.

1 cup of sliced yellow squash contains approximately 2.6g net carbs.

Still, not all squash is suitable for a keto diet. Try to avoid eating large amounts of acorn squash, for example.
Related recipes
Inspired by this keto-approved vegetable? I have tons of vegetable dishes for you to try. Start with these low-carb recipes - they are some of my favorites:
Follow us on FACEBOOK, PINTEREST, and INSTAGRAM for even more tasty keto-friendly recipes!