Cucumbers are fresh, nutritious, and versatile for a number of recipes. But are cucumbers keto-friendly? Read on for refreshing low-carb recipes, nutrition facts, and more!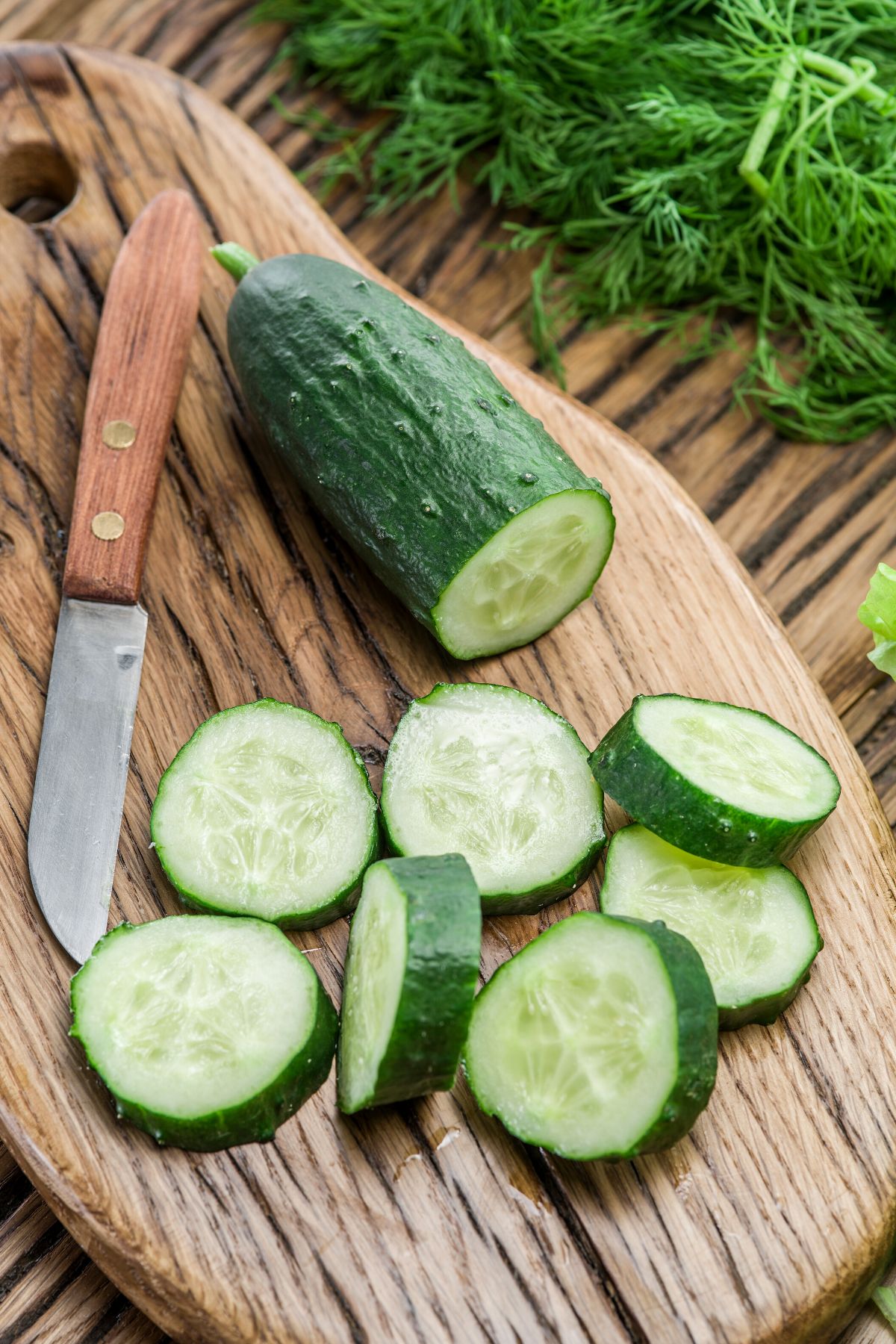 Any diet can benefit from some extra fresh veggies, but not all nutritious foods are suitable for a ketogenic diet.
Cucumber is no exception!
This neutral-tasting veggie is well-loved for salads and snack plates alike. But in order to enjoy them on a keto diet, we need to make sure that their net carbs fit into your daily allowance.
In this post, we're diving deep into cucumber macro and micronutrients, low-carb recipes, and answer once and for all, "are cucumbers keto?".
Note: Check out this post on best keto vegetables for more low-carb veggie ideas. For even more food groups, this keto food list is perfect for anyone starting out on the keto diet.
Are cucumbers keto?
Good news for vegetable lovers everywhere – cucumbers are a keto-approved vegetable.
With a low-carb count, sliced cucumbers make for excellent healthy snacks in a pinch without sacrificing your ketosis.
Because a ½ cup of cucumber slices contains just 1.6g net carbs, this veggie's carb count can easily fit into your daily allotment.
Cucumber nutrition facts
So what exactly makes cucumber a keto-approved vegetable? Its macronutrients, of course!
Nutritional information for one medium cucumber, unpeeled, includes:
Total carbs: 6g
Net carbs: 4g
Protein: 3g
Fat: 0g
Fiber: 2g
Cucumber carbs will lessen slightly when opting for a peeled cucumber over an unpeeled option (though both are totally keto-friendly!).
Beyond its macros, cucumbers are a nutrient-dense vegetable with several reported health benefits.
Reported health benefits of including cucumber in your diet include:
High in antioxidants
Nutrient-rich in vitamin K, fiber, and several other vitamins and minerals
May aid in weight loss
Can help lower blood sugar
Cucumber keto recipes
Are you ready to eat cucumbers in your daily keto diet? Try them alongside complementary low-carb ingredients in any of these easy recipes:
1. Creamy cucumber dill salad
My creamy dill cucumber salad is made with fresh dill, sour cream, and vinegar salad dressing.
The results?
A keto creamy cucumber salad that is perfect for meal prep for week-long enjoyment.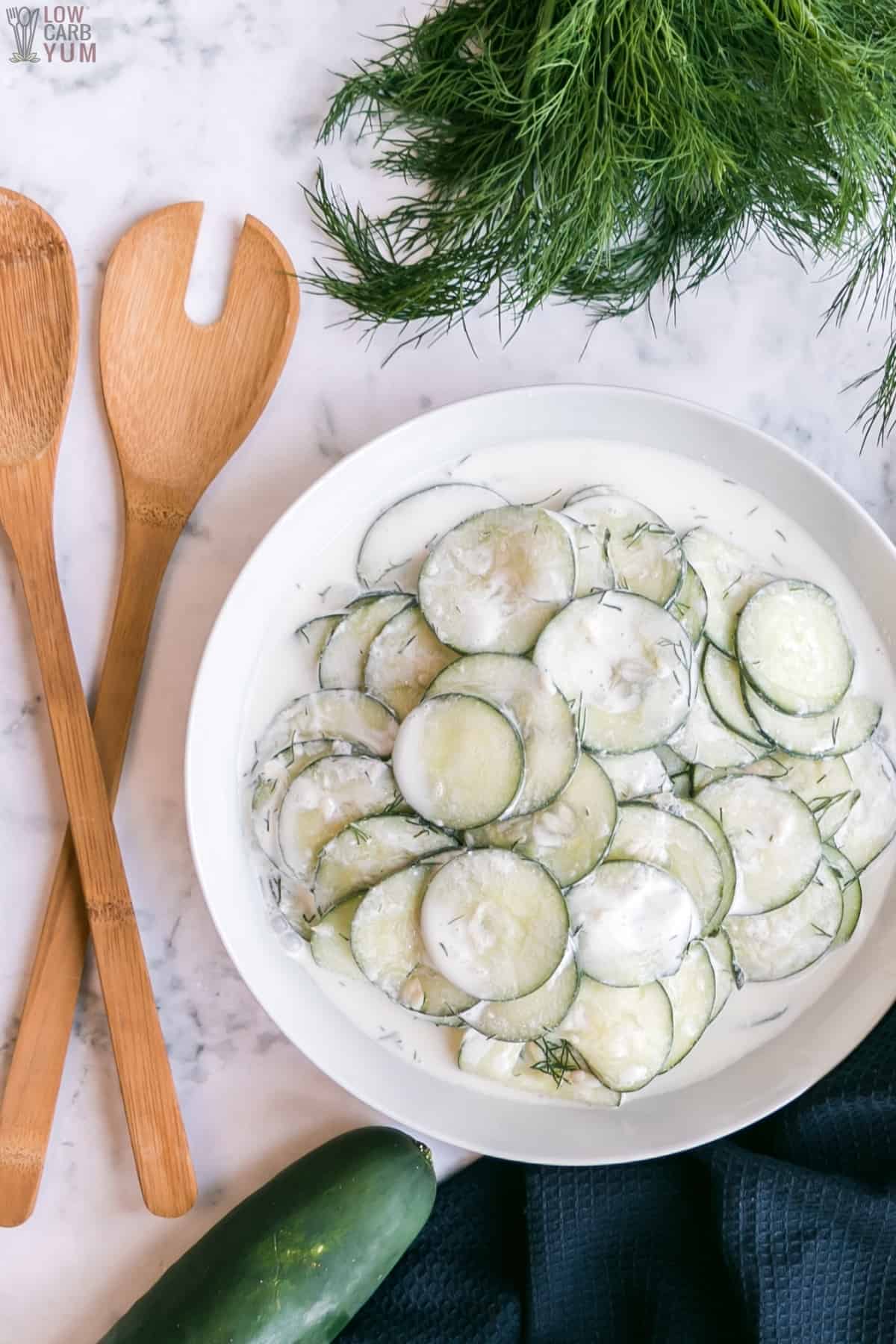 2. Baked salt & vinegar cucumber chips
My baked cucumber chips are just as good as their potato cousins! In fact, I sometimes prefer them.
This keto-friendly snack is made with thinly sliced cucumber, olive oil, apple cider vinegar, and flaky sea salt.
Whip some up whenever you're craving a crunchy, flavorful snack.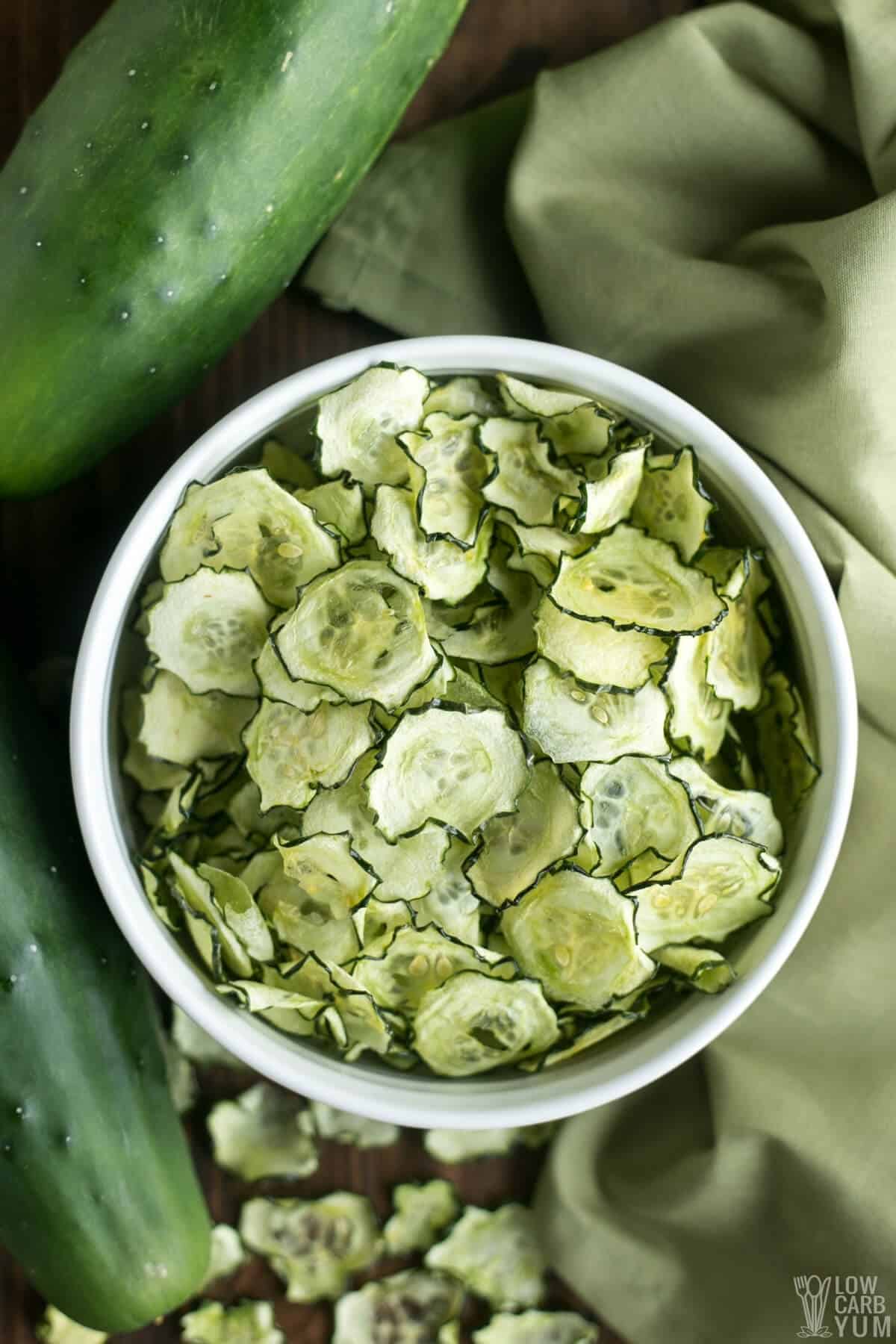 3. Keto cucumber tomato salad
My cucumber tomato salad is low in carbs and super tasty with a stevia-sweetened vinegar dressing.
This recipe is so fresh – it's the perfect addition to a summer barbeque!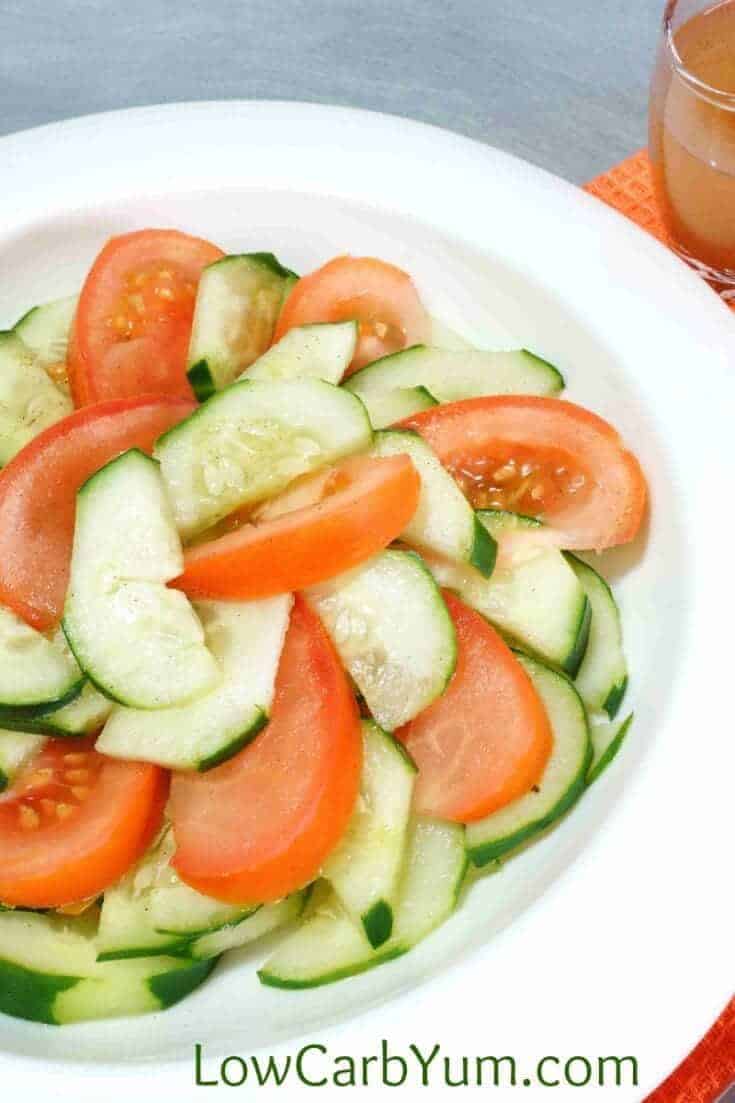 4. Sunomono Japanese cucumber salad
My sunomono cucumber salad is flavored with rice vinegar, soy sauce, and ginger root for a dish bursting with umami.
Try this low-carb cucumber salad as a fun alternative to your classic mixed greens.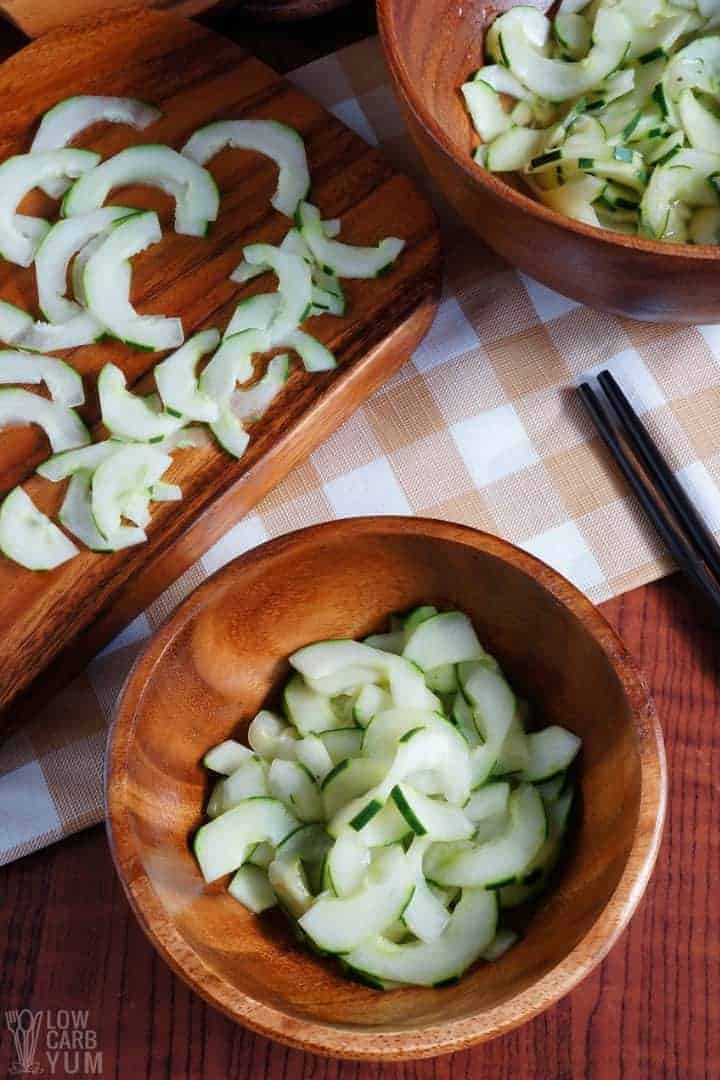 5. Cucumber salsa with fresh tomatoes
Looking for a new twist on tomato salsa? Try out my cucumber salsa – made with red onion, jalapenos, and tons of yummy extras.
This makes a great addition to any low-carb diet because it can be added to tons of different recipes.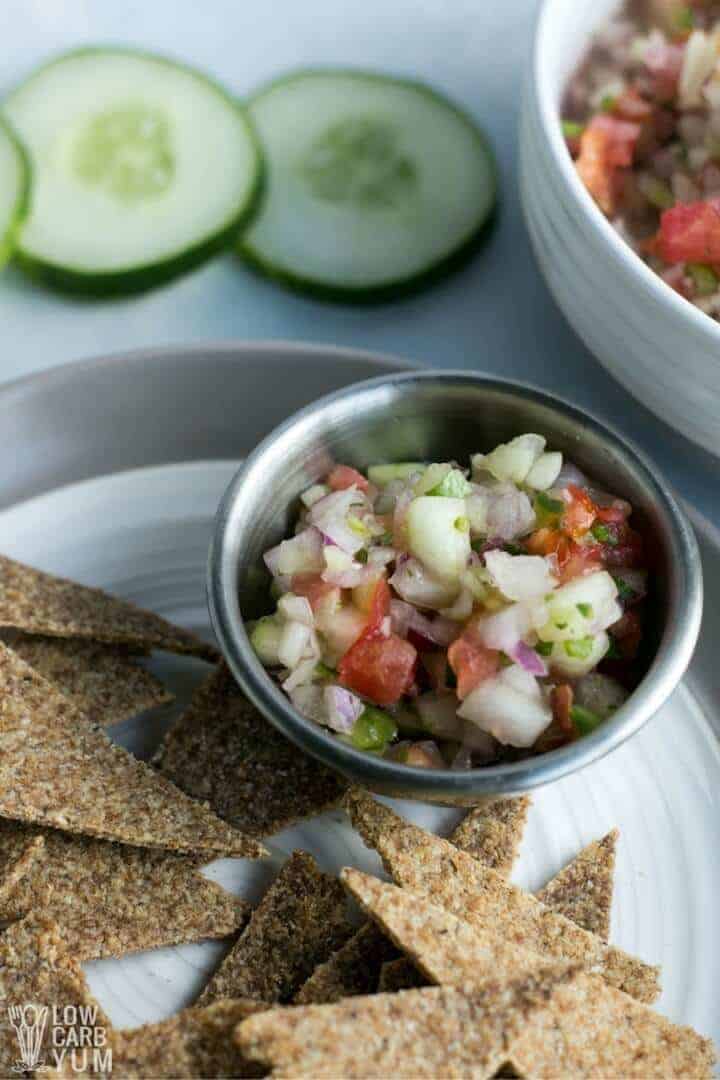 6. Cucumber sandwiches with cream cheese
These keto cucumber sandwiches are perfect for serving at a tea party (or whenever you'd like a fancy snack!).
And yes, the almond-flour bread is keto-friendly too!
Want to enjoy them breadless? Sandwich your cream cheese filling between cucumber slices for some easy keto cucumber bites.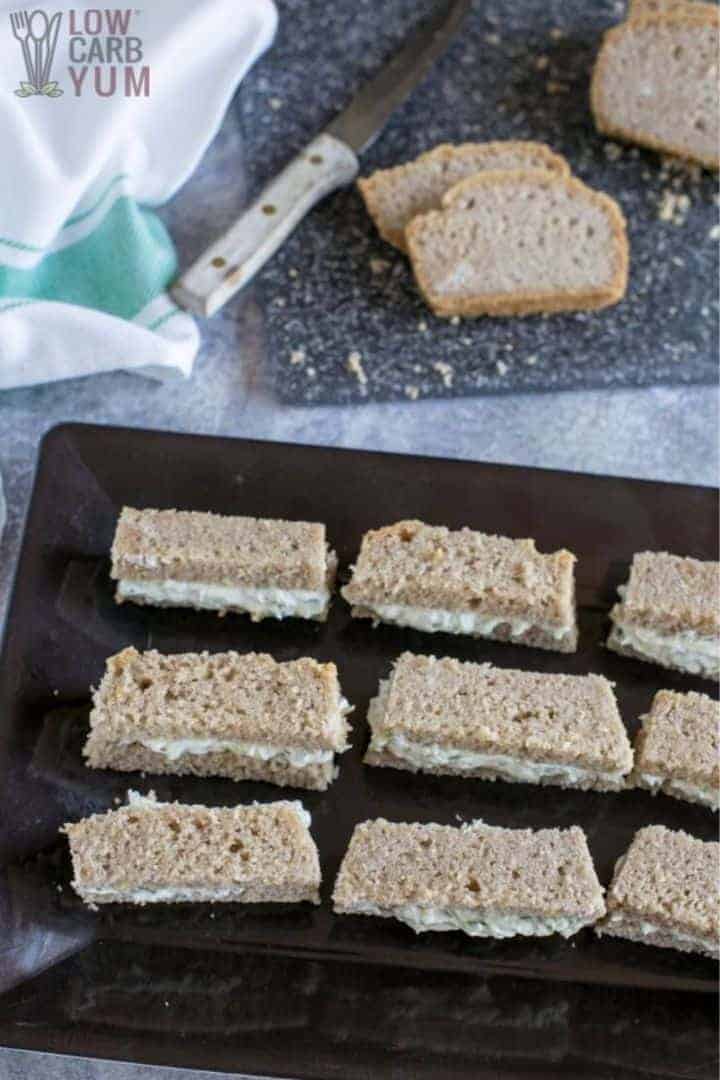 7. Cucumber mint infused water
My cucumber mint-infused water is cool and refreshing – just the thing you need to beat the summer heat.
Mix up a quick pitcher to hydrate in style.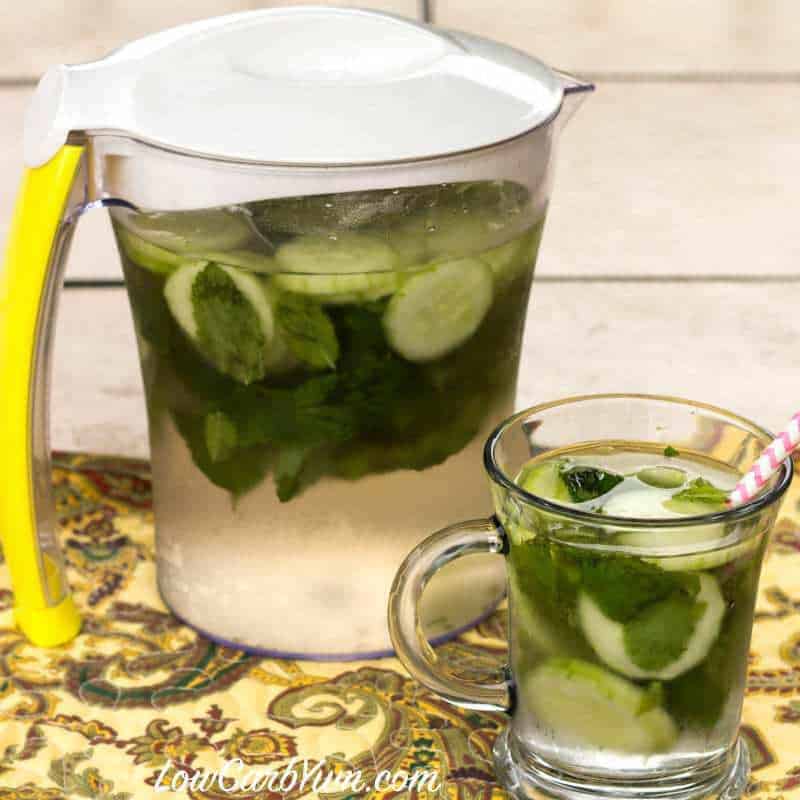 8. Cucumber broccoli salad
This cucumber broccoli salad is super colorful with an abundance of keto vegetables present.
Enjoy veggies alongside protein-rich black soybeans and sugar-free Italian dressing.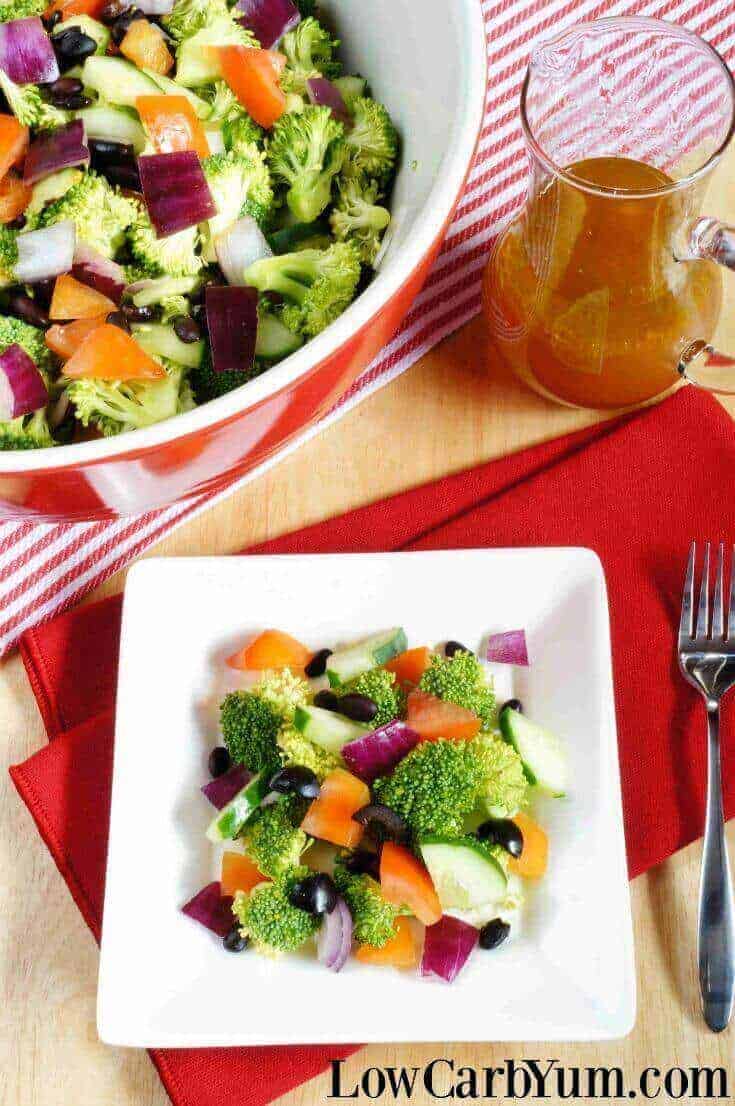 9. Apple cider vinegar keto cucumber salad
My apple cider vinegar cucumber salad has the perfect balance of tart to sweet, with stevia used to offset the vinegar component.
And for an unbeatable flavor profile, I also add basil, celery seed, and plenty of olive oil.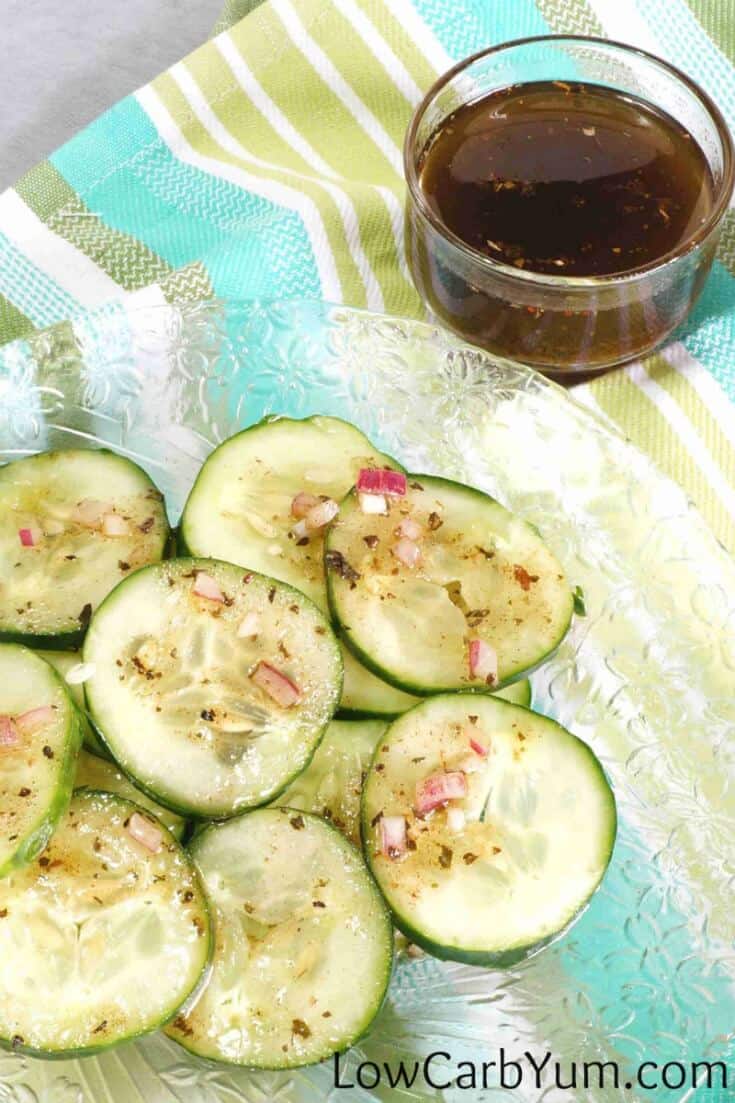 FAQs
Here are some questions people often ask about eating cucumber on the keto diet. If you don't see your question in this list, please leave it in the comments.
How many carbs are in one cup of cucumber slices?
One cup of cucumber slices contains approximately 3.2g net carbs. This carb count will vary slightly depending on whether or not you peel your cucumber beforehand. Account for slightly fewer carbs per serving if you opt for peeled cucumber slices.
Are cucumbers good on a low-carb diet?
Cucumbers are keto, therefore, an excellent vegetable choice for a low-carb diet. They contain low net-carb counts and can be eaten frequently without worry.

Add them to your favorite fresh recipes or enjoy them sliced with a low-carb dipping sauce like my jalapeno ranch dip.
How much cucumber can I eat on keto?
Because cucumber is such a low-carb vegetable, it's not a food that you need to restrict when following a keto diet. With this being said, most low-carb diets restrict you to 50g net carbs or less per day. Luckily, with 4g net carbs for an entire cucumber, you shouldn't have any trouble sticking to these guidelines.
What veggies can I eat on a keto diet?
While all vegetables have nutritional value, they aren't all suitable for a keto diet because of their varying carb and sugar counts. There are, however, plenty of low-carb vegetables to choose from.

Some of the best keto vegetables include:
- Spinach
- Cauliflower
- Broccoli
- Cucumber
- Asparagus
- Bell peppers
- Green beans
Related recipes
Looking to include more vegetables in your keto meal plan? Start with any of these low-carb, veggie-focused meals:
Follow us on FACEBOOK, PINTEREST, and INSTAGRAM for even more tasty keto-friendly recipes!