Strawberries make a sweet summer snack, decadent pie filling, and a creative salad addition. But are strawberries keto-friendly? Explore strawberry health benefits, macro and micronutrients, and low-carb recipes!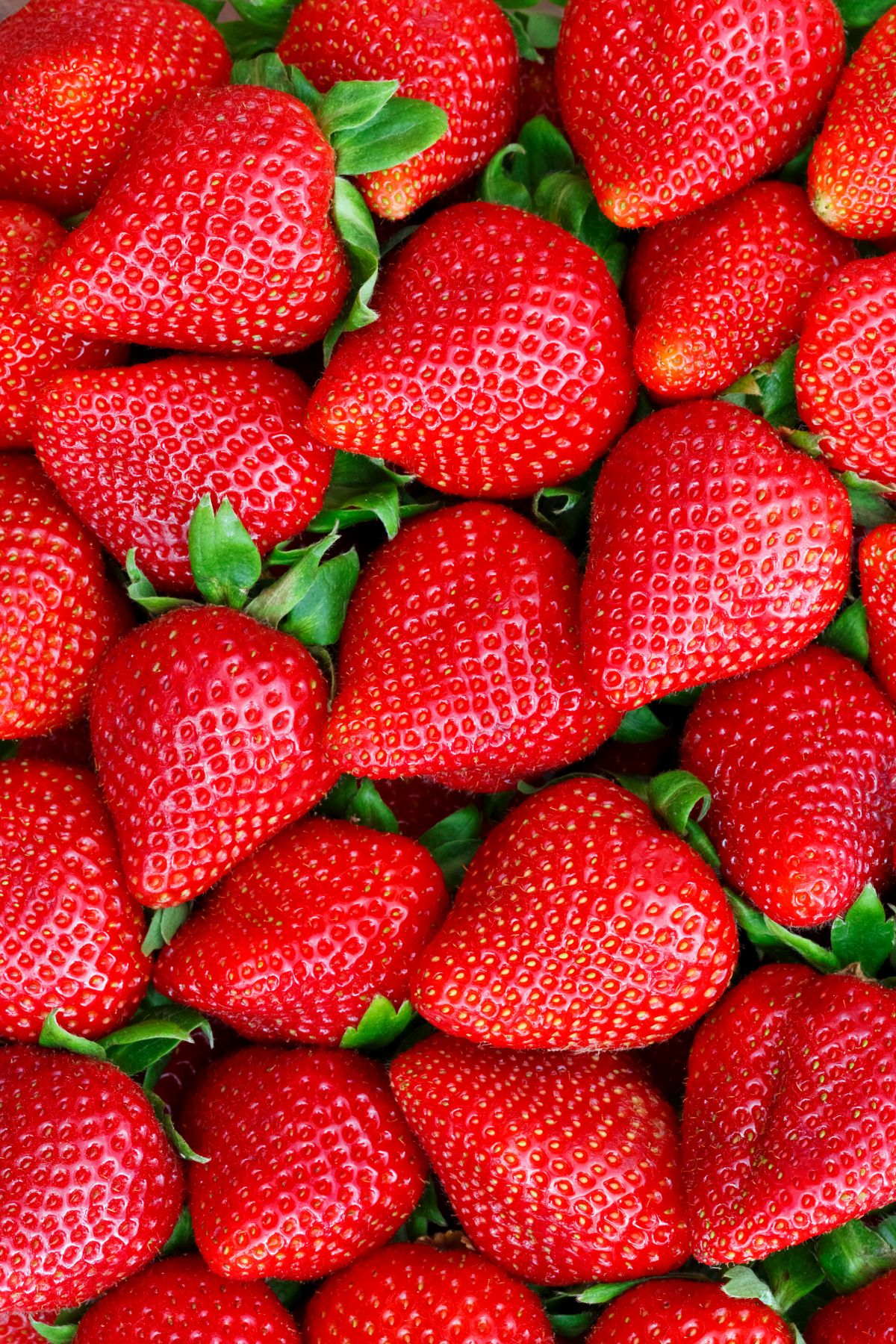 There's nothing quite like biting into a ripe strawberry. It's sweet yet tart, refreshing, and has a flavor, unlike any other fruit.
You may assume you can't enjoy this delightful fruit on a keto diet. After all, fruits are to be avoided at all costs – right?
Well, maybe not!
The goal of a ketogenic diet is to reduce your carb intake to burn stored body fat for energy. For this to work, high-carb foods like fruits are avoided, and healthy fats are increased.
And while most fruits are high in carbohydrates and natural sugars, not all fruits are made the same!
With varying macronutrients, it's possible to eat fruit on a keto diet while maintaining ketosis. But are strawberries one of those lucky fruits?
In this post, I'll share whether or not you can eat strawberries on a keto diet. I'll also include several keto-friendly fruits, health benefits, and low-carb recipe ideas.
Note: Looking for more information on eating fruit on the keto diet? Check out my guide on the best keto-friendly & low-carb fruits. And for even more food groups, this keto food list is perfect for anyone starting the keto diet.
Are strawberries keto-friendly?
Excellent news – strawberries are keto!
With 6 grams of net carbs per serving, you can easily fit strawberries into your daily carb allowance.
Deceivingly sweet, strawberries are some of the best low-carb fruits you can eat without worry.
Add this fruit to your keto meal plan for a sweet touch to any recipe!
Strawberry nutrition facts
Beyond being keto-approved, let's take a look at the nitty-gritty nutrition information. Spoiler: a strawberry is a nutritional powerhouse!
Strawberry nutrition information for a 100g serving (about 3 strawberries) includes:
Total carbs: 8g
Net carbs: 6g
Protein: 0.7g
Fat: 0.3g
Fiber: 2g
Plus, in addition to these keto-friendly macronutrients, including berries in your diet has several health benefits and contributes to an overall healthy lifestyle.
The health benefits of eating strawberries include:
An abundance of essential vitamins and minerals, including vitamin C, manganese, folate, and potassium.
Antioxidant compounds, including ellagic acid that fight bacteria and reduce the risks of cancer.
Improved heart health and reduced risk of heart disease.
Reduced cholesterol levels and blood pressure
Blood sugar regulation.
Good source of dietary fiber which helps digestion and can aid in weight loss.
Natural anti-inflammatory properties.
Other keto-friendly fruits
The idea that you can't eat fruit on low-carb diets is a total myth!
There are plenty of keto-friendly fruits that you can enjoy on a low-carb diet without sacrificing your ketosis.
While fruit should not make up the majority of your diet, it can be eaten in moderation like anything else.
Besides strawberries, these are some other fruits to try on a keto diet:
Avocado – 2g net carbs per 100g
Watermelon – 7g net carbs per 100g
Raspberries – 5g net carbs per 100g
Blackberries –5g net carbs per 100g
Tomatoes – 3g net carbs per 100g
Blueberries –11.5g net carbs per 100g
Cantaloupe – 7g net carbs per 100g
Strawberry keto recipes
Are you inspired to start eating more strawberries?
You can include this delicious fruit in your daily diet with any of these sweet recipes:
1. Strawberry Jam Muffins
These strawberry jam muffins make for the perfect grab-and-go breakfast option or anytime snack.
They're made with low-carb almond flour, powdered sweetener, and sugar-free strawberry jam.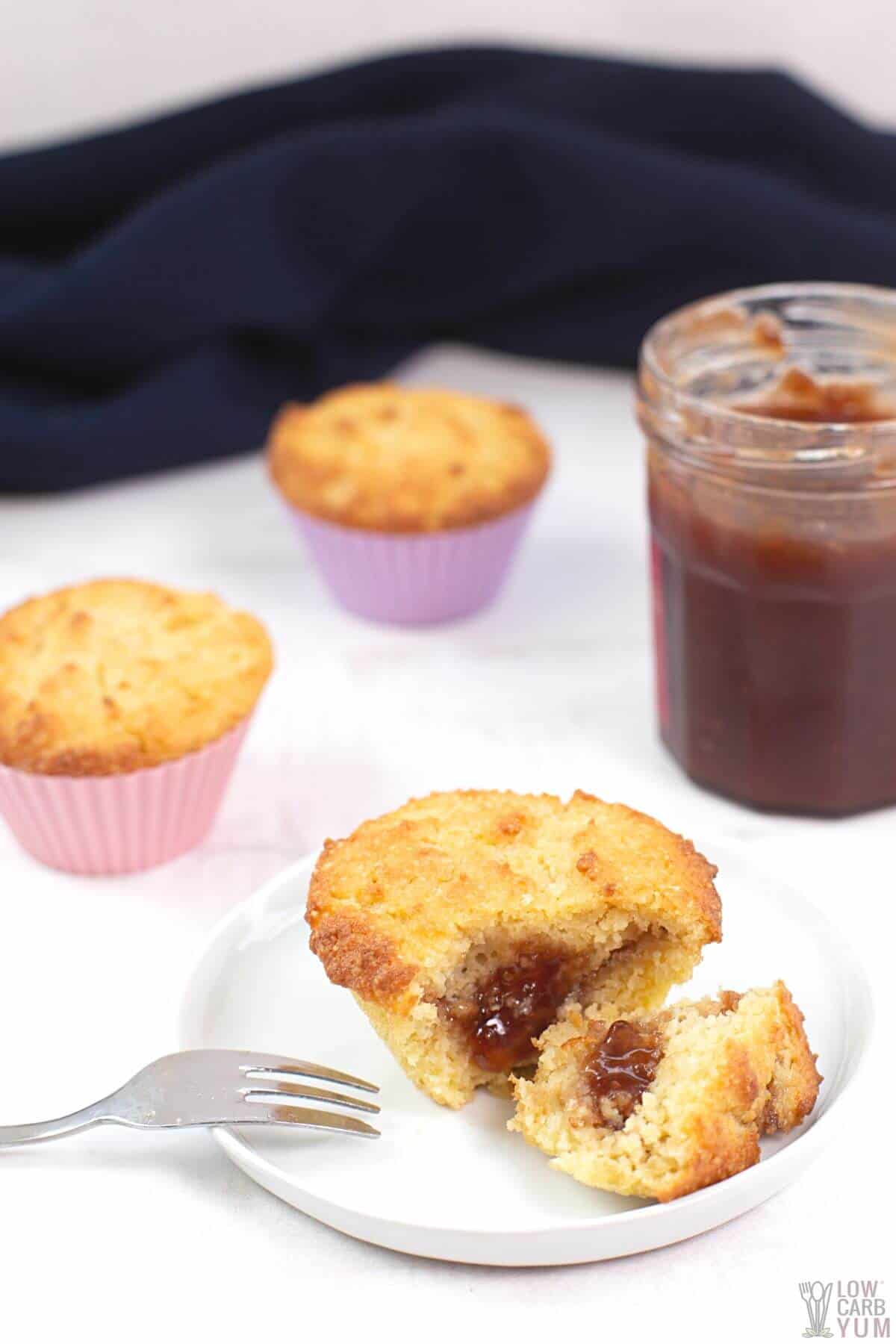 2. Strawberry Avocado Low Carb Smoothie
This strawberry avocado smoothie is dairy-free and incredibly creamy.
Coconut milk and avocado give this smoothie a high-fat content, while the strawberries keep it super fresh.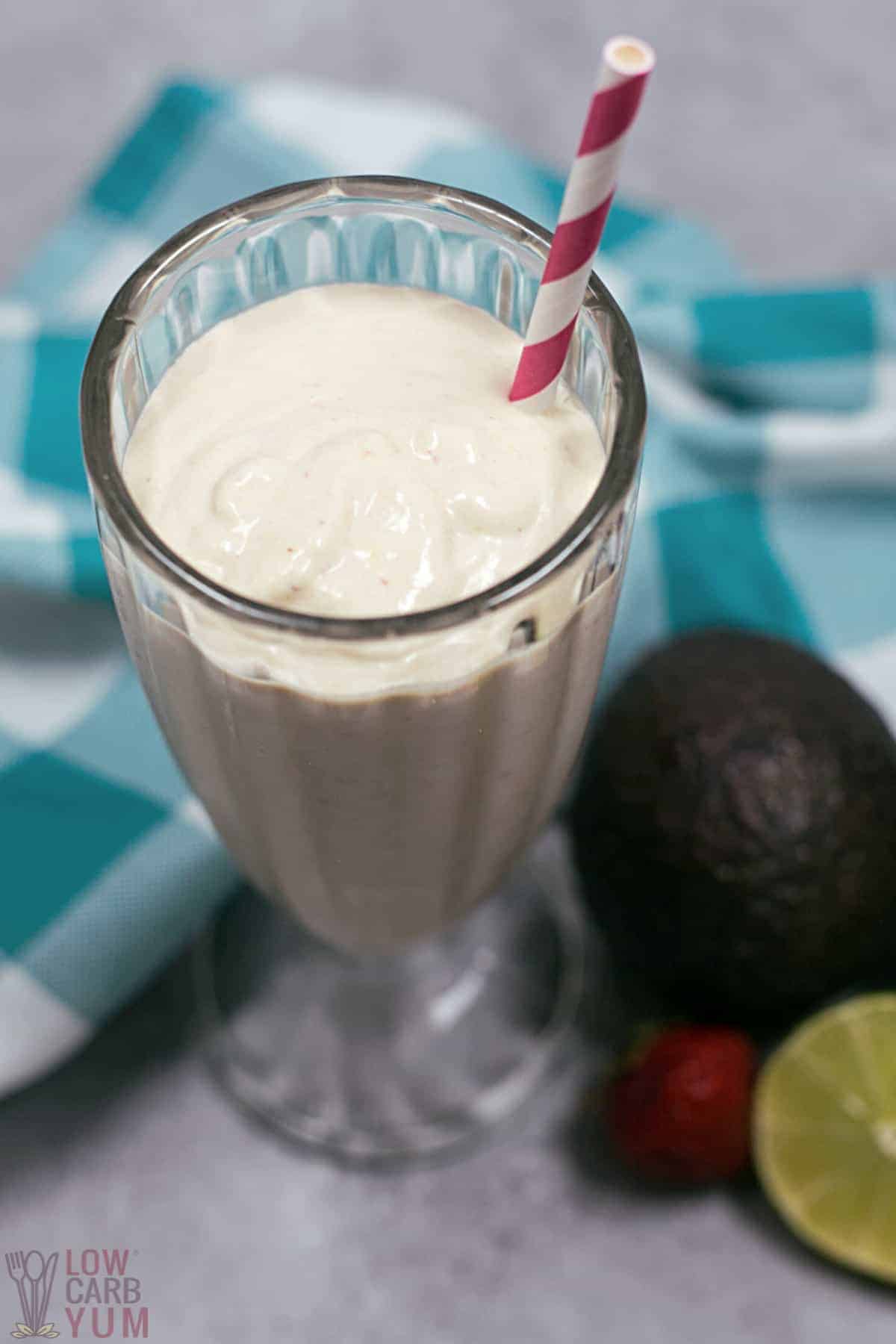 3. Sugar-Free Keto Strawberry Shortcake
My keto strawberry shortcake is picture-perfect with almond flour pound cake, whipped cream, and sliced strawberries.
It's almost too pretty to eat!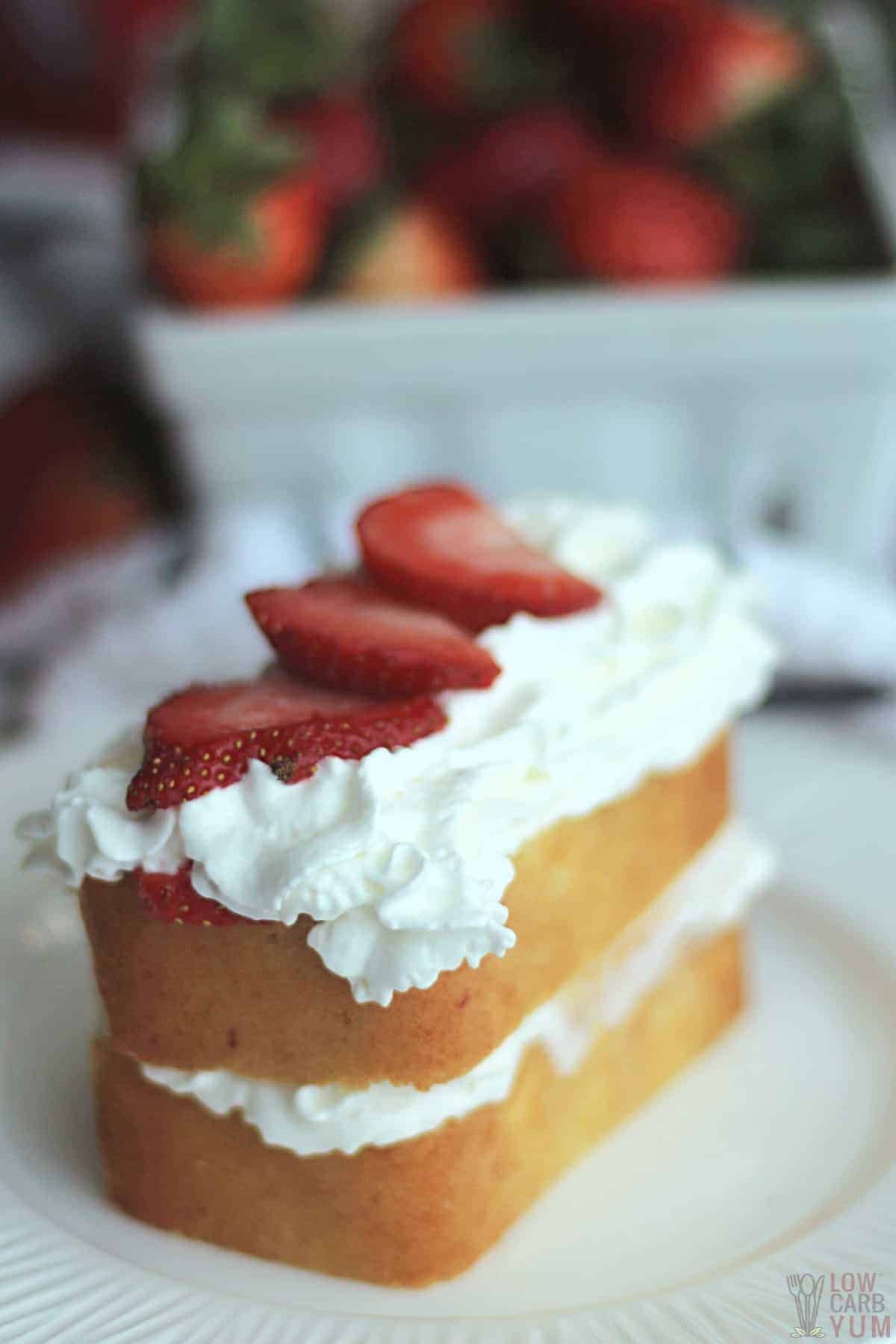 4. Strawberry Cream Cheese Pie
This strawberry cream cheese pie is made with fresh strawberries, sweet fruit jam, and sweetened cream cheese for a decadent creation!
The flaky, naturally gluten-free crust is the cherry on top.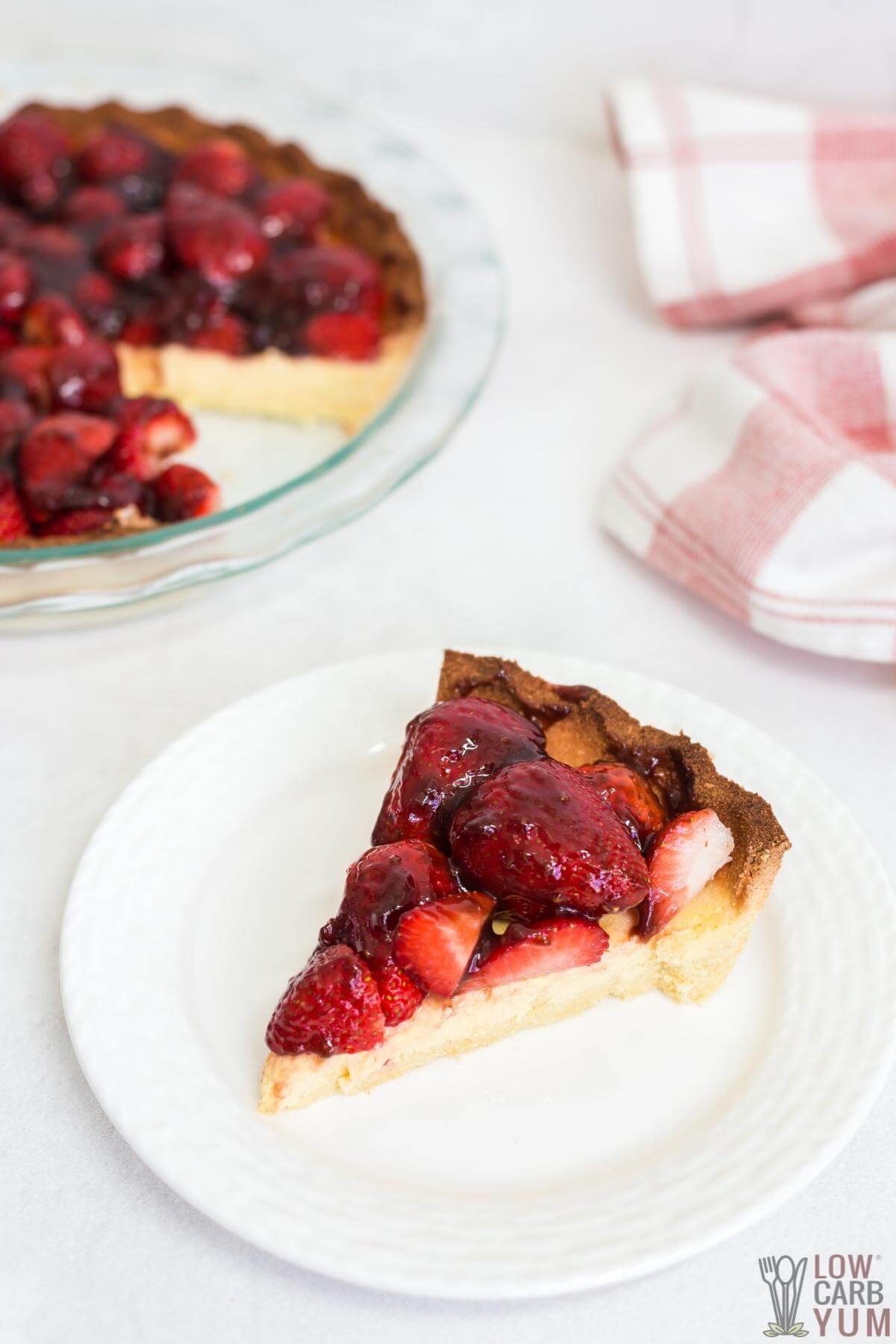 5. No Churn Keto Strawberry Ice Cream
My no-churn strawberry ice cream makes the perfect sweet treat – right at home!
It's surprisingly easy to make and the best dessert recipe to add to your regimen.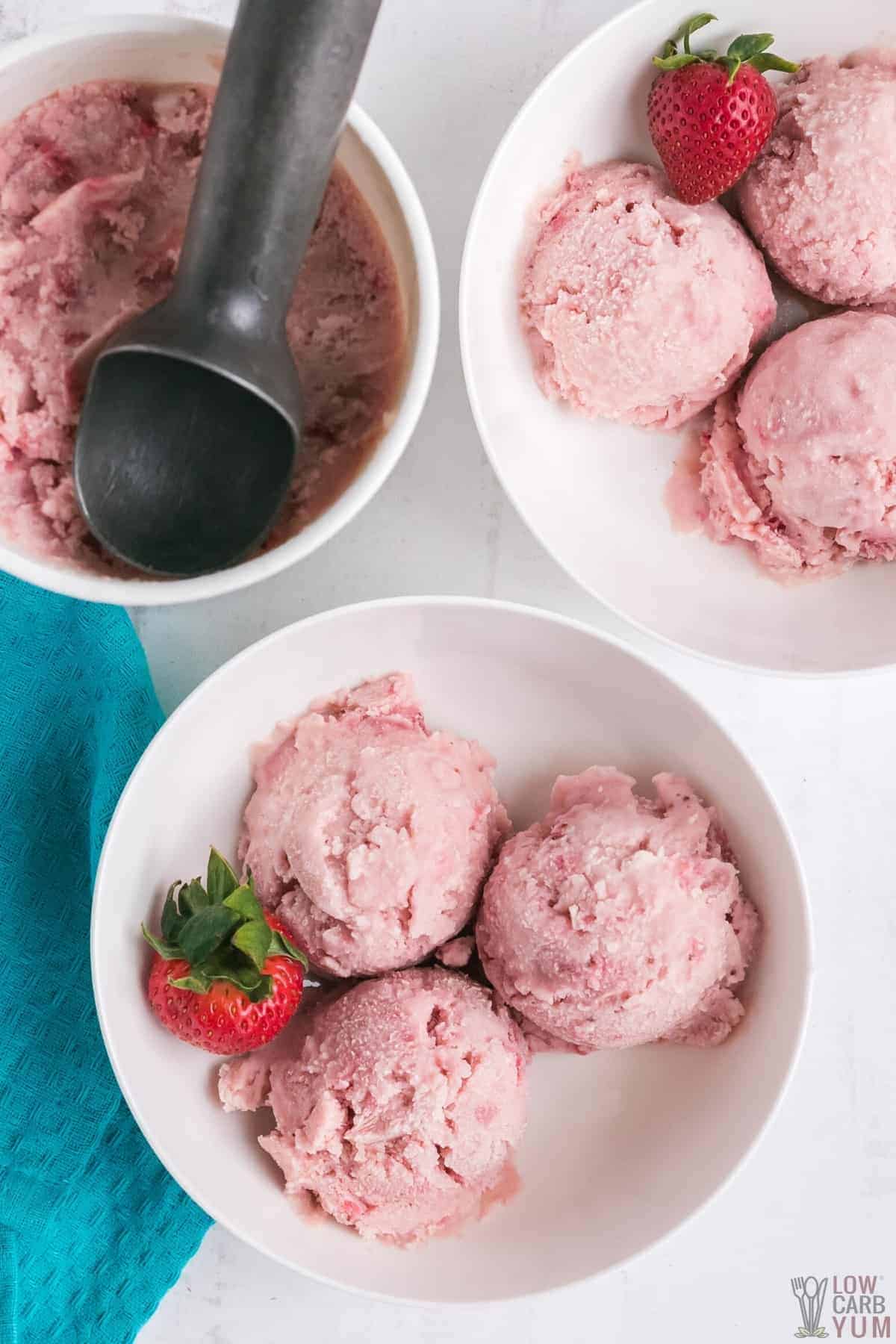 6. Sugar-Free Strawberry Limeade
My sugar-free strawberry limeade is the summer drink of my dreams!
With just 4 easy ingredients, you can make this sweet, slightly tart drink.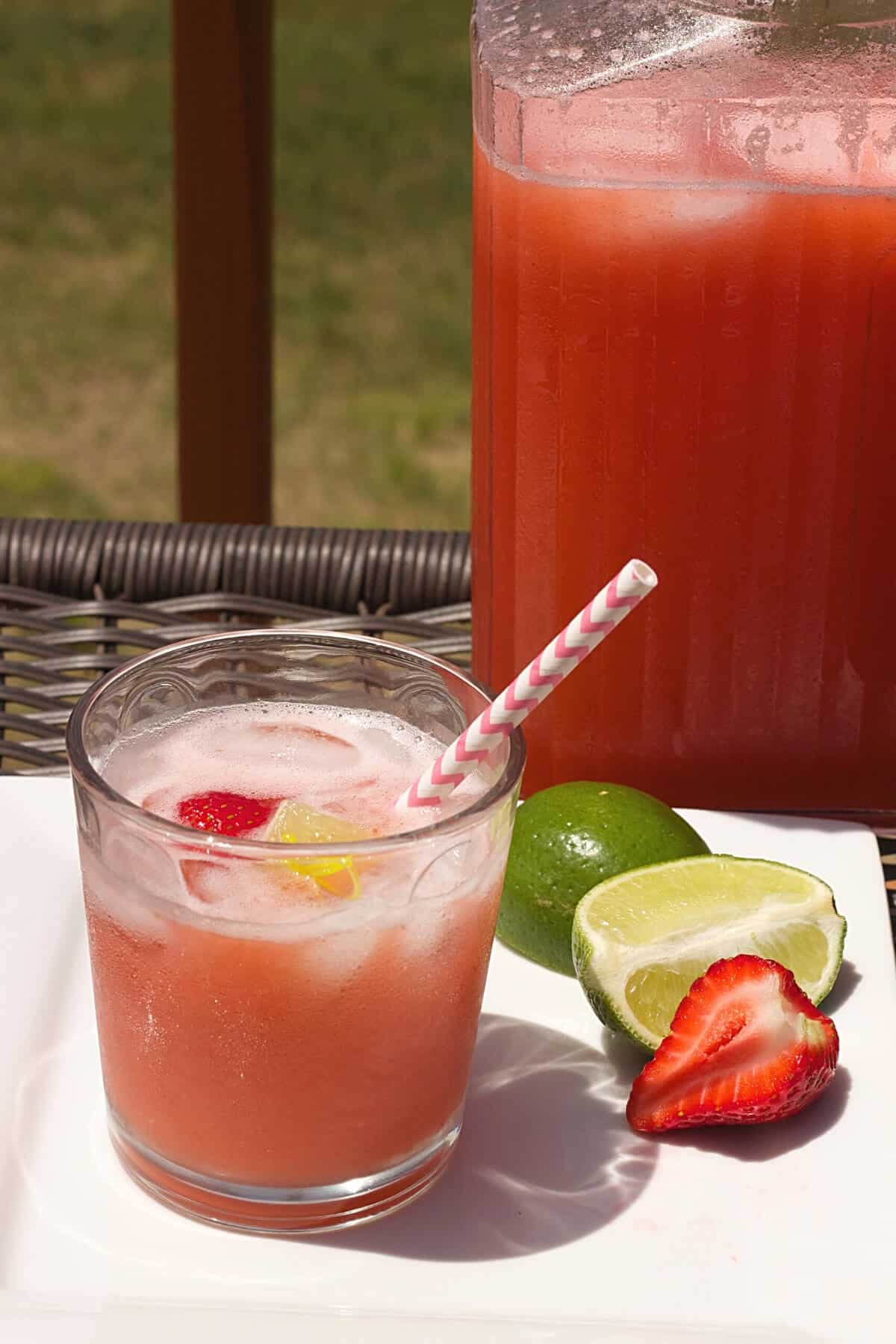 7. Spinach Strawberry Salad With Vinaigrette
This spinach strawberry salad is a great healthy food option for weekday lunches; it's filled with nutritious goodies while maintaining a low-carb count.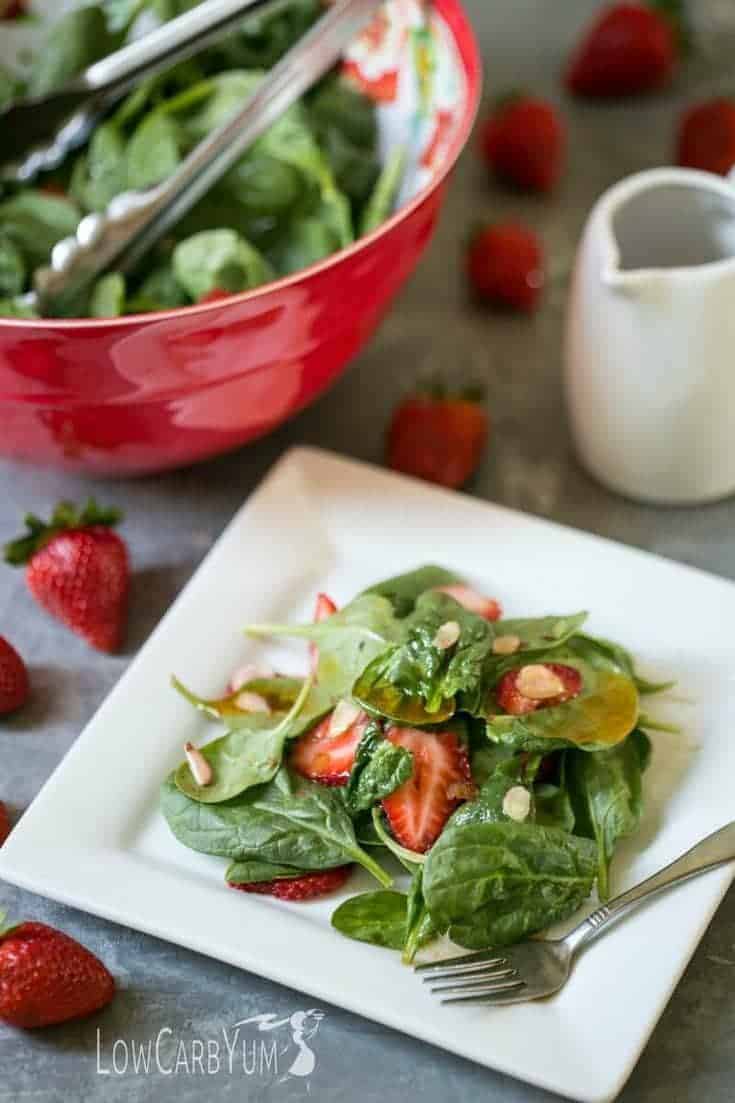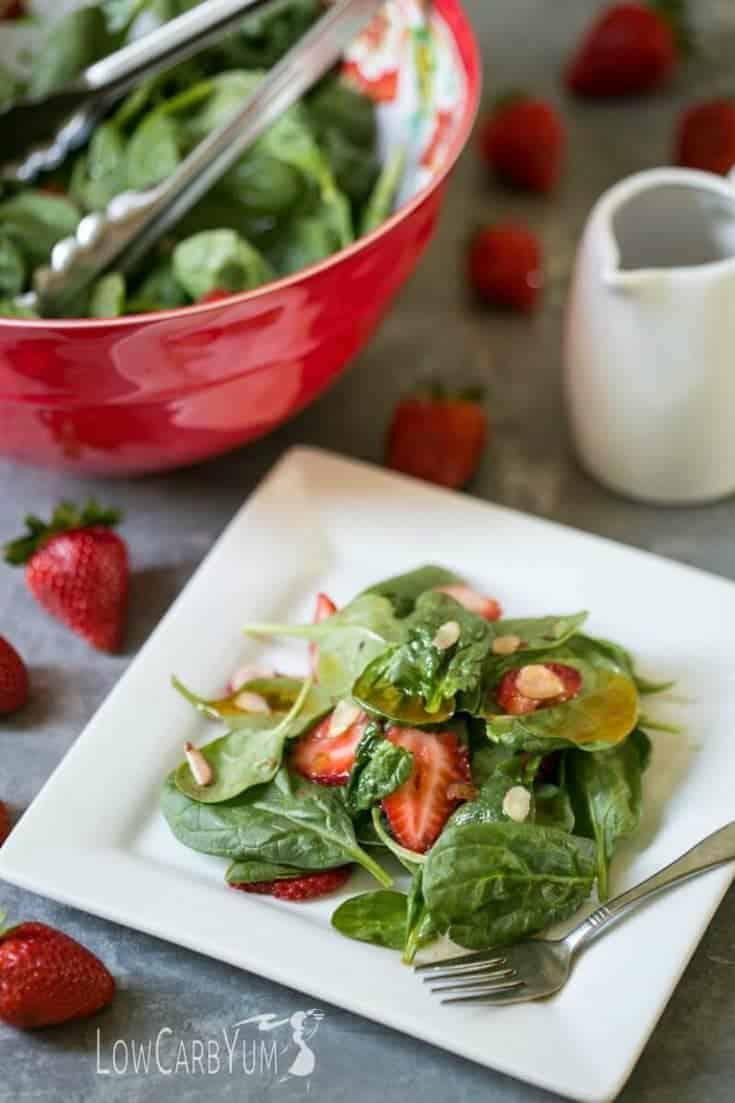 8. Strawberry Sugar-Free Keto Popsicles
My sugar-free strawberry popsicles will keep you cool on a hot summer's day while also satisfying your sweet tooth.
You can even use this recipe for freezies if you so choose.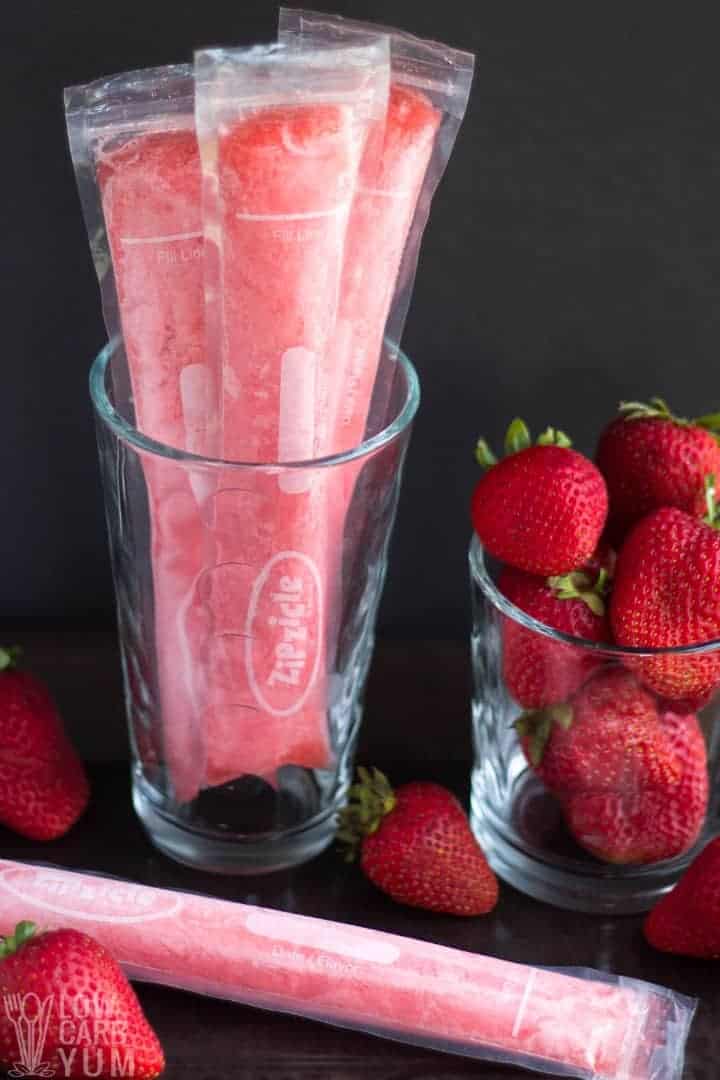 9. Keto Strawberry Cheesecake Fat Bombs
These strawberry cheesecake fat bombs are exactly what they sound like – creamy morsels made with cream cheese, coconut milk, and strawberries.
If you're struggling to meet your daily fat quota, this is the recipe for you.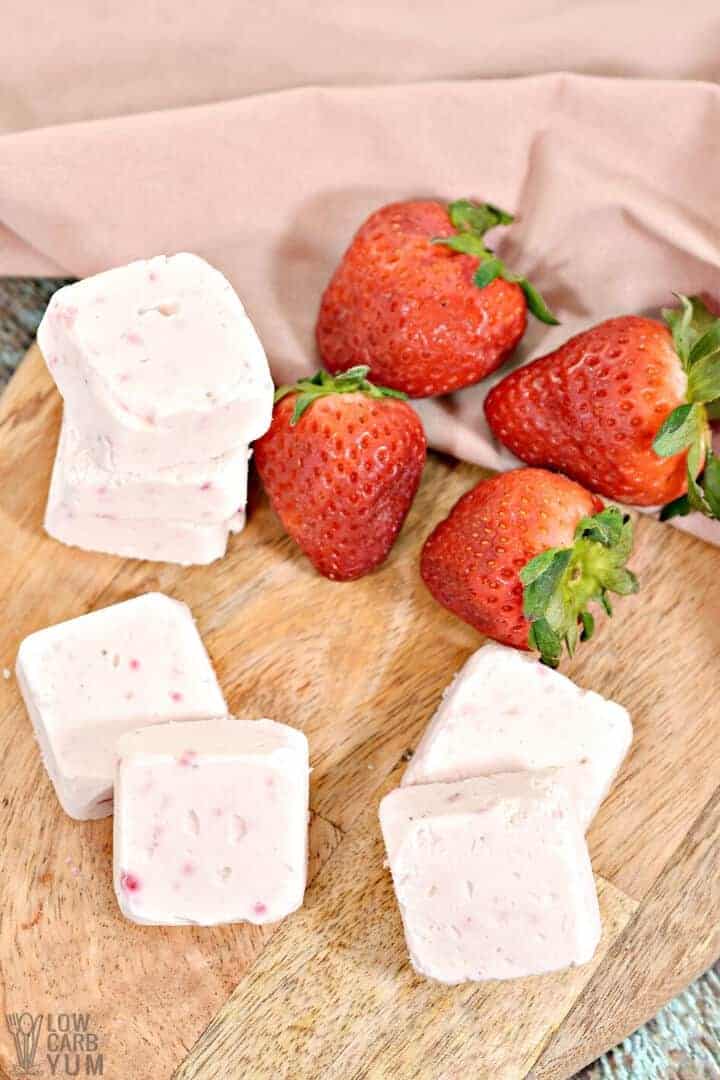 10. Keto Strawberry Cream Pie with Pecan Crust
This strawberry mousse pie is light, fluffy, and oh-so-good.
It's a bake-free recipe, perfect for those days when it's too hot to turn on the oven.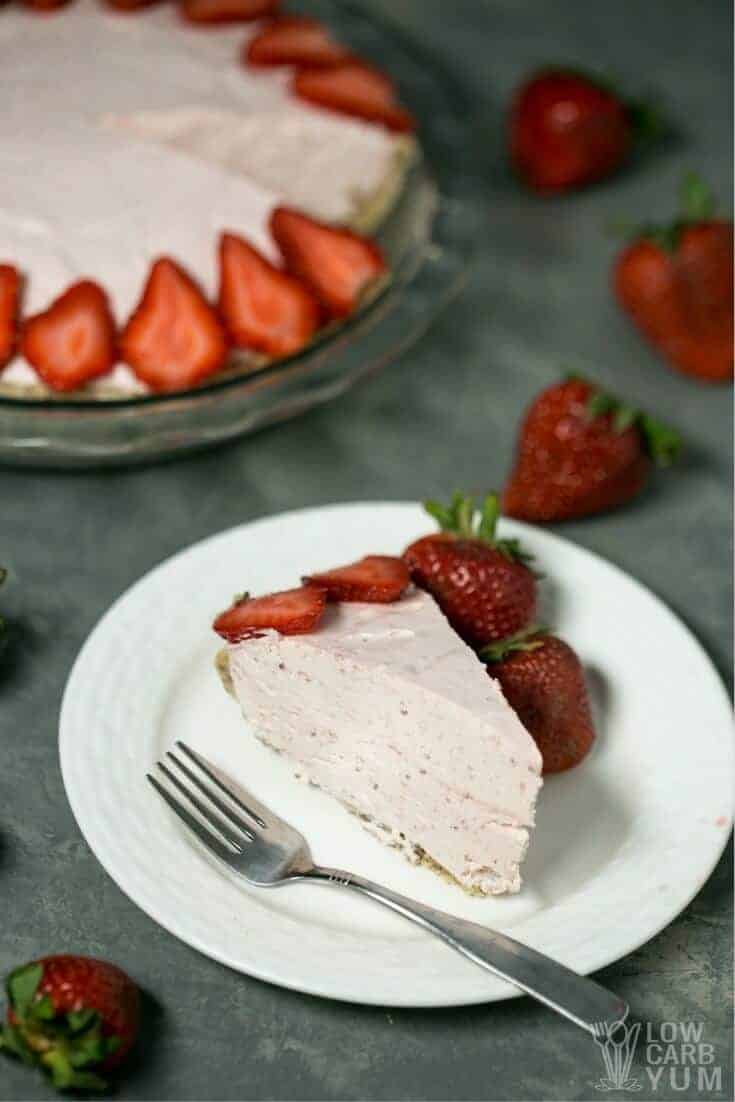 11. Keto Paleo Strawberry Mug Cake
My coconut flour strawberry mug cake is simple and delicious.
Bonus – it comes together in just a couple of minutes!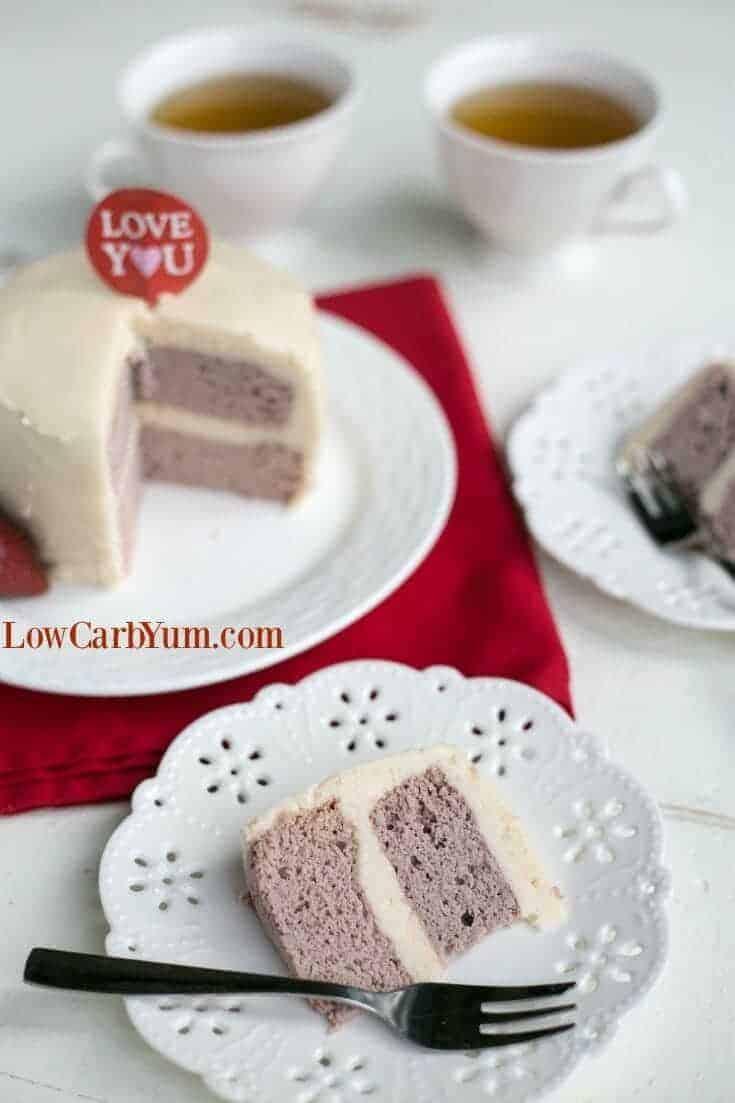 12. Cupcakes with Strawberry Cream Cheese Frosting
These cupcakes with strawberry cream cheese frosting are too darling; the strawberries give them a naturally pink tint for a sweet and beautiful dessert food.
Serve them at a birthday party for guaranteed delight!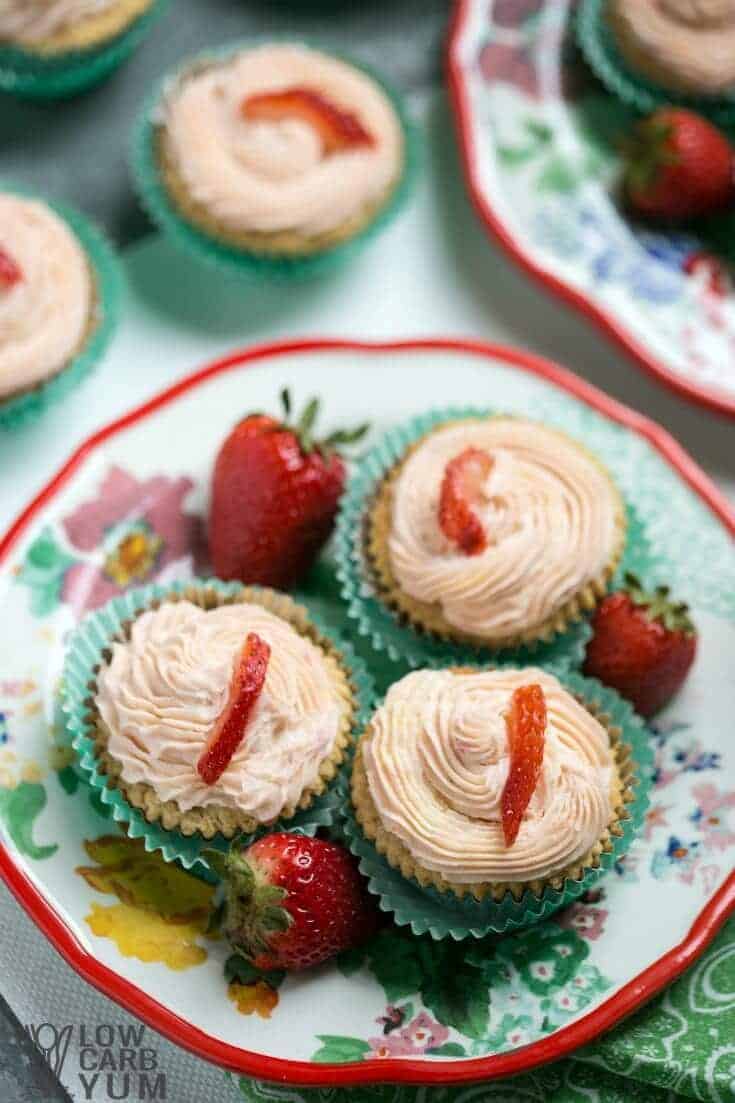 13. Easy Keto Strawberry Fluff
My keto-friendly strawberry fluff recipe is nothing short of divine.
Made with fresh strawberries, heavy cream, and low-carb chocolate shavings, this is one recipe you'll want to try.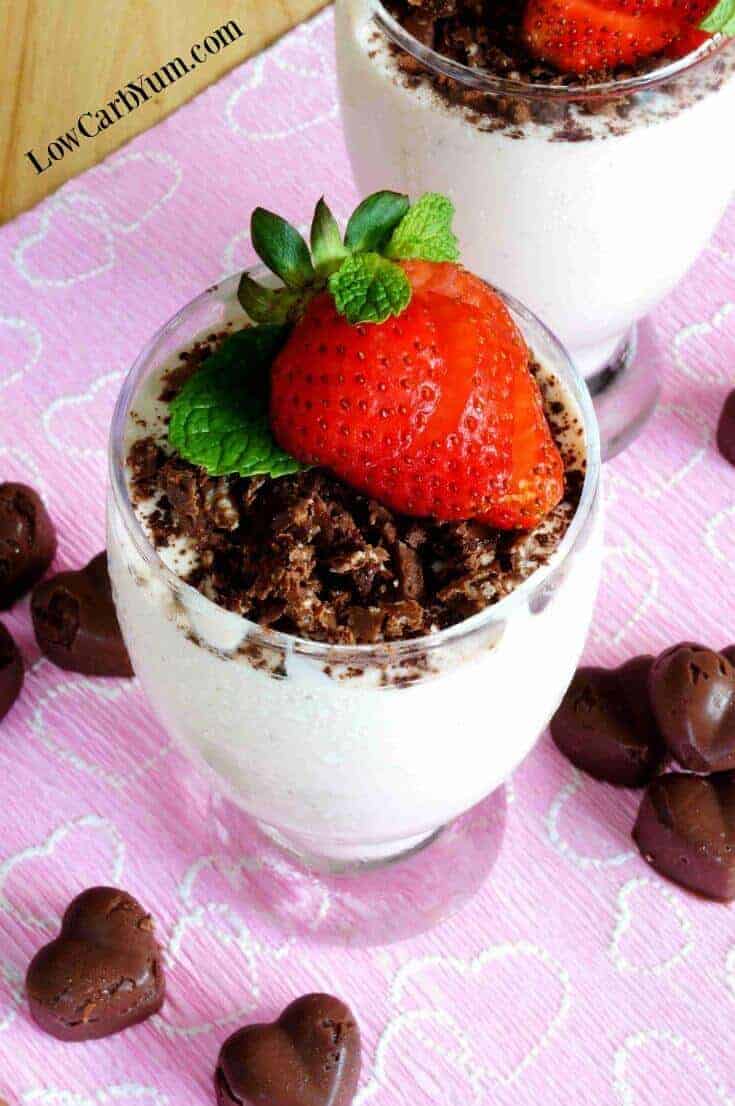 14. Strawberry Chia Pudding with Almond Milk
For a sweet and nutritious breakfast, try my strawberry chia pudding.
It's filled with chia seeds, frozen strawberries, and creamy almond milk.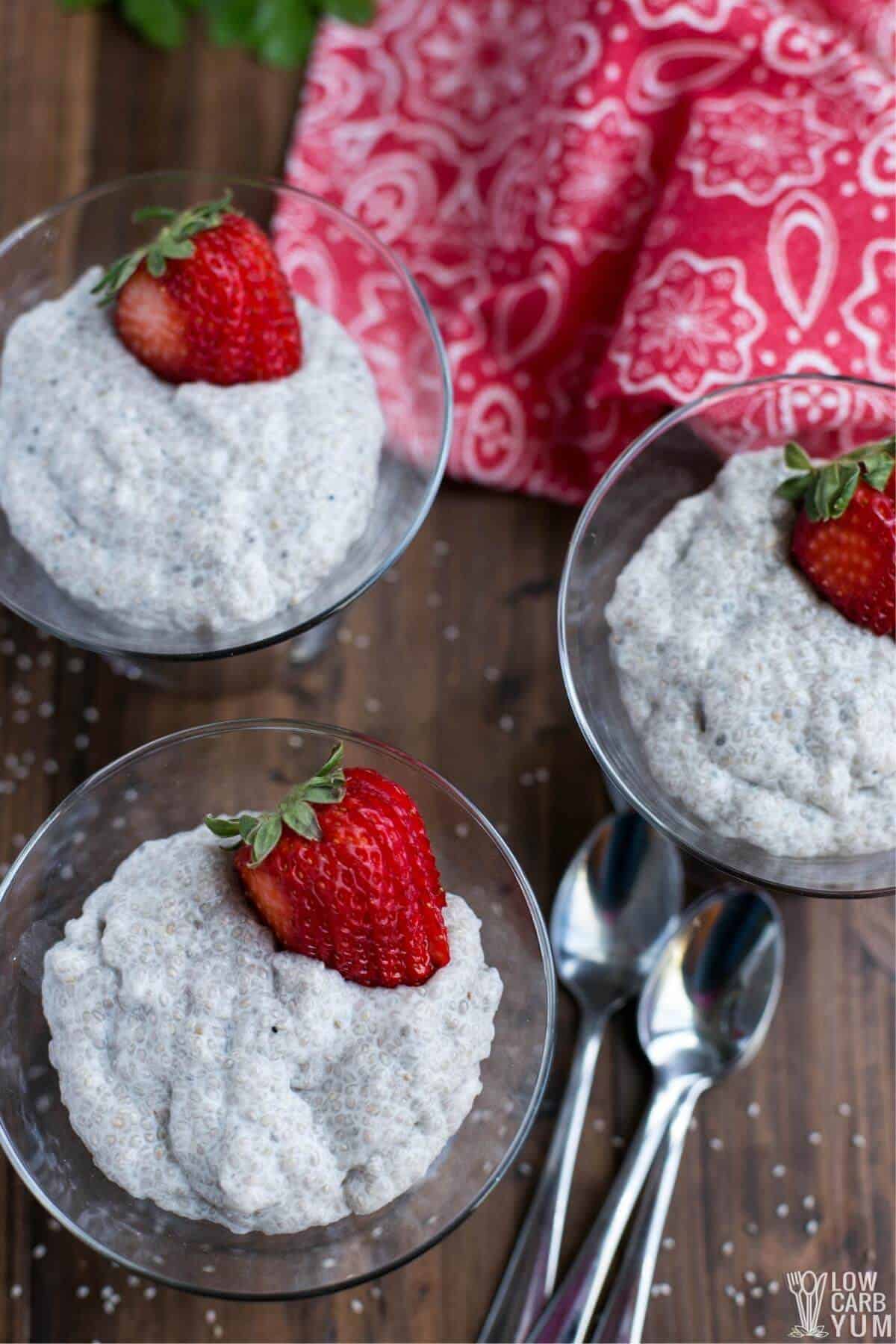 15. Strawberry Protein Shake
This strawberry protein shake is low in carbs but high in protein, with delicious extras like yogurt, protein powder, and almond milk.
Eat it for breakfast or as an anytime sweet treat!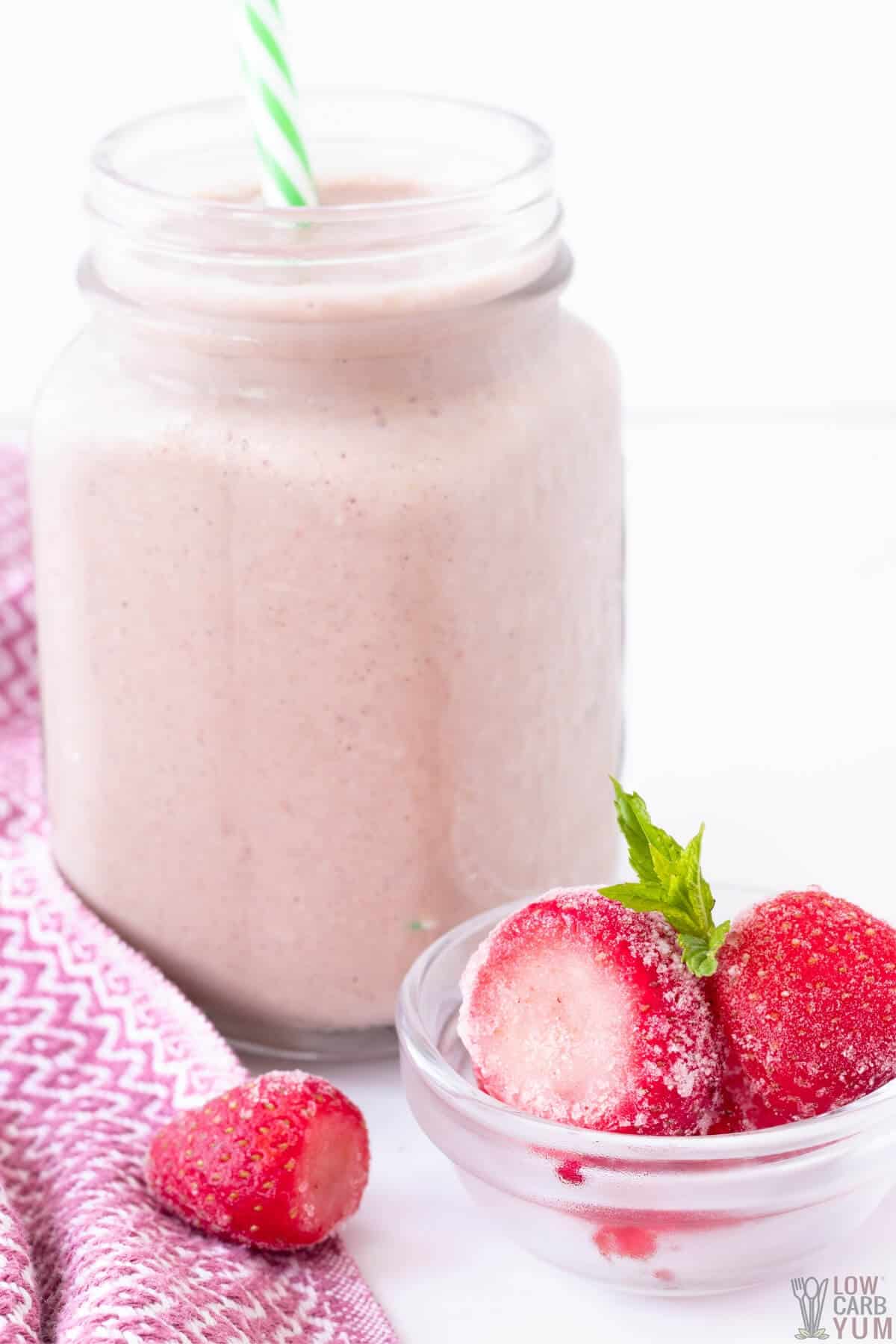 16. Strawberry Sauce
This strawberry sauce is so versatile for any of your baking needs.
It's made with a sugar substitute for ample sweetness without the high carb count.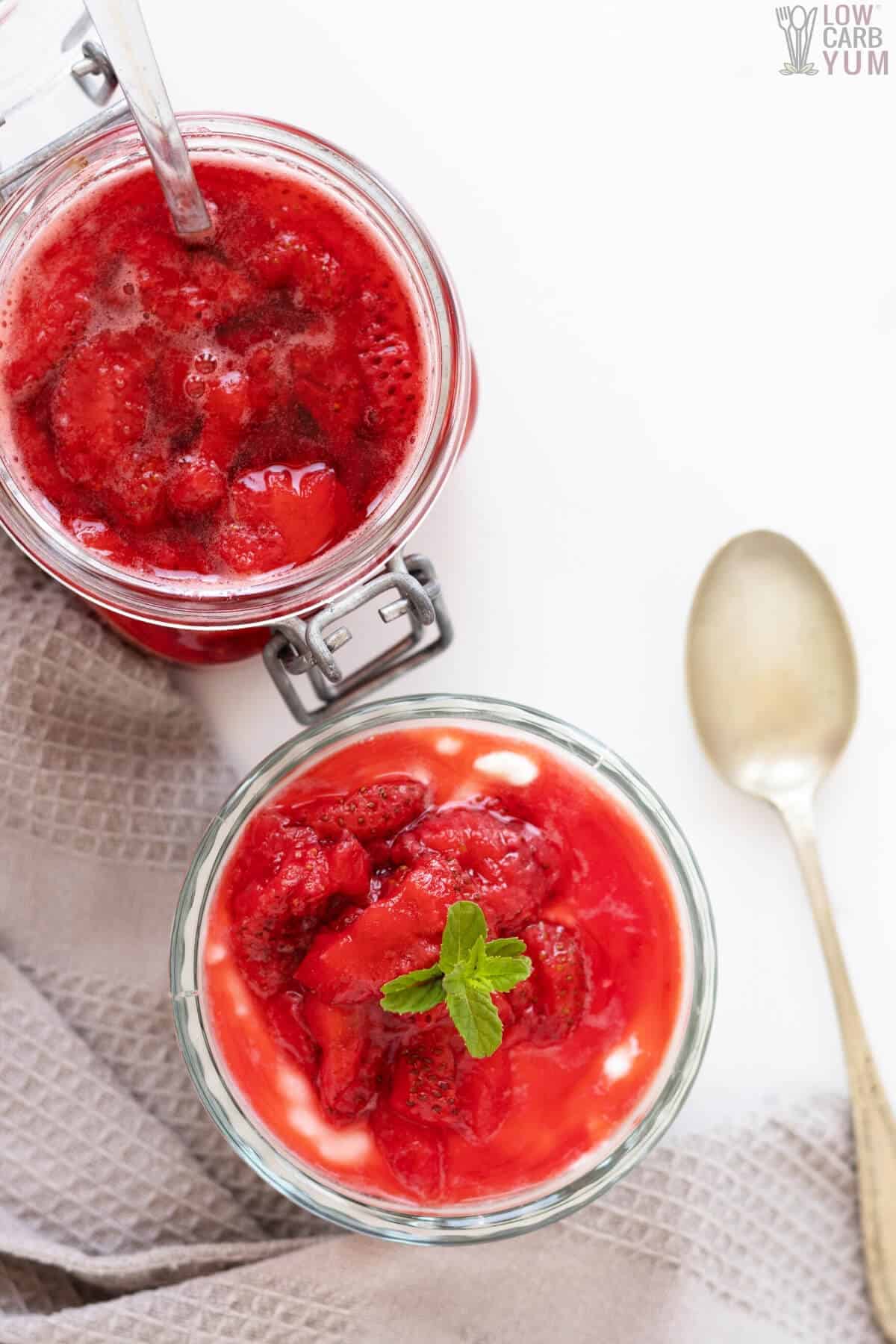 17. Gluten Free Strawberry Rhubarb Crisp
My strawberry rhubarb crisp is a fan favorite – with fresh strawberries, rhubarb, and the perfect crumbly topping.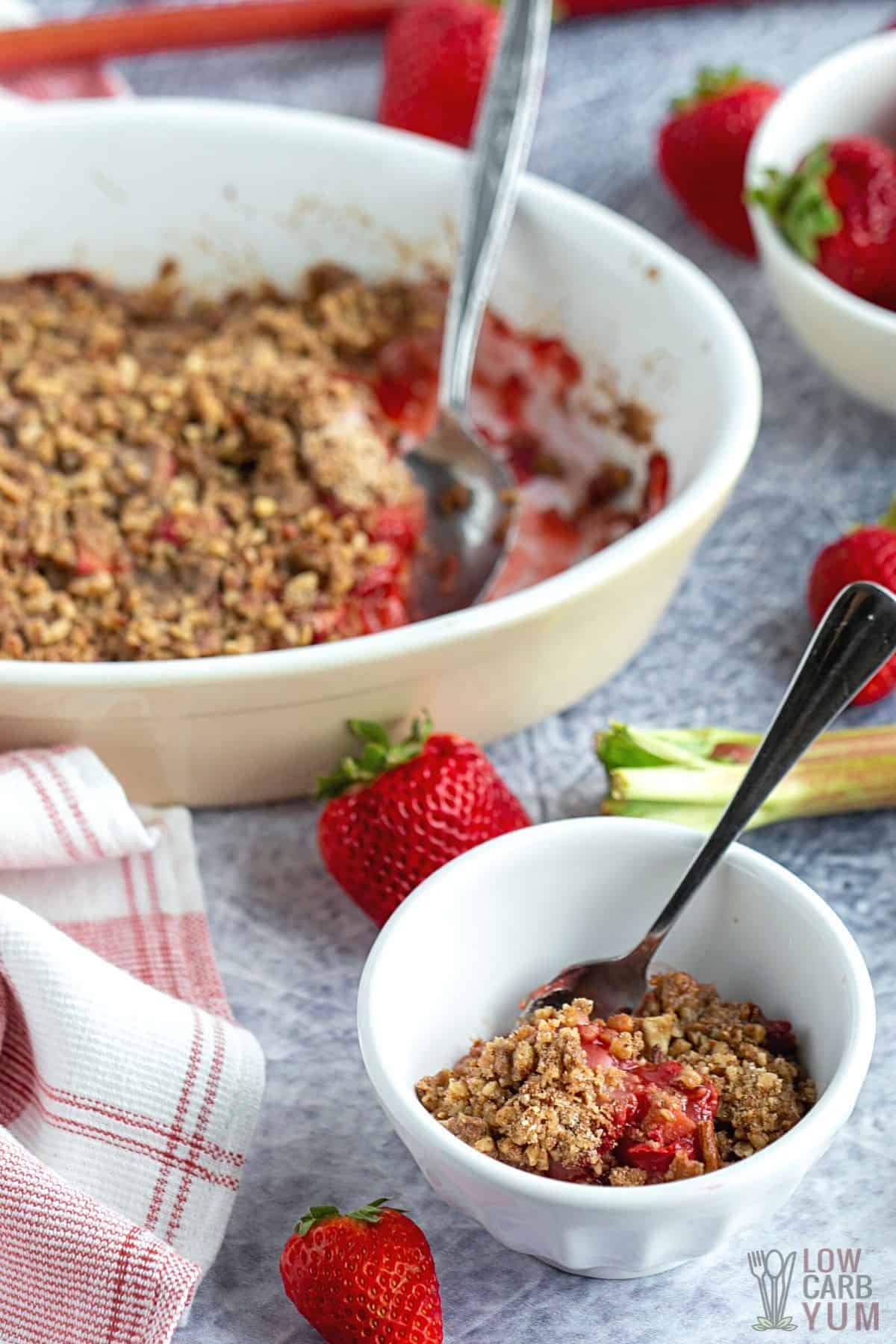 18. Coconut Milk Strawberry Smoothie
This easy strawberry smoothie is made in 2 minutes with 4 simple ingredients: coconut milk, strawberries, almond butter, and optional low-carb sweetener.
Personally, I think this recipe is delicious enough without the extra bit of sweetness (but I'll leave that up to your discretion!).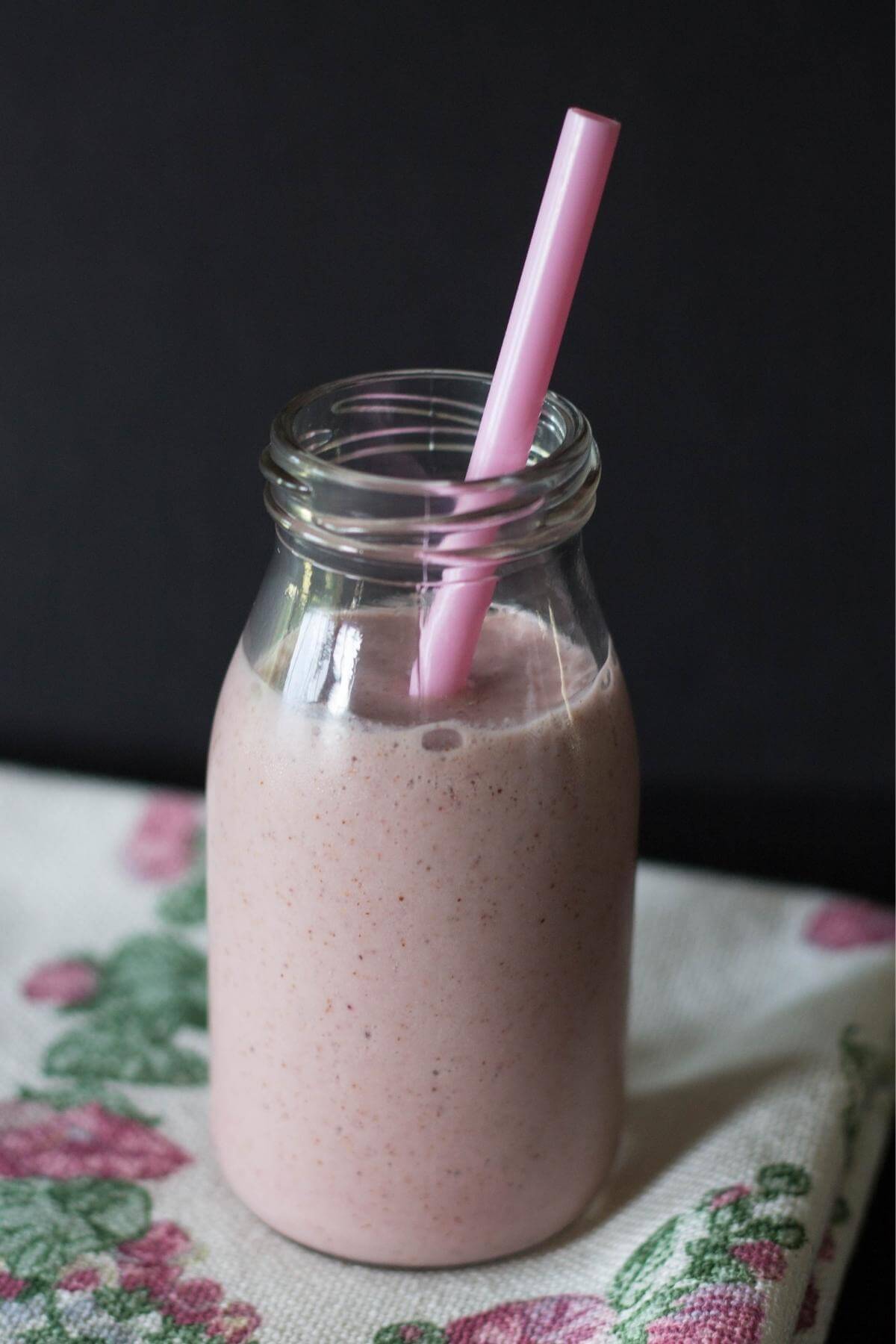 FAQs
Here are some questions people often ask about eating strawberries on the keto diet. If you don't see your question in this list, please leave it in the comments.
How many strawberries can I eat on keto?
3 strawberries contain approximately 6g net carbs. You can have as many strawberries as you'd like, providing they fit into your daily carb intake.

Most keto dieters limit themselves to 50g net carbs or less per day.
Are strawberries or blueberries better on keto?
While both can be eaten on a keto diet, strawberries do contain a significantly lower carb count at 6g net carbs per 100g serving.

Blueberries contain 11.5g net carbs for the same serving size. However, you will be able to eat about 50 blueberries compared to 3 strawberries.

As long as you're informed and keeping track of your macros, both fruits are a healthy and welcome addition to a low-carb diet.
What is the lowest-carb fruit?
The lowest-carb fruit available is avocado at just 2g net carbs per 100g.
But if you're wondering about sweeter fruits, blackberries, and raspberries both contain 5g net carbs per 100g serving.
Can strawberries kick you out of ketosis?
With the knowledge that strawberries contain approximately 6g net carbs per serving (3 strawberries), eating them in moderation will not knock you out of ketosis.

Eating them in excess, however, could kick you out of ketosis – just like anything else.

Whenever you're eating fruit, be mindful of your serving size before you chow down!
How many berries can I eat on keto?
Berry serving sizes will vary slightly depending on the berry.

A good rule of thumb is to limit yourself to about 100g of berries. You can always go for seconds if it fits your macros for that day!
Related recipes
Interested in adding more fruit to your keto diet? Check out these low-carb recipes:
Follow us on FACEBOOK, PINTEREST, and INSTAGRAM for even more tasty keto-friendly recipes!