Love them or hate them, mushrooms are an incredibly versatile food. This chewy fungi can be fried like a vegetable, sliced like a steak, or ground into a plant-based pâté. But are mushrooms keto diet approved? Discover mushroom nutrition facts, health benefits, and low-carb recipes to find out.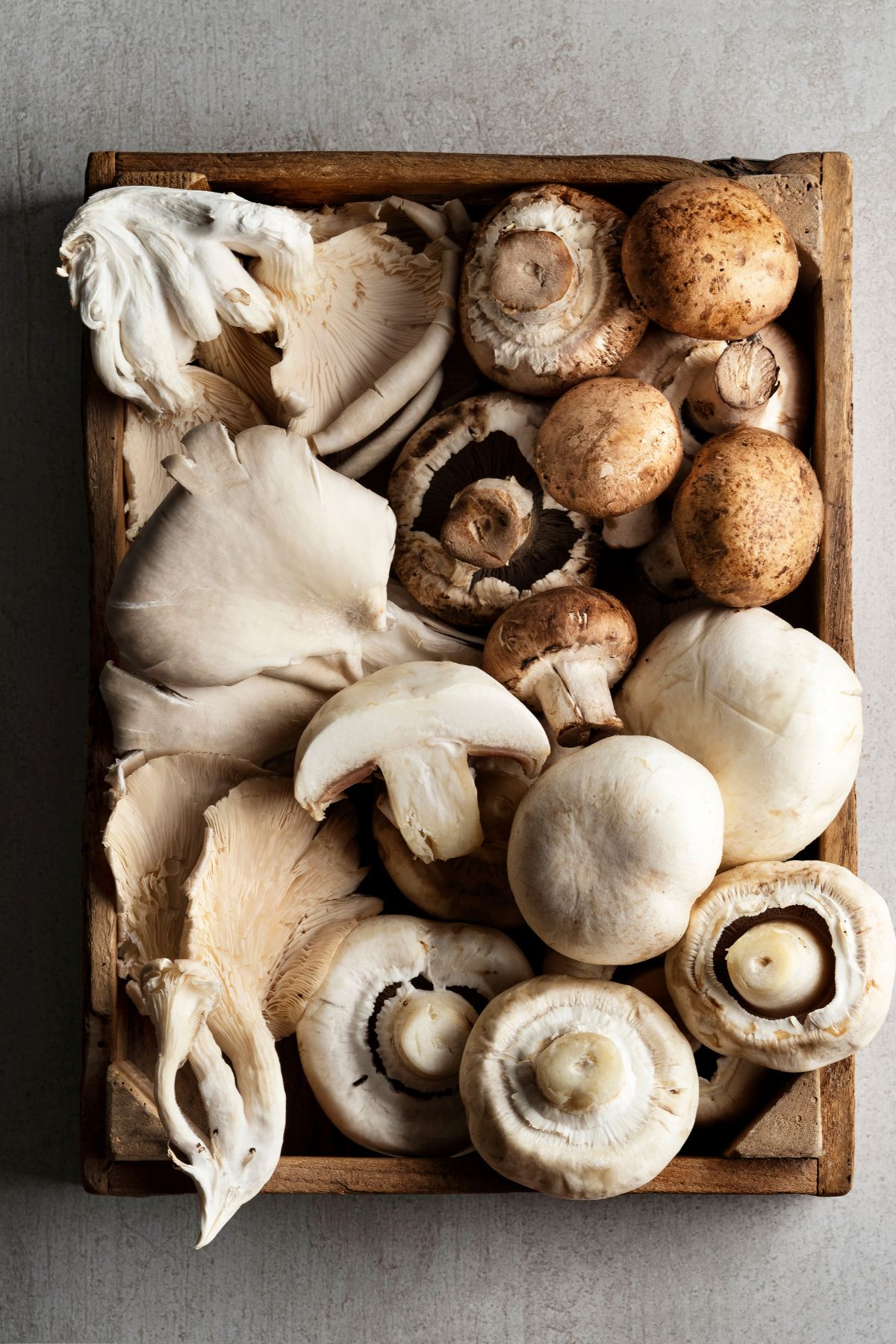 Mushrooms are a controversial food that quickly divides a room.
Whether you're a fungi lover or avoid them at all costs, there's no arguing that mushrooms are a handy ingredient to add extra nutrition to your meals.
This adaptable food is technically a fungus, though it's often cooked as a vegetable or protein source.! Its slightly meaty texture has transformational properties, dish by dish.
But are mushrooms keto?
Regardless of nutrition, you need to be careful when choosing ingredients on a low-carb, high-fat diet. Just because a food is healthy doesn't mean it's keto-friendly.
Hidden carb counts in "health foods" can affect your ketosis and, consequently, your weight loss.
In this post, we're exploring the macronutrients and micronutrients of mushrooms to determine if they're a suitable food choice for your low-carb diet.
Note: Check out the best keto vegetables for more low-carb veggie ideas. And for even more food groups, the keto food list is perfect for anyone starting the keto diet.
Are mushrooms keto diet-approved?
They sure are! You can eat mushrooms on a ketogenic diet to your heart's desire.
Fungi, including white mushrooms, shiitake, portobello, and oyster mushrooms, are all low in carbs and suitable for keto dieters.
White mushrooms contain just over 2g net carbs per 100g serving, making them easy to fit into your daily carb intake.
Mushrooms are one of the very best low-carb vegetables because they contain a satiating, meat-like quality. They're also highly nutritious and add a bit of extra protein to your dishes too.
Try eating mushrooms in a mushroom soup, a veggie stir fry, or ground into a plant-based pâté.
Mushroom nutrition facts
Mushrooms are suitable for a keto diet because of their favorable macronutrients.
The macros for 100g of white mushrooms include:
Total carbs: 2.3g
Net carbs: 3.3g
Fat: 0.3g
Protein: 3.1g
Fiber: 1g
There are also several health benefits related to including mushrooms in your regular diet. Plentiful micronutrients make these fungi a healthy addition to any meal plan.
Reported health advantages of eating mushrooms include:
Improves cholesterol levels
Promotes good heart health
Can help regulate blood sugar
Improves digestion
Boosts immune system
Helps maintain healthy skin, bones, and nerves
Rich in antioxidants, B vitamins, copper, potassium, and beta-glucan
Low-carb mushroom recipes
Here is a tasty collection of mushroom-centered, keto-friendly recipes that you are sure to enjoy.
1. Sheepshead (Maitake) mushrooms stirfry
My mushrooms stir fry is made with wild, foraged mushrooms known as Sheepshead, Maitake, or "Hen of the Woods" mushrooms for a one-of-a-kind flavor.
Simple ingredients include butter, olive oil, garlic, onion, beef broth, and white wine. The results are nothing short of incredible!
If you want to impress a mushroom-loving crowd, fry up these foraged mushrooms and serve them with low-carb pasta or thick slices of Italian bread.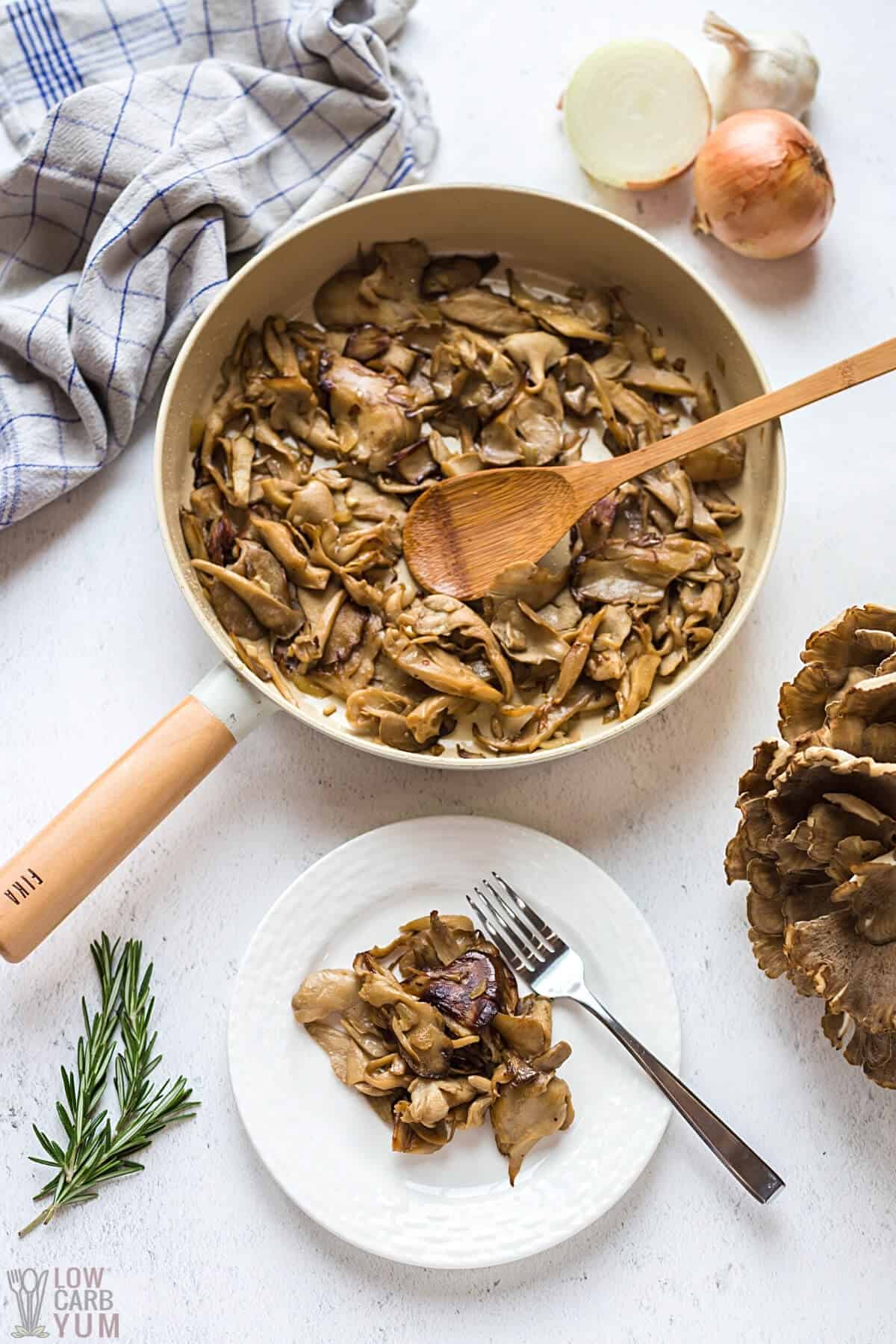 2. Easy mushroom cauliflower rice risotto
My cauliflower rice risotto is simple, creamy, and low-carb; it's a wonderful side dish to any of your favorite proteins.
Flavored with coconut cream, nutritional yeast, and parsley, this naturally vegan dish is perfect for any dietary preference.
Serve it alongside baked cod and oven-roasted asparagus.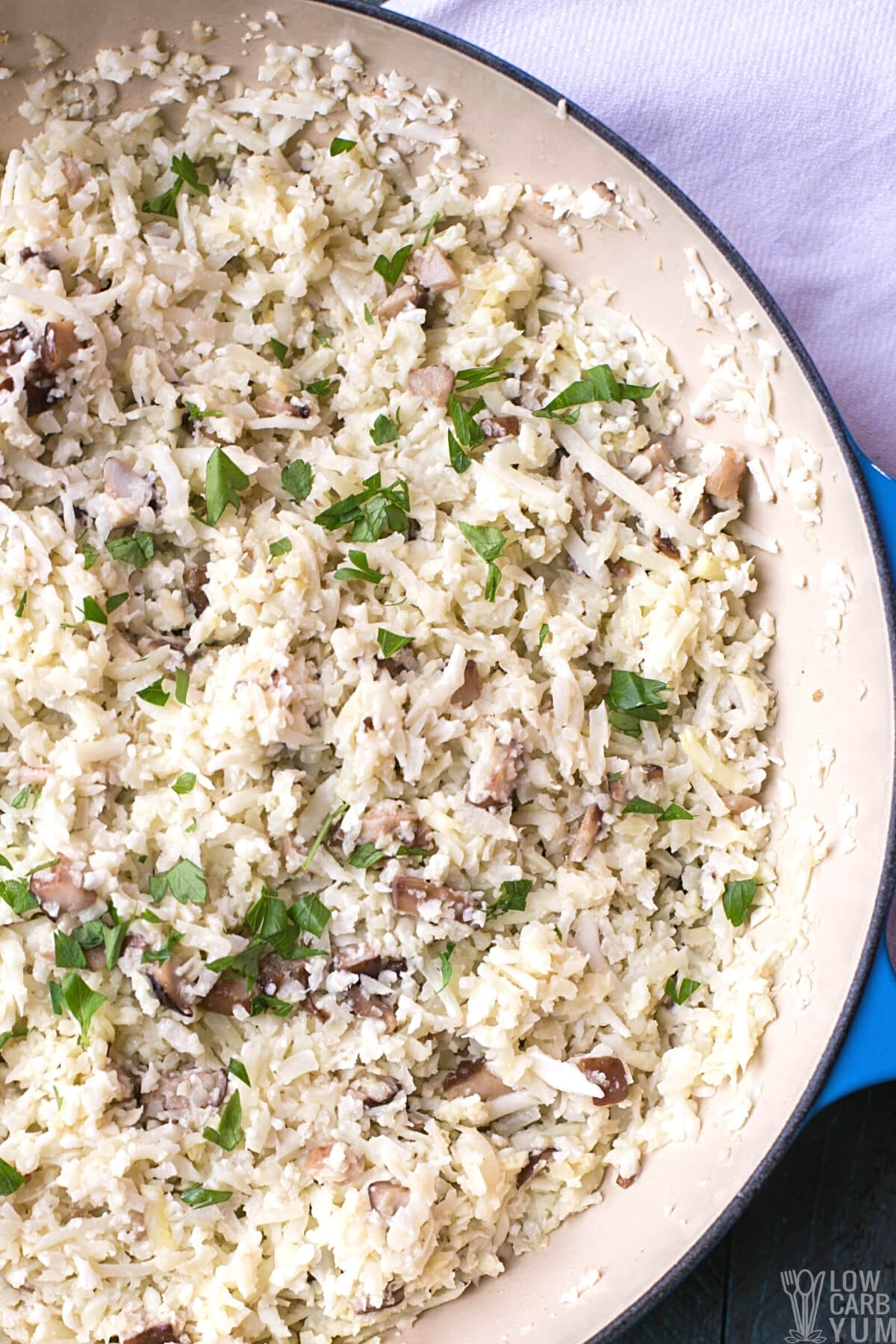 3. Keto stuffed mushrooms
These low carb stuffed mushrooms are an incredible appetizer or side dish, baked with parmesan, cream cheese, and pork rind bread crumbs.
Minced garlic, butter, and parsley add extra flavor, making these stuffed mushrooms a total crowd-pleaser.
Serve them up at your next game day along with other low-carb appetizers like keto onion rings and prosciutto-wrapped asparagus.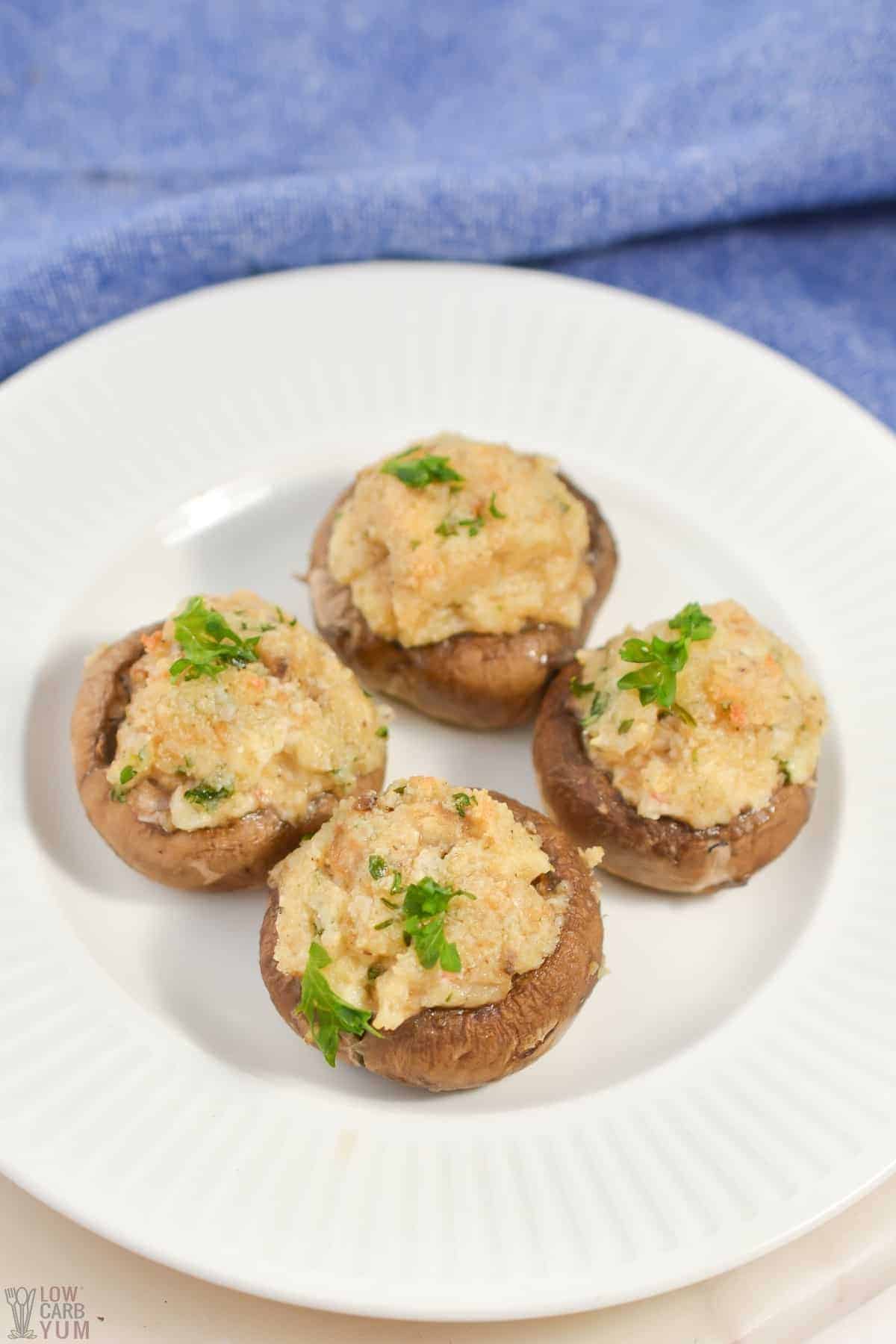 4. Sautéed green beans and mushrooms recipe
These sauteed green beans and mushrooms are so tasty they will outshine any other recipe on your plate.
This quick dish comes together in minutes and is made with simple, whole ingredients. I saute these low-carb green beans and mushrooms with olive oil, minced garlic, and white wine.
Added sundried tomatoes and fresh thyme bring the dish to life!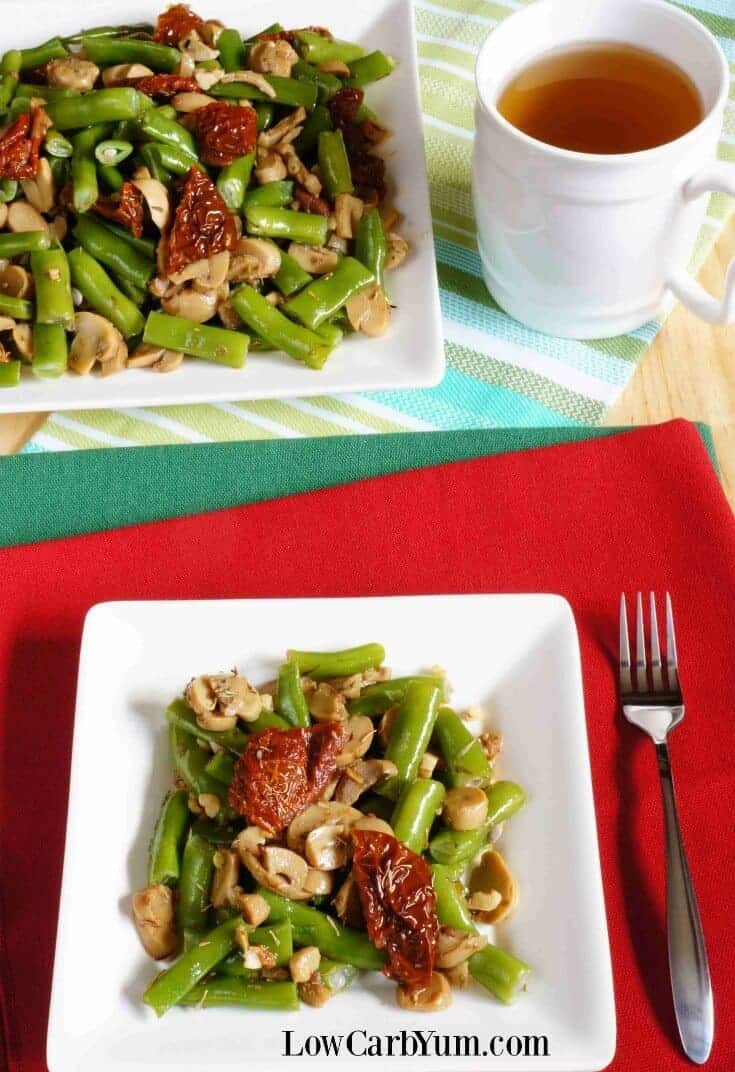 5. Spinach mushroom quiche
My spinach mushroom quiche is quick and easy to prep, making it an excellent weeknight dinner option.
The secret to a good quiche? An incredible cheese blend!
In this quiche, I use shredded mozzarella cheese, parmesan, and provolone, though you can create your own custom combination.
Eggs and sliced mushrooms provide a welcome vegetarian protein source, while spinach adds even more nutritional value.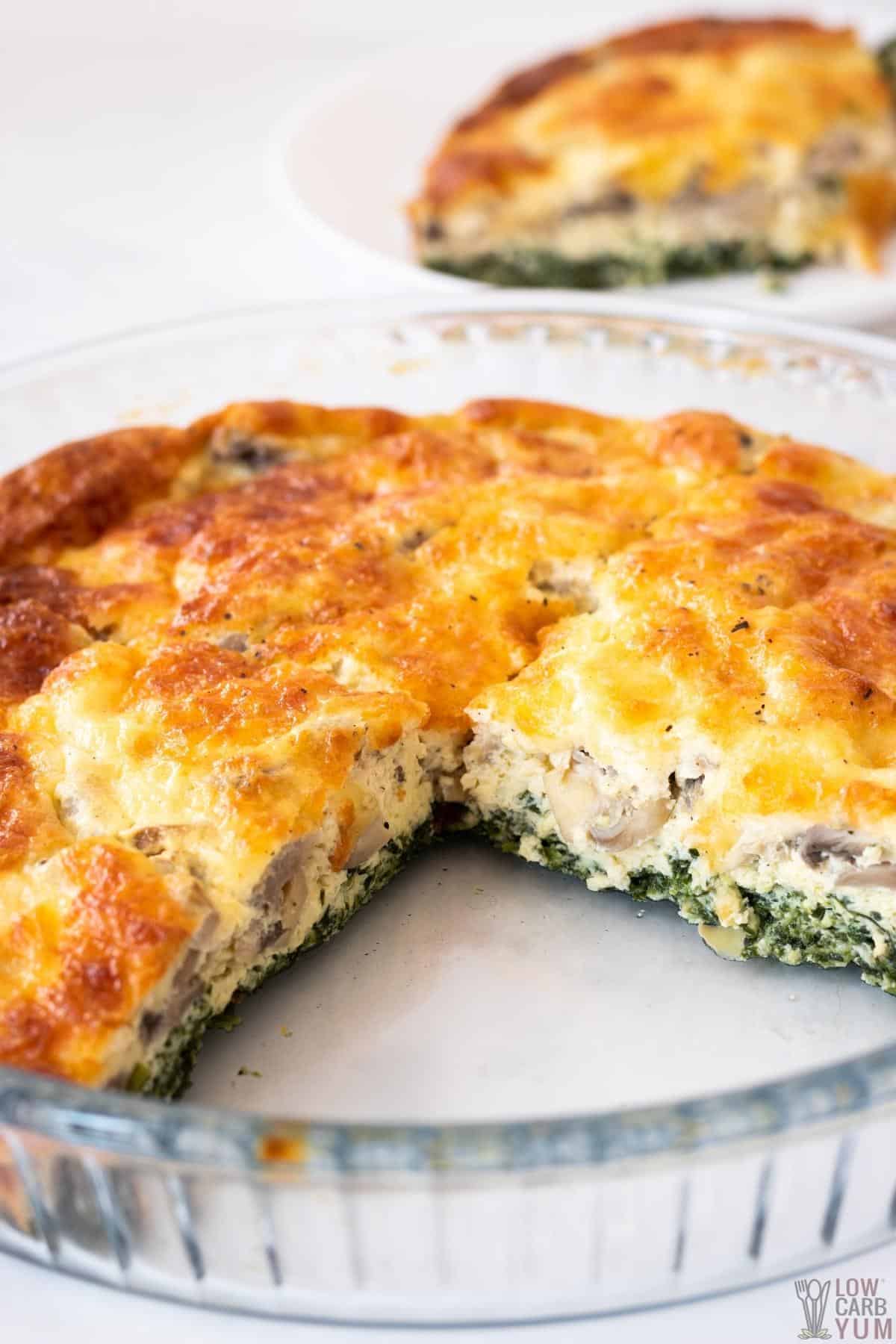 6. Stuffed portobello mushrooms with spinach & artichoke
My stuffed portobello mushrooms combine two fan-favorite appetizers: stuffed mushrooms and spinach and artichoke dip.
Portobello mushrooms are a low-carb mushroom option and are large enough to act as a main dish! I stuff them with high-fat ingredients, including parmesan, mozzarella, cream cheese, and sour cream.
If you want to prep this recipe for an appetizer, simply swap your portobello mushrooms for white or brown button mushrooms.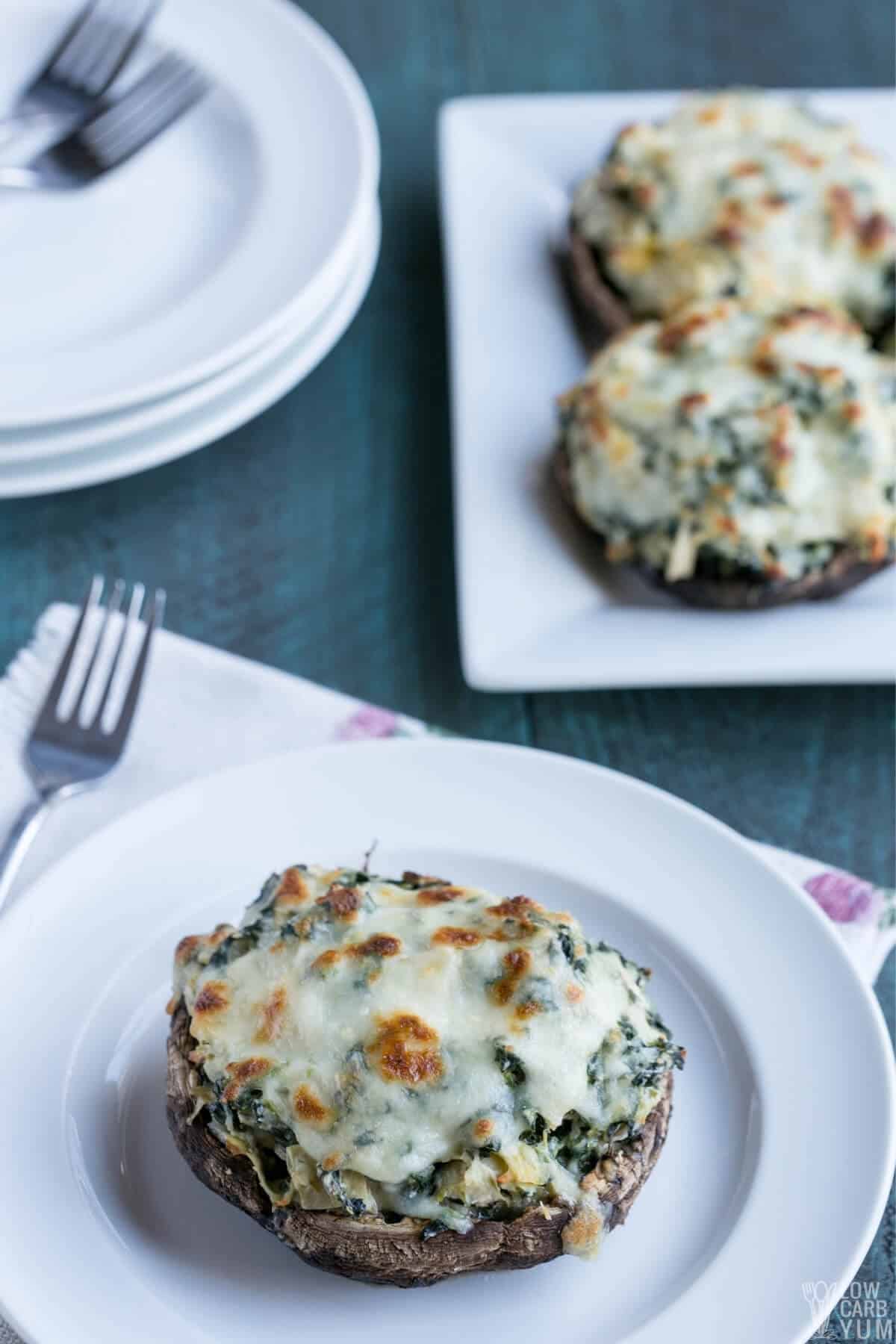 7. Low carb cream of mushroom soup
My cream of mushroom soup is warm and satisfying on a chilly day; it contains mushrooms, chicken broth, and heavy cream for an unbeatable combination.
Guar gum thickens the broth, providing a smart substitution for high-carb thickeners.
Serve it alongside crusty, low-carb bread smothered in butter and topped with fresh parsley.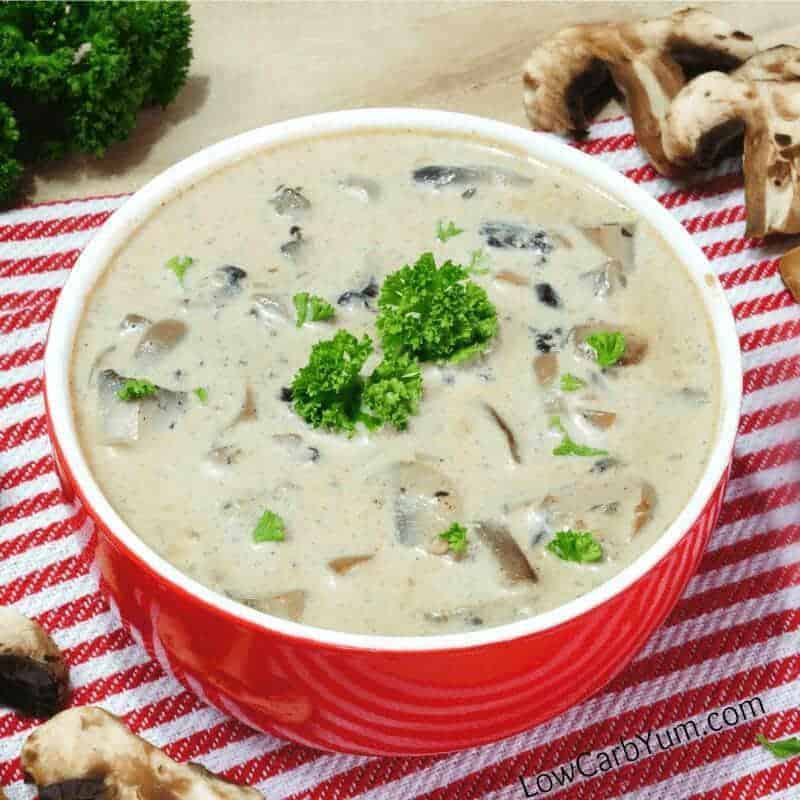 FAQs
Here are some questions people often ask about eating mushrooms on the keto diet. If you don't see your question in this list, please leave it in the comments.
What is the best mushroom for keto?
Most mushrooms are suitable for a keto diet, though each type has slightly different macronutrients.

The three mushroom types with the lowest net carbs include:

Morel mushrooms – 1.5g net carbs per 100g

Portobello mushrooms – 2.3g net carbs per 100g

Truffles – 3g net carbs per 100g

Eat other mushroom types in moderation, including enoki mushrooms, wood ear mushrooms, and shiitake mushrooms.

Note: Avoid porcini mushrooms! They contain approximately 25g net carbs per 100g serving; this is half of your daily recommended intake.
Are mushrooms low-carb?
In general, mushrooms are a low-carb food, with each type containing slightly different carb counts.

Traditional mushrooms you find at your local grocery store, like the white button, portobello, and oyster mushrooms, are all considered low-carb.
How many carbs are in mushrooms?
Carb counts vary depending on the mushroom.

Most often, we cook with white button mushrooms, which contain 3.3g total carbs and 2.3g net carbs.
Are white mushrooms keto-friendly?
White mushrooms are super keto-friendly! They have a low carb count and are filled with nutrition that would benefit a keto diet.
Related recipes
Now that we've answered "are mushrooms keto?" you may want to check out some other keto-approved vegetables.
Start with these related recipes:
Follow us on FACEBOOK, PINTEREST, and INSTAGRAM for even more tasty keto-friendly recipes!