Cheesecake is one of the most popular low carb high fat desserts. We love this yummy gluten free coconut cream cheesecake recipe. It's a great way to fill up on fat!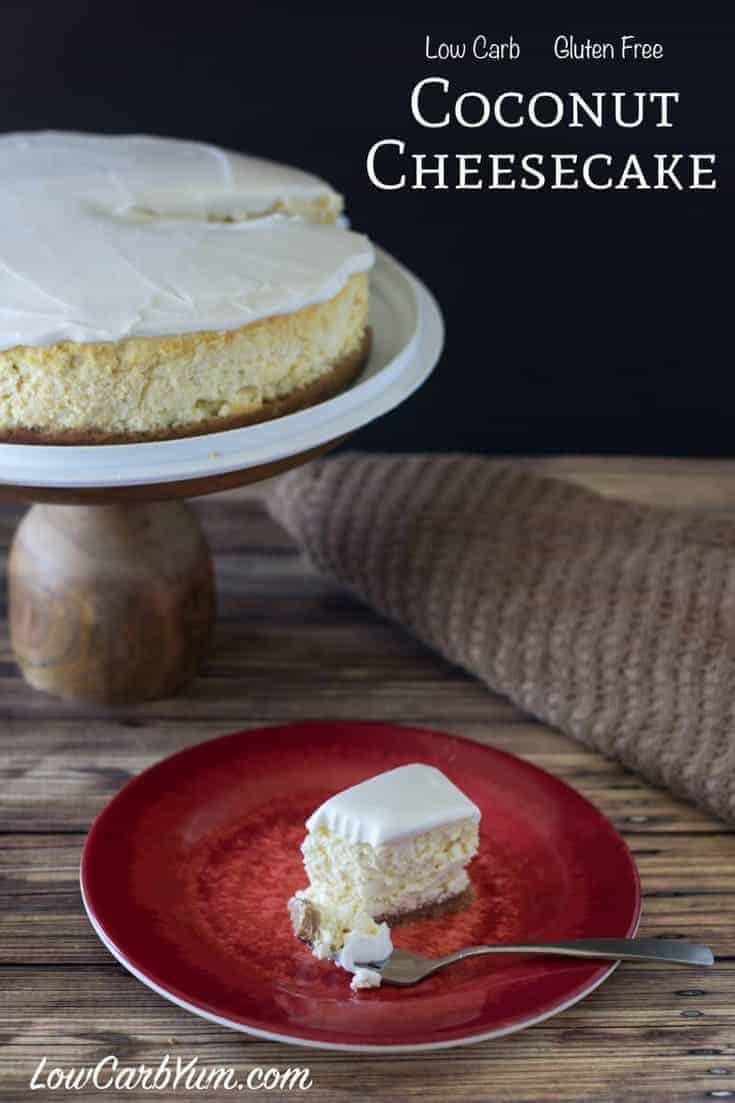 If you are like most low carb dieters, you enjoy indulging in high fat cheesecake. I certainly do and it's been a staple dessert for many years.
Cream cheese is by far one of my favorite low carb ingredients. It goes well in both sweet and savory recipes.
I also discovered that adding a touch of cream cheese can mask the cool taste of erythritol in frosting. That's why I added couple of ounces to the frosting for this coconut cream cheesecake recipe.
Adding cream cheese really hides the unpleasant taste of powdered low carb sweeteners that contain erythritol. I want to thank the owner of SukrinUSA.com for pointing this out as a tip for using the Sukrin Melis Icing Sugar.
I've tried finding canned coconut cream in the local stores, but none of them seem to carry it. I believe you can buy it at Trader Joe's and Whole Foods Market, but those stores are a bit far from me.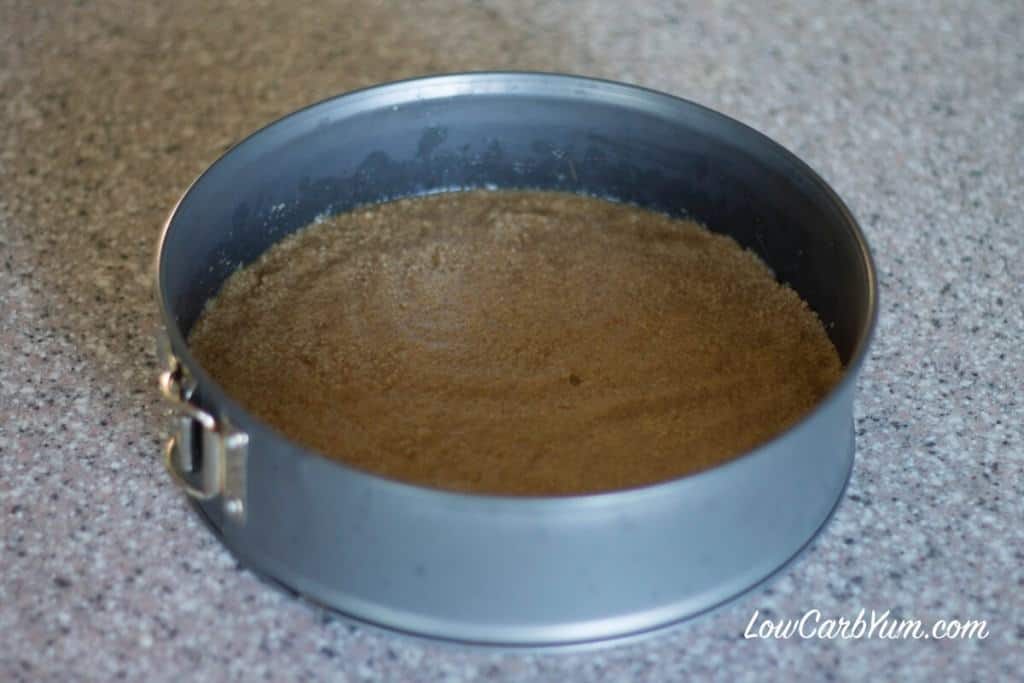 Since I make regular orders at LC Foods, I have been buying the coconut cream they carry at holdthecarbs.com. It's similar to coconut milk, but has a lot more fat.
However, I recently became a member of Thrive Market and they offer the cheapest price of all on coconut cream. Thrive is now my go-to market for the best prices on non-perishable low carb foods.
I made this coconut cream cheesecake to take and share at a party, but ended up not going. So, I had a whole cheesecake in my fridge. I could have froze half of it, but ended up eating it all myself.
It was a big mistake keeping such a delicious dessert in my fridge. I just couldn't help myself from the temptation of such deliciousness with easy access.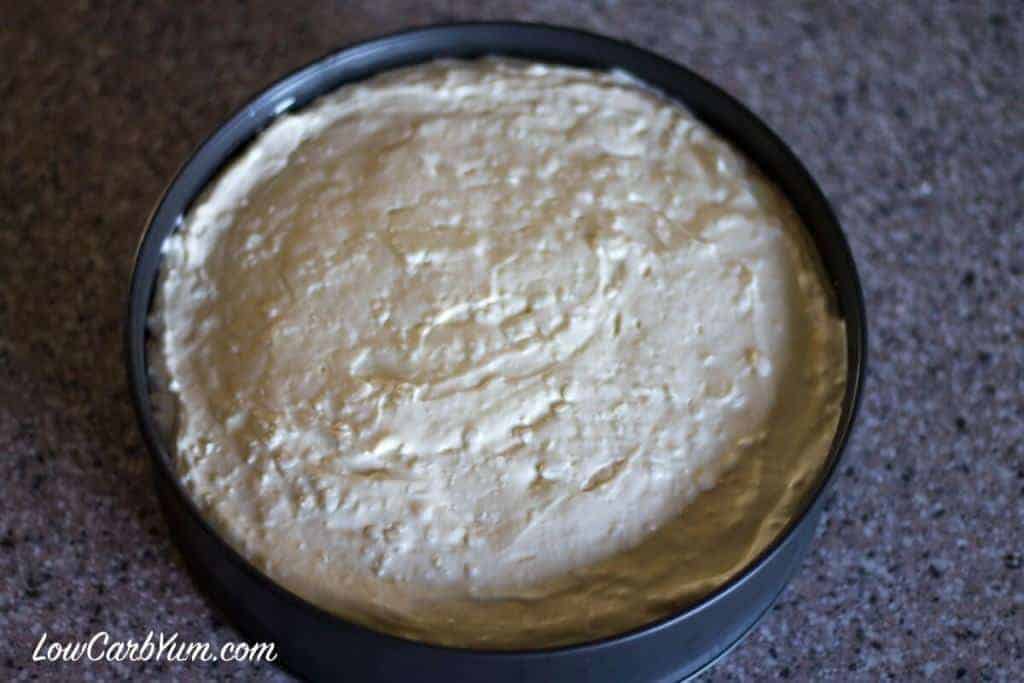 It would have been better for me to take the creation to work and share and share with my coworkers. Because I grew up very poor, it's also tough for me to throw away extra food.
I wish there was an easy way to donate all my extra food to those in need. That's really the best answer, but it's not easy to donate prepared food.
There are some big buffets in my area. I've heard that one of the restaurants donates the food to a local farmer to feed his pigs. I guess that's another option so food doesn't go to waste.
This low carb coconut cream cheesecake is very filling so you'll want to keep the servings fairly small. I had a slice for breakfast and wasn't hungry until lunch time.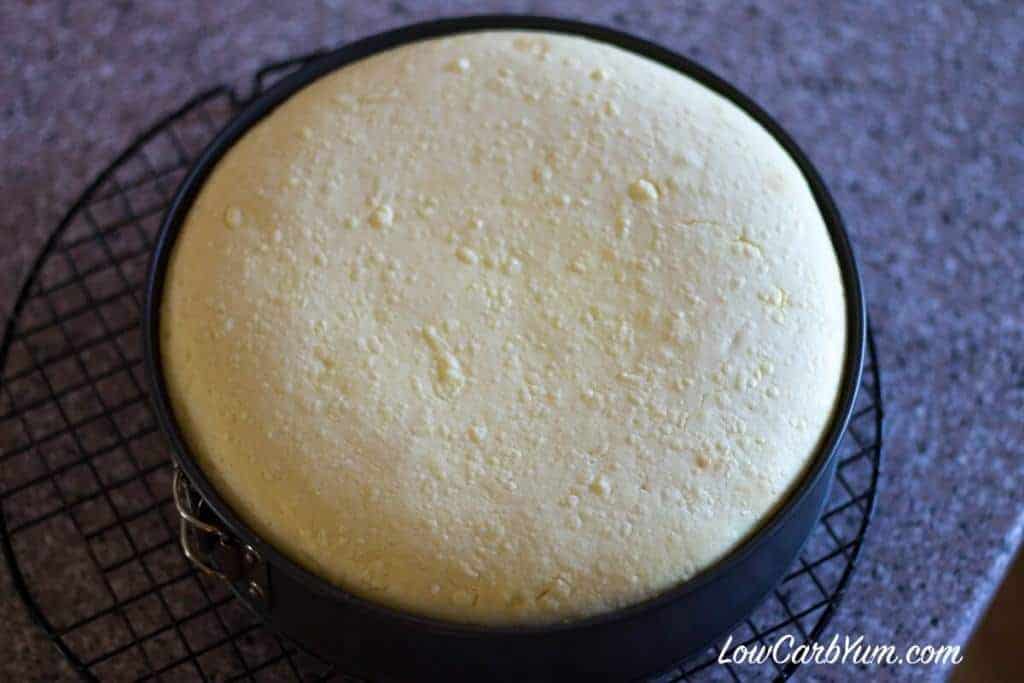 I found that cooking this cheesecake at a low temperature makes it much creamier. The top also wasn't as crusted as most baked cheesecakes tend to be.
Another thing that helps is to bake the cheesecake in a water bath. But, to do that, you'll want to make a water tight seal of aluminum foil at the bottom of the pan.
I didn't bother using a water bath this time and the top of the cheesecake didn't crack. So, that's a good sign that the lower temperature helped.
The coconut cream was a nice change for the cheesecake. I also like using it to make my dairy free yogurt in the Instant Pot.
I'm thinking I may need to try using it to make a dairy free cheesecake. But, I'm not sure how to sub out the cream cheese. Perhaps use a nut based cheese?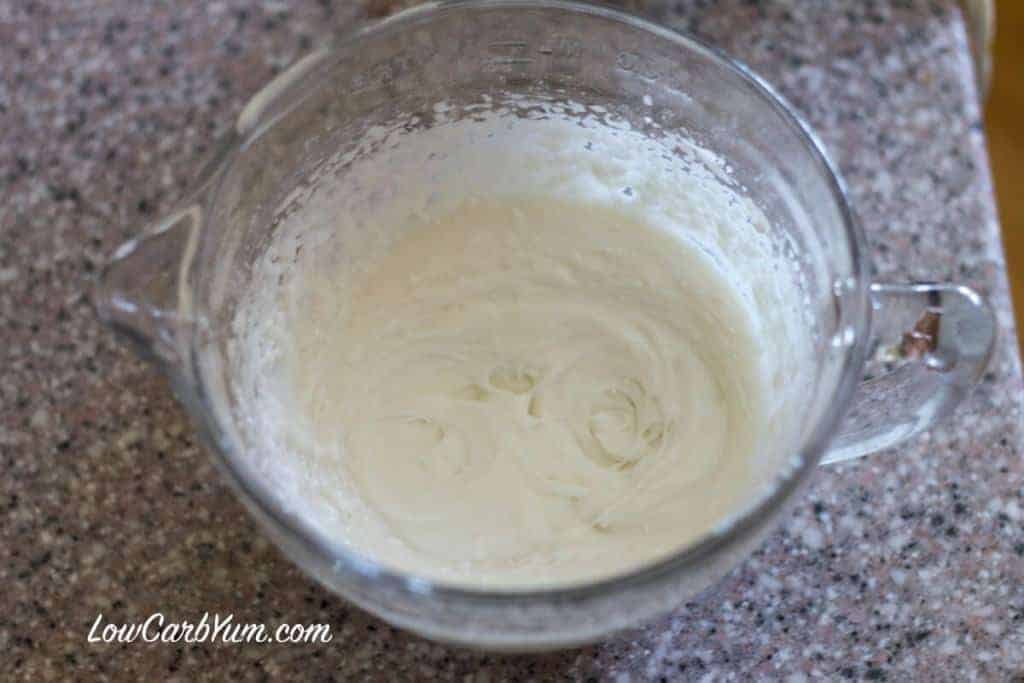 The frosting is a nice addition to the cheesecake and allows the rest of the coconut cream in the can to be used.
I was amazed at how great it tasted. I will always add a bit of cream cheese to my low carb frosting from now on to get rid of the cooling effect of the erythritol.
You could use a chocolate ganache as an alternative topping. It would be similar to my popular Boston Cream Cheesecake recipe.
Although there's a nice taste of coconut in this dessert, I'm thinking there's always room to take it up a notch.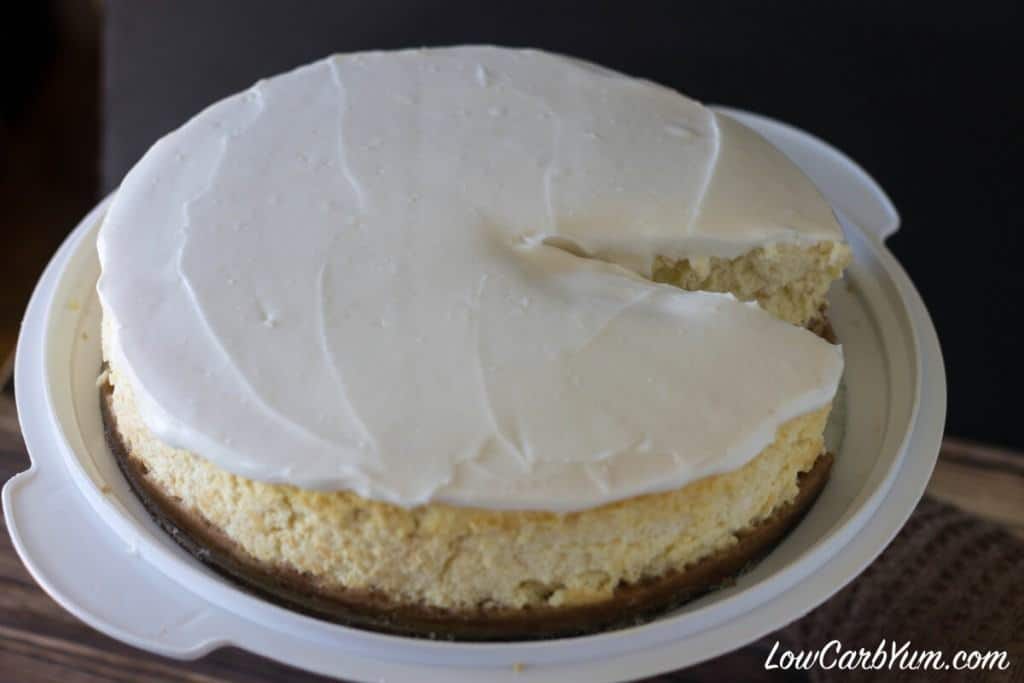 Next time, I may add some unsweetened coconut to the filling or top of the frosting with some toasted coconut. It would really be a coconut cheesecake then.
Of course, I definitely will have to share next time because it was a bit much for me to eat this whole cheesecake by myself. It would also make a wonderful holiday dessert.
If you're into cheesecakes, you should try out my no bake banana split cheesecake. It's based on a popular recipe from a coworker.
And, if you like coconut, try an easy coconut jelly recipe. It's dairy-free and is even suitable for the very strict autoimmune protocol (AIP) diet.

Coconut Cream Cheesecake Recipe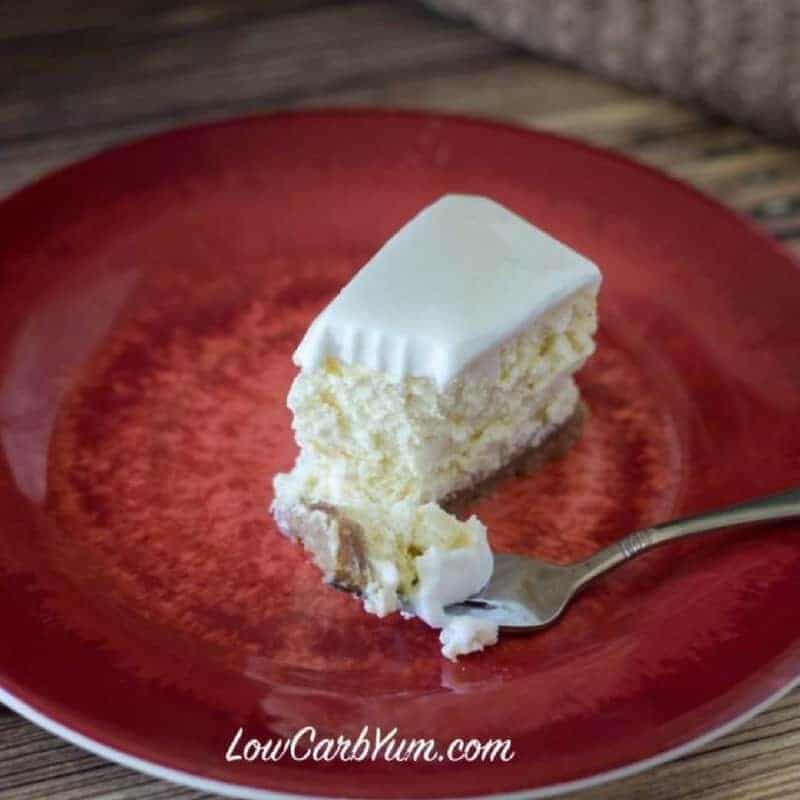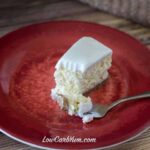 Gluten Free Coconut Cream Cheesecake
Cheesecake is one of the most popular low carb high fat desserts. We love this yummy gluten free coconut cheesecake. A great way to fill up on fat!
Cook Time
1
hour
30
minutes
Total Time
1
hour
45
minutes
Ingredients
Instructions
Mix together crust ingredients and press into the bottom of a springform pan. Refrigerate while preparing filling.

In a large bowl, beat together filling ingredients. Mix just until smooth.

Pour filling onto the crust and bake at 350°F for 15 minutes. Reduce the heat to 250°F and bake for another 75-90 minutes.

Allow to cool completely in the refrigerator. Run knife along edge of cake and remove springform side.

For frosting, beat together coconut cream, powdered sugar, and cream cheese until creamy.

Spread frosting over the cooled cake. Refrigerate for at least an hour before slicing.
Recipe Notes
Makes 16 slices
Nutrition per slice: 3.7g net carbs, erythritol
Nutrition Facts
Gluten Free Coconut Cream Cheesecake
Amount Per Serving (1 slice)
Calories 207
Calories from Fat 180
% Daily Value*
Total Fat 20g 31%
Cholesterol 48mg 16%
Sodium 69mg 3%
Potassium 89mg 3%
Total Carbohydrates 4g 1%
Protein 4g 8%
* Percent Daily Values are based on a 2000 calorie diet.
Related Posts