Here are 50 amazing keto chicken breast dinner recipes for you to enjoy; they're all quick and easy to prepare and full of flavor. Try one at your next family dinner!
Chicken breasts are such a versatile protein to cook with. I often prepare chicken breast dinner recipes because they're universally enjoyed.
It's also the chameleon of protein sources – you can shred it, fillet it, or cook it in its whole form.
Easy chicken breast recipes
I compiled these easy chicken breast recipes to help give you some dinner inspiration throughout the week.
With our busy lives, it's hard to plan and prepare tasty meals. But with these easy, step-by-step recipes, you can cook healthy meals without a second thought.
Each of these recipes is also totally keto-approved, so you don't need to stress about how you'll fit them into your daily macros.
Chicken breast substitutions
While chicken is versatile and easy to cook with, it may not be your preference.
You can substitute any of these recipes with the protein of your choice. For shredded chicken recipes, you can sub for shredded beef or pork.
If a recipe requires whole chicken breasts, swap for cuts of pork, turkey, or beef.
Chicken breast dinner recipes
These are my favorite, easy chicken breast dinner recipes that you can enjoy any night of the week.
1. Slow Cooker Salsa Verde Chicken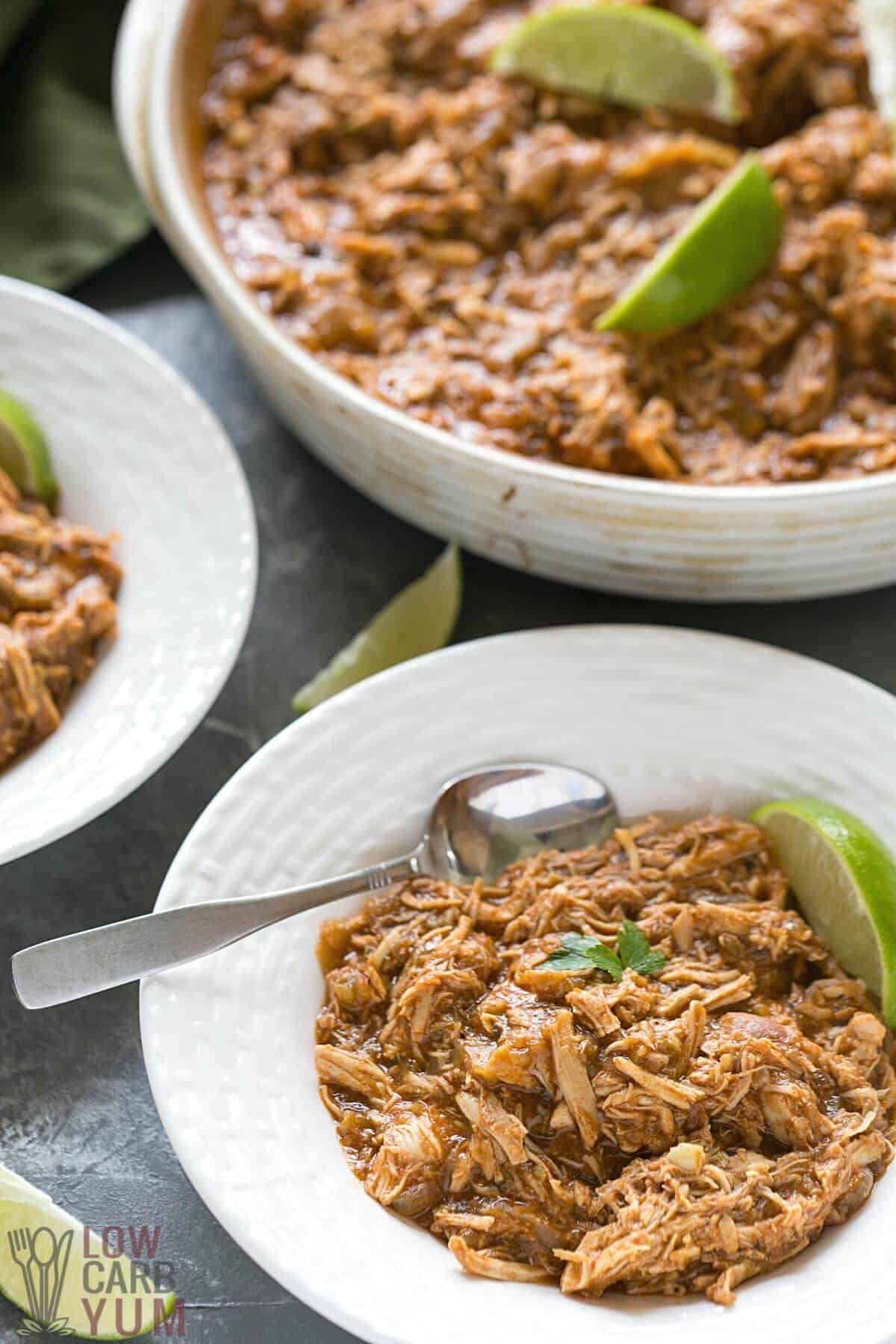 This slow cooker salsa verde chicken is perfect for your busiest weekdays.
Made with simple spices, shredded chicken breasts, and salsa verde, this is a tasty lazy Sunday meal paired with cauliflower rice and keto tortilla chips.
2. Tuscan Chicken Skillet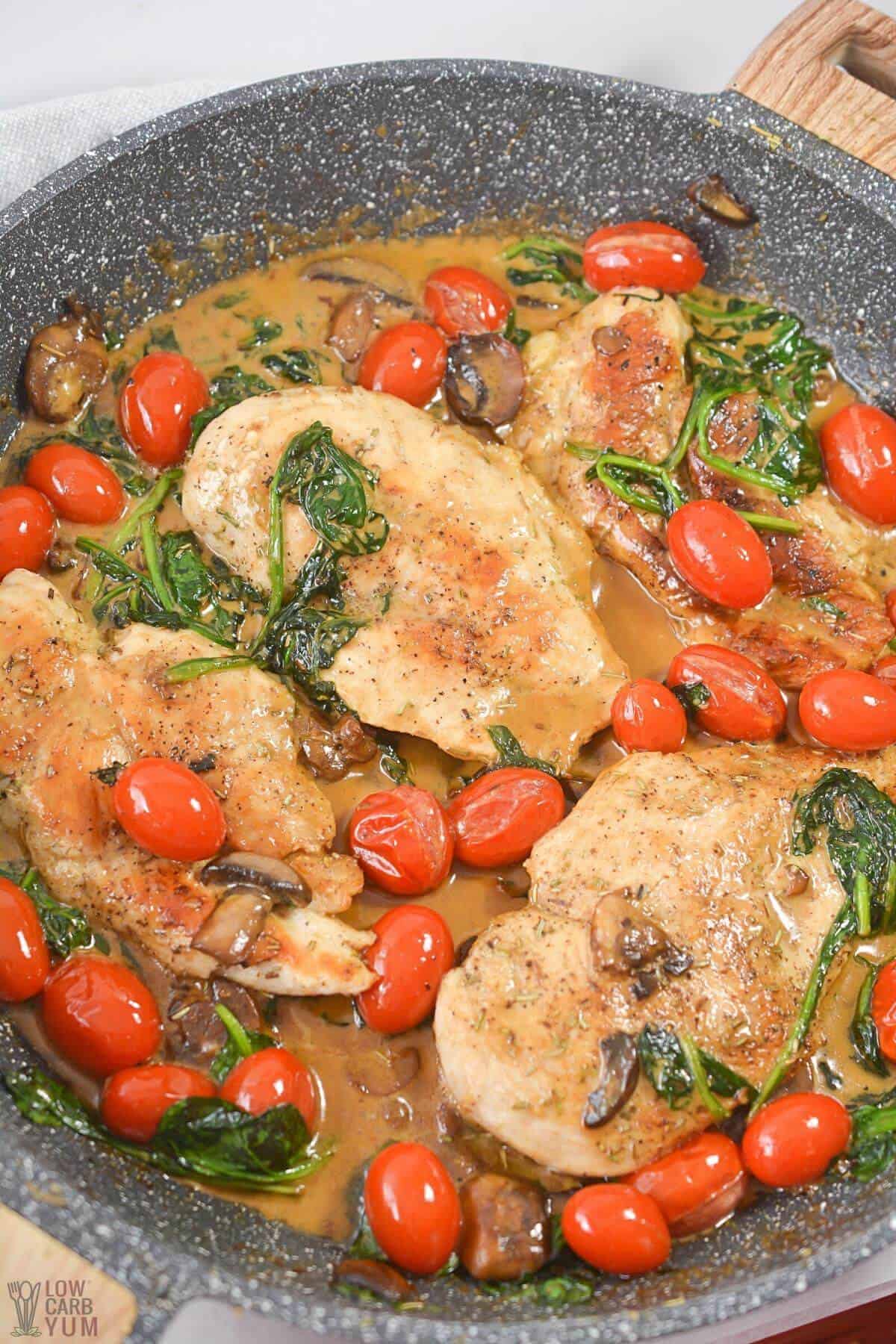 A Tuscan chicken skillet sounds (and tastes!) super impressive, but it's remarkably easy to make!
Featuring rosemary and oregano herbed chicken, tomatoes, fresh mushrooms, and a creamy sauce, this skillet dish is totally dinner party worthy.
3. Lemon Caper Chicken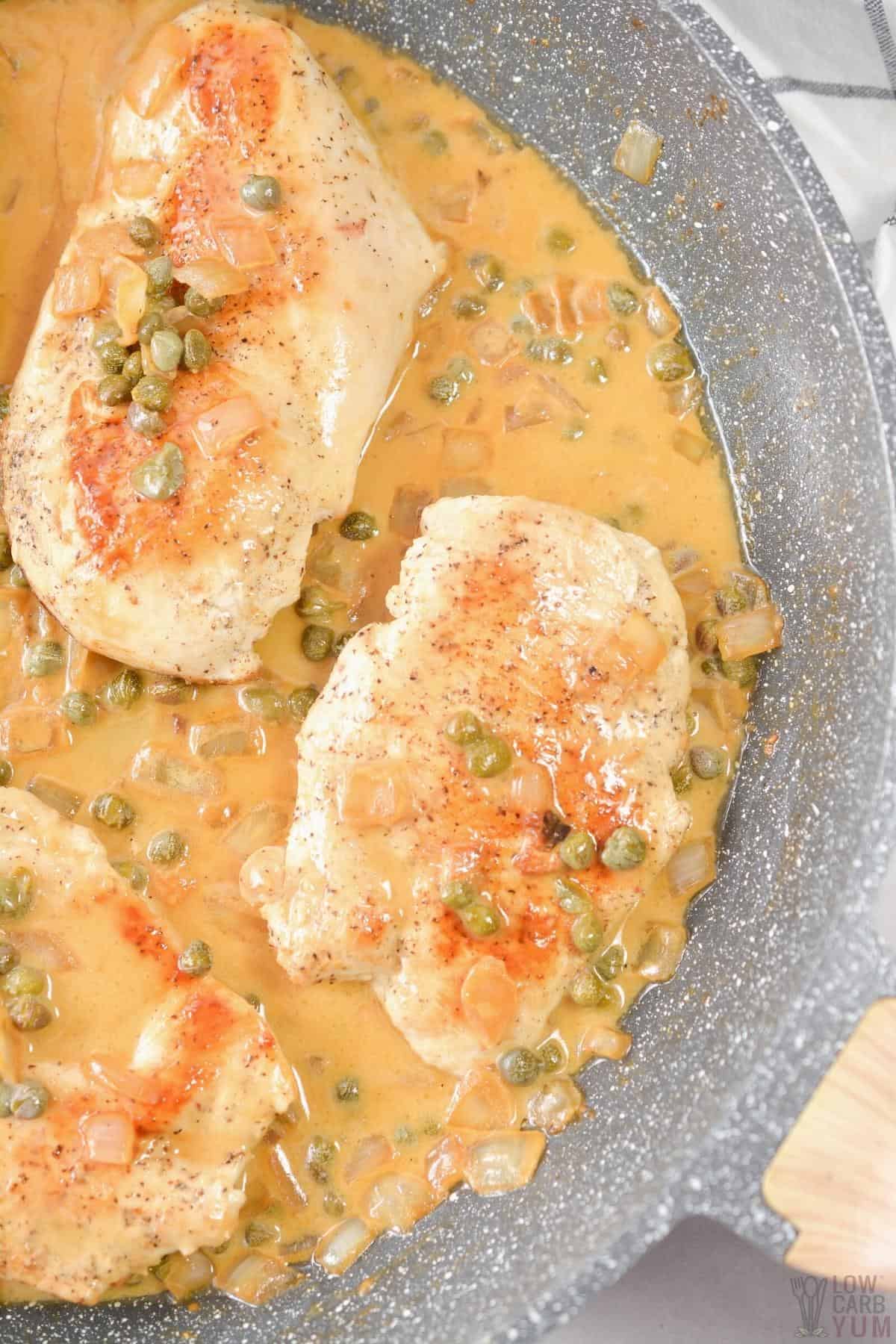 My lemon caper chicken includes juicy, flaky chicken served with a keto white wine sauce.
Fresh garlic and lemon juice make it super aromatic; it's sure to make the entire household hungry!
4. Keto Chicken Parmesan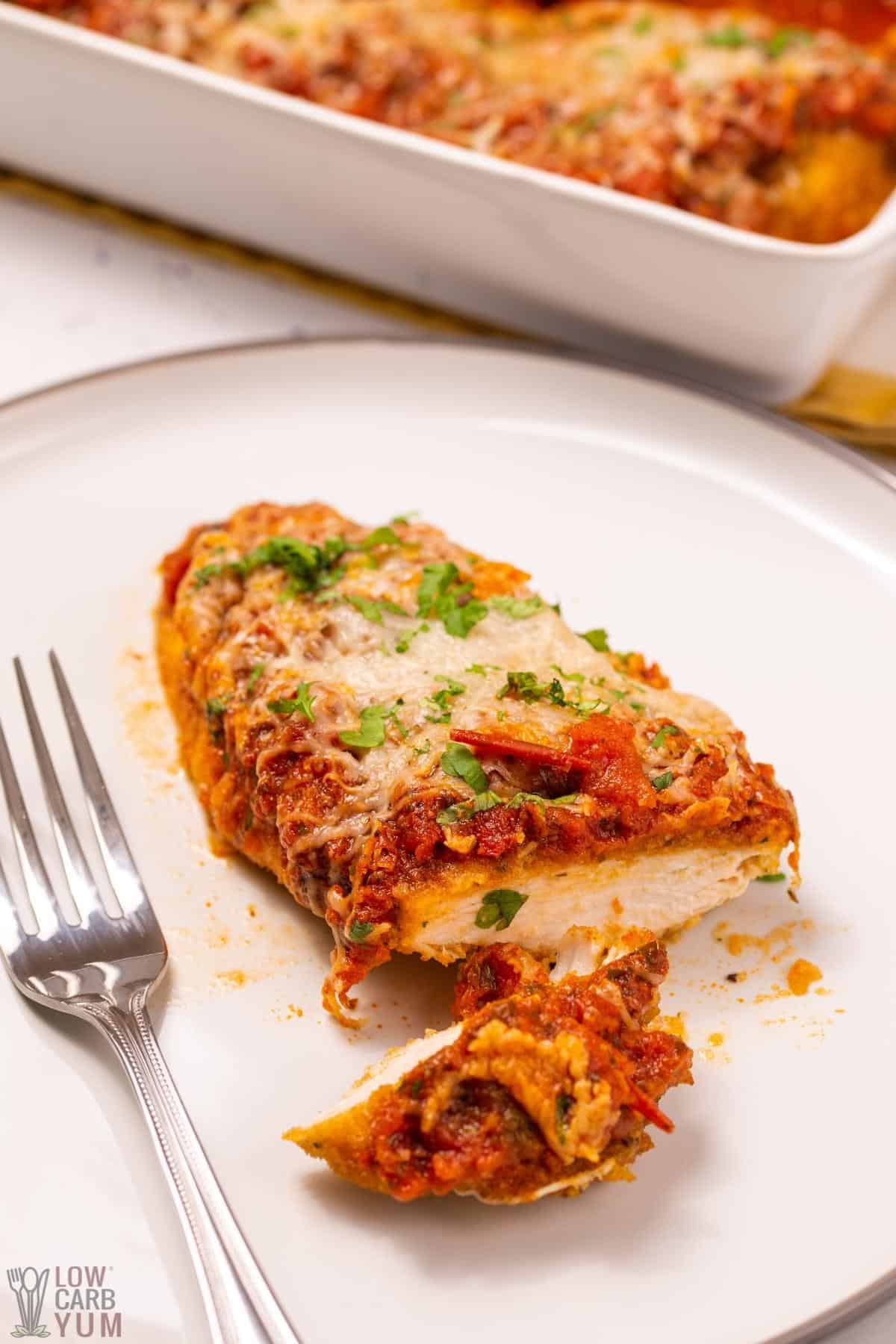 Try a classic Italian comfort food, keto-style, with my keto chicken parmesan recipe.
This low-carb version of chicken parmigiana uses zucchini noodles as a clever substitute.
This is one of the best chicken breast recipes because it's quick to bake and nutrient-dense while remaining tasty and satisfying; the grated parmesan cheese adds a fabulous finishing touch!
5. Crock Pot Chicken Keto Lo Mein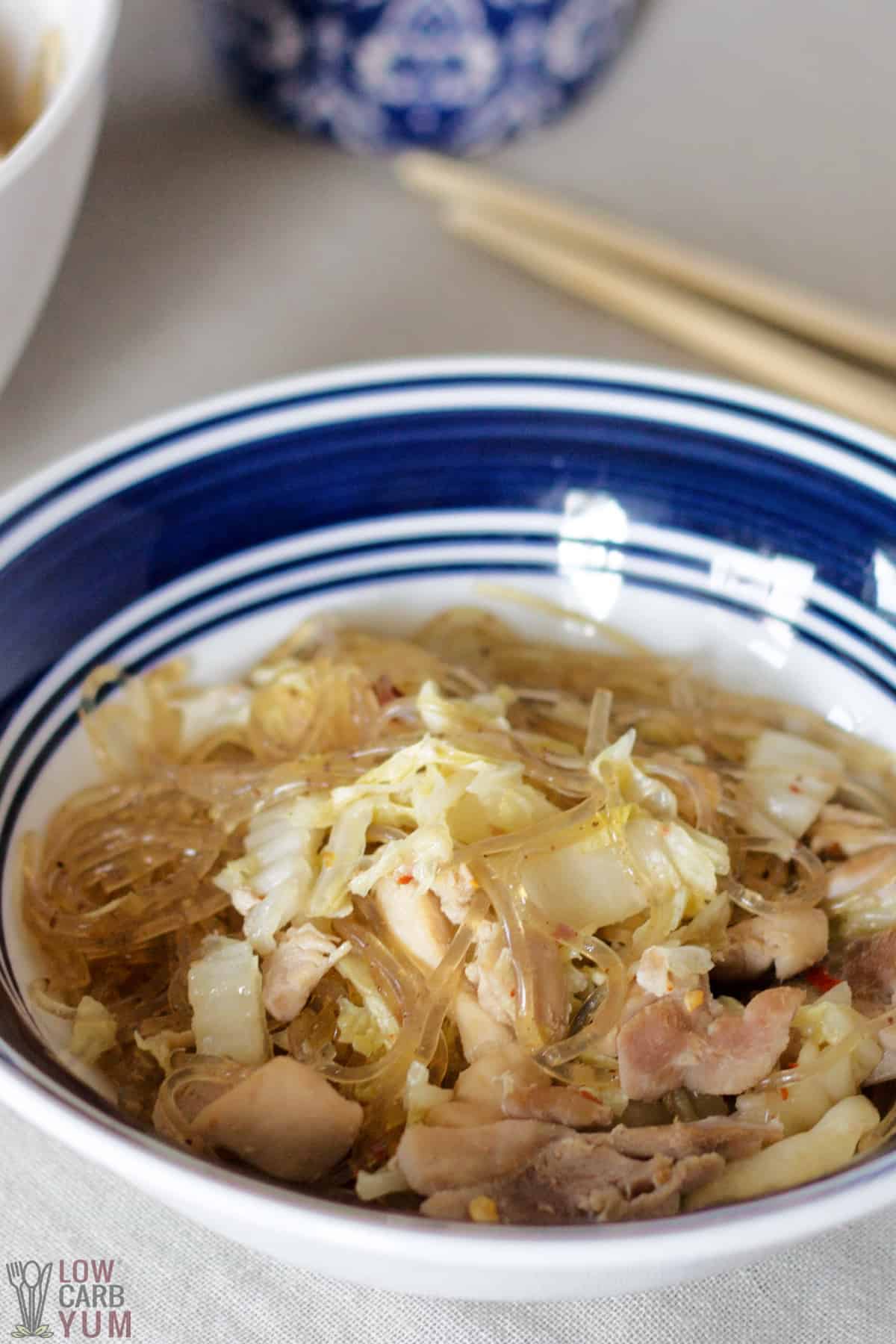 If you're prepping for a busy day ahead, consider making this Crock Pot chicken keto lo mein for dinner.
The chicken marinade is simple and effective. Mix coconut aminos, minced garlic, and sesame oil for the ultimate combination.
6. Simple Shredded Chicken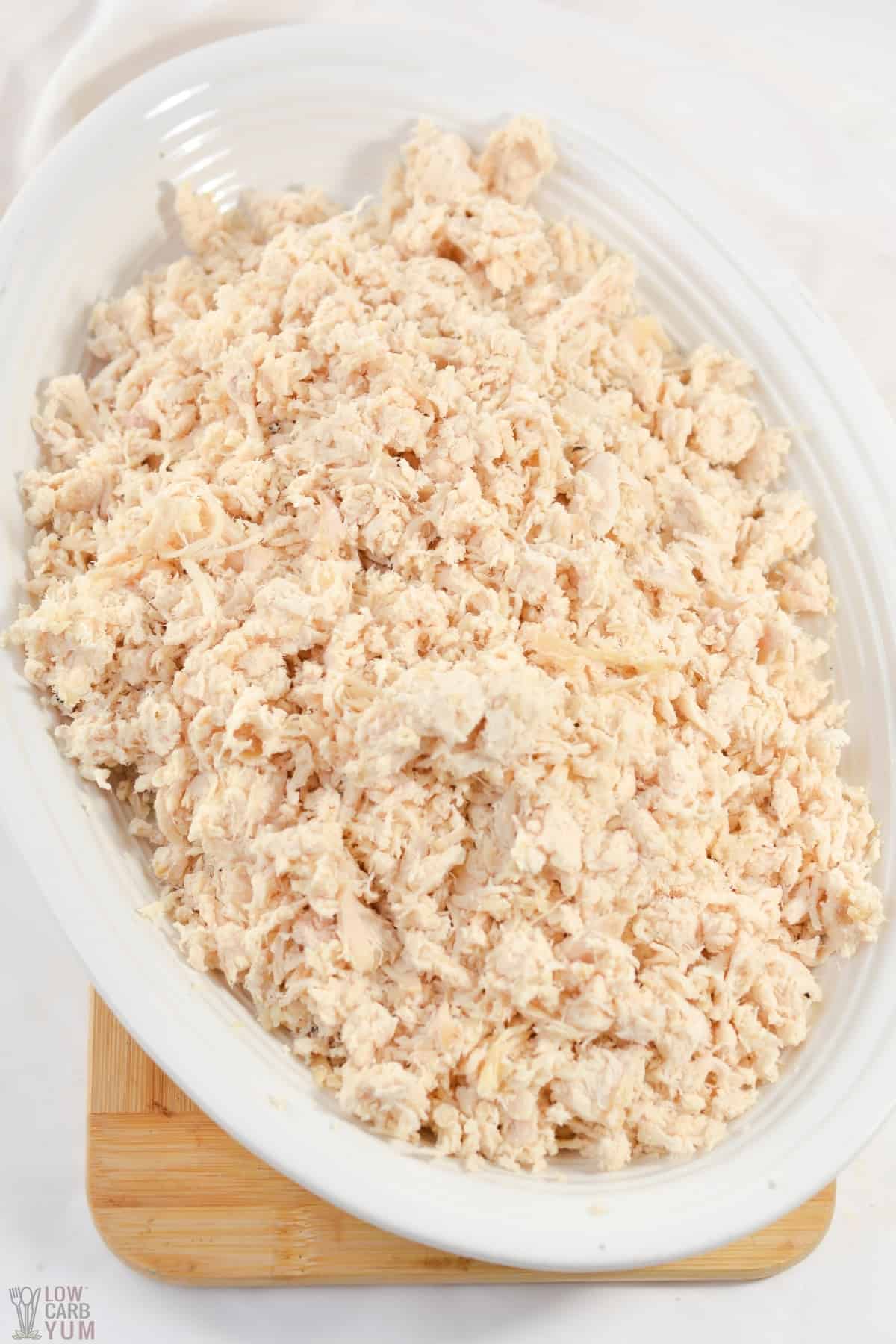 If you're in search of a meal that takes just minutes to prep, you need to try my slow-cooker shredded chicken.
This crockpot shredded chicken breast is tender and delicious, which is perfect to use in a multitude of recipes.
7. Easy Chicken Florentine Casserole Bake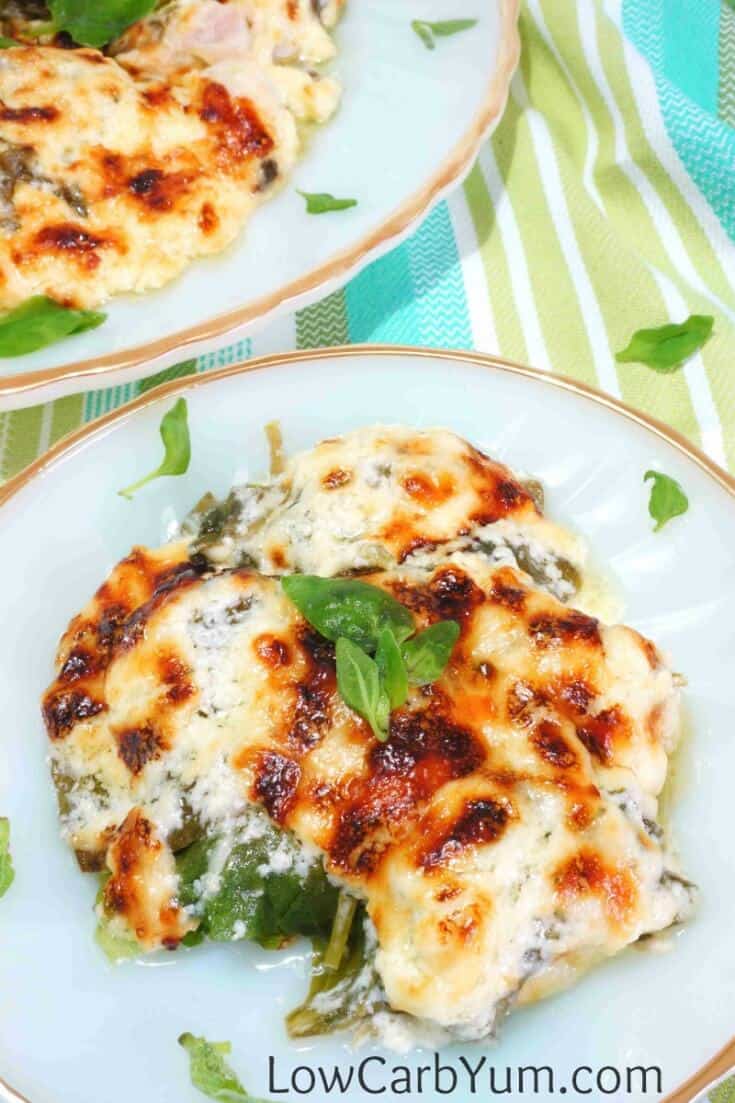 This easy chicken florentine casserole bake contains cream sauce, chicken, spinach, and parmesan cheese (yup, it's as good as it sounds).
8. Healthy Chicken Tetrazzini with Spaghetti Squash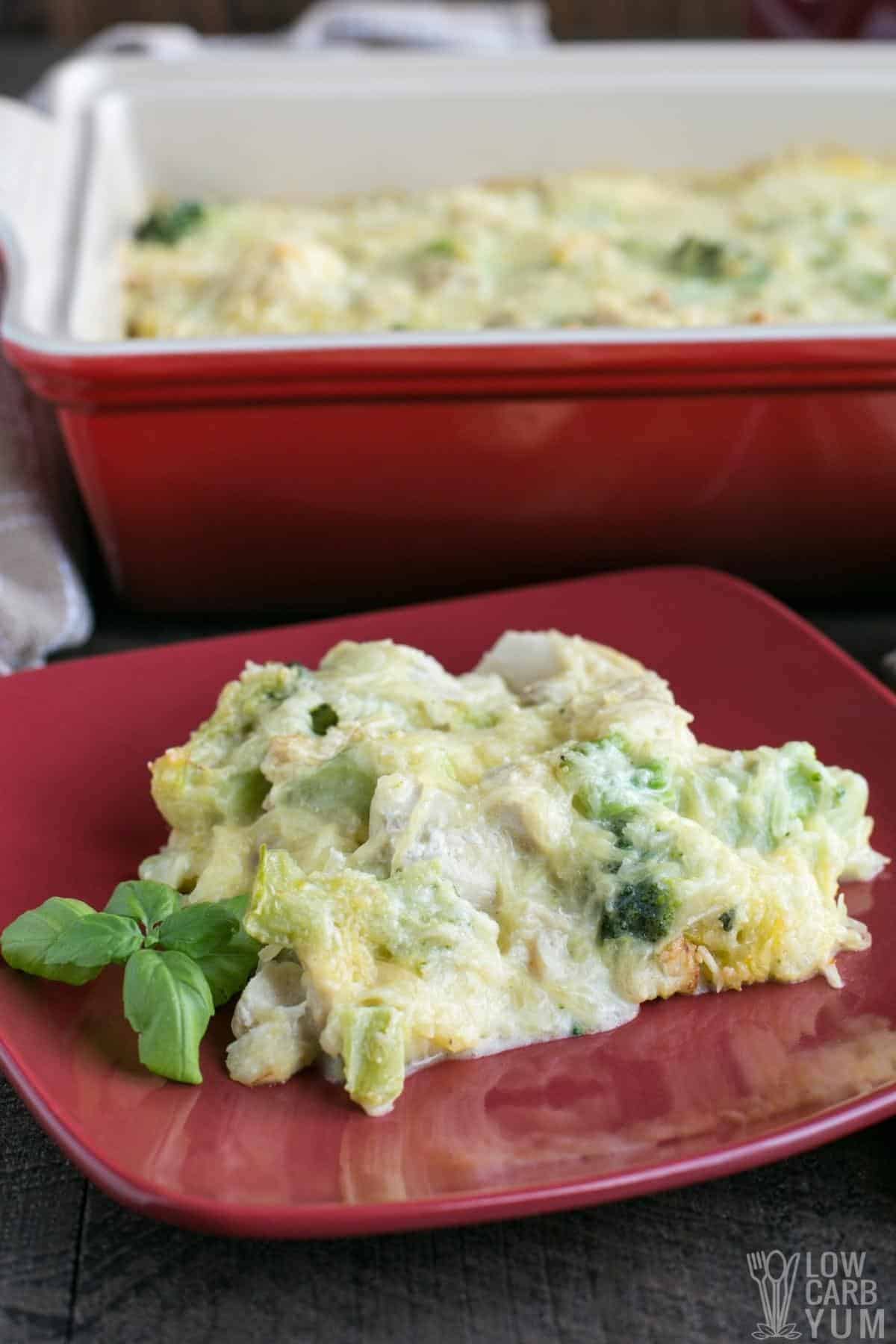 If you have leftover chicken breast, give my chicken tetrazzini with spaghetti squash a try.
This recipe uses spaghetti squash, broccoli, and leftover chicken for a healthy and nutritious meal.
9. Keto Chicken Bok Choy Stir Fry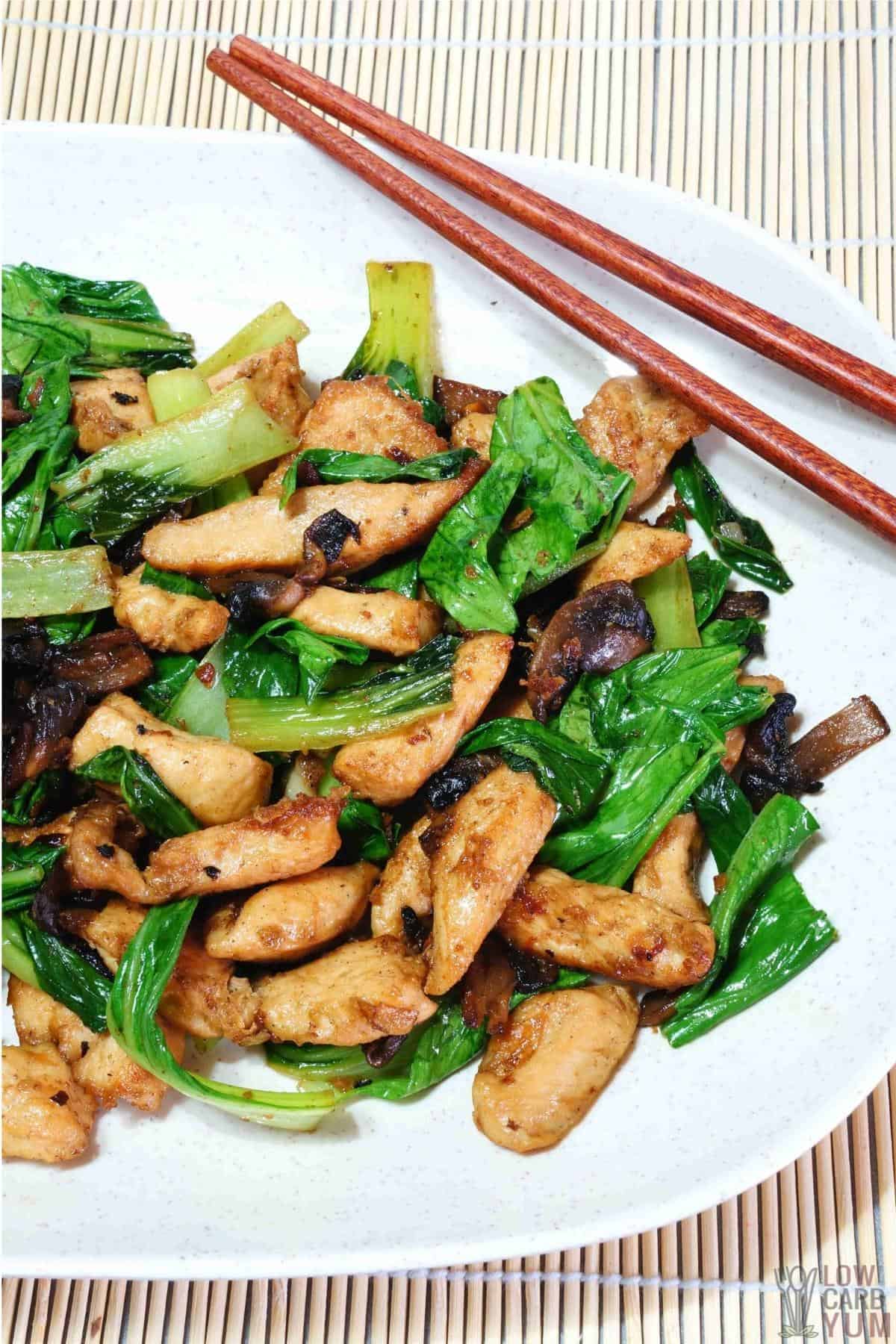 My keto chicken bok choy stir fry swaps cornstarch coating for coconut flour, making it appropriate for any keto diet.
The sliced mushrooms, bok choy, and sesame oil bump up the yum factor!
10. Keto Chicken Taco Casserole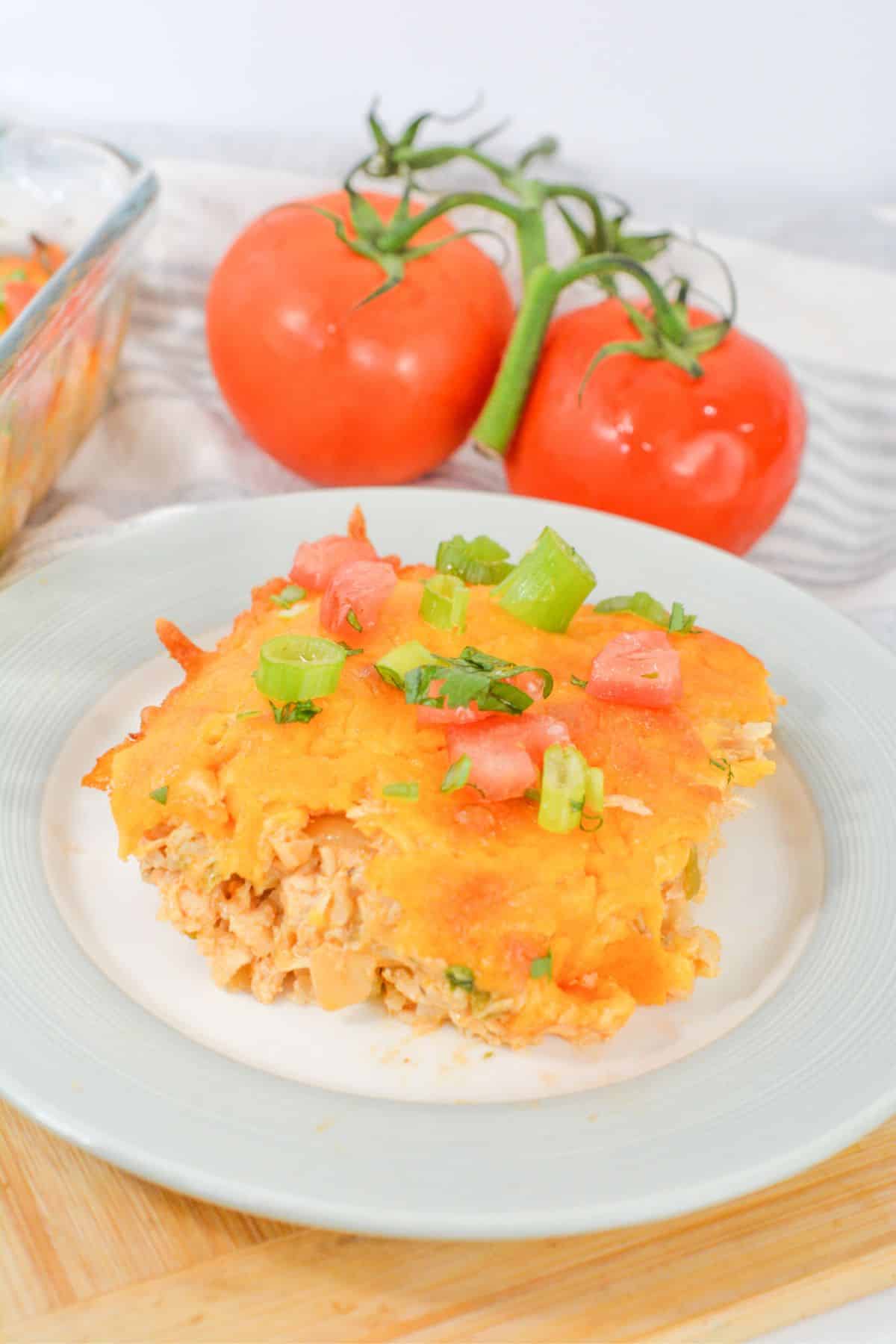 My keto chicken taco casserole is one of my favorite weeknight dinners because of how quickly it all comes together.
This family favorite chicken breast dinner recipe is made with whole ingredients like shredded chicken, taco seasoning, and canned green chilis for a touch of spice.
11. Healthy Asparagus Stuffed Chicken Breasts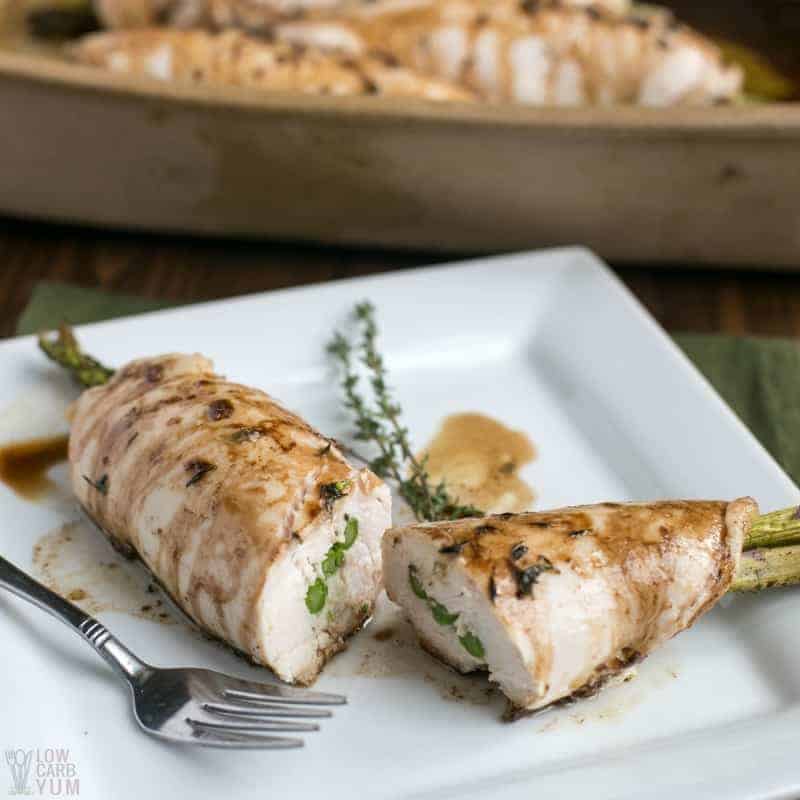 If you want a super healthy chicken dinner, you need to try these asparagus-stuffed chicken breasts.
Enjoy stuffed chicken breast with perfectly crunchy asparagus and a balsamic vinegar finish.
12. Moroccan Grilled Chicken Breasts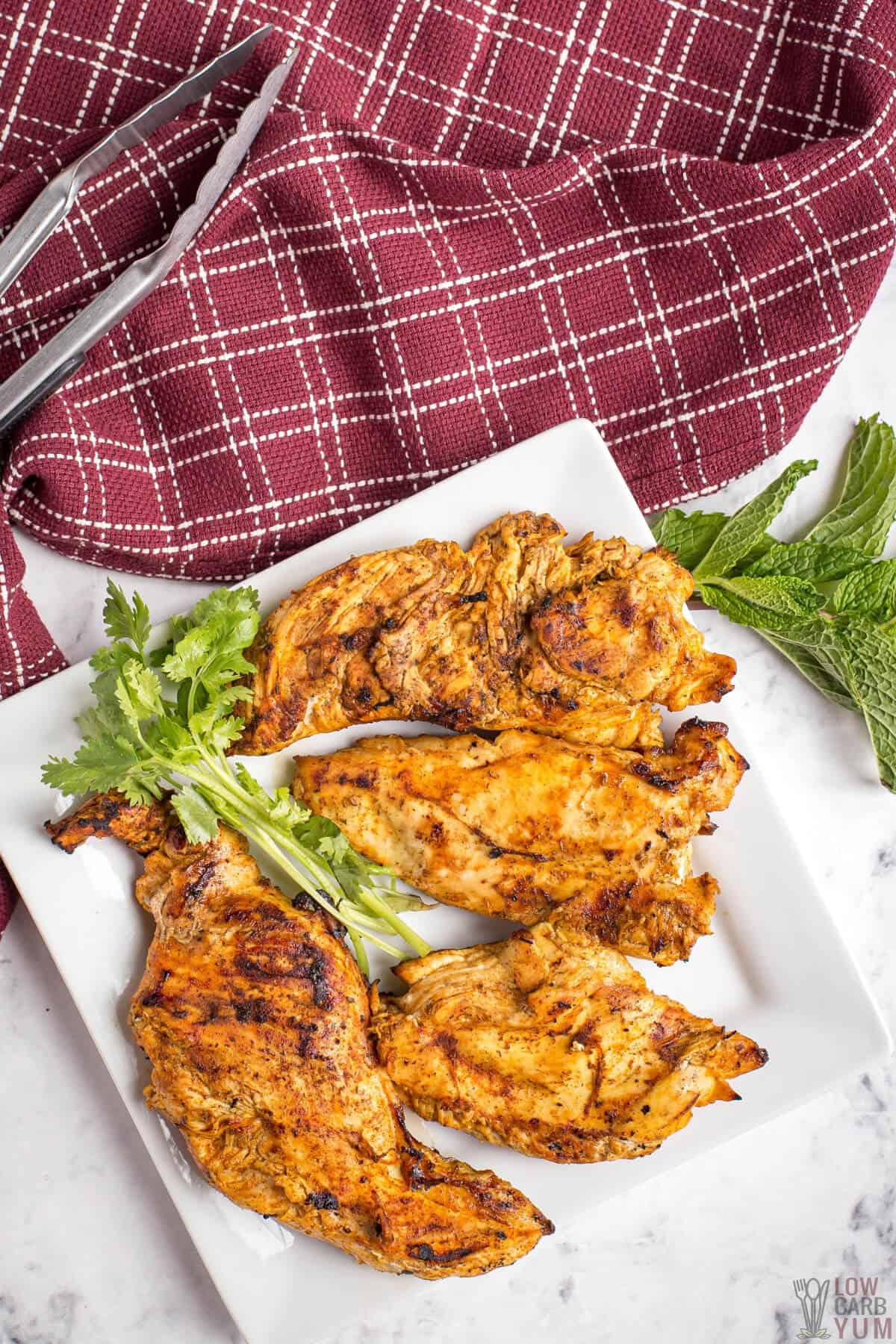 The secret to these Moroccan grilled chicken breasts is the marinade!
Mix spices, including cumin, smoked paprika, cinnamon, and turmeric, for chicken that is bursting with flavor.
If someone says chicken breast is boring, redirect them to this recipe!
13. Baked Pecan Crusted Chicken Breast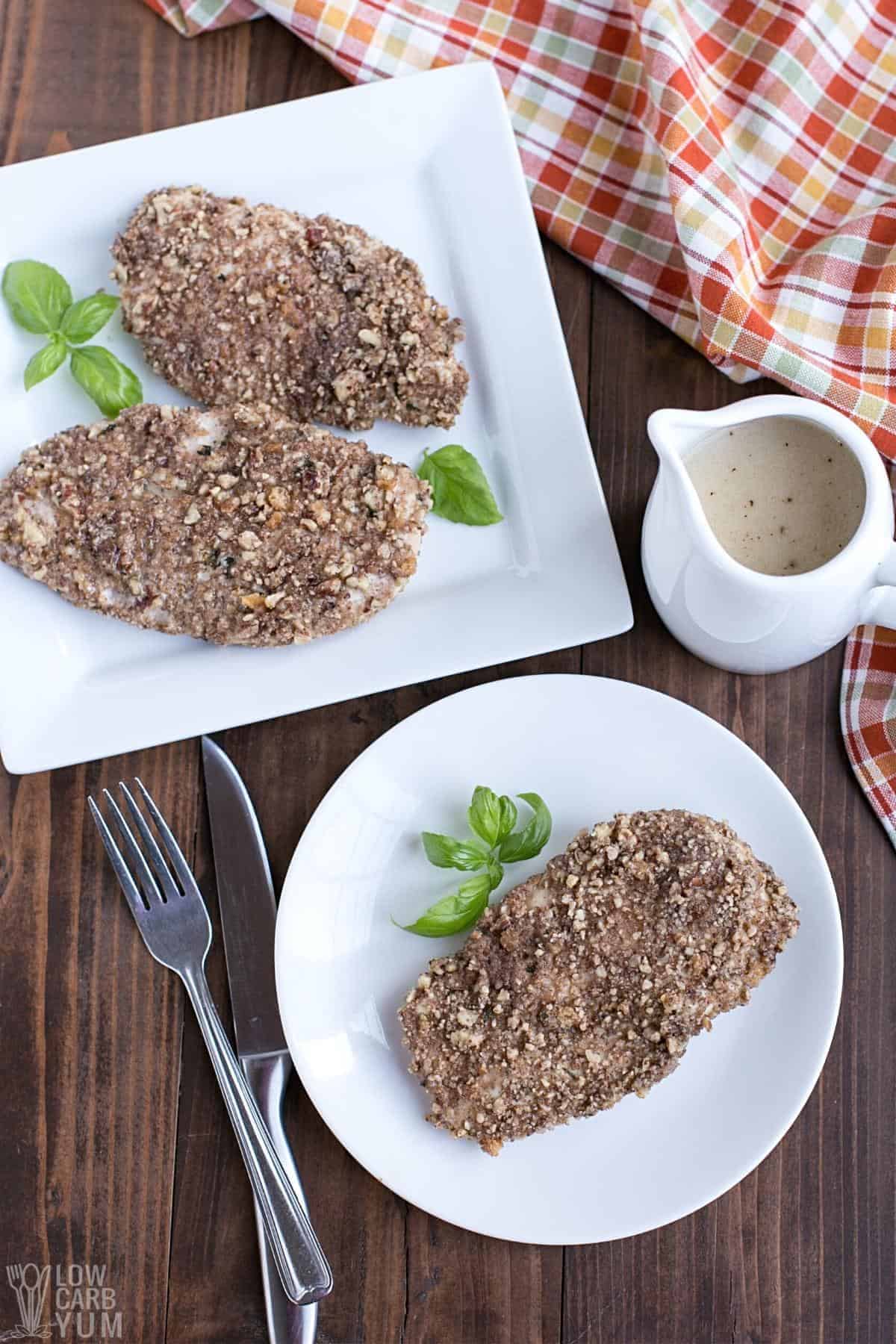 For those of you who prefer baked chicken breast, I have a baked pecan-crusted chicken breast that will rock your world!
The crust is made from pork rinds, pecans, and parmesan cheeses for a low-carb and oh-so-delicious result.
14. Keto Orange Chicken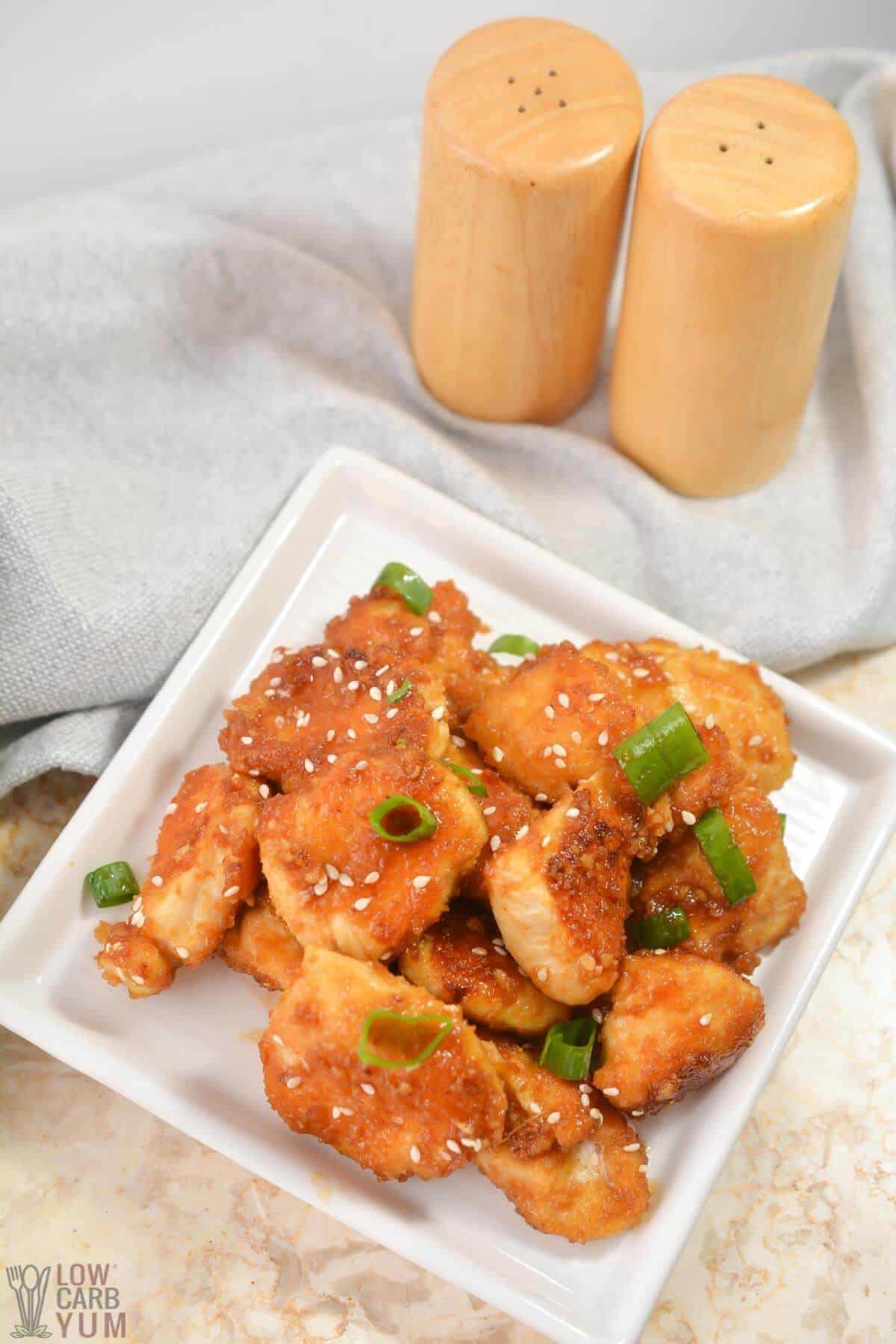 Orange chicken is the ultimate comfort food, but it isn't exactly keto friendly.
If you're in the mood for Chinese takeout without sacrificing your ketosis, try my keto orange chicken recipe.
These sweet chicken bites make a tasty meal that will curb your cravings.
15. Low Carb Chicken Parmesan Pizza Casserole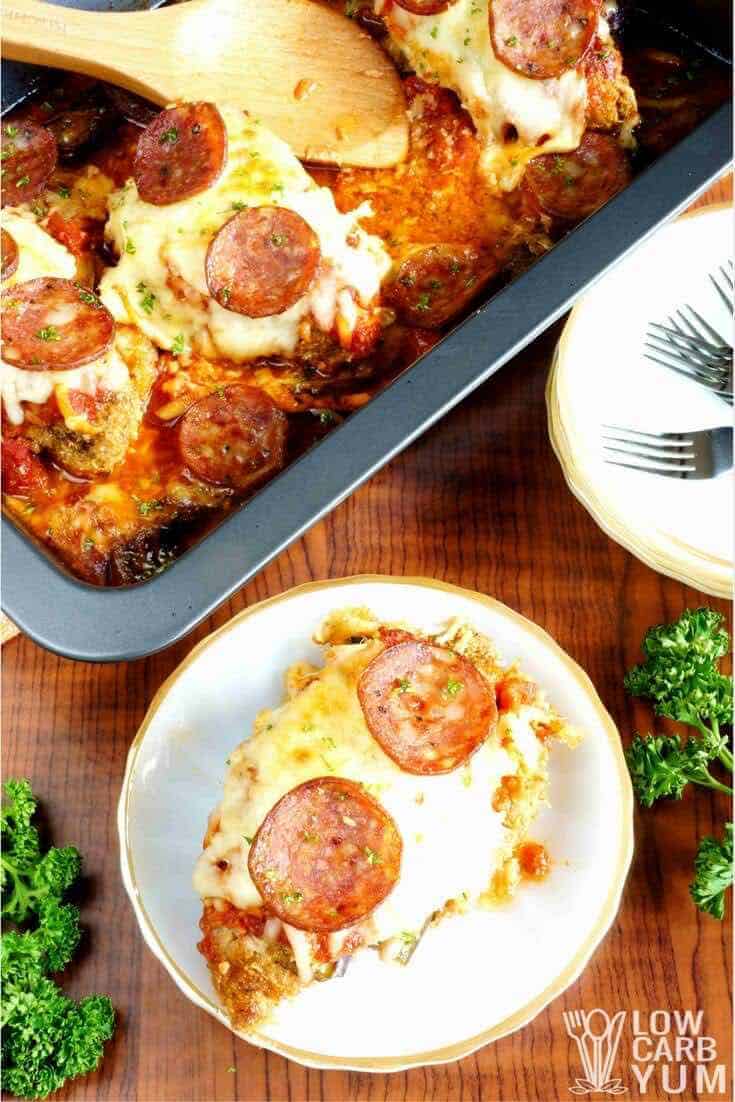 This low-carb chicken parmesan pizza casserole combines three Italian classics into one!
It's low-carb, gluten-free, and filled with sneaky vegetables.
Prep this easy casserole and serve it to the masses!
16. Spicy Crockpot Chicken Chili Pepper Stew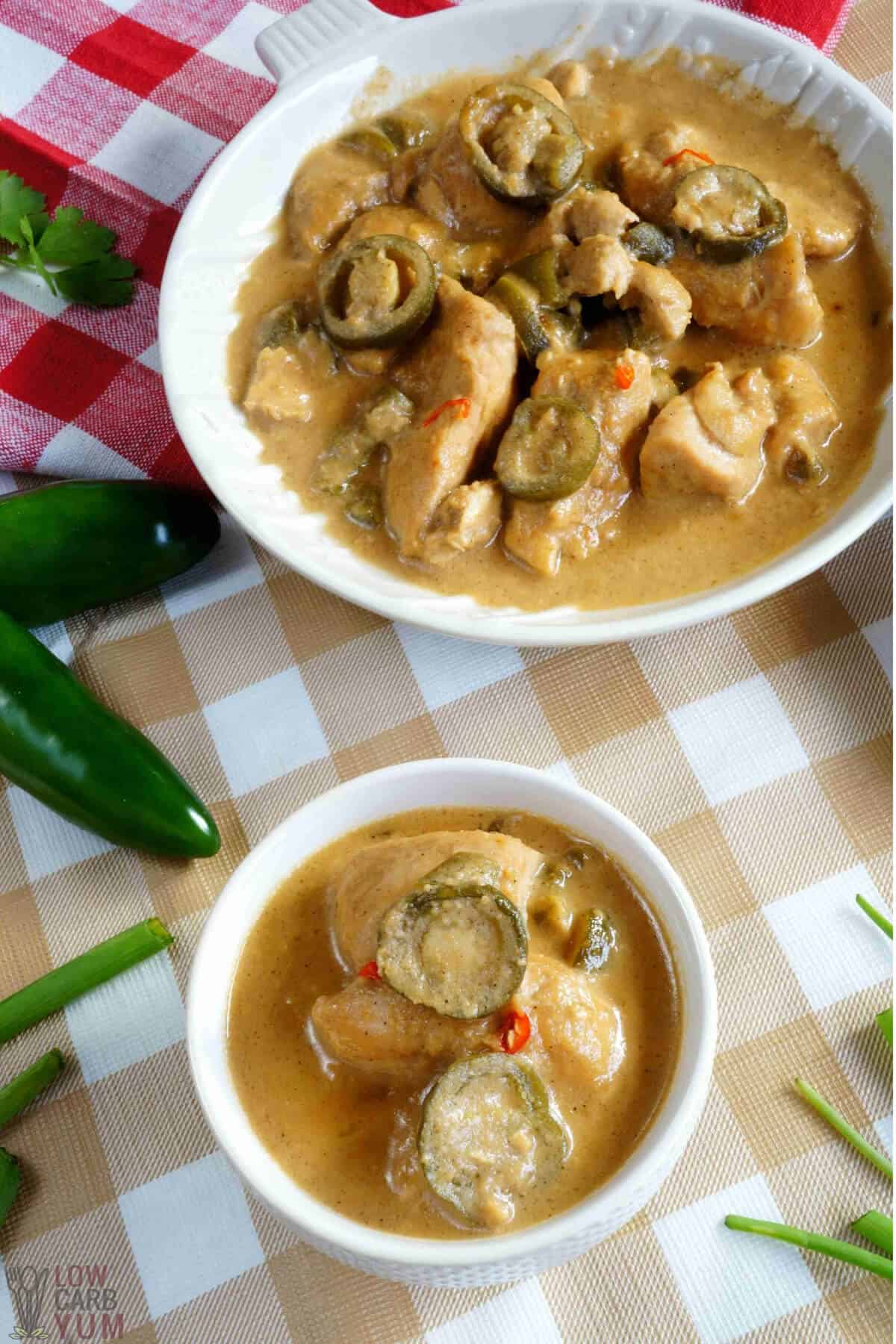 If you're a fan of spicy food, you're in for a treat with this spicy crockpot chicken chili pepper stew.
This one-pot chicken dish is prepped in just minutes and is made with creamy broth and a kick of spice.
17. Chicken Alfredo Casserole with Broccoli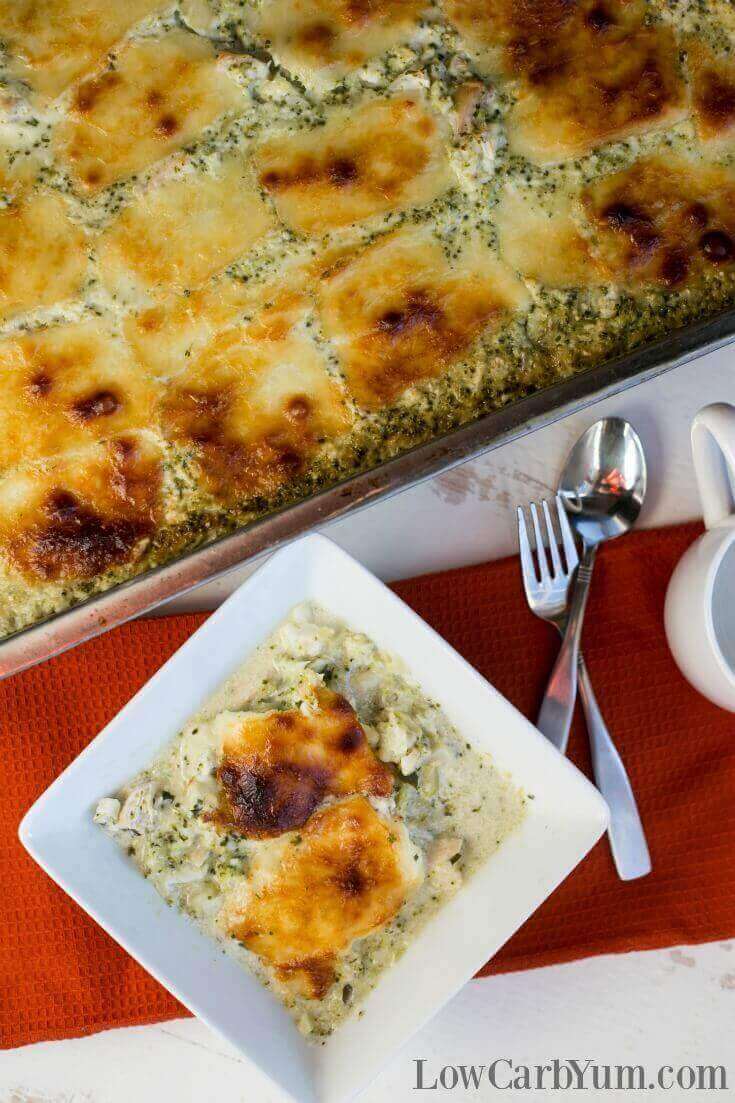 The secret to a delicious meal is a superb sauce; this keto alfredo sauce fits the bill.
Try my chicken alfredo casserole with broccoli for a decadent (and healthy) chicken breast dinner recipe.
18. Pinchos Puerto Rican Marinated Grilled Chicken Kebabs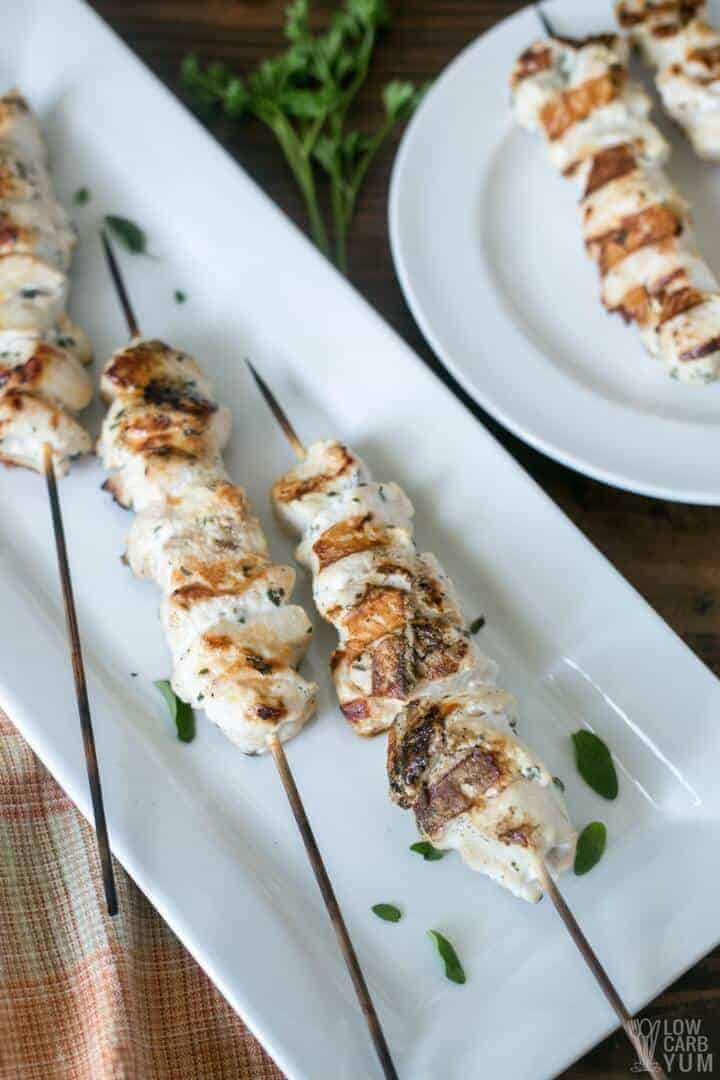 These Puerto Rican marinated chicken kebabs make the perfect savory dish for serving.
Serve them at a summer barbeque or any time of the year; they're worth pulling the grill out for!
19. Low-Carb Chicken Cordon Bleu with Coconut Coating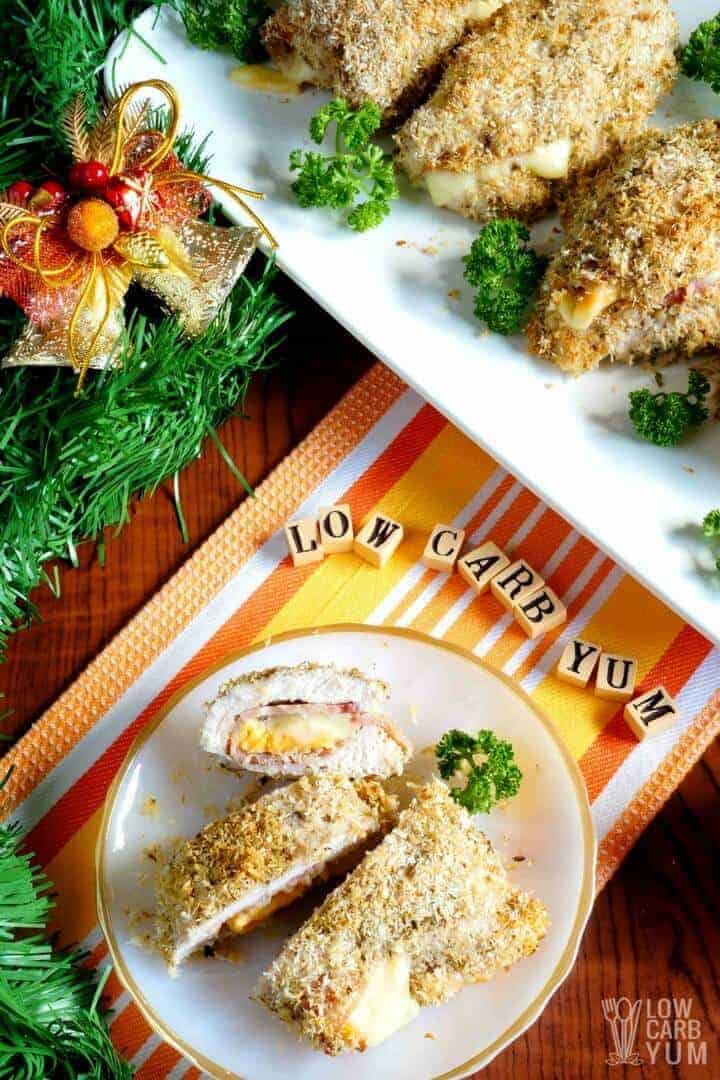 Breaded chicken breasts are a no-go on a keto diet, right? Well, with my low-carb chicken cordon bleu with coconut coating, you can once again enjoy crispy breading guilt-free!
This easy entree is filled with ham, mozzarella, and shredded cheese.
20. Chicken in White Sauce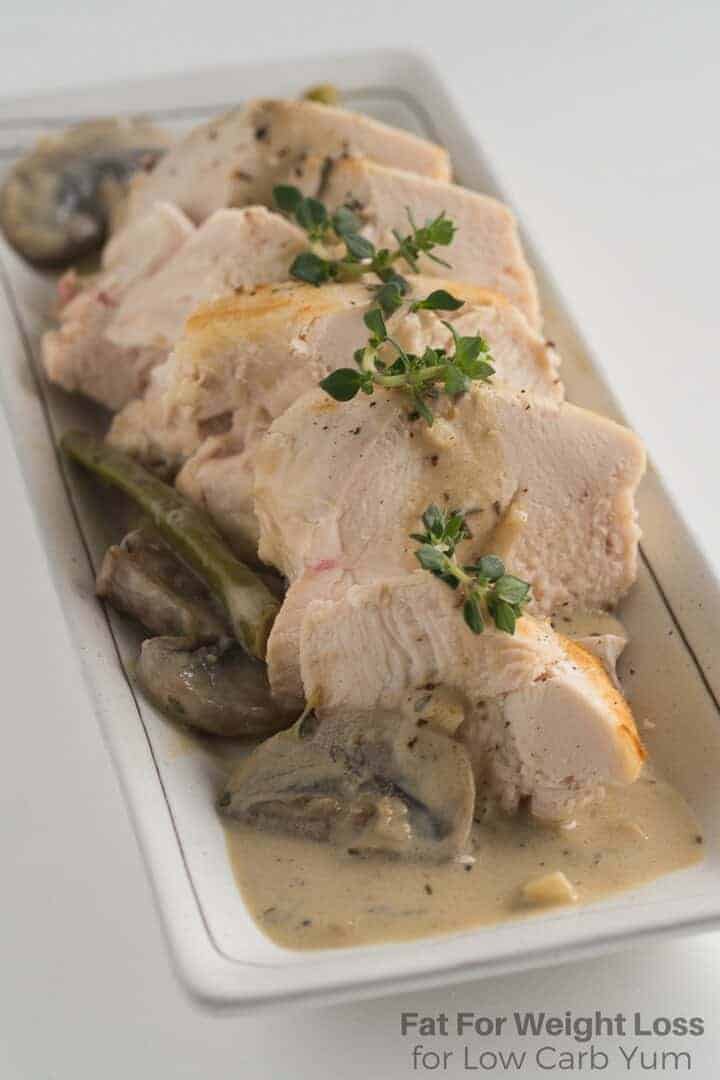 This chicken in white sauce is almost too easy to prepare; the sauce is creamy and delicious with coconut milk, mushrooms, and white wine!
Prep this meal in just 10 minutes, then let it bake to perfection.
21. Ginger Chicken Stir Fry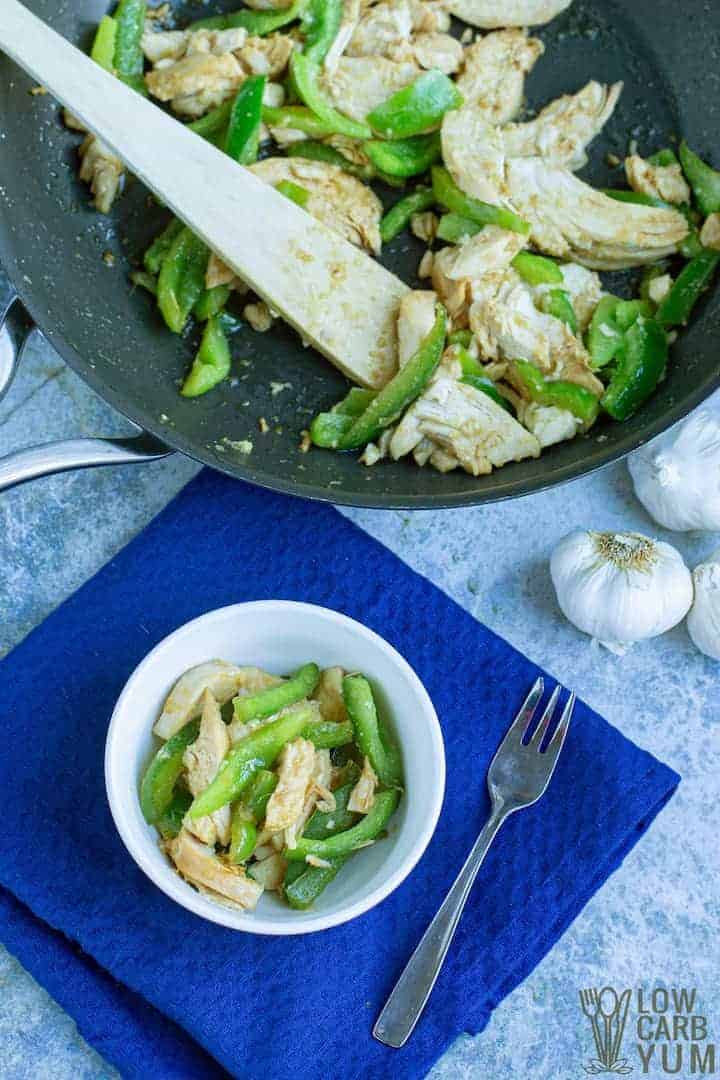 My ginger chicken stir fry is made with just 5 easy ingredients for a quick and easy chicken recipe.
22. Low Carb Keto White Chicken Chili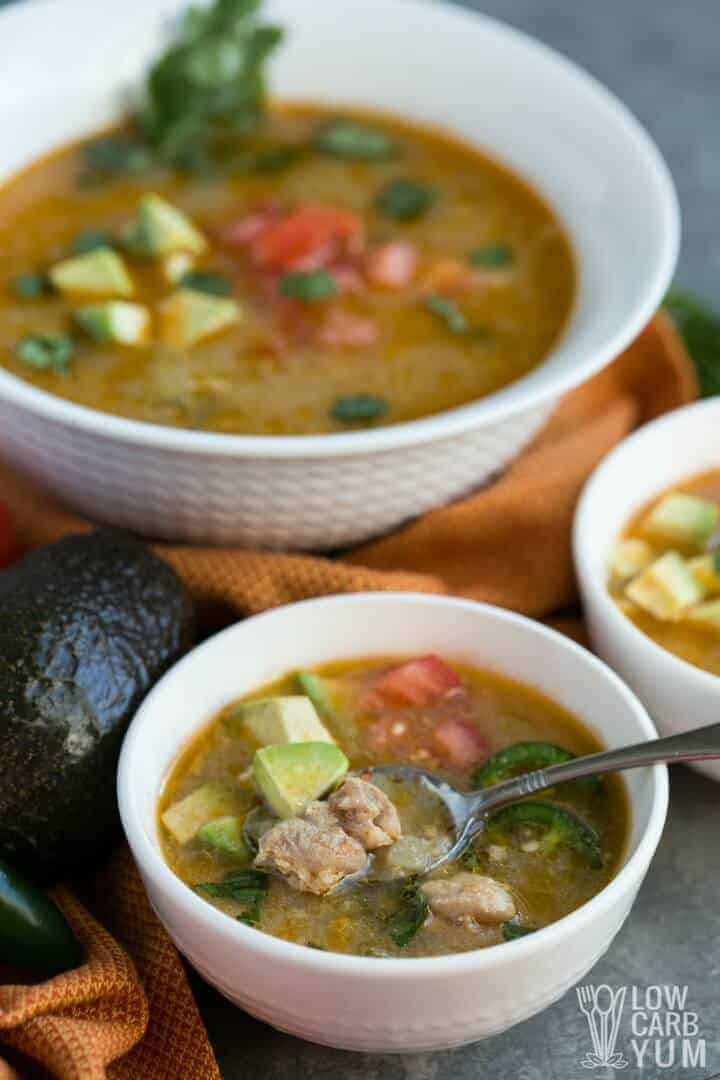 This low-carb keto white chicken chili is perfect for meal prep.
I substitute traditional beans for shredded chicken and tons of yummy cauliflower for a keto-friendly dinner.
23. Keto Buffalo Chicken Dip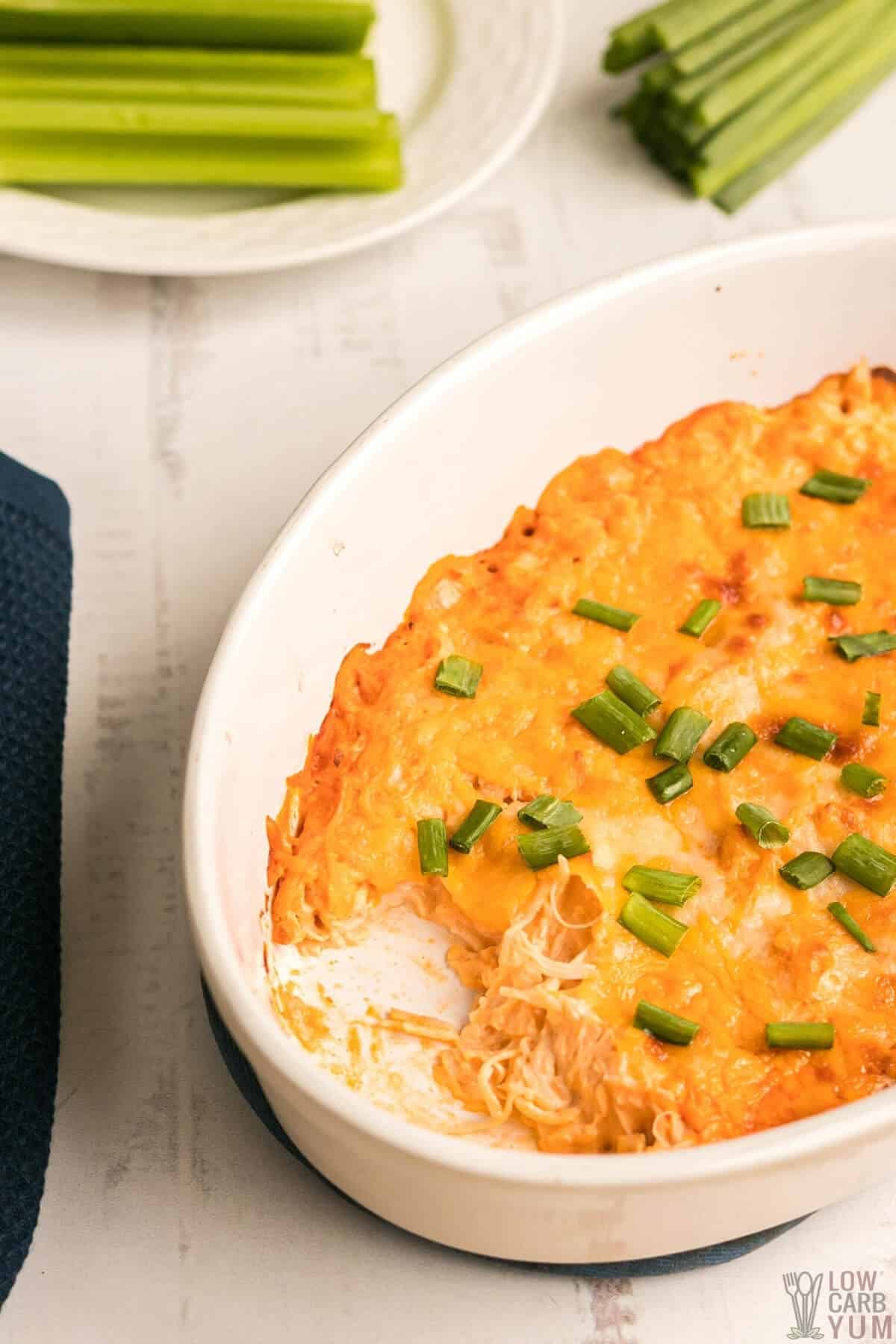 This keto buffalo chicken dip is great to serve on game day or as a snacky dinner option!
Enjoy with keto tortilla chips and dippable veggies.
24. Keto Chicken Pot Pie Casserole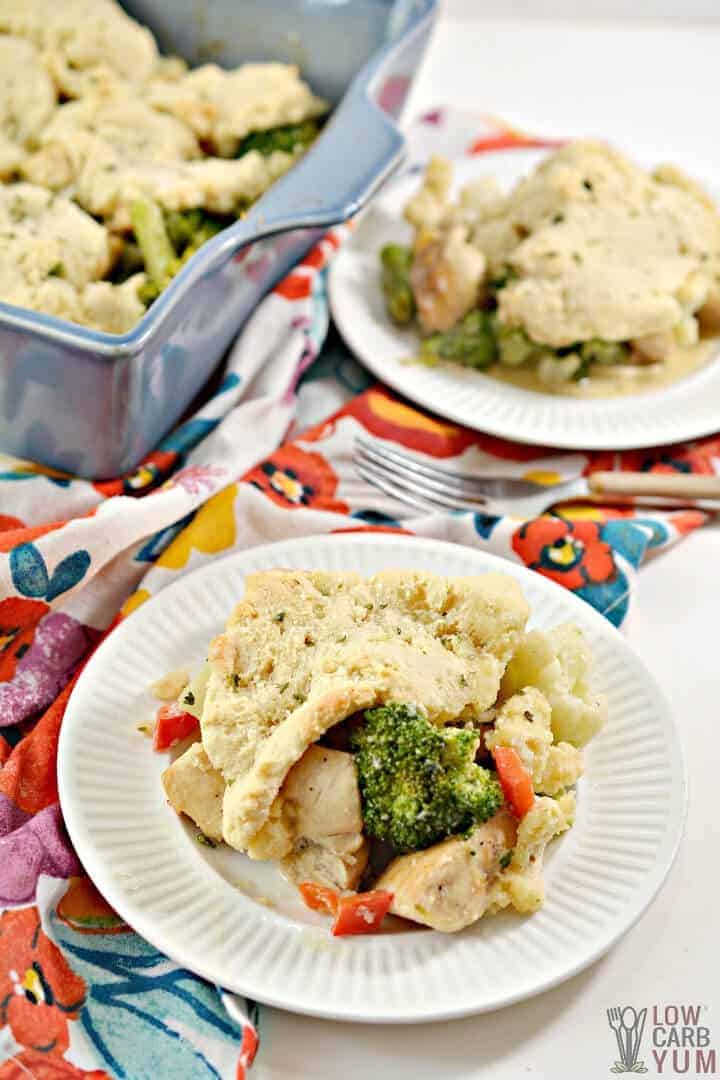 Chicken pot pie is a family favorite; make it keto with my chicken pot pie casserole.
It's made with a simple almond flour biscuit and is stuffed with cauliflower, green beans, broccoli, and bell peppers.
Chicken breasts and a creamy sauce round off this recipe
25. Chicken Green Bean Stir Fry with Tomatoes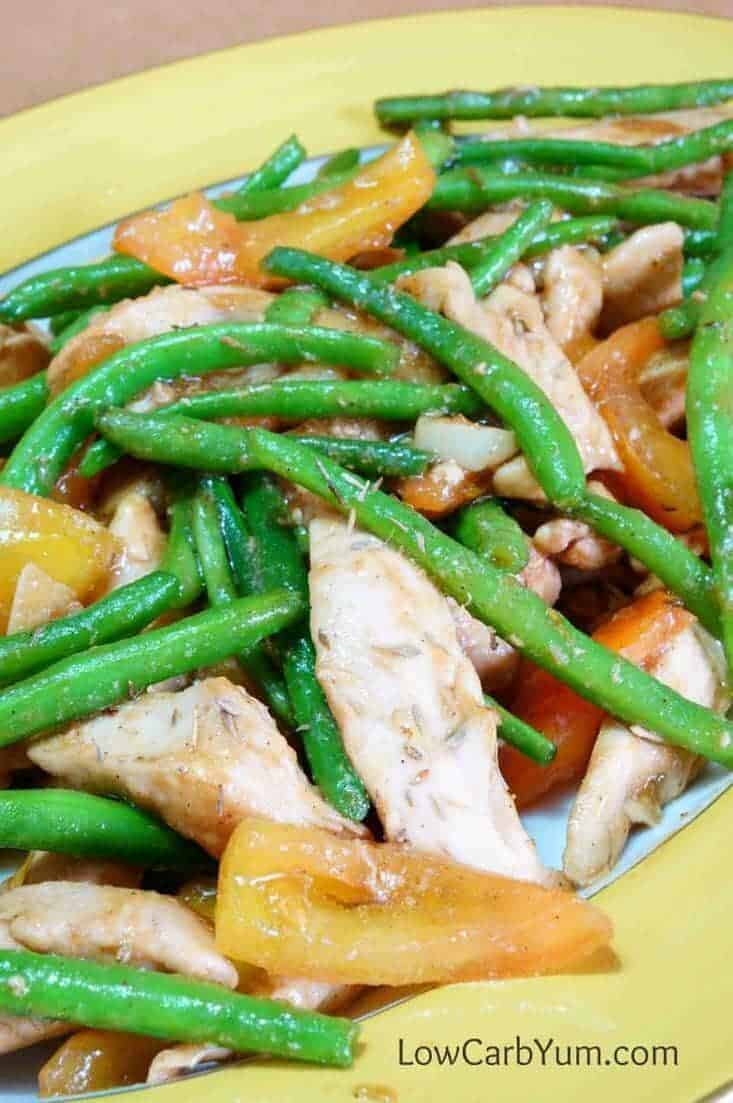 This chicken green bean stir fry with tomatoes is ready in 30 minutes or less, making it great for weeknight dinners.
Simply flavored and filled with veggies - this dinner is a macronutrient dream.
26. Keto Chicken Bacon Ranch Casserole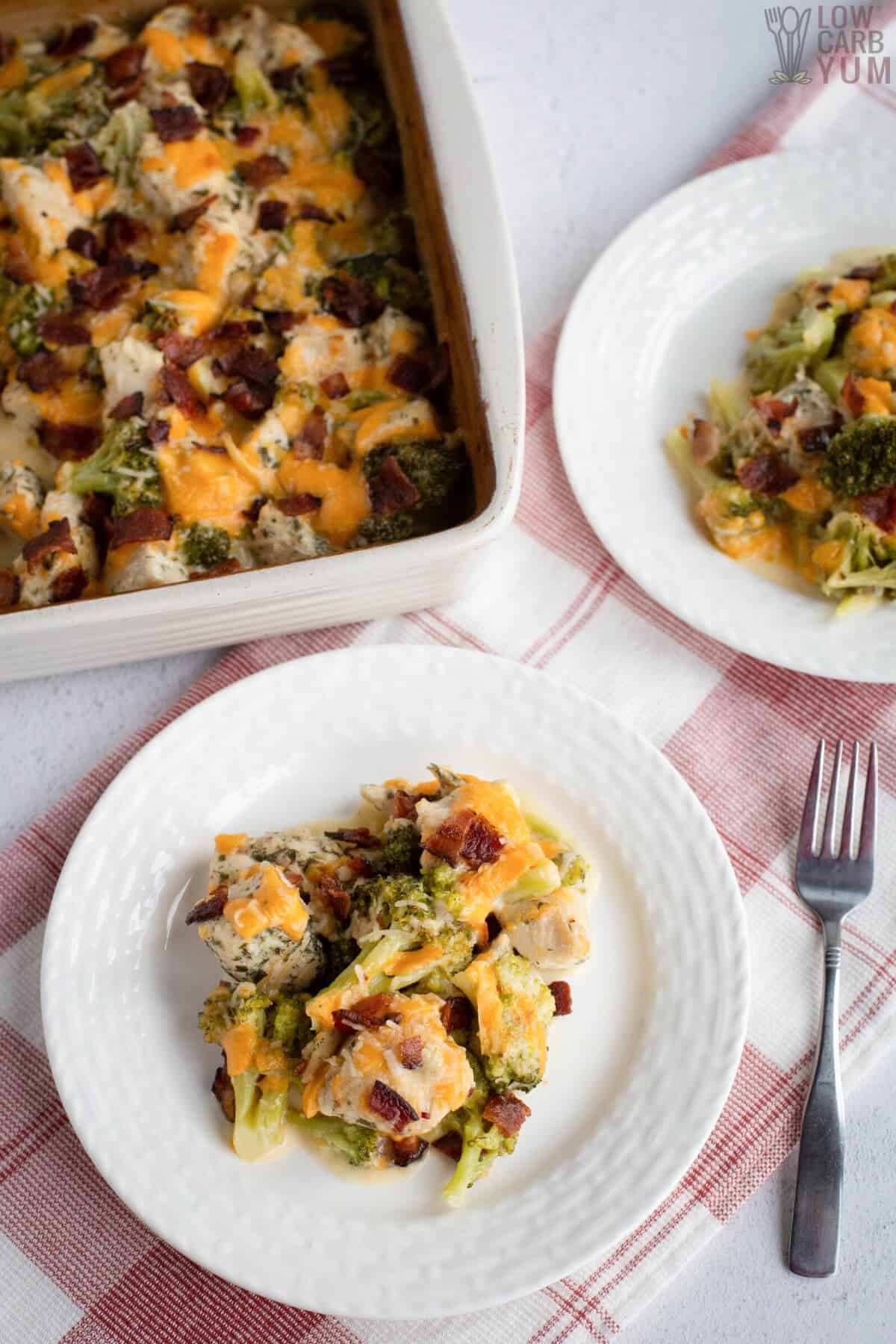 My keto chicken bacon ranch casserole is hearty and satisfying, filled with broccoli, bacon, and three kinds of cheese!
27. Homemade Keto Chicken Salad with Mayo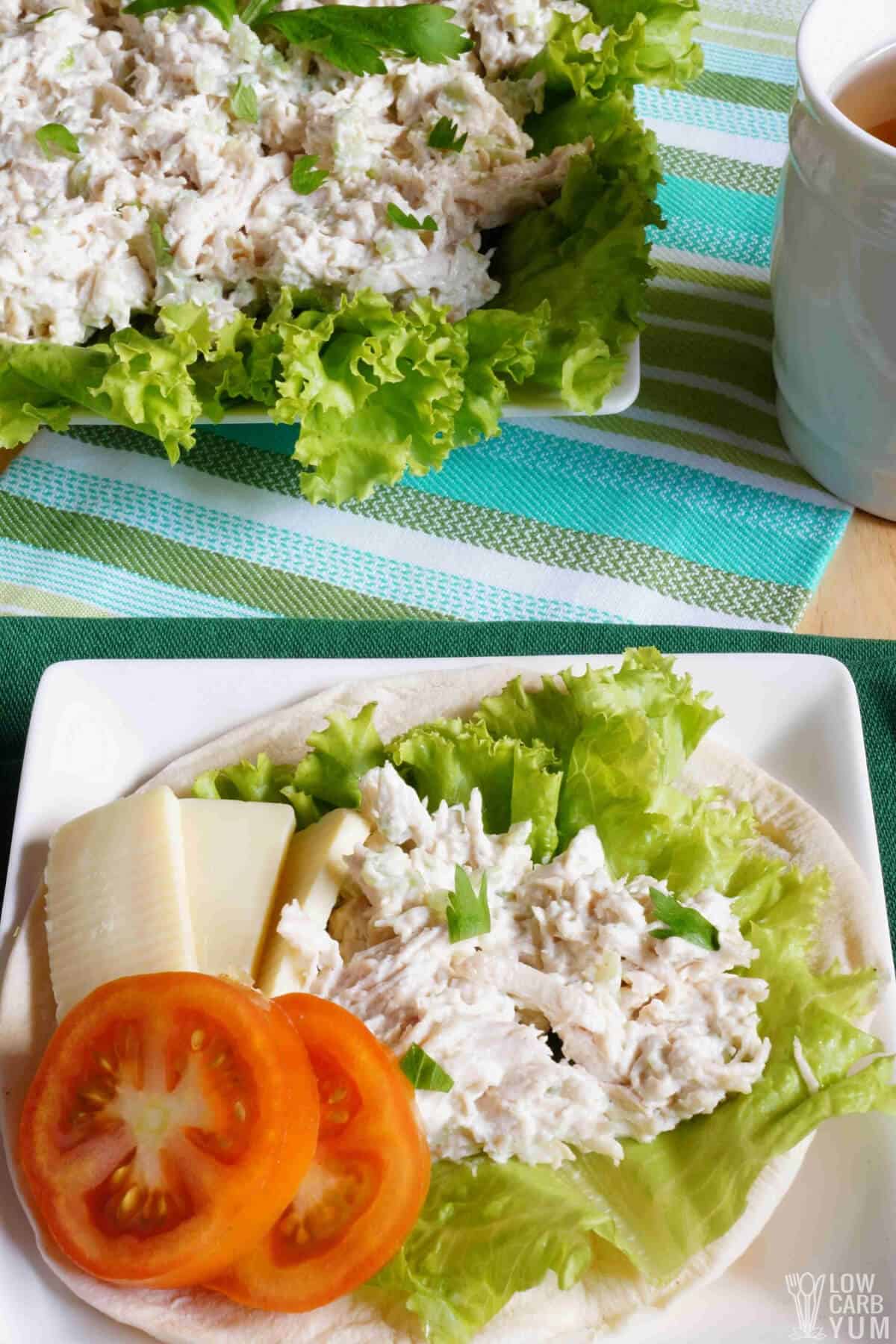 Chicken salad is quick to prepare on Sundays for grab-and-go lunches and dinners.
My homemade keto chicken salad recipe is delicious on lettuce wraps or homemade keto almond flour bread.
28. Bacon-Wrapped Cream Cheese Stuffed Chicken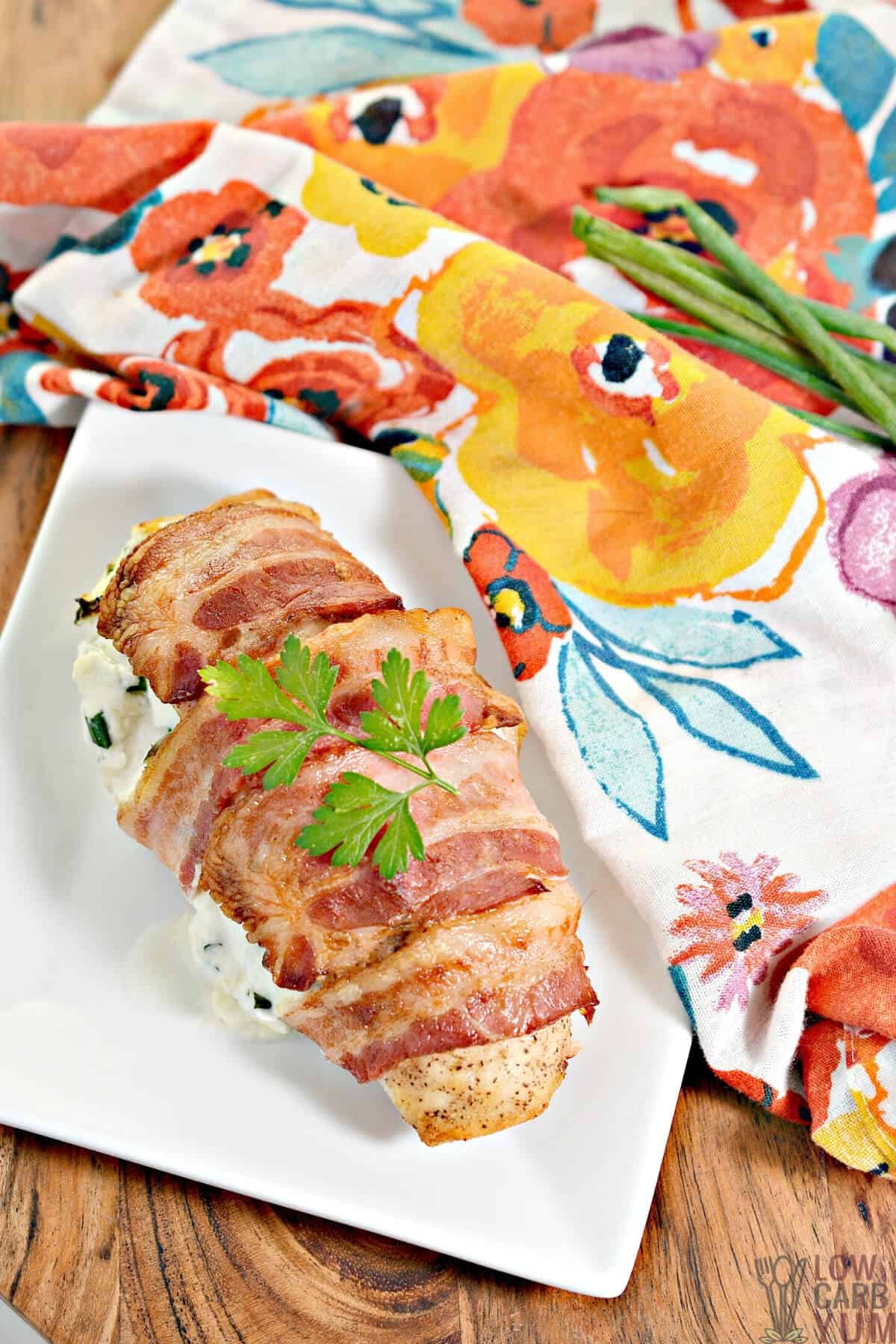 This bacon-wrapped cream cheese-stuffed chicken can be made in the air-fryer for a quick meal with minimum clean-up.
It's stuffed with cream cheese, minced garlic, fresh parsley, and chives. The bacon wrapping is just the cherry on top!
29. Keto Butter Chicken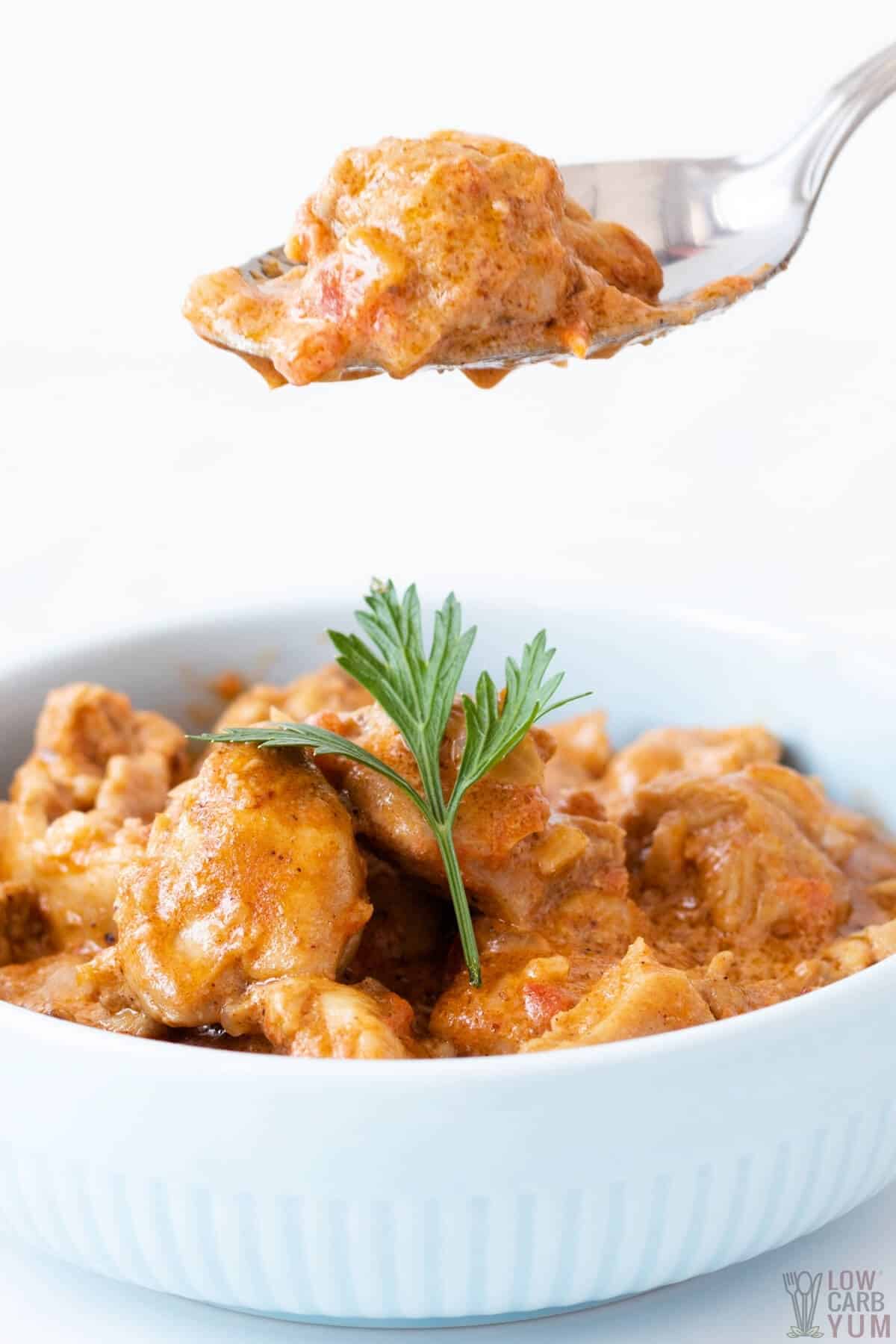 This keto butter chicken is filled with classic Indian spices and greek yogurt.
Use chicken breasts or thighs, depending on your preference.
30. Crock Pot Crustless Chicken Pizza Casserole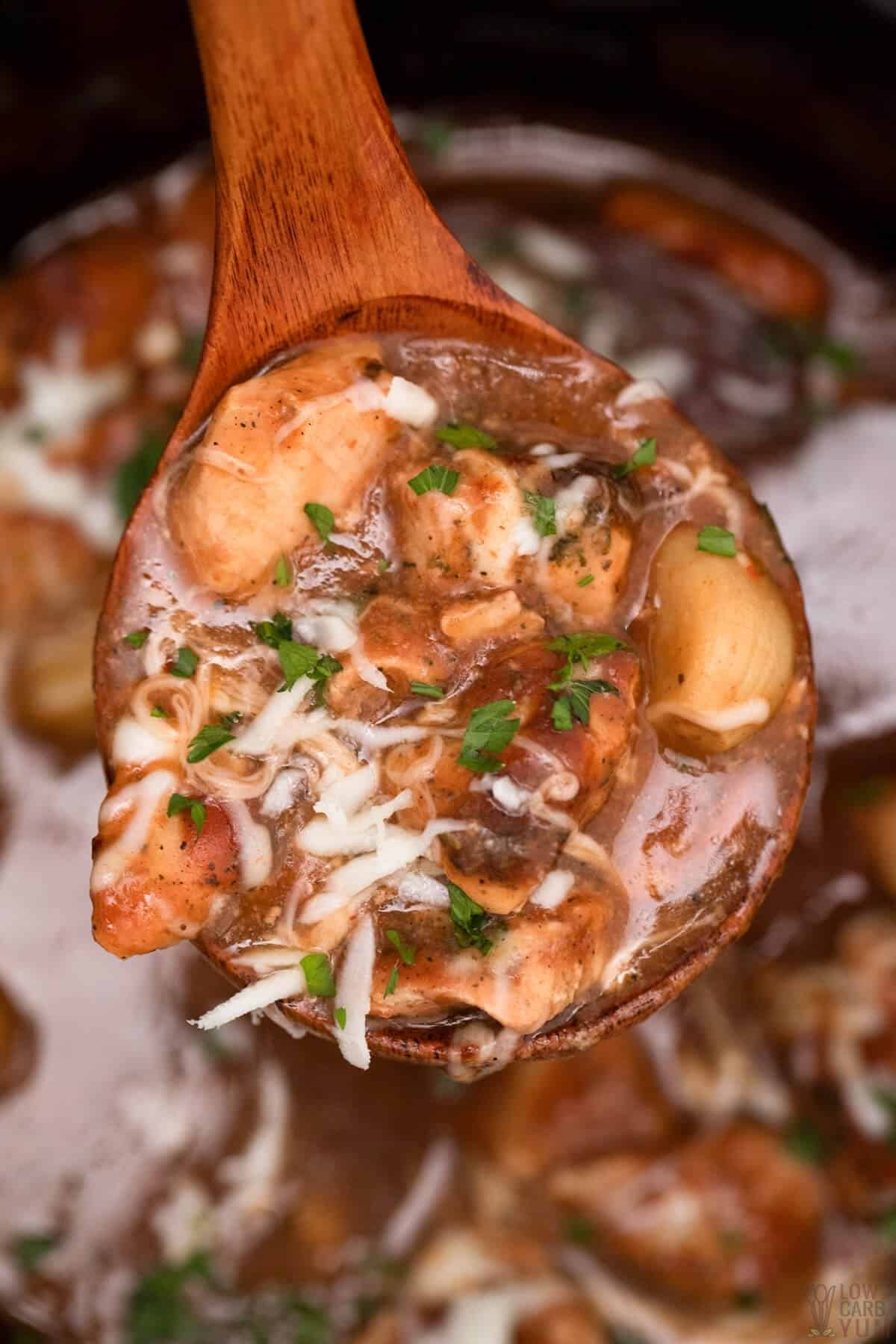 A crock pot is a great way to prepare home-cooked chicken breast dinner recipes. My crustless chicken pizza casserole is made for one!
Combine seasoned cubed chicken breasts, canned tomatoes, and mozzarella cheese for a filling dinner.
31. Baked Chicken Stuffed Avocado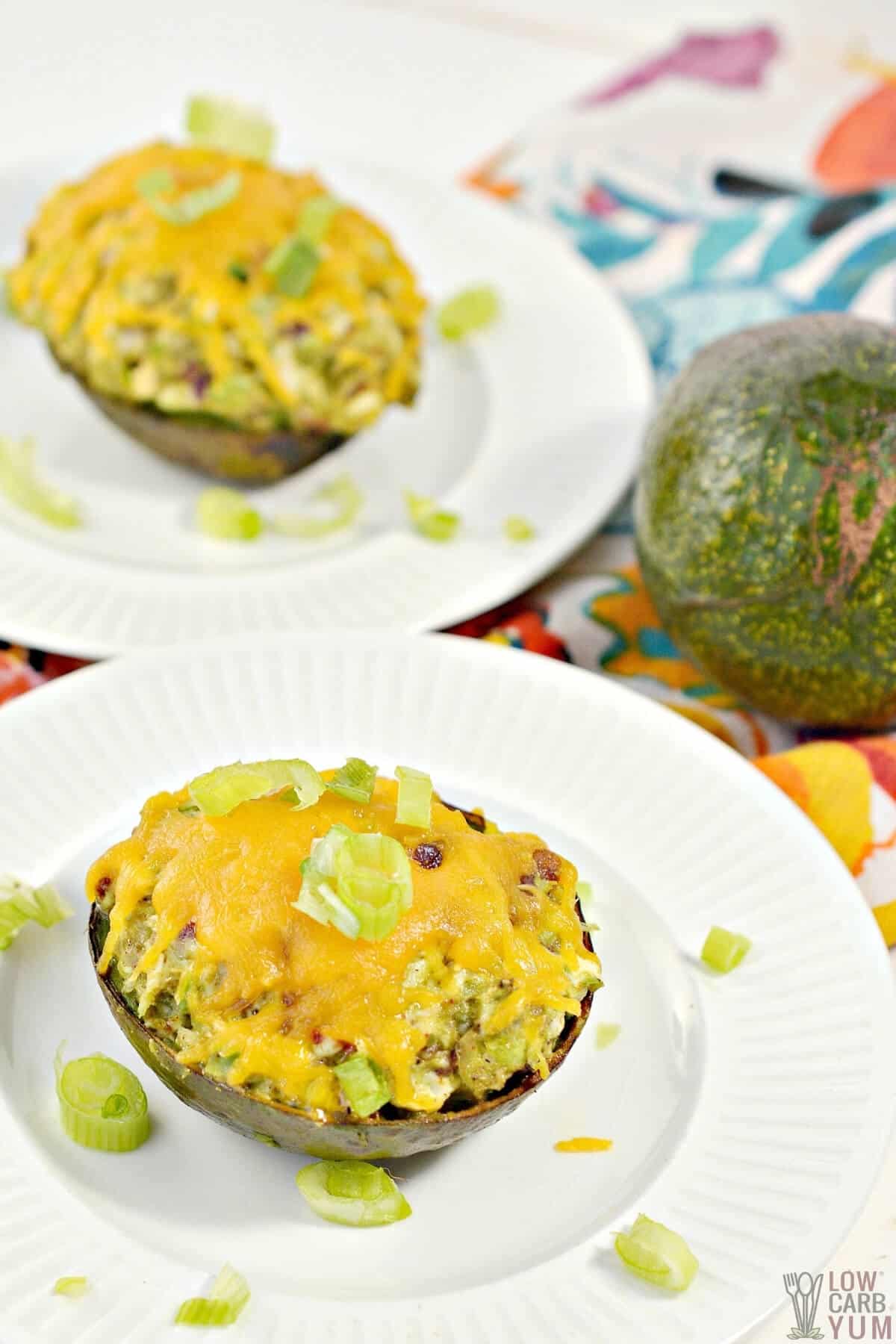 Avocado is the ideal healthy fat for any recipe, but have you ever tried stuffing them?
Make these baked chicken stuffed avocados with shredded chicken, cream cheese, bacon, and shredded cheddar.
32. Keto Chicken Piccata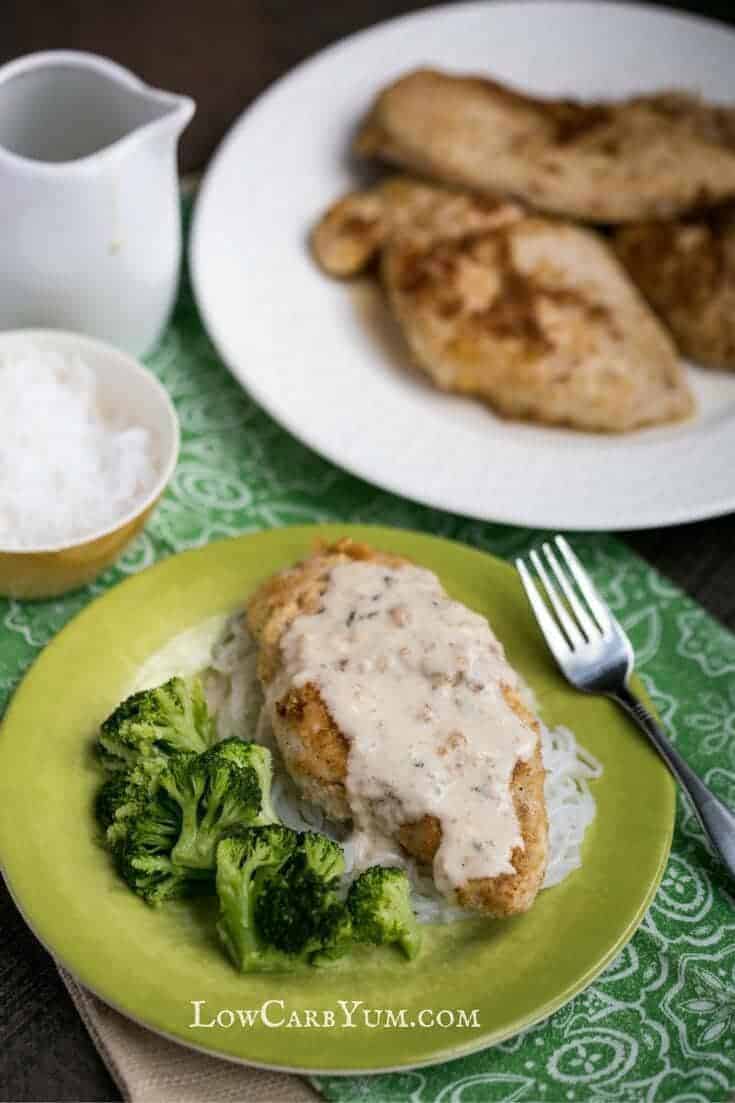 My keto chicken piccata is pan-fried and served with a rich lemon butter sauce.
Eat some on top of angel hair shirataki for a keto noodle alternative.
33. Keto Fried Chicken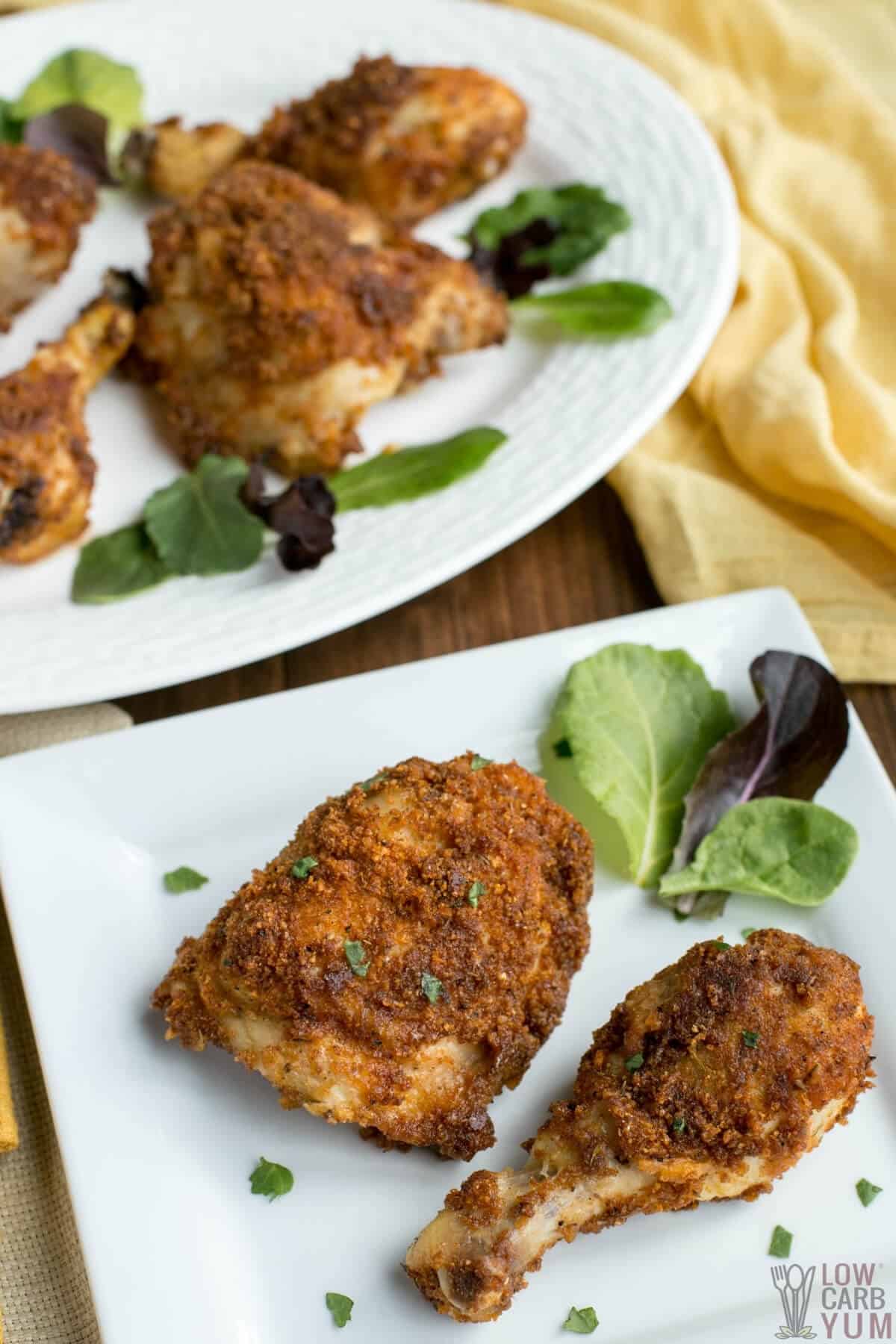 Do you miss crispy chicken on your keto diet? Fix that with my keto fried chicken recipe.
Pop them in the oven or the air fryer for perfectly crispy chicken!
34. Baked Chicken and Zucchini Casserole with Tomatoes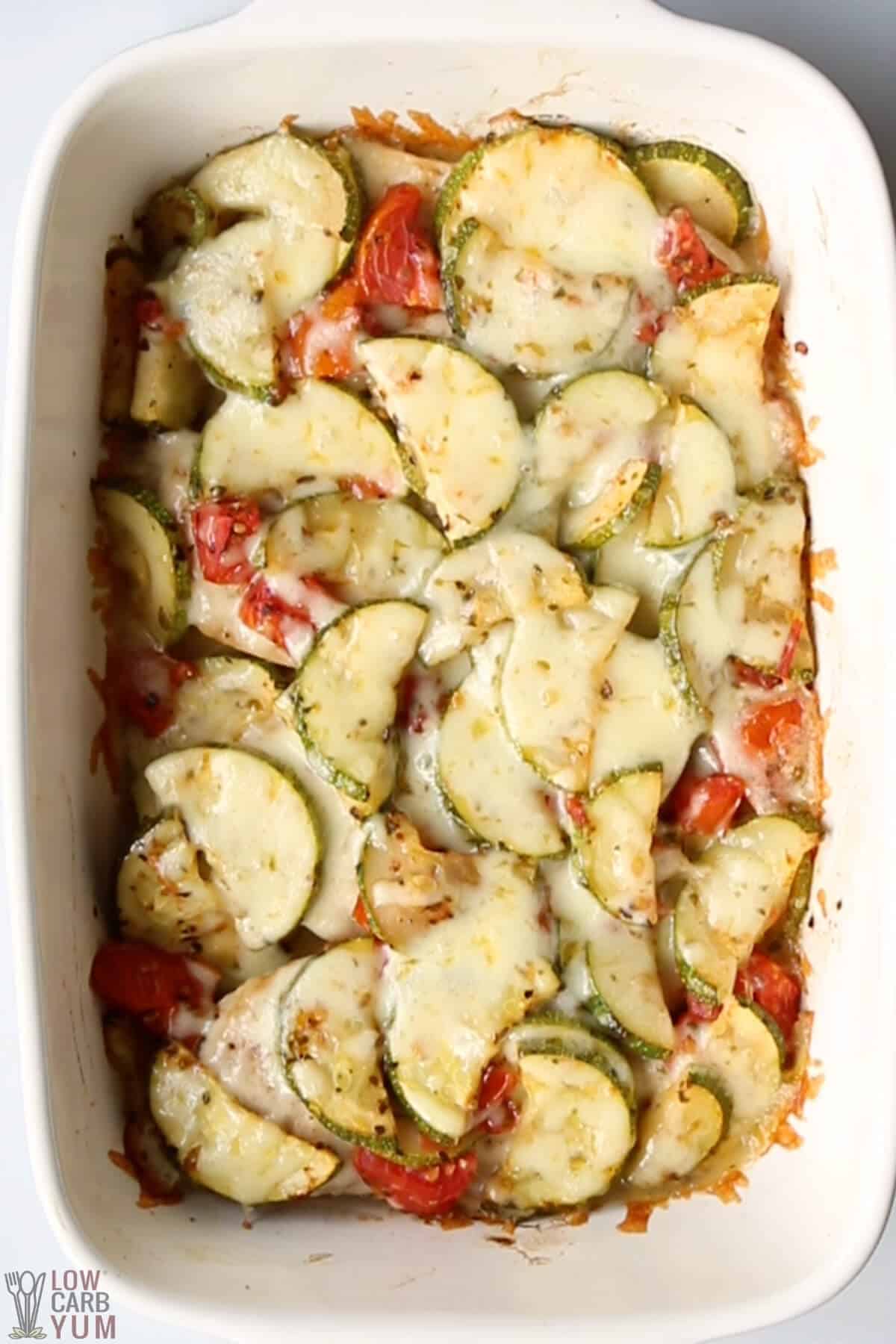 This baked chicken and zucchini casserole is filled with nutrients for a healthy weeknight dinner.
Melted cheese on top makes it extra special.
35. Baked Sweet and Sour Chicken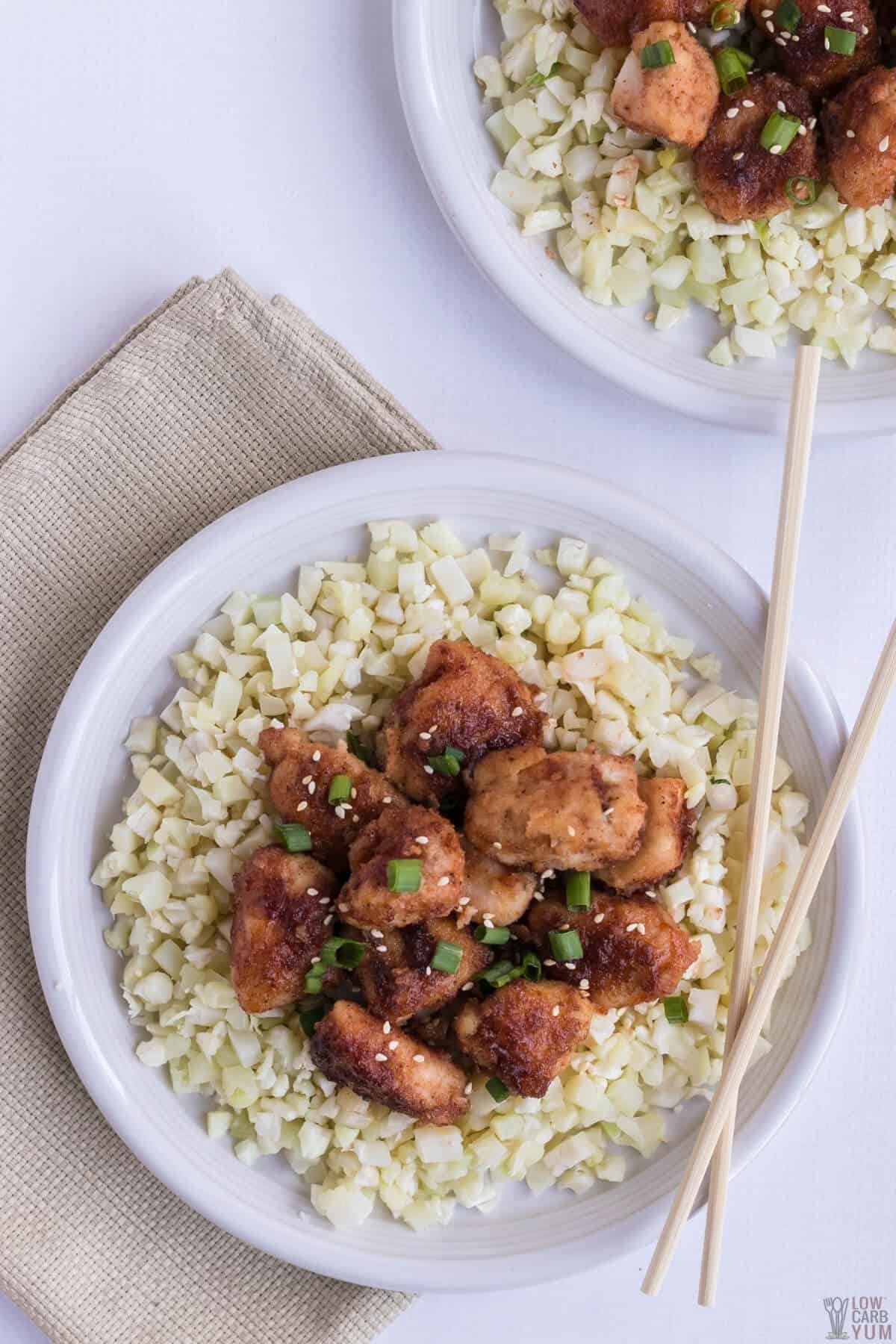 For another baked chicken option, try my baked sweet and sour chicken; it's perfectly sweet while remaining low-carb with keto maple syrup.
36. Keto CrockPot Crack Chicken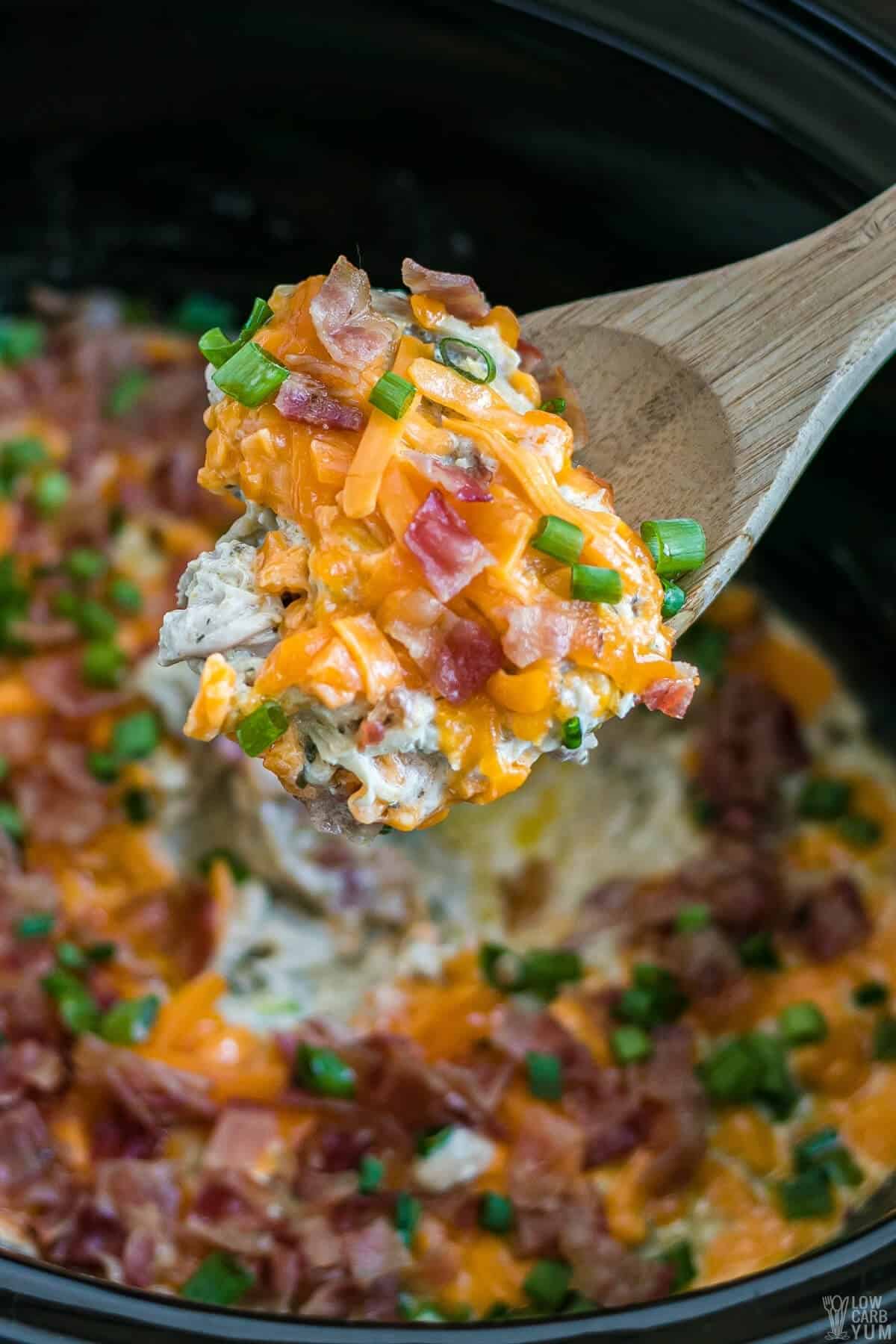 My keto crockpot crack chicken contains just 4 grams of net carbs per serving and is totally addicting!
Made with cream cheese, bacon, and dill weed, it packs a serious punch of flavor.
37. Baked Bacon Ranch Chicken With Cheese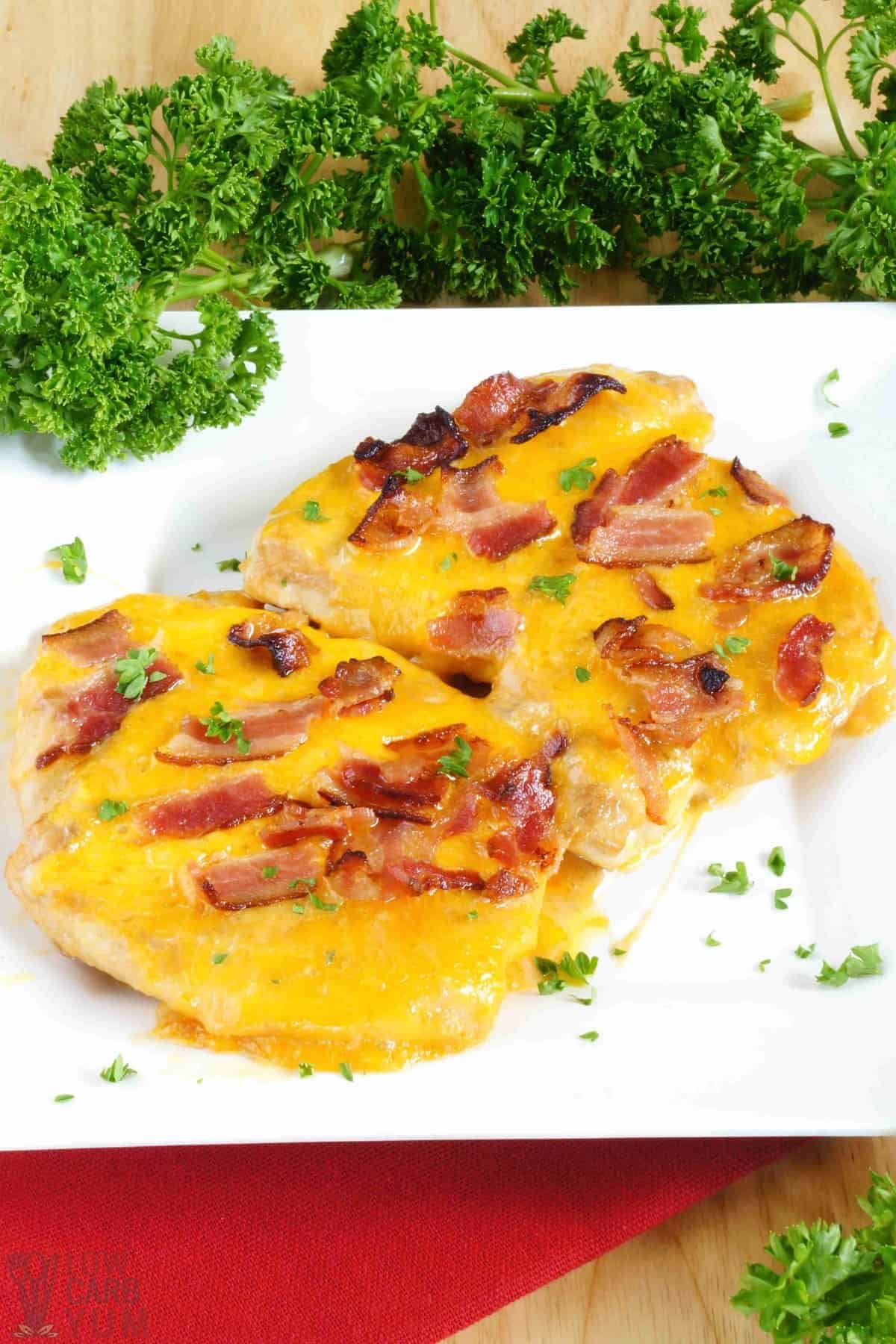 Transform plain chicken into a tasty treat with this baked bacon ranch chicken; just add bacon, teriyaki, cheddar, and ranch dressing for superb taste!
38. Chicken Broccoli Casserole With Cream Cheese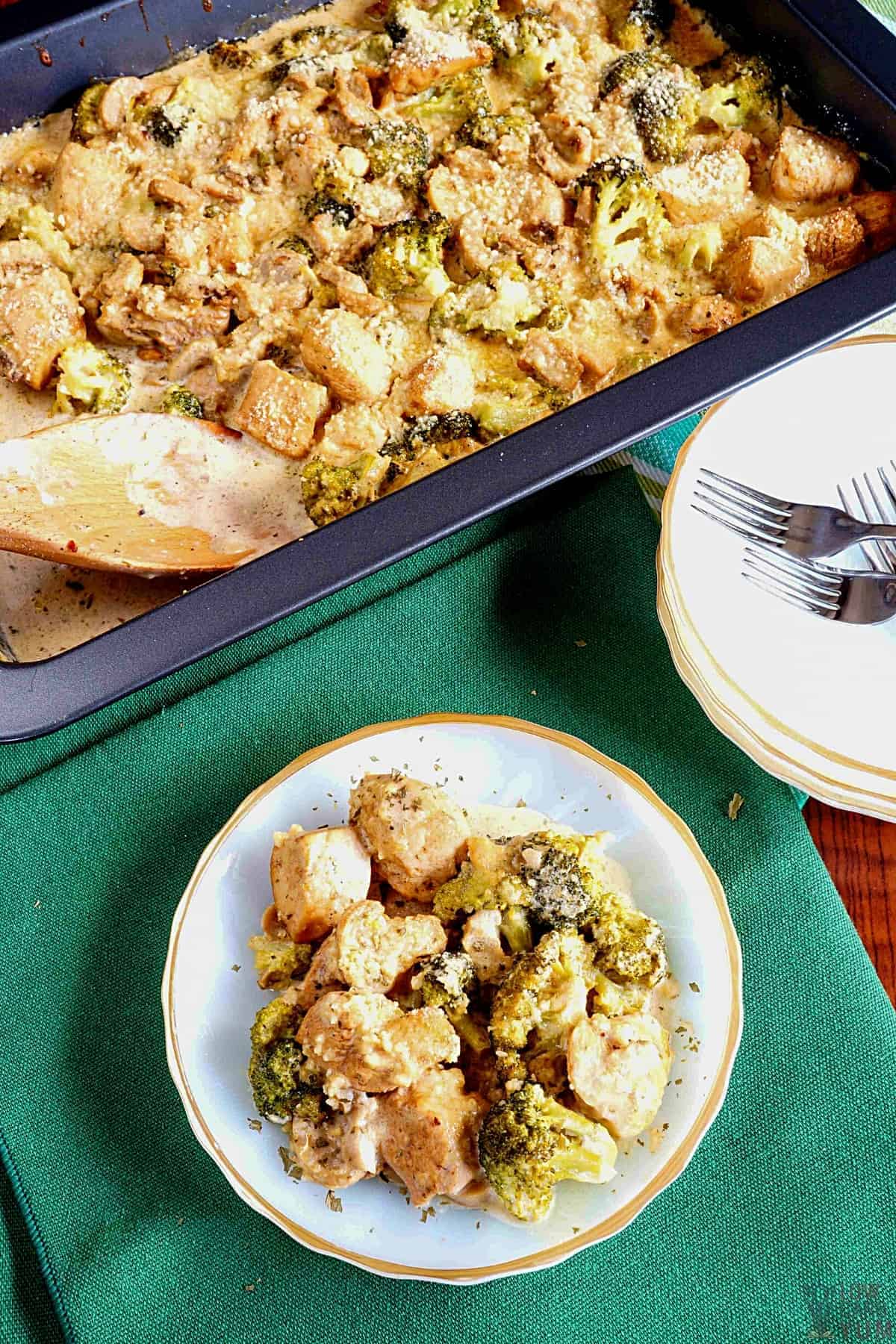 My chicken broccoli casserole is made with cream cheese and parmesan for a high-fat boost.
39. Cobb Salad Recipe with Chicken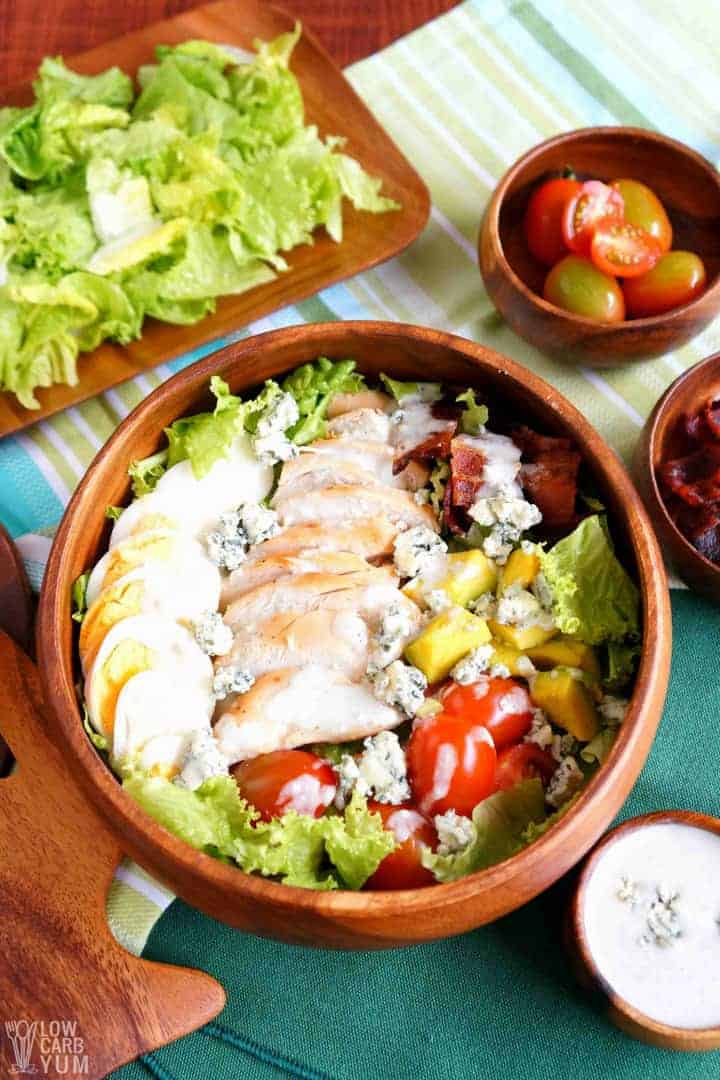 Make a keto cobb salad with chicken, egg, and blue cheese for a fresh and easy dinner.
40. Air Fryer Quesadillas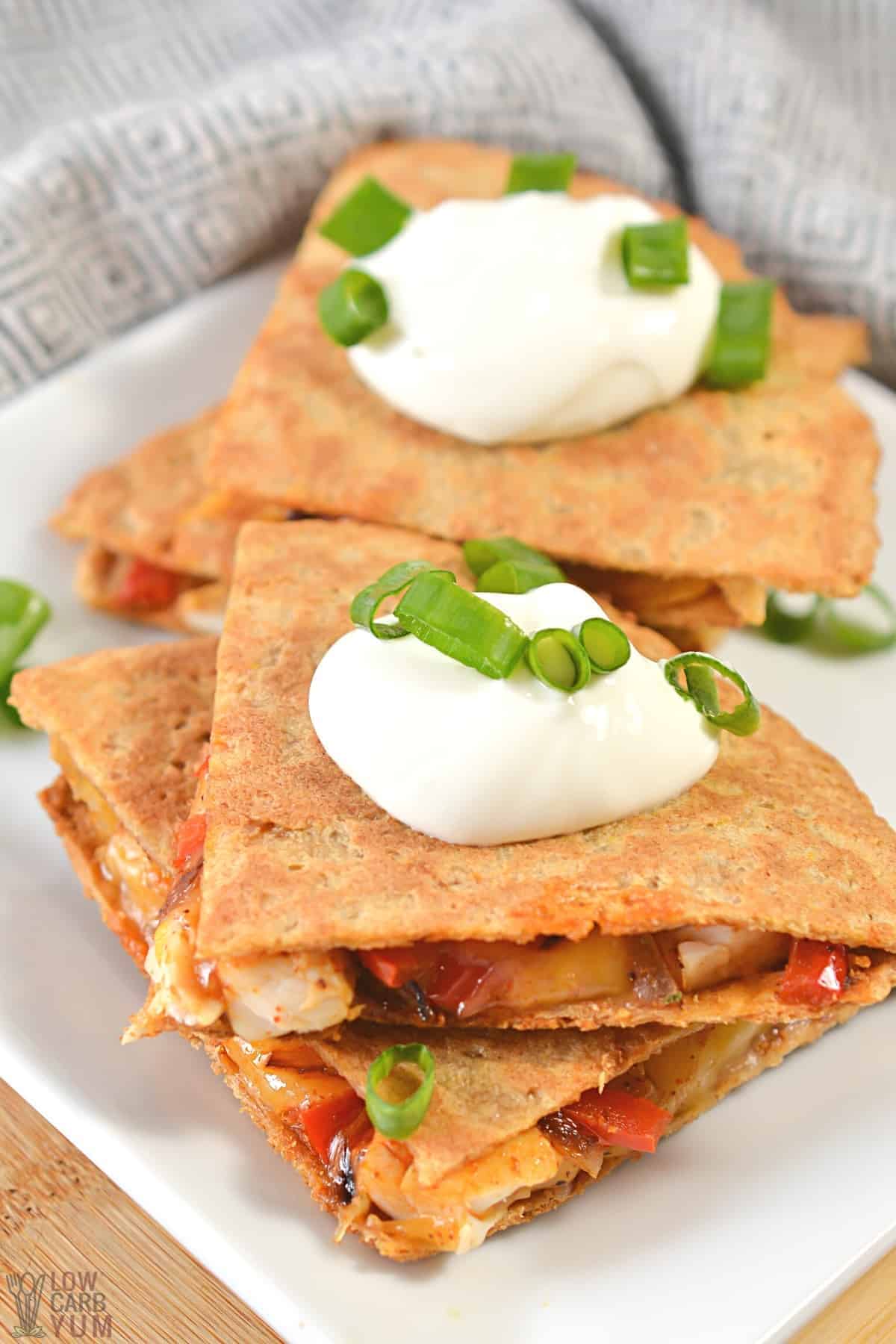 These air fryer quesadillas are easy to make and kid-approved. Customize them with your fillings and toppings of choice.
41. Keto Shredded Crock Pot Teriyaki Chicken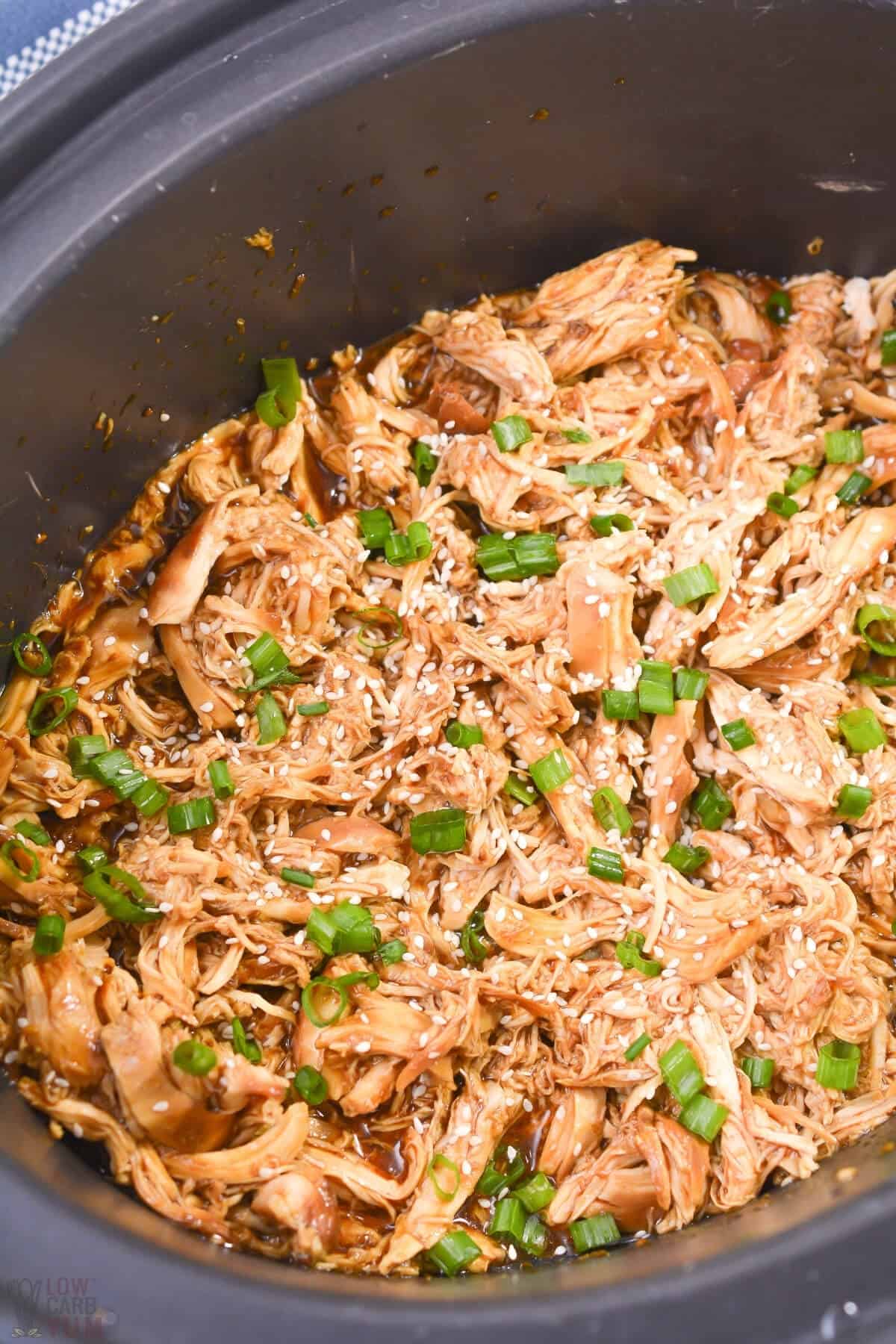 This shredded crock pot teriyaki chicken makes perfectly sweetened and super tender chicken without added sugars.
42. Low-Carb Chicken "Noodle" Soup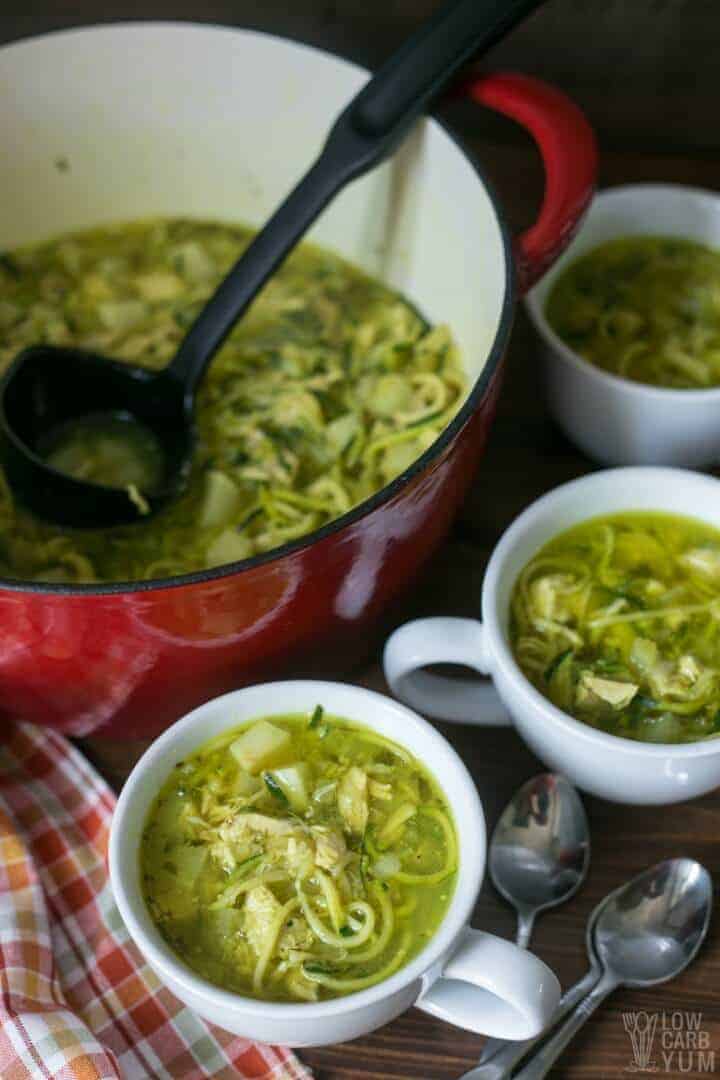 My low-carb chicken "noodle" soup is great if you're feeling under the weather or on a cold winter's day.
Serve it up with some almond crackers or keto dinner rolls.
43. Paleo Keto Buffalo Chicken Casserole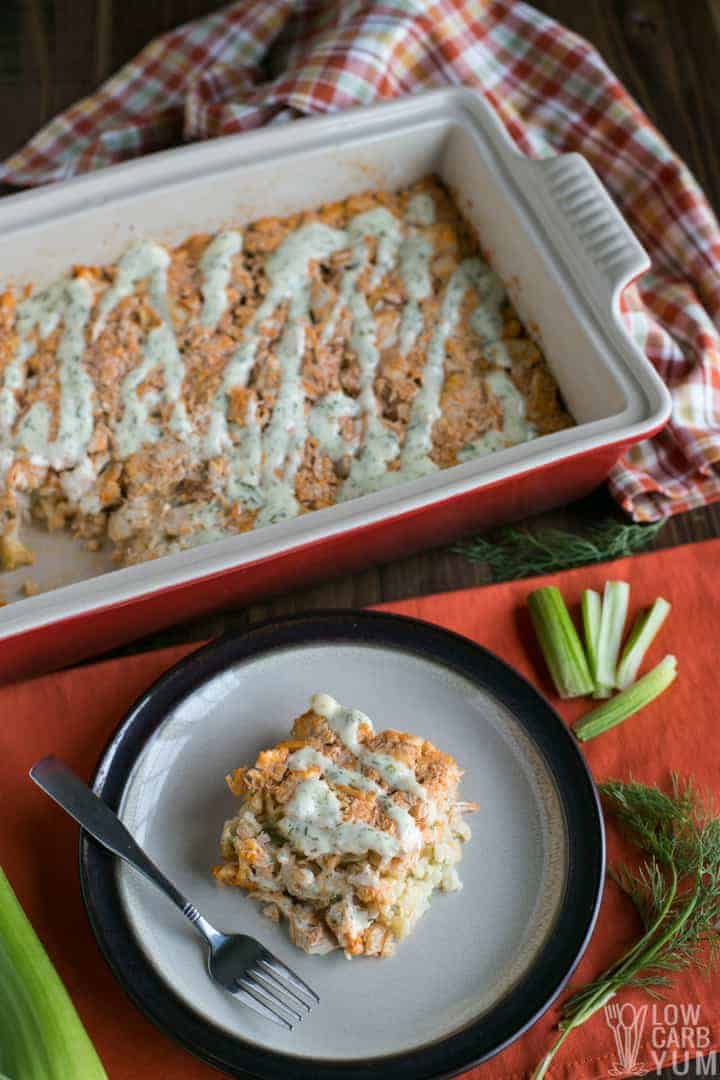 Try this paleo keto buffalo chicken casserole for a total crowd-pleaser! No one can turn away from this mix of chicken, cauliflower crust, and homemade ranch.
44. Chinese Salt And Pepper Chicken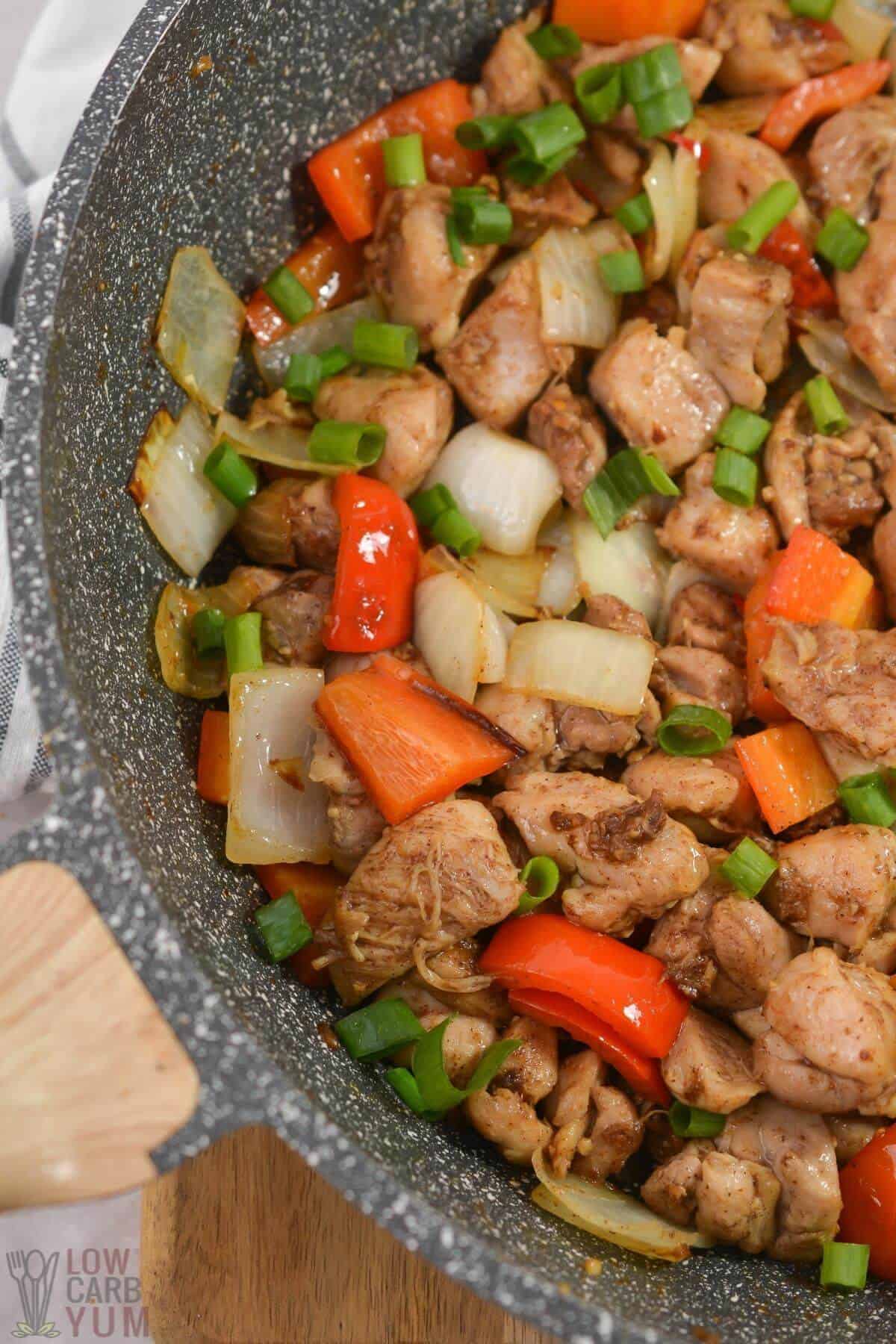 You can prepare this clever Chinese salt and pepper chicken copycat recipe right at home!
It's low in carbs and high in yum.
45. Keto Chicken Nuggets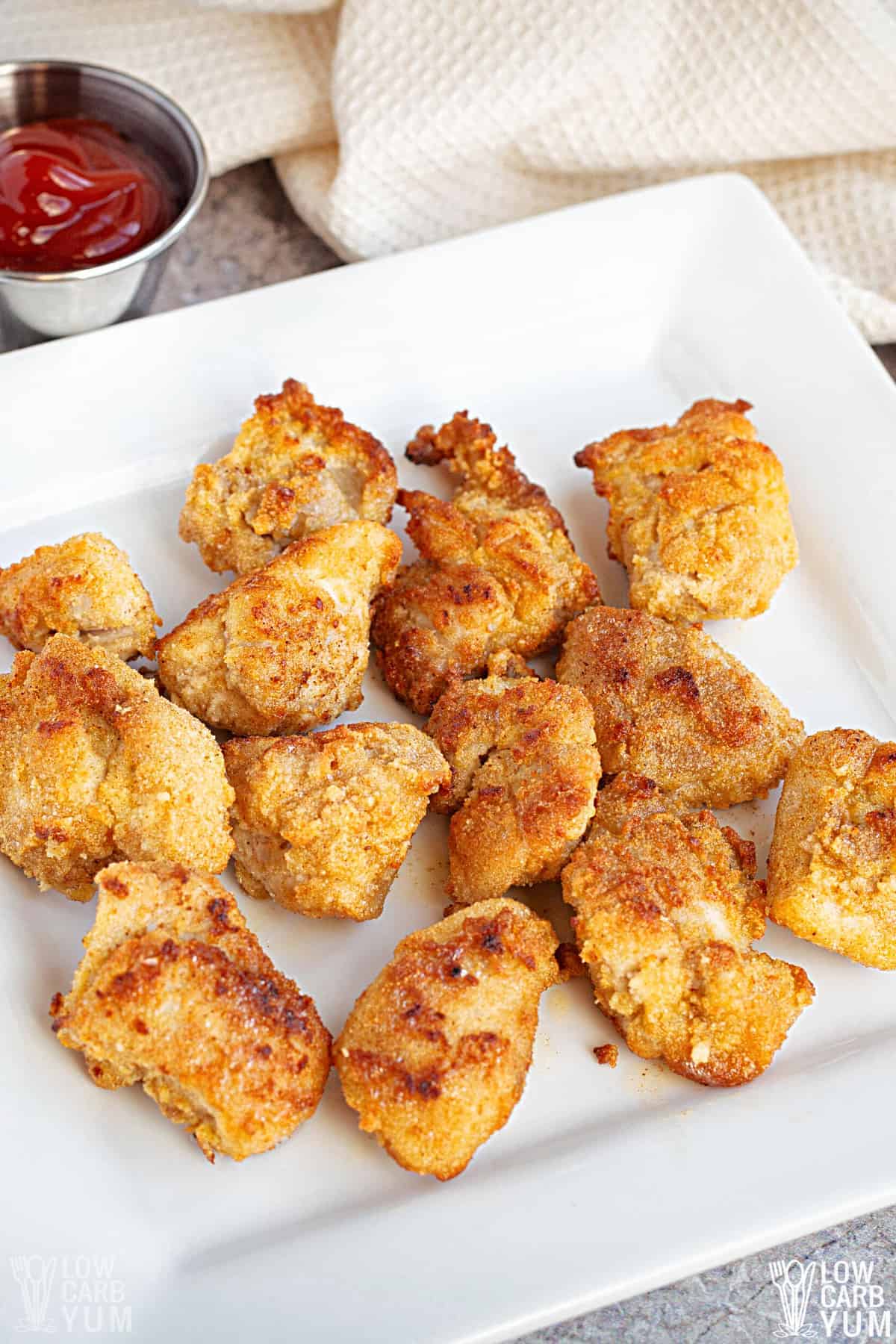 These keto chicken nuggets are adored by kids and adults alike!
Don't forget a keto-friendly dipping sauce.
46. Chicken Spinach Tomato Dish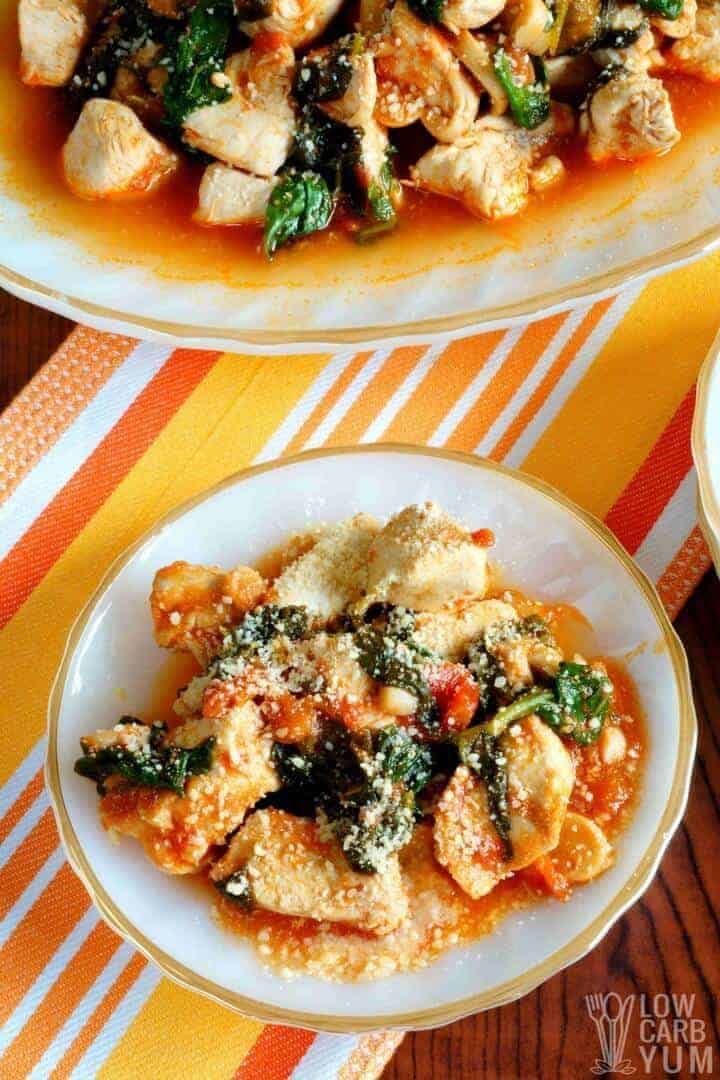 My chicken spinach tomato dish is prepared in one pot and perfect for those nights you don't have time to prepare an extravagant meal.
Top with grated parmesan for extra deliciousness.
47. Low-Carb Chicken Stir Fry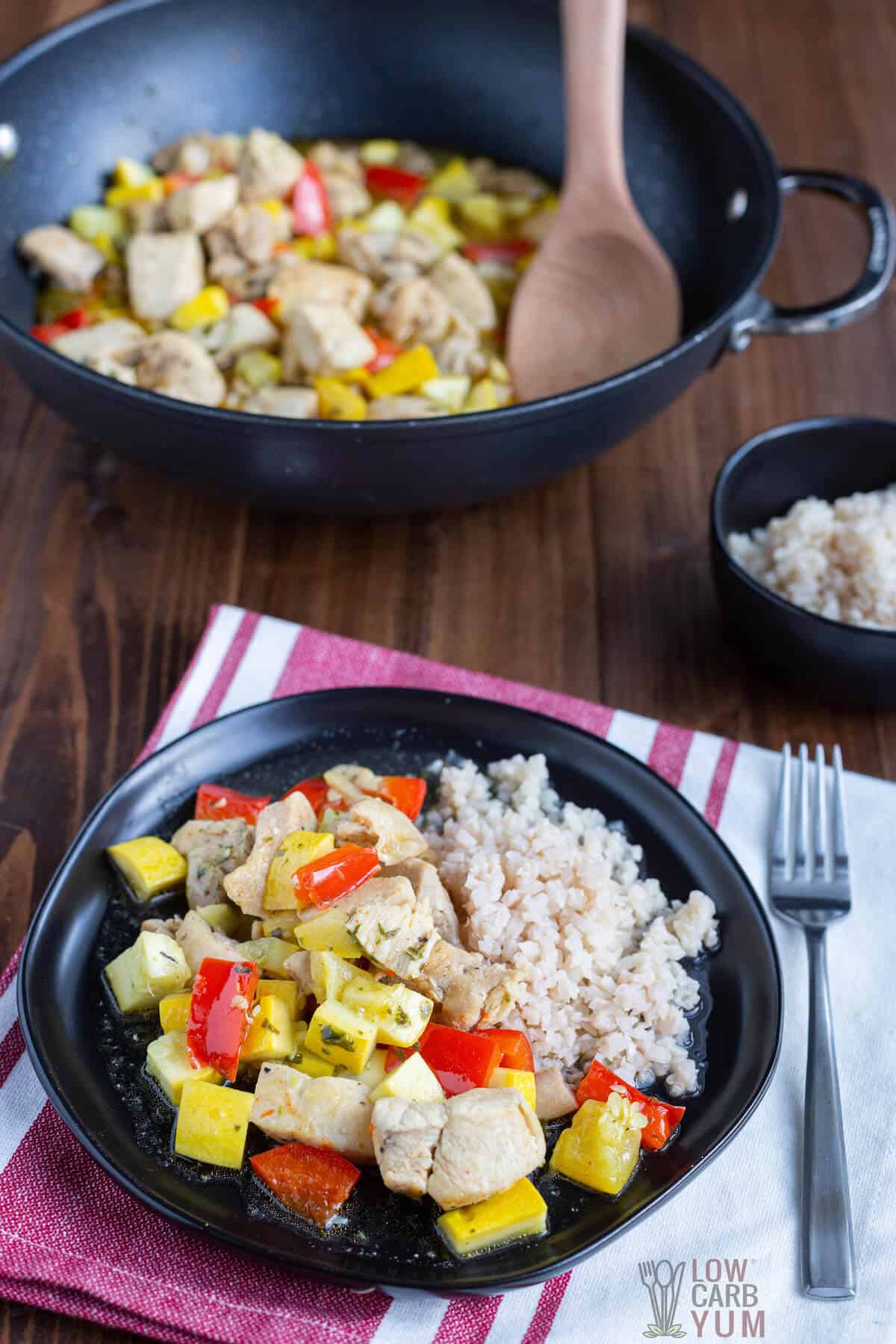 This low-carb chicken stir fry is really versatile based on your favorite condiments and spices.
48. Chicken Kale Soup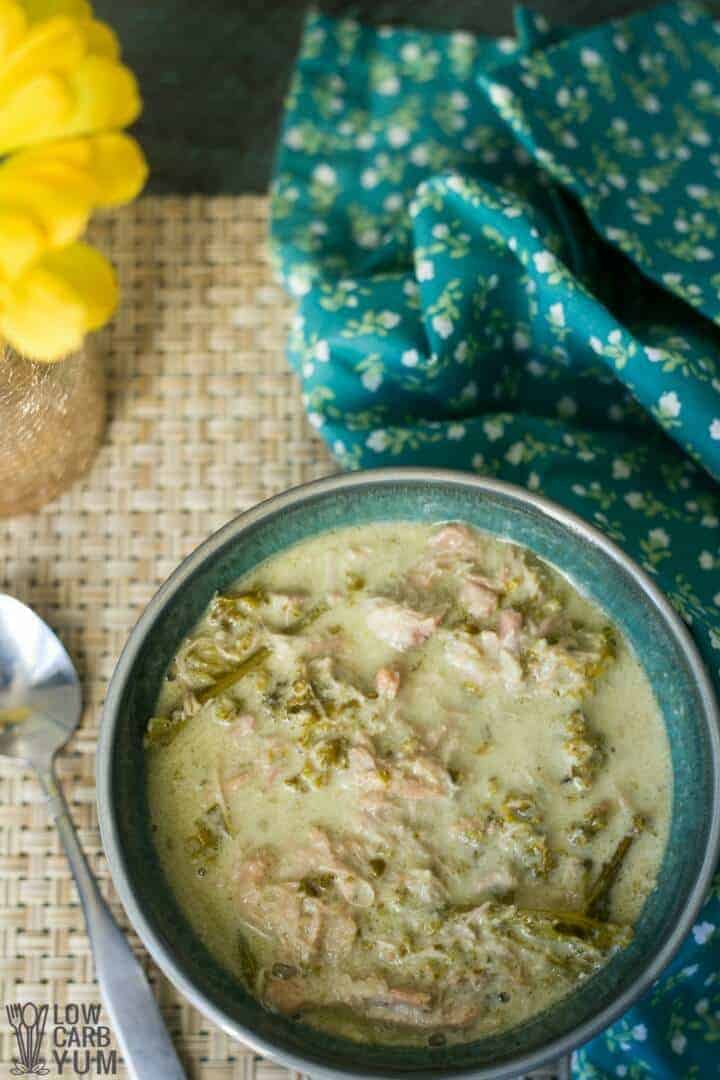 If you're a soup lover, you need to try this chicken kale soup. It's perfectly seasoned and high in nutrients.
49. Cranberry-Walnut Chicken Salad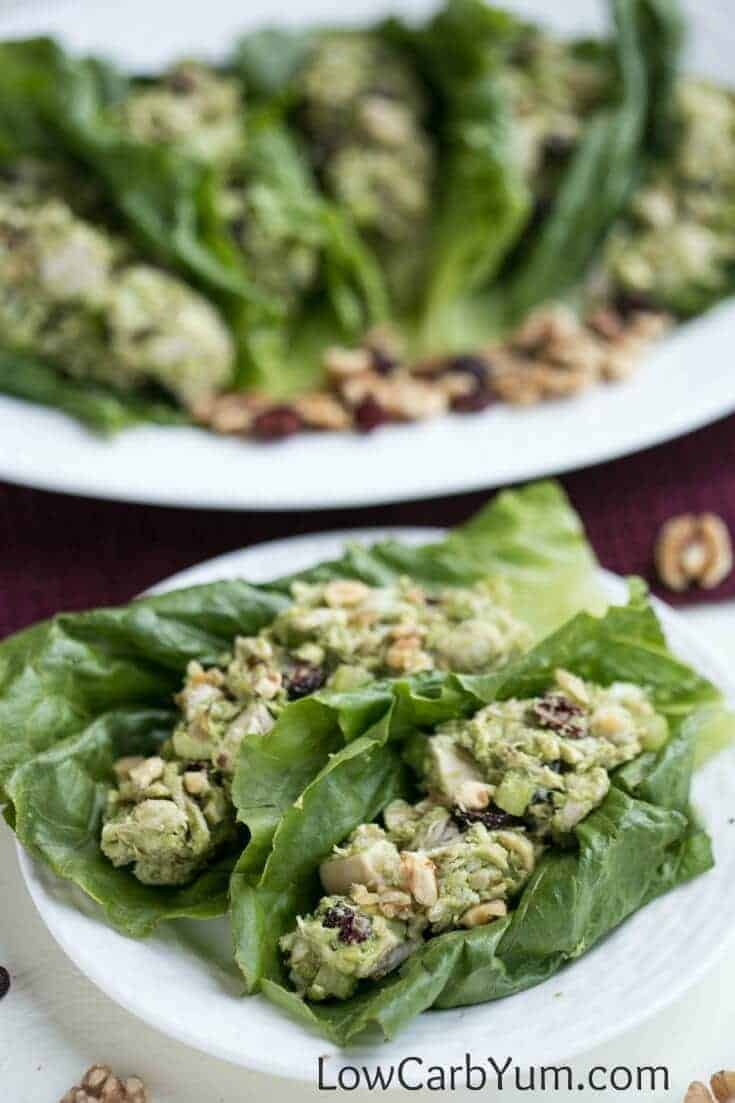 Try this cranberry walnut chicken salad for a fun twist on a classic recipe.
Mix chicken with cranberries, walnuts, celery, and avocado for a delicious sandwich spread.
50. Easy Mexican Chicken Lasagna Casserole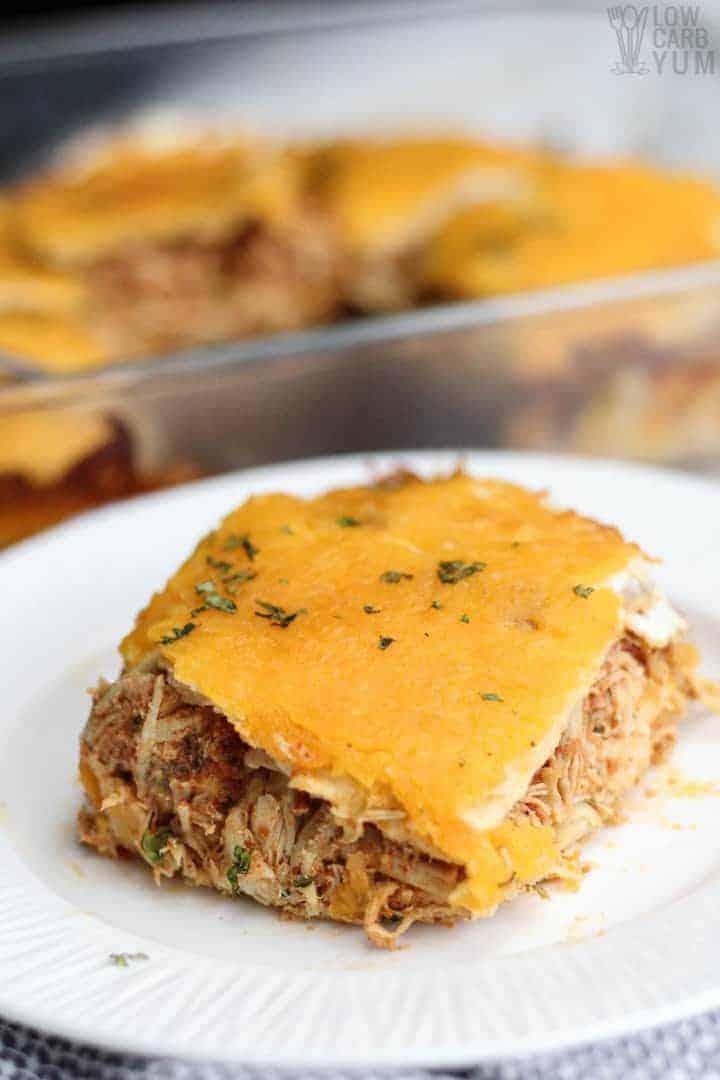 My Mexican chicken lasagna casserole comes together in just 20 minutes!
Enjoy seasoned chicken, shredded cheese, and low-carb tortillas in this lasagna casserole.
FAQs
Here are a few questions I often get about eating chicken on the keto diet. If you don't see your question answered, please leave it for me in the comments.
Is chicken ok on a keto diet?
Chicken is a lean protein that provides beneficial macronutrients to a ketogenic diet. Fattier meats, however, are usually preferable on keto. Include a good mix of fatty and lean proteins in your low-carb diet for balance.
Is chicken a healthy protein?
Chicken is generally nutritious and a great source of protein. Including chicken in your diet could promote muscle growth, weight loss, and bone health. Incorporate some healthy chicken breast dinner recipes into your weekly meals!
Follow us on FACEBOOK, PINTEREST, and INSTAGRAM for even more tasty keto-friendly recipes!